The last UFC card of the year is in the books and it's time to look back. As with last year, I do not want to pretend these awards are representative of everything that happened in the fight world this year—I don't know about the crazy knockouts that are happening in some backwater event in the middle of the Amazon, but I'm just as liable to forget a spectacular event that happened on a UFC main card if I can't get my mind off of something else. For that reason, take these nominations with a pinch of salt and in the spirit of fun as they are intended; there is no cash prize.
There were some really, really bad fights this year. The more fights you see, the more bad ones you will have to sit through. But here are the boys and girls who came along at the right times to remind me exactly why I love this sport and just how beautiful it can be.
Gameplan of the Year: Rafael Dos Anjos versus Anthony Pettis
Previous recipient: Jon Jones versus Glover Teixeira
With the previous recipient of this award being Jon Jones against Glover Teixeira, I'm showing a bias towards men who can use the fence well, but damned if Rafael dos Anjos wasn't just what the doctor ordered against Anthony Pettis. It's a shame that Dos Anjos' dominating performance in that bout served to see Pettis denounced as some kind of paper champion when in fact his skills were world class and his accomplishments were second to none. RDA simply put Pettis in the spot he liked least and held him there for the duration of the fight, and if there's something you should have learned from all the Killing the King articles and all the dethronings in MMA this year, it's that no-one fights like the best in the world when they're held in their least favourite area of the game.
Pettis' brilliant kicking game, which relied on telegraph free round kicks which he almost jumped into from the long, classical stance, was rendered worthless by the crowding of Dos Anjos.
With no room to attempt a kick without Dos Anjos simply stepping in and swinging at him, Pettis was forced to fight in panicked one-twos to try to get away from the cage. And trading punches with your back to the fence rarely works out well against an accurate combination puncher who will work the body up and down.
But aggression is easy to find—Gilbert Melendez tried to do a similar thing in pressing Pettis against the fence. When Melendez flurried, it was in a panic between clinches and it was wide and wild. Rather than holding onto Pettis, Dos Anjos simply contained him with pressure. And most importantly, when Pettis lashed out, Dos Anjos was in position to defend himself, even while coming forward: covering shoulder rolling, giving ground when necessary, taking slight angles, and stiff arming Pettis away so that he never got anything more than two punches going.
Honourable mentions: Holly Holm put a boxing clinic on against Ronda Rousey, showing the deficiencies in the striking of the women's bantamweight champion which so many had pointed to but which so few of us thought Holm could stay disciplined long enough to exploit. While her opponent was the perfect mark for her that night, Holm's discipline was unwavering and her footwork, head movement, grappling awareness and the accuracy of her blows were all absolutely on point. It is rare to see such a beautifully executed gameplan and perhaps the line of invincibility Rousey had been brought up on served to aid that. If you thought I was only going to praise people for cutting the cage, here's a perfect example of circling it and rarely being caught along it.
Nieky Holzken's work cutting the ring on the active kicking of Raymond Daniels in their first bout was exemplary as he gave Daniels a rough introduction to the difference between fighting on open mats and in the squared circle. Daniels', however, did a far better job in the rematch showing a commitment to learning the craft. Definitely two men to keep an eye on over at GLORY in the future.
T.J. Dillashaw deserves a mention for his work with feints, angles and stance switches against Renan Barao, but I think I mentioned him last year for an almost identical performance, so he was never in with a chance of winning the coveted Slacky. He did add some stiff right handed jabs this time around though and that made for some interesting attacks from the inside angle off of switches.
A final thought for Josh Barnett who made me grateful for a five round heavyweight bout for perhaps the first time ever as he dirty boxed the wits out of Roy Nelson. Nelson was never going to fall down, and Barnett had the gas to keep going, so we were treated to twenty-five minutes of beautiful work along the fence. Grip switching, working the body up and down, it was a sight to behold. Where I want to see more lateral movement in every other division, dirty boxing is something everyone at heavyweight should be working on because after three or four minutes of being hit with short, jarring shots to the solar plexus, almost every heavyweight is too gassed to hurt anyone.
Event of the Year: UFC 189
Previous recipient: GLORY – Last Man Standing
I don't think it's going out on a limb to say that there were too many events this year and that some of them were dirge. UFC 190 was perhaps the lowest moment for this fight writer, as the UFC lumped a heap of aged Brazilian veterans underneath a Ronda Rousey versus Bethe Correia main event on an interminable seven fight main card, and yet it sold like hot cakes. Demian Maia's jiu jitsu clinic against Neil Magny was the sole saving grace.
To me, UFC 189 was the perfect event. Build a killer main event and then just pile more excellence in underneath it. Don't just use the rest of the card as filler. Jose Aldo dropped out of the fight a week out and no-one really minded. Even if McGregor had pulled out, there would be no need to cancel the event or call anyone a sport killer. Quality matchmaking on the rest of the card acts as insurance on a great main event.
McGregor versus Mendes was a riot while it lasted and elsewhere on the card you had: Thomas Almeida backing up his hype against Brad Pickett, Gunnar Nelson versus Brandon Thatch, Jeremy Stephens versus Dennis Bermudez, and Matt Brown versus Tim Means. The fact that the co-main event between Robbie Lawler and Rory MacDonald was one of the best and bloodiest fights I've ever seen was a happy coincidence that elevated this card even higher in my estimation. So if any UFC brass types are reading this—UFC 190 card: bad, UFC 189 card: perfect.
Honorable mention: Bellator Dynamite was an honest attempt at a mega-card, and the tournament fights turned out pretty good even if Francis Carmont was brought into the final as a reserve. The whole card was let down, however, by getting the GLORY brand on board, and then using it to have MMA fighters perform in kickboxing matches. The one real GLORY fight of the evening was excellent, but fans were forced to sit through two dirge bouts between MMA fighters in big gloves first.
Technical Turn-Around of the Year: Rose Namajunas
Previous recipient: T. J. Dillashaw
Despite being hyped to high heaven due to her success on The Ultimate Fighter, Rose Namajunas had a rough time in December of 2014 when she made her UFC debut in a title fight against Carla Esparza. Namajunas' wild kicks and swings saw her taken down easily and she was ground into submission by the third round. After taking the best part of a year off Namajunas came back to quickly submit Angela Hill inside of two minutes, and jumped in as a last minute replacement against Paige Vanzant.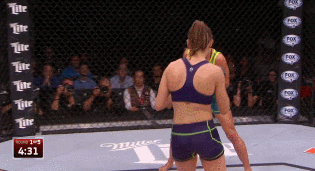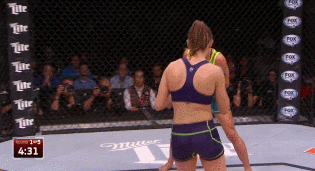 Vanzant was getting the UFC bump at the time and being pushed towards title contention. Namajunas came in and put a quick stop to that. Against another opponent who would look to take her down and overwhelm her with grappling—albeit a less polished one—Namajunas looked the epitome of composed aggression. Bouncing in and out, connecting on straight rights that would make Joanna Jedrzejczyk proud as it was Vanzant this time making the wild attempts at kicks. When the two entered the clinch and Vanzant attempted her usual head and arm throws, Namajunas repeatedly took the back and punished her for trying it.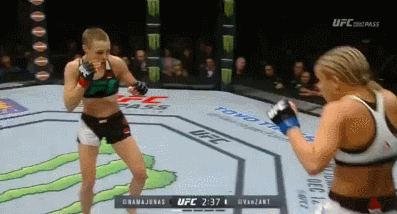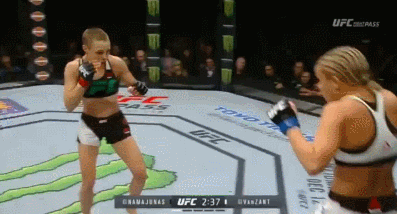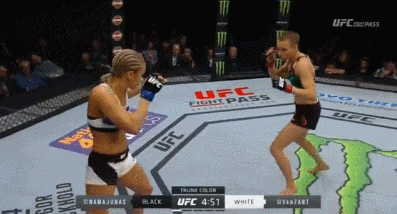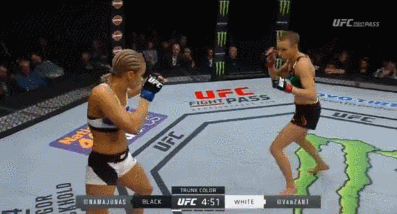 It's a little early to call complete technical rebirth, but the fact that Namajunas looked so composed, and did it on such a big stage after such a long time out of the limelight has me convinced that her loss to Esparza has done nothing but good things for her. If the UFC opts to match Namajunas up with Joanna Champion at some point in 2016, I will watch with glee.
The "...But Why?" Award for Low Fight IQ: Tim Boetsch versus Dan Henderson
Previous recipient: Ali Bagautinov versus Demetrious Johnson
Now I know that everyone wants this to go to Ronda Rousey for her hopeless charges at Holly Holm but I don't think that's fair. What Rousey did against Holm—unless you are one of the few who earnestly believes Rousey was choosing to strike with Holm—was what she has done in every fight she has ever had, and the majority of the time it worked. She runs straight in on a line, her opponent stands still and throws punches or runs straight backwards onto the fence. For women's MMA up until now, it has been a totally legitimate strategy. It's not good striking, and it would get you chewed up against a top ten opponent in the men's divisions, but it was working.
Her corner probably deserve it more for saying very little of use and telling Rousey that her work in the previous round had been 'beautiful'. That, and it's quite difficult to judge someone on something they clearly haven't been taught. Rousey had no idea how to cut the ring. Meanwhile, many fighters this year have made the decision to do things that they know they ought not to, and have paid the price as a result.
Just last week, Chris Weidman was in the middle of a rise in an up-and-down striking match against Luke Rockhold, when he decided to attempt a wheel kick which Rockhold stepped in on, took Weidman's back, and spent the rest of the round pounding on the champion from top position. Where 2013 may have been the year of the traditional martial arts kick, 2015 might have been the year of getting it wrong.
Just the other night Junior Dos Santos attempted a wheel kick at the buzzer of the first round and gave up his back in exactly the same way—though having waited for the hammer he was pretty much safe from having Alistair Overeem on top of him for half a round. And Sage Northcutt, who leads with a lead leg side kick to the chest in every fight I've seen him in, quickly had his parried and was easily taken down by Cody Pfister as a result.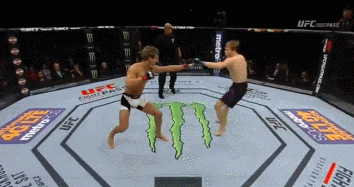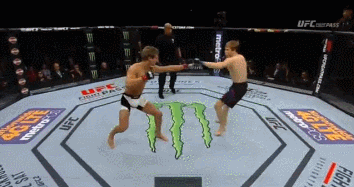 I feel the Slacky for worst gameplan of the year has to go to Tim Boetsch. Against Dan Henderson, who only has one way to win fights, and that will only happen if his opponent gives him exactly the type of fight he wants, Boetsch decided to brawl and ran onto a right hand. The only thing Dan Henderson does well at this stage of his career and only for the first minute of any fight. Henderson can barely get across the floor at his opponents any more, but Boetsch ran in face first and stood in the one place Henderson can throw his "H-bomb".
It was a daft move by Boetsch, who can normally rise to the occasion and mix it up to grind out the best of them, but worst of all it convinced Dan Henderson to keep fighting at age forty-five after being finished in three of his last five fights. Henderson's next fight was against Vitor Belfort, and he was promptly head kicked out of consciousness yet again.
Breakout Technique of the Year: Snap Kicks
Previous recipient: Electric Chair Sweep
Last year I ended this section with:
"Kicks with the ball of the foot to the body are slowly catching on. We've been singing their praises for years because they just work so damn well, but fighters are slow to adopt them."
It has been years that I have been harping on about snap kicks to the midsection, with the ball of the foot as the striking surface, and finally I think we can say that they are making some ground. Everyone from Frankie Edgar to Max Holloway to Chris Weidman showed them at some point this year. But for truly effective use, you need only watch McGregor versus Mendes, wherein McGregor winded the poorly prepared wrestler with front snap kicks to the midsection. More on that in the McGregor episode of Ringcraft:
Similarly, Bellator middleweight champion, Brandon Halsey lost his title to Rafael Carvalho by snap kick to the midsection.
The value of these kicks is not up for debate any more. When they are used, they change fights and they quickly sap the will of even the best conditioned fighters. And the old excuse that Semmy Schilt could only do it because of his height has taken the better part of a decade to be dented, but it seems to be coming away in chunks now.
Winding Down
With pay-per-view numbers up, and the format apparently taking a break from dying out, it has been a terrific year. We've got a rematch between Holm and Rousey on the horizon and a Conor McGregor title defense guaranteed to make money, the return of Jon Jones, and for the technique freaks out there we have T. J. Dillashaw and Dominick Cruz ready to do battle at a pace of a hundred miles per hour in the coming months. All that and the usual Cain Velasquez rematches and bickering over undeserving title challengers at welterweight. But that's MMA, for better or worse a good moan is as welcome as a good fight.
Between Holly Holm exploiting Ronda Rousey's lack of ringcraft, Rafael Dos Anjos taking the title with top notch pressure fighting, and Luke Rockhold and Chris Weidman throwing dozens of body strikes where just three years ago one or two would be a rarity in a title fight, I don't think there's any argument that the quality of fighting is still on the rise. And the best thing? The break out star of 2016 has yet to identify his or her self. There are going to be fighters coming out of obscurity and showing us all kinds of cool stuff again. Roll on 2016 and keep the great fights coming.
Pick up Jack's new kindle book, Finding the Art, or find him at his blog, Fights Gone By.