This article originally appeared on Noisey UK.

Life is uncertain, but some things remain the same: the sun continues to rise and set, the tides continue to ebb and flow, the hands of the clock continue to move around the same 12 numbers. And, each year, without fail, a collection of music award shows take place in their prospective venues, as people in the music industry hand out specially designed objects to other people in the music industry, in ceremonies built to congratulate each other for another year in which music was made.
Over the years, the major ceremonies have managed to foster a certain level of importance. Here in Britain, we have the BRIT Awards, the Mercury Prize, the MOBOs, and the BBC Music Awards, (as well as a dozen smaller and respectable independent ceremonies). Each of them are hosted by a pool of presenters who have always existed and will never die, such as Ant and Dec, or Fearne Cotton, or James Corden until he inexplicably became too good for us, and now Michael Bublé. The winners are always Coldplay or Adele or [insert this year's major label white male hope], and they always give a speech as if it were their first, then everyone in the audience nods and claps. Occasionally, people write thinkpieces about who should have won what award, then other people tweet them to say why they're wrong.
Although this year, even that impenetrable veil of predictability threatens to slip. Like the robots in Westworld questioning their reality, artists at the BBC Music Awards on Monday night seemed to question why the hell they were winning stuff again. On receiving 'Album of the Year' for an album she released in 2015, Adele said: "Thank you for this award, I feel a bit bad winning it when the album has been out for so long but nevertheless..." And when The 1975 won 'Best Live Performance' for a random cover they did of One Direction's "That's What Makes You Beautiful", lead singer Matt Healy noted: "It's a bizarre award. It's for a performance of a song we didn't write, by an artist who also didn't write it!"
So, here's the thing: do actual people really give a shit about these award shows anymore? As in, anybody other than record label staffers, industry bods, those that work on the awards show, the musicians themselves, and those with jobs directly related to them? Do people out in the real world, outwith the music industry bubble, sit at home, bristling with uncontrollable tension at who might win the Mercury Prize next year? Adele has won eight BRIT awards—is there anyone out there desperately wishing she had nine? Does anyone realize that the NME Awards are still going?
I decided to find out how high these prime time ceremonies actually are on the British public's "give a fuck" scale. So, I ventured out the office to ask passing strangers if they care about music award shows, or if they're just an excuse for musicians and PRs and record labels to wank each other off in a room full of spherical tables covered in white cloth.
NIAMH, 25


Hi Niamh! Did you watch the BBC Music Awards last night?
No.
Did you watch the BRIT Awards earlier this year?
No.
Do you care about the Mercury Prize?
Not at all.
Are there any music award shows that are important to you?
None.
Is there anything they could do to make you watch them?
Sing decent songs.
JEFF, 51


Music award shows—do you like them?
No.
So you wouldn't sit and watch one if it was on TV?
I might watch the BRITs if they're on.
What could music award shows do to make you watch them?
It's just the same old rubbish time after time, isn't it? Robbie Williams is always there saying something, oh and here comes Ant and Dec, and there's an award designed by "so and so"—who really cares?
LINDSAY, 29


Do you keep a firm eye on the BBC Sound Of Poll?
No.
Why not?
I didn't know it existed to be honest.
Do you care about any other music award show?
Only when there's a classic moment, like Madonna being dragged backwards down the steps by her cape after getting caught on some fake bull horns. That was awesome.
So it would literally take Madonna hurtling down some stairs for you to watch?
Yep.
STUART, 24


Yo Stuart. Do you care about music award shows?
No.
What don't you like about them?
The music that I listen to is never on these award shows, so they're irrelevant to me.
When's the last time you watched one and what can you remember?
I think I watched the Mercury Awards when The XX won.
That was six years ago.
Exactly.
DAVE, 31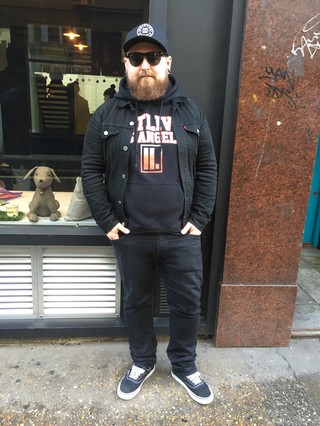 Do you watch music award shows?
Not at all.
Why?
All the same people are nominated for the awards, and all the same people win the awards. It's only ever Rihanna or Beyoncé or Adele. I like rock and metal music, and guess who's nominated for best 'Rock Performance' at this year's Grammys? Beyoncé. There are so many bands doing amazing things, but they can't get a look in because Beyoncé exists.
Can you remember a time when you ever enjoyed music award shows?
When I was a kid I remember watching the BRITs and seeing the Spice Girls and Geri wore that Union Jack dress. That was, what, 1997?
Yeah, that was my fave year too. Cheers Dave.
JANET, 49


When's the last time you watched a music award show?
I watched the BBC Music Awards last night.
Ah—now we're talking! What did you think about Coldplay winning "Artist of the Year" over David Bowie? Are you fuming?
No, Coldplay is good. I like them.
Oh. Do you watch any other music award shows?
Yeah, I always watch the MTV VMAs. I only ever watch the American ones, though.
What do you think the British ones need to do to keep up?
We've got nice music, but the American ones make it more entertaining, their performances are huge and the presenters actually make me laugh.
What about Michael Bublé? He's hosting the BRITS next year. He might make you laugh…
*Shakes head*
What's your beef with Bublé, Janet?
Just no.
ANDREAS, 32


Do you watch any music award shows?
Sometimes.
What makes you watch them when you do?
If I'm watching TV sometimes I'll accidentally come across them. Although I might schedule some time in if it's Eurovision.
Eurovision doesn't count, Andreas! That's a talent show.
It does count.
It doesn't.
It does.
Fine. What other music award shows are important to you?
The People's Choice Awards.
Not sure you can call that a 'music' award show, but I'll let that one slide.
It is.
JADE, 17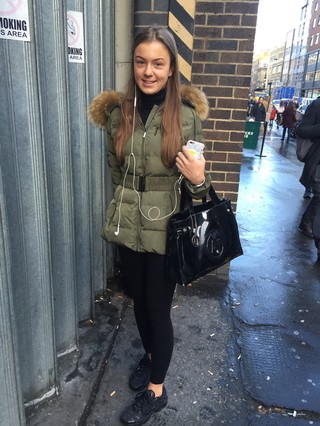 Hey Jade! If I told you right now I could get you tickets to next year's Mercury Music Awards, how happy would you be on a scale of 1-10?
A seven.
So I'm guessing you're a fan of the Mercury Awards?
No, I don't know what they are.
Oh. What about the BRITs? Do you watch them?
No.
The MOBOs?
No.
Have you seen any music award show, ever?
No.
What's the point of our current British music award shows in relation to the general public?
I literally don't know.
You can follow Daisy on Twitter.