It was around 4 PM on a Friday afternoon when I got the call. A friend told me her landlord, who worked in real estate, was offering $800 for two people to hold her spot in line for 15 hours at a condo presale in Port Coquitlam. As a freelance journalist, this was an offer I couldn't refuse.
By 6 PM, my friend and I were driving from UBC's campus to Port Coquitlam with a tent, a couple sleeping bags, and several bags of hastily-purchased junk food. We arrived to a line of nearly 100 people, sitting in lawn chairs and pitching tents in a parking lot outside of Quantum Properties' offices.
We met the agent and one of her clients, relieving them of the place they'd been for most of the afternoon. She was very concerned about making sure we had everything we needed and regularly called or texted to check in with us.
Vancouver's housing market has been out of control for a long time, but this is a first for Port Coquitlam according to Trevor Street, who works in marketing for Quantum Properties. Street told VICE previous condo presales in the area saw lineups of 15 people max—nothing compared to the well-over 100 people who started showing up as early as Tuesday.
Last year in Vancouver, the provincial government instituted a foreign buyers tax of 15 percent to try and cool speculation in the market—a move that seems to have had little effect. In August, condos and townhouses in Vancouver saw increased competition with sales 19.6 percent higher than the 10-year average.
Now the scramble to buy up valuable real estate—and the rising housing costs that go with a hot market—seem to be spreading to suburbs like Port Coquitlam. A year ago, the average price for a single bedroom condo in the area was $250,000. Today, that price has accelerated to $327,000—an increase of 31 per cent. The units we were waiting on started at $334,900—a rate that is considered very competitive.
If this growth continues at the same rate, speculators could make a fortune reselling these condos when they're built. The Montrose Square condo development at Kelly Ave and Mary Hill Road won't even be move-in ready until late 2019 or early 2020. The new set of multi-use buildings will be connected to a new recreation centre and walking distance from public transit.
I quickly learned many in line weren't buyers, but young people paid to be there. Many worked service industry jobs and were resigned to the fact that although they waited diligently in line, they would likely never own condos like the ones they held spots for.
Trevor John Boorma sells cars normally, but came out for $300-a-day to stand in for another real estate agent. He estimated nearly half of the people waiting in line were proxies.
Another Port Coquitlam local told VICE she called in sick at her low-paying job because camping out for two days paid more. According to the real estate agent paying us, the going rate for line sitting is about $250-300 per day.
It was around 9 PM when we finished pitching our own two-person tent. Street did a roll call, walking through the line, writing everyone's name down, and giving each of us a number. We learned there were 150 units available, and each purchaser could claim two. If the purchaser or proxy was absent for more than 15 minutes, they would lose their spot.
If the first 75 people all bought two units, every space would be sold. We were number 75 and 76—decent odds for our $800 bounty.
My friend and I soon found ourselves drinking and smoking around a campfire with a group of young people. A few were buyers, many were stand-ins, and others were just friends who came to hang out. The locals were baffled Port Coquitlam, a place they grew up and perceived to be far removed from Vancouver's overheated market, was fast becoming the next big place for real estate speculation.
"Prices are going up by a lot and people are seeing that as an opportunity to make easy money," one buyer about 20 spots ahead in line told VICE. "That's creating a lot of demand." On the flipside, the other half of the line—who likely can't afford average rent never mind a down payment—seem to be giving up on ownership dreams.
This disparity has become a major issue in an upcoming Vancouver by-election. Half an hour before these condos would go on sale, Vancouver city council candidate Jean Swanson staged a demonstration in front of Chip Wilson's $65-million dollar mansion, calling for a one percent property tax on homes valued at over $5 million. She proposed that money should go into affordable housing initiatives.
"Rich property owners are earning more twiddling their thumbs and letting their property appreciate than by working," she told supporters, adding people who work at McDonalds "don't have the luxury of sitting on a piece of appreciating property because they can't afford to buy one." In Vancouver, land values have appreciated more than the entire city's annual incomes combined.
At 11 PM, a security guard came by warning us to lose the beer and put out the fires. "You'll lose your spot in line if I have to call the RCMP," she barked. Everyone scattered and most retired to their makeshift shelters.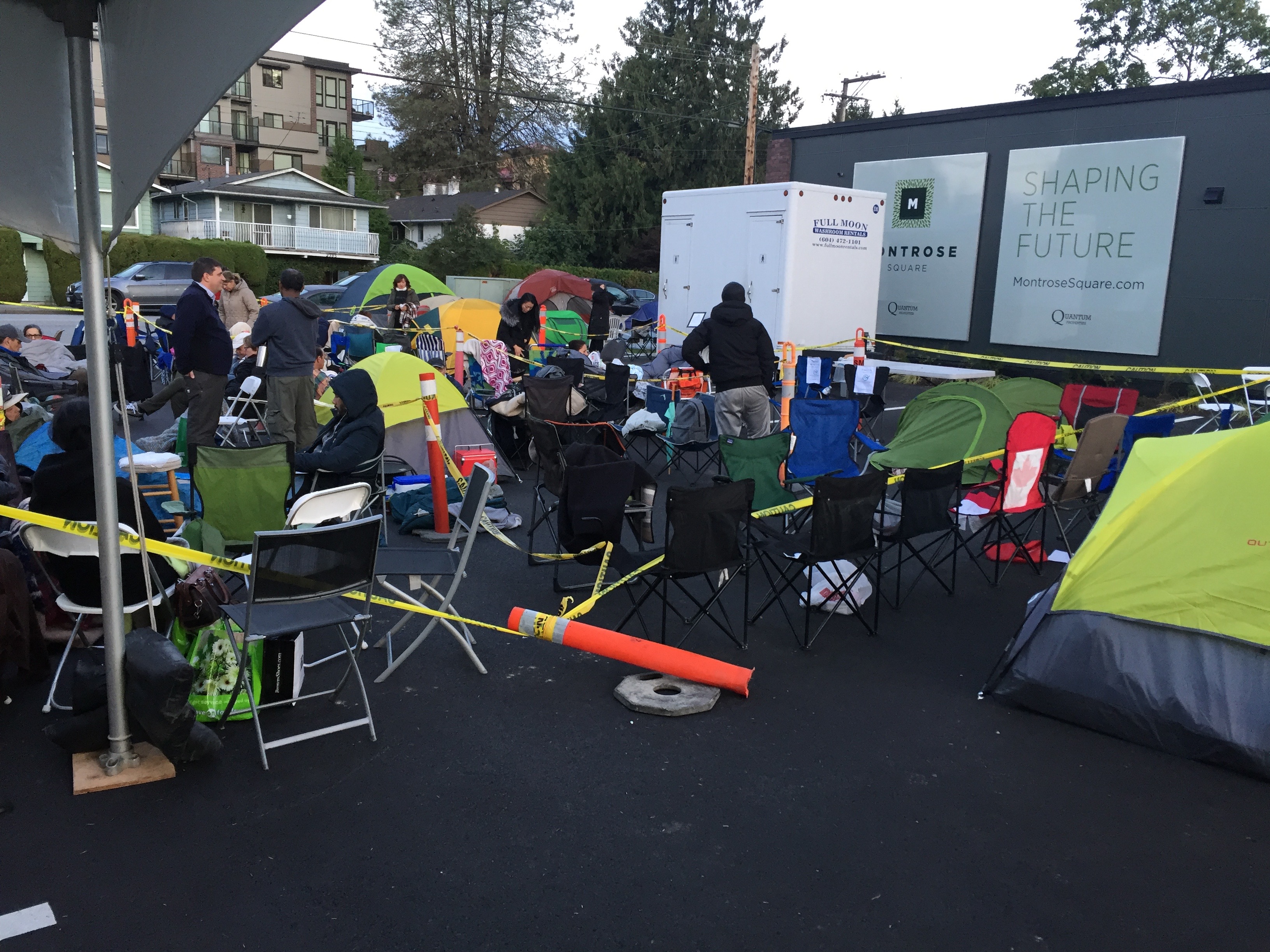 In the morning, our employer's client brought us breakfast and checked in with us. More people had showed up, some coming as early as 5 AM. Many of them were not likely to get a unit.
If the entire spectacle hadn't seemed surreal enough, in the late morning, a catering company arrived. People waiting in line were served continental breakfast items, cold sandwiches, coffee, lemonade and tea. This was the first time the caterers had ever served at a condo pre-sale.
Our real estate agent arrived around 11:20 AM to take over. She paid us $400 each in cash and we packed up our tent and left. She got the units she wanted.
My friend and I drove back to Vancouver, laughing at the absurdity. We agreed neither of us would be able to afford one of those units once they're built. Quantum will be building more condos in the same area, suggesting demand is expected to grow from here. We tried not to care. For the price we were paid, either of us would do it again.
Follow Brent Holmes on Twitter.