2017 has not been easy on the United States.
On top off mass shootings, protests, and seemingly limitless government incompetence, the eastern parts of the country have been experiencing weather disasters on a scale never seen before. Since the beginning of September, Hurricanes Harvey, Irma, and Maria have been responsible for billions in damages and more than 100 deaths. Even after two weeks, many of Puerto Rico's 3.4 million inhabitants are still without food or clean water, leaving those of us on the West Coast to read, donate, and breathe a quiet sigh of relief that hurricanes don't strike the Pacific Northwest.
But don't count cities like Vancouver out of our extreme weather plagued future just yet. Because as John Clague, a professor of Earth sciences at Simon Fraser University explains, just because we're sheltered from hurricane activity doesn't mean we're 100 percent safe. In fact, if a storm even one fifth the size of Irma were to make landfall off the coast of British Columbia, we would be in for a world of hurt. (Quick note: Hurricanes and typhoons are the same thing, in different oceans, but the National Ocean Service uses "hurricanes" for the Pacific northeast, so we'll use that throughout.)
"We don't have to worry about hurricanes, but we do have to worry about hurricane-force winds," Clague told VICE. "We hear a lot about earthquakes on the West Coast, but we don't hear a lot about storms. There are a lot of issues we would face when it comes to severe storm activity—and it doesn't have to be the size of Hurricane Irma."
As well as being one of Canada's leading Earth science experts, Clague has conducted extensive research on a number of natural hazards, including earthquakes, floods, and tsunamis. As he's quick to point out, the West Coast is protected from a tropical storm like Irma or Maria, which feed off of warmer water. However, we're much more vulnerable to frontal systems, which can extend for hundreds of kilometres, bringing with them high winds, rain, hail, and widespread flooding.
"It's a different type of storm, but they can be very damaging," Clague says. "Sometimes when they move into continental areas, they trigger tornadoes, hailstorms—all sorts of weird things. I don't think you'd ever see the equivalent of a Category 2 hurricane on the coast, but even a Category 1—those winds are 120-150km/h. They're going to do a lot of damage."
Currently, both the City of Vancouver and the Fraser Basin Council have modeled damages for 500-year and 10,000-year floods. The reports use Hazus modelling (considered the gold standard of disaster consequence assessment) to forecast the impacts of rare storm events over the next century.
And the takeaway is, it wouldn't be pretty.
According to current estimates, a present-day coastal flood would do an expected $19 billion in damage, resulting in 1,700 displaced households, and 5,000 people in need of emergency shelter—the majority of those in the downtown core, around the False Creek basin, and near the Fraser River. Within the city of Vancouver alone, an estimated 500 buildings would be damaged, the majority of which would be residential, resulting in more than 3,000 truckloads of debris. Water would cover Granville Island, and virtually all of the False Creek coastline, extending as far east as Main Street. Likewise along the coastline of Coal Harbour and Kitsilano, as well as portions of Stanley Park. Regional First Nations communities are particularly vulnerable, since many are coastal, and unprotected by the dikes which encircle most other low-lying areas.
A number of roadways, including Pacific Boulevard, Cornwall Ave, and Terminal Ave would be impassable, and downtown portions of the Skytrain line are expected to flood, interrupting service west of Commercial/Broadway or North of Broadway-City Hall. Likewise, bus service would probably grind to a halt, given that any severe storm would likely cause water levels in the Fraser River to rise, submerging Coast Mountain Bus Company's service yard. Loss of viable transportation options would impact local food supply inside of four days.
Luckily, Metro Vancouver's water comes from mountain aquifers, which means they would probably remain untainted, but contamination of flooded areas in both the Fraser River and the False Creek basins is incredibly likely, given the prevalence of industrial buildings in both those areas. And unlike more southerly West Coast areas like Patagonia, which are regularly besieged by high winds, the West Coast has an additional hazard to make things even more difficult: falling trees.
"We have trees that tend to topple and snap power lines, or knock down power poles," says Clague. "Not only that, but you can expect in an extreme-type storm, there would be trees coming down on buildings, on homes. And you run the risk of people being injured or killed that way."
The recovery period would likely be weeks, during which time locals would almost certainly be without electricity, owing to the sheer amount of downed trees regionwide. Anyone living in the False Creek Athlete's Village would likely be without heat or hot water for longer still, as replacement parts for the Neighbourhood Energy Exchange (which uses thermal energy from waste to heat the buildings) would need to be ordered and installed.
"BC Hydro has contingency plans for severe storms, but the problem is, a storm that extreme would sever the power for millions of people, and leave them without power for at least a week," Clague explains. "And people get panicky when they don't have power. You can't run businesses, you can't run your transportation systems, your communication goes down. You need to think about the downstream consequences of not having power in a major city. That's where it gets pretty scary."
Thankfully most hospitals and care facilities (including Vancouver General and St Paul's) have backup generators, and are outside the immediate flood area. However, other emergency services—including the city's central police yard and three fire stations—are well within the flood zone, as well as at least half a dozen sites designated as emergency gathering shelters.
And that's just Vancouver. Low-lying cities like Richmond would be much worse off. Two of the major factors that contributed to Houston's recent flooding problems also exist in Richmond; it's flat, and large portions of its surface area are covered with concrete, meaning that in flood conditions, there's virtually nowhere for the water to drain. Worse yet, the city is only barely above sea level, and the condition of the province's dikes—most of them built during the 1970s and 80s—is inadequate at best. In fact, when the dikes were assessed in 2015, it was found that 71 percent of them are vulnerable to failure during a flood event, and a paltry 4 percent meet current assessment standards for crest height. As of this writing, not a single dike in British Columbia meets current provincial standards.
"The key takeaway is that any one of the four major Lower Mainland flood scenarios analyzed would be expected to trigger the most costly natural disaster in Canadian history to date," the Lower Mainland flood strategy report concludes, "creating severe strain on the regional, provincial and national economies."
The West Coast doesn't spend much time contemplating weather like this. "Most people living in Vancouver aren't prepared for a disaster," notes City of Vancouver emergency planning coordinator Jackie Kloosterboer. "We've actually had to cancel some of our community centre sessions because we don't have enough people."
By city estimates, only 20 percent of Vancouver's population is properly provisioned and organized for any sort of natural disaster. The city itself runs no workshops on how to respond to storms or flooding, however they do host upward of 300 events a year related to earthquake preparedness.
"The logic behind it is, if you're prepared for an earthquake, you're going to be prepared for anything," Kloosterboer explains. "It's all about having the supplies, and taking care of your family. If there's a flood and a windstorm, and the power lines are down? How are you going to connect? Regardless of the disaster, they're going to be your number one concern."
When it comes to disaster preparedness, earthquakes get substantially more attention than storm activity—strange considering that the statistical probability of either occurring in any given year is virtually identical; a major flood is considered a once-in-500-year event, while a large quake in the nearby Cascadia Subduction Zone is predicted once every 430 years (or roughly 0.2 percent in any given year). And while the chances of even a Category 1 (equivalent) storm making landfall on the West Coast are pretty slim, Clague points out that it has happened before. In October of 1962, the extratropical remains of Typhoon Freda curved eastward and joined with a low-pressure system, pummelling the West Coast with the equivalent force of a Category 1 hurricane, bringing with it heavy rains, mudslides, and winds of up to 140km/h.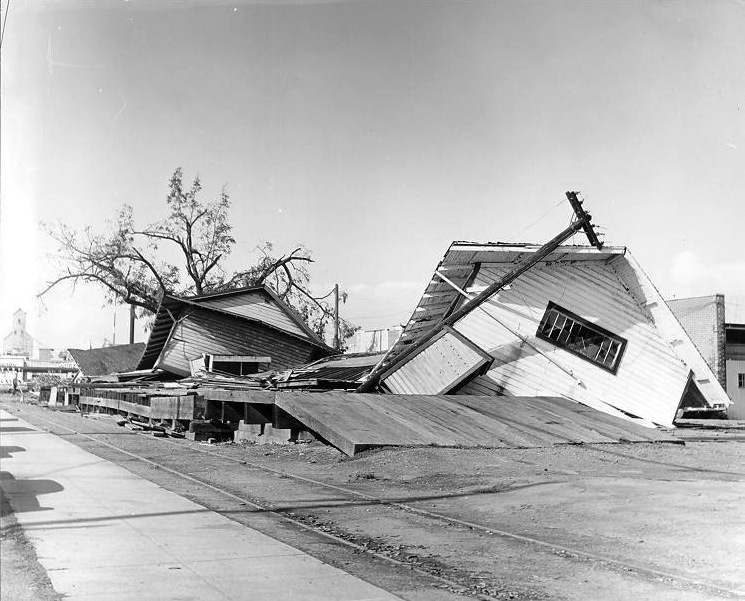 "It was a weird storm," Clague says. "It actually did start as a hurricane...Then, it kind of moved up the coast, which was a little strange to begin with."
The storm is still among the most powerful recorded in the Pacific Northwest since the dawn of the 20th century, causing 46 fatalities in the US, and ultimately doing hundreds of millions of dollars in damage. Vancouver itself paid a heavy toll when the storm made landfall; there were widespread power outages, neon signs were torn loose on Granville Street, more than 3,000 trees came down in Stanley Park alone, and seven people were killed—one of whom was crushed by a falling tree on the Stanley Park Causeway.
"Hurricane Freda is a good example of the kind of extreme event that we could experience again," Clague says. "At the time, they called it the Storm of the Century. And it certainly was the largest, most powerful storm that Vancouver and the West Coast had experienced."
So then, how likely is it that we could experience another storm the size of Freda? What are the chances we'll see a once-in-a-lifetime weather event in our actual lifetime? And how much will climate change play into those odds?
"I'm not an atmospheric scientist, but from the reading I've done, there's no consensus," Clague explains. "At the very least, it would bring more rainfall. And as sea levels rise, you'll get something on a smaller scale that's already very damaging with hurricanes, and that's storm surge. These are typically low-pressure systems, and that causes the ocean's surface to rise a bit. In hurricanes, you get water levels rising metres over the eye of a hurricane, and the water can be blown ashore on that high surface, which causes as much damage as the actual winds do."
While, as Clague points out, there is currently no scientific consensus regarding the effect of climate change on storm activity, some studies have noted that 500-year flood events may be happening as frequently as every 50 years. After all, Hurricanes Harvey, Irma, and Maria—all considered once-in-a-lifetime storms—took place in the span of a month.
"In terms of looking at what one could experience in the future, Freda's a pretty good indicator," he told VICE. "But one big difference is that that storm occurred in 1962. And here we are in 2017, and the population of Metro Vancouver is three times the size."
So, could it happen? Absolutely. But as for when, that's not something experts can predict.
"Fortunately, that type of storm is pretty rare," Clague told VICE. "But of course, because it has happened, it could happen again."