Jarrod Ramos, the man charged with killing five employees during Thursday's "targeted attack" on the Capital Gazette newspaper in Annapolis, Maryland, had made multiple death threats against journalists at the newspaper dating back several years.
Ramos will appear at the Annapolis District Courthouse at 10:30 a.m. Friday for a bail review, having been charged with five counts of first degree murder.
Police said Friday the suspect has yet to give a motive for the attack, but court records and Ramos' own social media accounts are instructive.
Ramos has held a clear grudge against the newspaper since it reported on a 2011 criminal case in which the 38-year-old pleaded guilty to harassing a woman — a situation the victim described in court as "a yearlong nightmare."
Ramos tried to sue the paper and its journalists over the coverage. A judge dismissed that case, but Ramos continued his attacks on the newspaper via social media, including issuing multiple death threats against reporters.
Despite the deaths of five of their colleagues, the paper's editors vowed to put out Friday's edition, which included coverage of the incident:
Who is Jarrod Ramos?
The suspect lived in Laurel, Maryland, a half-hour drive from the Capital Gazette offices. According to the 2011 story about Ramos' court case, he was an employee of the U.S. Bureau of Labor Statistics with a degree in computer engineering and no previous criminal record.
Ramos was reportedly identified Thursday by facial recognition software after he deliberately disfigured his fingertips.
Ramos grew up in nearby Severn, Maryland, and his father, Miguel Ramos, is an ex-employee of the National Security Agency and attended Arundel High School, which also counts Edwards Snowden as a former pupil, according to his Facebook account.
Vielka Ramos, the suspect's aunt, told the Baltimore Sun — which owns the Capital Gazette — her nephew is "very intelligent," adding: "He would try to communicate with people but he was a loner [who] wasn't close to anybody,"
He knew what he was doing
On Thursday Ramos entered the offices of the Capital Gazette armed with a shotgun and smoke grenades. According to the police, the suspect "looked for his victims."
"What happened here was very calculated," Capital Gazette reporter Selene San Felice told CNN. "I think this person was going after editors." Another reporter, Phil Davis, described the horror of hiding in the newsroom, adding there is "nothing more terrifying than hearing multiple people get shot while you're under your desk and then hear the gunman reload."
Ramos shot and killed Rob Hiaasen, the paper's assistant managing editor; Gerald Fischman, editorial page editor; features reporter Wendi Winters; reporter John McNamara; and sales assistant Rebecca Smith. Two other employees suffered non-life threatening injuries and were released from a hospital.
None of those killed or injured were directly responsible for the story about Ramos in 2011.
A grudge
Seven years ago the paper reported that Ramos stalked and harassed a former classmate via Facebook and on email. At one point he messaged his victim: "Have another drink and go hang yourself, you cowardly lush."
After the paper reported his guilty plea, Ramos sued the organization for defamation, specifically mentioning former staff writer Eric Hartley, who penned the story. He also sued Thomas Marquardt, the paper's editor and publisher.
The lawsuit was dismissed in 2012 after a judge ruled that "there is nothing in those complaints that prove that anything that was published about you was, in fact, false."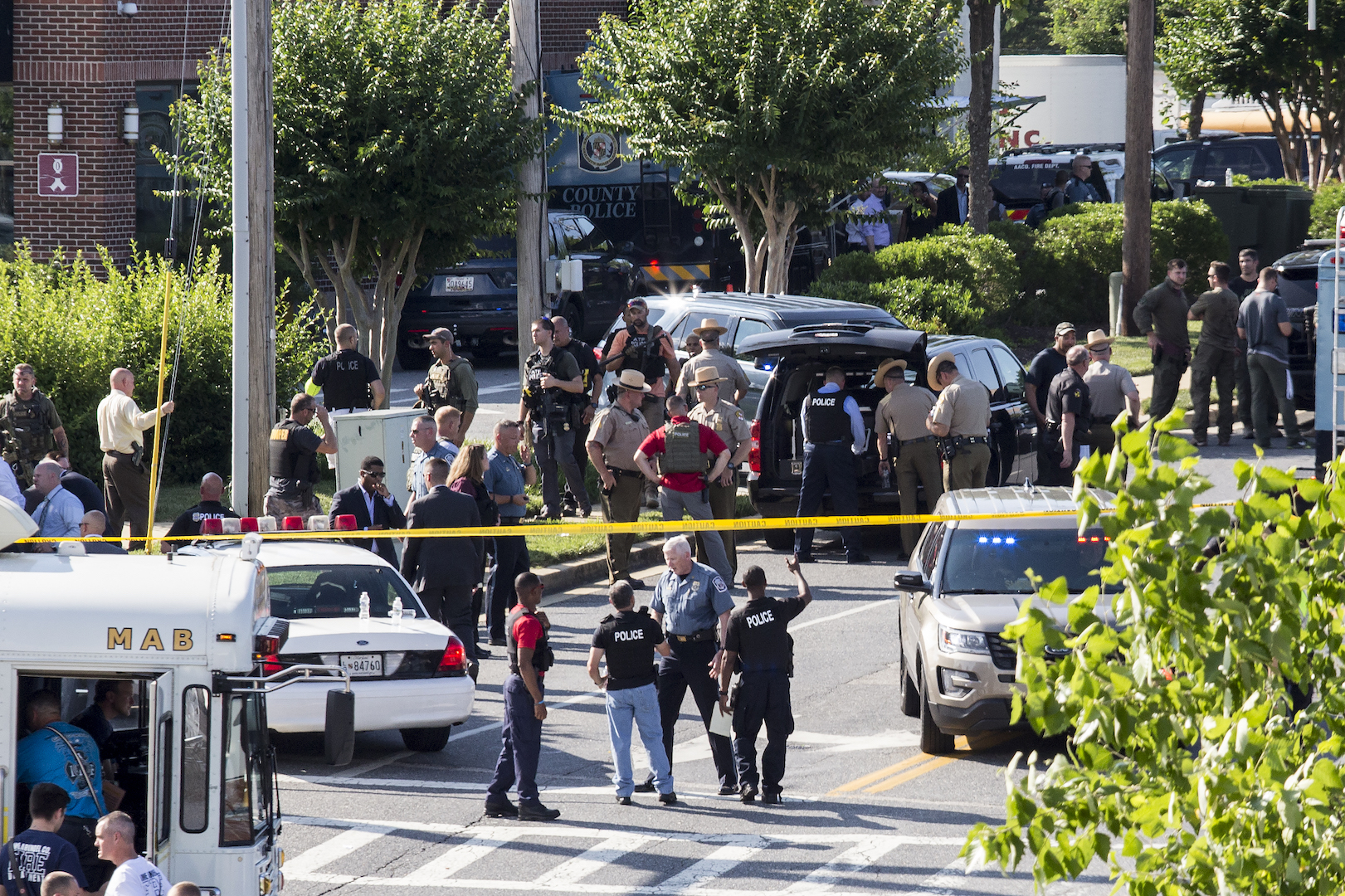 But Ramos continued his vendetta on the newspaper and on Hartley in particular, issuing death threats against the reporter.
Speaking about the threats, Marquardt told the Los Angeles Times: "He waged a one-person attack on anything he could muster in court against the Capital. I said during that time, 'This guy is crazy enough to come in and blow us all away.'"

Fake news media
Having railed against the media, threatened journalists with violence and labeled journalists "enemy of the state," Trump tweeted his condolences in response to the shooting:
When asked directly about the killings as he headed to a ground-breaking ceremony at a factory in Wisconsin, Trump ignored the questions:
Ramos had in the past tweeted his support of Trump, in relation to a lawsuit the then-candidate filed against Univision in 2015, adding that the Capital Gazette referring to Trump as unqualified could "end badly."
Reacting to Trump's tweet on CNN, Capital Gazette writer Selene San Felice lashed out: "Thanks for your prayers, but I couldn't give a fuck about them if there's nothing else."
Cover image: Jarrod Ramos, the suspect charged with the fatal shooting of five people at a newspaper in Annapolis, Maryland. (ANNE ARUNDEL POLICE DEPARTMENT)
This article originally appeared on VICE News US.