Watch the Video for "Mañana" by Álvaro Díaz, Puerto Rican Hip-Hop's New Star
Up until three years ago, Puerto Rico didn't have a hip hop scene. Enter 25-year-old rapper Álvaro Díaz and his crew, Lv Ciudvd.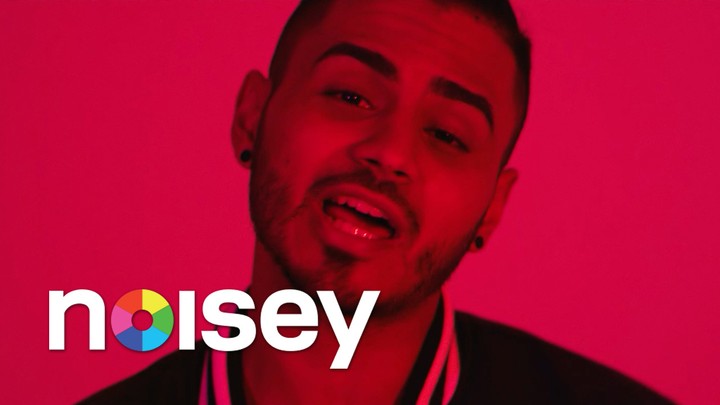 Up until three years ago, Puerto Rico didn't have a hip-hop scene. The country's airwaves are dominated by reaggeton acts like Pitbull and Wisin & Yandel, and even though there's always been hip-hop in the island, it stayed mostly in the underground, with the exception of megastars Calle 13, who blend reggaeton, hip hop and latin-flavored beats with political themes in their lyrics (i.e. this video, which they made with Julian Assange and Tom Morello).
Enter Álvaro Díaz, who along with his collective, Lv Ciudvd, and other rappers like Fuëte Billëte, Jazz Bandana, Mike Towers and PJ Sin Suela, have created a new, strong, growing, and youth infected scene. "The scene started out by mere chance; it was three or four rappers that started out at the same time," says Díaz.
Against the skepticism of big time record producers, who told Díaz he was going nowhere if he stayed on the hip-hop track, Díaz and his crew started playing free shows all around the country, planting the seeds of a fan base that is now growing by the minute. Two and a half years after he started out, Díaz closed 2014 by playing a sold out show opening for Calle 13 in front of over 20,000 people in Mexico City.
Noisey is happy to premiere the video of Díaz's latest single, "Mañana", which, according to the rapper, became the first hip-hop track in Spanish played on Puerto Rican airwaves in October. It will be part of Díaz's debut LP, Díaz Buenos, Díaz Malos, which will be available this summer. Listen to the track above, and learn more about Díaz on his Facebook, Twitter, or Soundcloud.
Lucas Vernon works for Noisey Mexico. Follow him on Twitter.