Baltimore's Dope Body have got it. I don't mean "it" as in massive popularity, extensive radio play or a dumb iTunes contract where everyone gets their album for free even when that's the last thing they want. I mean IT: they've got the got the snarling, slinking, reptilian spirit of rock 'n' roll pumping through their collective veins. This is most apparent in the live setting, as the band's urgent, scuzzy, post-punk grooves compel frontman Andrew Laumann to contort his skinny, half-naked body into the kind of twisted shapes that would alarm even the most insouciant chiropractor. It's also evident in their recorded output. Lifer, Dope Body's second album for Drag City, is another swaggering, middle-finger raising, booger-flicking, spit into the listener's gaping ear-holes. Yet it's sound and attitude may not have been purely intentional, it turns out. Because as guitarist/bassist Zachary Utz revealed to me, Dopy Body thought they were writing big hits and classic-rock concept albums all along. They just made a real mess of it. So instead, some guy got stabbed. That's the curse of having it, I suppose...
Check out the new Theo Anthony directed video for "Repo Man" from their new album Lifer (out now), our interview below, and the band on the road at the dates at the bottom

What does the title, Lifer, mean? What is a lifer?
Lifer is basically anyone who has kind of lost the ability to choose their direction in life. Obviously we can all choose to move in or out of our current situations and therefore the term "lifer" is kind of a cop-out. However, when you think of it, society encourages "lifers". When you decide to dress a certain way as a statement of lifestyle or whatever, you are welcoming society's pigeonholing of you into a certain stereotype. That's only one example but if you have, like, a massive face tattoo then you have committed to a certain lifestyle that is going to limit you in the eyes of others (which is a super ballsy move, even if it is dumb). I think everyone in this band figured out they were lifers early on. We all do art and music and we know it's a dead-end lucratively and that our parents think we are basically losers and we offer little security to anyone of the opposite sex but we still do it. We almost don't have the ability to choose to not be it. We always were it and we can't suppress it.

Lifer begins with a two-minute instrumental called 'Intro'. And its final track is nearly seven minutes long. Does this indicate an evolution towards prog-rock?
On this record we were trying to be a classic rock band, to an almost comical degree. I feel like we made a fucking concept album with this one. Like how The Who did the 'Overture' at the beginning of Tommy to create a sort of table-of-contents for the vibes to follow, we are thinking linearly here like some proto-punk storytellers. For real though, who are we kidding? This album has some kind of an arc to it, I think we were all trying to be conscious of that. It's like some kind of half-assed epic novel about suburban abandon and caucasian alienation amongst a sea of shaven sheep. We may have crossed the Prog boundary on this one. But no regrets, right?

Did you approach the making of this album differently from last time round?
Yes, we set out to make as close to a live album as we could make under the very controlled circumstances of a legit recording studio. Travis [Harrison], the engineer, was made very aware of that from the beginning. We actually chose to record with him after doing a live-in-studio session for his internet radio station. We were so impressed with his ability to capture us all in the same room (with amps!) and not have it feel removed or like some alien environment that we were stepping into specifically to record. On the last record [Natural History], we were so enamoured by the studio that we let it take us for a joyride. The controls of the studio dictated more of where the music went than the actual musicians feeding it material. Lifer was very much more a peer-oriented record in a way.

Is the band a democracy? Did you have any disagreements making this record?
This band has been a democracy at points. It's also been sort of a splintered faction of different groups of dudes at points. I won't go into all the bullshit, but we came close to throwing in the towel around the recording of this record. We have had disagreements constantly, but they are often silent. No one talks about them and therefore nothing gets resolved. Often it's like a cut that doesn't get treated and then gets infected and becomes a much bigger problem than it ever would have if we'd just put peroxide on it from the get go. I don't know if that's normal among bands. From my experience it is normal in human relationships and therefore must be applicable in some way to group dynamics. That being said, at the end of the day no BIG decisions get made without group consent. But we get into trouble when we start defining what a BIG decision is. Does that make sense? We're pretty fucked up, eh?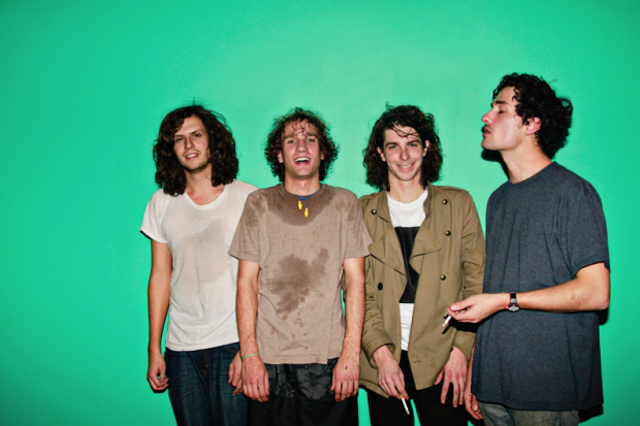 Apparently you all work day jobs because Dope Body doesn't make any money. Wouldn't it be easier to hire a big-name producer, record something that sounds like Maroon 5 and never have to work again?
I'm not totally ashamed to say we have been trying to do something like that for a while now. We never will because we can never fully embrace whatever it takes to do it. Honestly though, I don't think we are talented in the right way to pull off a coup like that. None of us can really sing and our predilections for what we think is a hit is clearly fucked since I personally have already thought we had a few hits written at this point, but obviously they weren't. I remember writing 'Enemy Outta Me', which clearly isn't a hit since most of you won't even know the song, and thinking, "Wow, we got a serious hit single here". We're like the delusional guy in the corner who tells you their idea for a great invention that is clearly the dumbest idea ever for an invention. Fucking idiots.
Take 'Hired Gun', for example. There's quite a catchy, sing-along chorus nestling in there. Why not lose that peculiar, spiky, disrupting lead guitar part so you can appeal to the Gaslight Anthem demographic?
I'm really glad you mentioned that spiky lead guitar part. I remember reading that Jonny Greenwood hated Radiohead's 'Creep' so much that he did those big distorted chugs to intentionally ruin what he thought was a bullshit happy pop song. Ironically that is probably what the song is most known for now. Am I comparing 'Hired Gun' to 'Creep'? Yes. That was my first mistake. My second mistake was playing that goddamn spiky, peculiar, disrupting lead guitar part on the verse. Damn.
I mean, 'Echo' has quite a laid-back, groovy, summery verse before it explodes into that angry, screaming, scuzzbath of a chorus. Couldn't you get the track streamlined and cleaned up by Pharrell Williams or Unkle Kracker or someone?
'Echo' reminds me of John Carpenter film scores like
Escape from LA
or
They Live.
It's got that pseudo-cowboy riding into a ghost town vibe. There's actually a very faint harmonica on that track as an ode to Carpenter. That's interesting you see some commercial marketing potential in that track. I don't see it. I guess that goes back to what I was saying earlier, I don't know what a hit is or what could potentially be one. Unkle Kracker, though, for real?
What's so great about integrity anyway? No one paid their mortgage with integrity.
Dave [Jacober; drums] actually has a mortgage, he owns a house. What's that quote from that movie DIG? Success and artistic credibility aren't mutually exclusive terms? That sounds about right. I don't think we have much integrity anymore but we also want to make good music. That's what the world did to us. We started by saying things like, "dude, I would never take a check from Ford for a car commercial". We were such young little pricks! None of us would bat an eye at taking money these days for something we created. Fuck it. We are trying to become adults and I think that's what a lot of this record is about, lyrically and musically. Part of that is obviously making some money to support ourselves.
I read Steve Turner from Mudhoney explaining that, because he's got better and better at the guitar over the years, he now has to make a conscious effort to play worse than he can actually play or unlearn what he's learned to maintain Mudhoney's punky sound. Do you worry you might become too proficient with your instruments? How might you deal with that?
I think we have maybe thought of that over the years. Speaking for myself, I combat that by concentrating more on tone and rhythm than anything else. None of the Dope Body guitar parts are terribly difficult in a finite motor skills sort of way. However, the tone is generally laboured over and thought about for quite some time. If we can get a cool sound we can usually get a lot of mileage out of it. Earlier Dope Body songs were literally just one sound spat back over and over again with different rhythmic permutations to create the feeling of verse, chorus, etc. Also, all of us play through some pretty wonky gear which makes for a unique result every time you turn the damn thing on or off. We have tried to roll with that and embrace it rather than get anything fixed. Which works out great because we are all really cheap and fairly broke so we don't want to pay to get shit fixed anyways.
What's the best thing about living in Baltimore?
I typically say the best thing is the fact that it's really cheap and allows you to spend most of your time engaged in activities to further your artistic endeavours without feeling the pinch of society's obligations in the same way that Brooklyn probably does. However, I don't know if that's a good thing anymore. Honestly, all this free time can create a fairly lazy vibe and complacency that starts to eat away years faster than you would like. You don't have to grind it out here the same way you do in other more major urban zones. You can pretty much chill all the time if you want to. That makes for a certain breed of person and a unique one at that, it also isn't for everybody and you can kind of see the "thousand-yard stare" in a lot of people's eyes when they've been here too long. Generally speaking though, whenever they leave they end up coming back because its sooooo easy to live here. Like I said though, I don't know if it's a good thing right now. Maybe it's just that it feels like life is speeding up and we don't have a whole lot to show for it. That's all subjective though and I know of a lot people who would be like "WTF" to the idea that Dope Body has nothing to show for it.
How important is Baltimore to the band's sound? How different would Dope Body sound if you were based elsewhere?
It's a gritty city. There's a lot to look at that will make you angry or scared or sad or happy or frustrated. I can't say for sure we wouldn't have done the same kind of music if we were based another city, but I can say that there is an eerie darkness and claustrophobia to Baltimore that really makes you want to scream. It's a small fucking city too. Everyone knows everyone else's shit, sometimes they know it before you do. All that combined together can make for a tense and aggravated vibe. That vibe has to have an effect on a person's psyche, right? I guess how in Seattle it rains all the time and they said how that led to all the depressive heavy dark rock that came out of grunge, I can see a parallel with Baltimore in that way.
What's the craziest thing that's ever happened at a Dope Body show?
This was five years ago but I remember we played this basement show in Allston, MA and this dude got stabbed in the stomach. I don't actually know how bad it was and it was also right after we had finished our set. Nothing life threatening. I just remember sitting upstairs at the house and this dude came up and was like, "dudes, somebody just got stabbed in the stomach". That is pretty fucking awful and I really dislike that our music maybe subverted the room into that headspace. There have been other shenanigans over the years for sure but that one stands out right now.
What are Dope Body offering right now that other bands are not offering?
It's becoming almost clichéd to say but we are really focused on always bringing a really energetic live show. I think we kind of want it to become cliché because it's what we want to be known for. We aren't angry or violent dudes but we do really let a lot of energy go at a show and we love it when it's returned by the crowd. It doesn't happen that often because we mostly don't play super-huge shows because we aren't a very hyped band but when it does we completely feed off it. You should come see us live and then talk to us after the show. We are really approachable dudes who love music and love playing shows and we will tell you anything you want to know about anything.
DOPE BODY on TOUR
10/21/14 Zanzabar Louisville,KY
10/22/14 Strange Matter Richmond,VA
10/24/14 Metro Gallery Baltimore,MD
10/25/14 Johnny Brenda's Philadelphia,PA
11/7/14 Suckfest Greensboro,NC *
11/8/14 529 Atlanta,GA *
11/9/14 raveface Savannah,GA *
11/10/14 Back to The Garage (Liberty Bar) Tallahassee,FL *
11/11/14 Circle Bar New Orleans,LA*
11/12/14 Mango's Houston,TX ^
11/13/14 The Mohawk Austin,TX ^
11/14/14 Double Wide Dallas,TX ^
11/15/14 The Lightbulb Fayetteville,NC *
11/16/14 Plush St. Louis,MO*
11/17/14 Pilot Light Knoxville,TN*
*With Roomrunner
^With Roomrunner & Future Death