Closing the Divide: JB the First Lady Brings Heritage Through Hip-Hop
An interview with Indigenous hip-hop artist, activist, and member of the First Ladys Crew.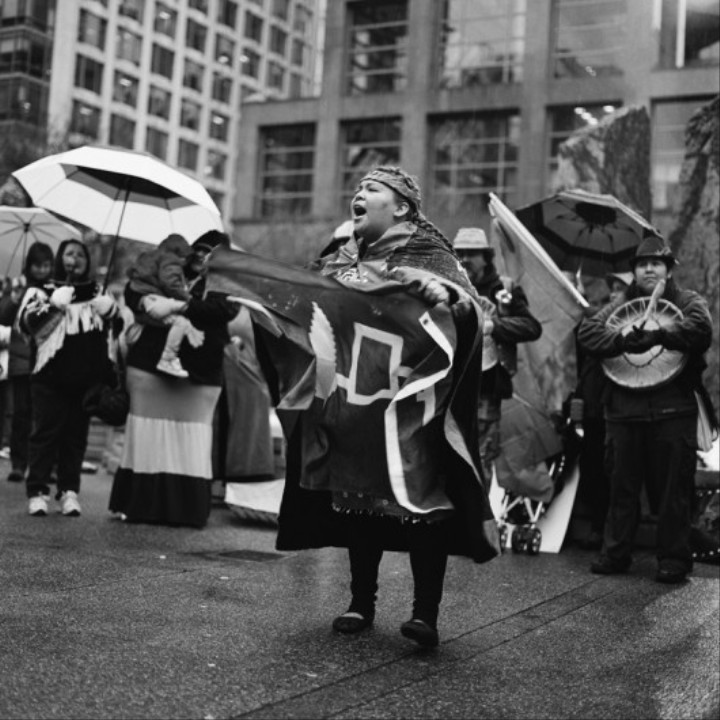 Photo via Red Works
By the time Jerilynn Snuxyaltwa Webster was a teenager, she had seen most of Canada. Moving city to city across the country, Webster was constantly in transition as she discovered new places and faces with each stop. During this time of mobility her Mother gave her a very important piece of advice: "Always go to the native community. Wherever you go, whatever city, there's going to be a native community that can help you find resources, get you a connection to housing, to food, anything that you need." Finally ending up in Vancouver, this integral piece of grounding advice ended up being the thing that pushed her onto the path she belonged. Webster found her community at the Knowledgeable Aboriginal Youth Association, a friendship centre where peers and mentors cajoled her into taking an active part in a culture she had always loved. It was here that she found hip-hop. "My older cousins lived in Rochester, New York, and they thought we didn't have good music in Canada. It was the early 90's, and they said 'We'll make you a mixtape.' So they introduced me to hip-hop. The first tape I got was Salt-N-Pepa. Finally when we came to Vancouver and I went to the friendship centre, this young person came up to me and asked if I liked hip-hop, and I'm like 'Yeah, Salt-N-Pepa!' They asked me to come check out these other young native people rapping, and they were called Tribal Wisdom." The indigenous hip-hop community Webster found was fostered out of a free access recording studio run by KAYA. It was there that young native music makers could learn to songwrite, record, and produce their own music. For Webster, listening to the words of Tribal Wisdom and the other groups surrounding that studio was more than just a musical experience, it fostered a sense of empowerment and cultural connection. "At the time when I moved here, there was lots of racism. The stereotypes were not untold, they were told to your face, out loud, whereas when I lived in Ontario no one even acknowledged I was a native person. These young people were talking about colonization, de-colonization, native pride. For me hip-hop was a place of belonging, it helped me become excited about being a young native person."
Webster and her sister took on stage names. She was First Kitty, and her sister was Zion. They went about town putting up stickers to get their names out there, and instead of tagging buildings with spray paint they would make their mark with these disposable place holders with stickers that read "First Ladys Crew." But Webster badly wanted to find a real crew of other female hip-hop artists to create with. "I thought, I would love to have a crew, and we can mob together and freestyle. All of a sudden, because of this studio, it created a group of indigenous female music makers. We weren't only singing the chorus, we were rapping, making beats, and learning production." The members of the FLC are Webster, who now performs as JB The First Lady, Rapsure Risin, Dani and Lizzy, Christie Lee, and Mama Es. Together they created a network of support for each other, which began as they honed their skills as songwriters. "When it first started, we were younger and really practicing our craft. Any place we would go, we would be free styling outside the club, always creating music, always writing songs. But many of us went through a coming of age, becoming young mothers, so we can't really connect on that level anymore. No we're all independently doing our own projects, so we uplift and support each other. If one person has a contact then we share that contact, or, if we've been down the same path applying for awards, we would share that knowledge with each other,' Webster explains.
In Webster's own exploration of hip-hop and it's different elements, she's been able to find a direct parallel to her culture, and discover a modernized way of continuing on great traditions of oral storytelling. "You have DJing and you get the drum, our people have a song for everything, a death song, a celebration song, a coming of age song, just like a DJ can control the entire room with the energy of the songs they pick. Then you're looking at the emcee, our people we are oral history storytelling people. When hip hop-originated they were talking about the real life things happening in their communities. Then you're looking at graffiti, especially in relation to West Coast art. There are certain protocols to the lines and the colours that you use, just like graffiti. The art comes from the land, it comes from that neighbourhood, that vibration. Then you're looking at breakdancing, and you see our pow wow dancers. You can even see today, A Tribe Called Red has James Jones as their dancer, he's a hoop dancer and he's a breakdancer. So you see that direct parallel, down to the same moves and the energy you have to put into it," says Webster. With this modern link, Webster hopes that she and her crew can act as a new generation of inspirational voices for aboriginal youth who are still struggling to find that cultural connection."I want to be a place of empowerment. I want to be that role model for young people that I had originally, who helped me connect to my identity and sense of belonging."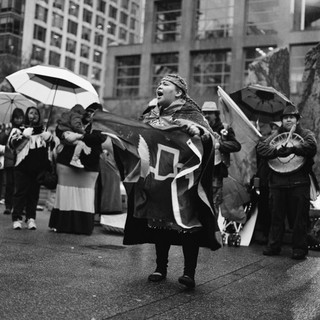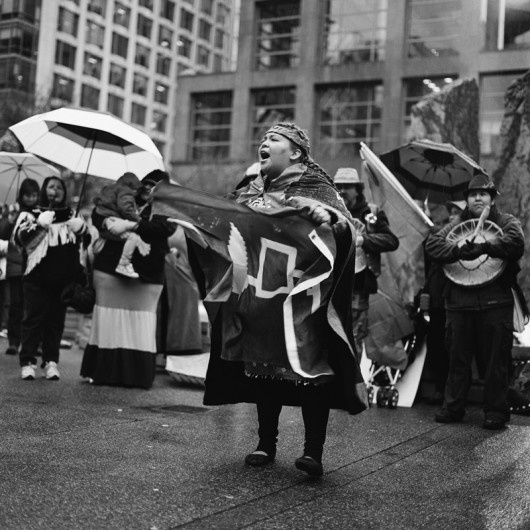 Photo by Stan Williams
Webster has taken her aspirations to be a community leader very seriously. The studio and friendship centre that her and the FLC first met and started recording out of quickly became more than just a creative outlet for her. Rising through the ranks at a very early age, she went on to become the executive director of KAYA at 22. Since then she has gone on to speak and do songwriting workshops in indigenous communities across Canada, participate in environmental and cultural rallies, and guest teach in schools and colleges. Webster hopes through her work she can help close the extreme divide between success and despair that has surfaced in native communities as a result of unacknowledged systemic inequalities and abuse. "There's a balance of imbalance for indigenous people. On one hand you have 1,200 missing and murdered women, and on the other our minister of justice is now an indigenous women. There has definitely been a shift since Idle No More, we've been able to share our knowledge in universities, colleges, even inside churches. Seeing the prime minister have a young native boy drum him in, and honouring all the different cultures like Inuit, Metis, and First Nations People, he came super correct. Justin Trudeau and his crew have been blowing my mind, and I think a big reason he got in is because indigenous voters came out, they wanted a change. As a result the oppression we've been feeling, a fraction of it has been lifted. I do see a shift, it's not the greater public, but in my mind especially with reconciliation and justice for indigenous people, the shift isn't in a linear form, it's organic. So it's going to happen in waves, us as one people we're not going to see that shift fully play out until maybe we're elders. In the meantime there always needs to be more work. How are these actions going to effectively roll out? We need to question everything," says Webster.
Webster and the FLC see hip-hop not just as a genre of music, but as a tool of empowerment, and an unquiet-able victory song in the face of years of oppression. Webster has not forgotten the recent past when legislative rulings made it illegal for indigenous people to practice their culture in Canada. In turn she has made the recognition of this basic freedom her career. Capturing the viewpoints of a young indigenous woman living in an urban setting in the way her people have been for generations, with words and rhythm.
Almost all of the women in the FLC are set to release new material in the very near future. Webster maintains the thoughts she's expressing now are just a prerequisite for this event, she says, "Just wait 'til you hear my girls, once their albums are out, it's going to be over."
Maya-Roisin Slater is a writer living in Vancouver. Follow her on Twitter.