Photo courtesy of One Direction's Facebook page
The term "boy band" conjures up a certain image: that of a talentless, gimmicky, record label (and teenager's) wet dream with great hair and not much else. With the exception of the Beatles, the boy band as we've come to know it holds little sway in the world of Important Music. Rather, the young male pop group is seen as nothing more than a contrived, money-making device designed to feed off impressionable teenage females. History shows that the career trajectory of the boy band is often cut short, too. Take a stroll down memory lane back to the boy band's modern heyday in the late 90s and early 2000s, then look around. Who's left? The Backstreet Boys are playing cruise ships (lol) and joint-touring with another forgotten boy band. New Kids on the Block; the legacy of N'SYNC is nearly trumped by the massive solo success of Justin Timberlake. 98 Degrees ... is probably not even worth Googling.
So. where does that leave the new crop of boy bands making waves in 2014? As it stands, One Direction is currently the biggest band in the world. Similar acts like 5 Seconds of Summer and Rixton have exploded at unreasonable rates. Surely they're destined for the same ill fate as their predecessors?
Well, actually, they're not.
Why? Simple put, these boys are doing things a lot differently. Let's begin with how the boy bands of today have been getting their start. Aside from One Direction, who were handpicked by Simon Cowell, many of these acts are being discovered as self-made, independent groups. Australian pop punkers 5 Seconds of Summer were already a fully-formed band with a healthy YouTube following before they hit it big. While they're now under the wing of head Belieber Scooter Braun, British group Rixton started out by building up its presence online. Origin stories like these speak to a certain musical integrity and drive beyond the Disney-bred likes of the Jonas Brothers or the masterminded tricks of Lou Pearlman.
BSB and fans on the BSB Cruise; photo courtesy of the Backstreet Boys website
These groups are also tweaking the traditional boy band image and sound. 1D are the worst dancers in pop music; to even suggest that these dudes attempt choreography is laughable. Meanwhile, 5SOS and British pop group the Vamps actually play their own instruments. It might sound silly, but by boy band standards, these are significant strides. They're also writing their own music and ditching the purely bubblegum pop sound. Nearly all of BSB's and N'SYNC's songs were essentially interchangeable, made-for-radio clones, but now, boy bands work to establish their own musical identities. Look closely at One Direction and you'll see the musical diversity: the group's most recent album, Four, serves as one of the year's best throwbacks, taking influences from Fleetwood Mac ("Fireproof"), Phil Collins ("Ready to Run") and other snippets of '80s gold. Elsewhere, 5SOS have the pop-punk game on lock, straddling the swoon-worthy boy-crush line with legitimate musical chops while Rixton opts for an R&B-inspired sound (think a less-creepy Robin Thicke in group form).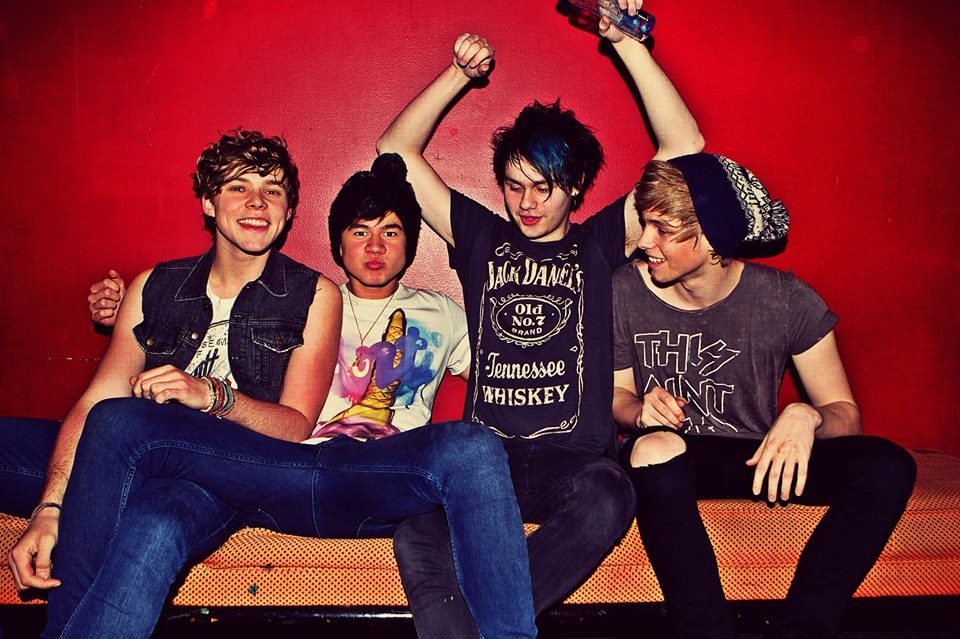 Photo of 5 Seconds of Summer by Geoff Jones
Perhaps the most significant difference between the boy bands of yesteryear and this current crop is the class of 2014's relationships with their fans. It's easier than ever for bands to interact with their fans; social media helps them to establish the illusion of a "personal" relationship, and in turn fans have the tools to track, obsesses over and analyze their band of choice's every move. There's a new level of connectedness between band and audience that previously never existed, and the widespread nature of social doesn't only serve "fans," either. The way people consume music has drastically shifted across the board since the late 90s; thanks to the rise of online streaming, there are now an endless number of ways to discover and experience artists. Now, boy band members, their individual personalities, their videos their songs—ultimately, their identities—are capable of reaching new audiences far beyond Top 40 radio.
All of this adds up to the the present day incarnation of this pop staple. There's no question that there are mega management teams behind the blockbuster acts, working to preserve a certain image, buy by and large, boy bands in 2014 are creating their own identities within the pop music realm. The the future points towards the propogation of this new breed of popstars who more involved with their music, their fans and their lasting perception. There's more at stake, if only because they're constantly under the watching eye of the Internet and its critics; for better or worse, there's less danger of fading into oblivion. Don't expect these boys to wash aboard a cruise ship any time soon.