Lil Bibby's Quiet Ambition Keeps Changing the Script of Chicago Rap
The Chicago rapper shares his video for "Ridah" and breaks down 'Free Crack 3' as he prepares to head on tour with G Herbo and Pusha T.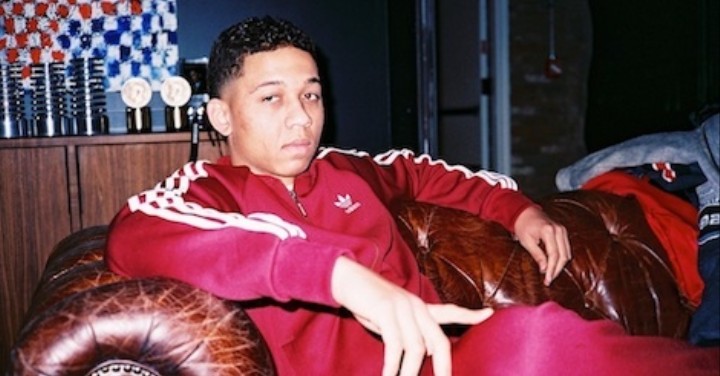 Photos by Jason Favreau
If you'd held a lens up to Chicago rap three years ago looking for the next big star, you probably wouldn't have picked Lil Bibby out of the lineup. But what his breakout song "Kill Shit" with longtime friend Lil Herb (now G Herbo) lacked in straightforward sing-song viral hit potential compared to Chief Keef or grandiose musical ambition compared to Chance the Rapper, it made up for in mesmerizing presence. Here were two baby-faced teenagers rapping effortless verses about shooting people with tight, precise, carefully rhymed bars. It was dangerously new, but it also had the spirit of grimy, revered rap classics by groups like Mobb Deep and Capone-N-Noreaga.
And sure enough, as the gold rush around signing Chicago rap acts subsided and the city's music scene began to reach a new maturity, Herb and Bibby emerged as some of the standouts, guys who had the talent and reach to transcend a couple of early viral hits. Bibby's debut mixtape Free Crack arrived as one of the most anticipated first projects in recent memory, and he's only continued to shore up his reputation over subsequent installments in the mixtape series. Free Crack 3, released last fall, hints at a new level of ambition. Alongside the bluntly recounted street tales, there are radio-friendly songs like "Aww Man," featuring Future, and "Misunderstood," featuring Jeremih and R. Kelly. Bibby's voice is deep, gravelly, and matter-of-fact, and he has a surprising pop sensibility: He knows how to slide deftly onto a track and then get out of the way, dropping lines that stick with just a few words, like "the kid so stylish / I don't need a stylist." Plus, the shit bangs.
Bibby's most interesting talent, though, emerges when his music dips into a more confessional mode. In person, Bibby is terse, saying little unless prompted and speaking in short, vague statements, but his best raps are almost disconcertingly direct in baring his emotions. On Free Crack 3 closer "Killin Me," he raps, "shit's getting heavy on my shoulders / I keep it to myself, I promise I never show it / I tell myself nobody cares bucks just keep it going / it's like I'm dying inside but you would never know it."
Paired with an ear for beats that smoothly bridge the gap between classic hip-hop and the heavier drums of today, Bibby presents himself as a step forward for the genre who can still make use of its most tried-and-true approaches. It doesn't hurt that he can also make bangers over these same beats, like the ominous, Tupac and Nas-referencing "Ridah," which we're premiering the video for above. That approach puts him comfortably in the company of older artists like Common, who is from a nearby part of Chicago's South Side to Bibby and has served as a sort of mentor for him, and Pusha T, who is taking Bibby and Herbo on tour in a couple weeks (find the dates below).
Along with that tour, Bibby is preparing a commercial EP,The Epilogue, on March 18, making the pivot from up-and-comer with a hot mixtape series to He visited the Noisey office in December to chat about what's next and what went into the making of Free Crack 3. He'd had a long day, but as he played songs and broke them down, he became more animated, as usual letting the music speak for itself but clearly deeply invested in making sure the messages in it were getting heard.
Noisey: You started out as just like a kid on the street, and now suddenly you're really in this industry. What does that feel like?
Lil Bibby: It only really hits me every now and then. But yeah, it's crazy 'cause at first I was just on the streets, for real, like, doing what I was doing, just having fun, you know what I'm saying? And now this is like a full-fledged job. A job that's 24 hours. I had to step up a lot.
What kind of things does that make you realize that you have to do? What are the shitty parts of it?
You can't sleep, man. You see I ain't really sleep today (laughs). And you always gotta be working, right, 'cause there's always somebody else trying to work harder than you.
Do you feel like there's guys kinda coming up behind you, coming for your spot already?
It's always there, man. It's always there. It's so many people trying to rap. It's always younger cats that want to outwork you.
What do you think you've done to stand out?
Well. I be all over the place with my sound, and my voice, you know, not too many people sound like me. And I like to pick soulful beats. There's only like a few young cats that rap over stuff that I rap over.
Yeah, you kind of have that old soul sort of thing.
I get that a lot.
You just did a song with Common recently. What was that like?
Yeah, that's one of my favorite songs on the project. It's called "Speak to Em." Produced by Jake-One. Yeah. Got a little soulful feel. You listen to it?
Yeah. I like it a lot.
Thanks, dude. It was cool working with Common. He's a cool dude. I talk to him from time to time, too. He always checks up on me and stuff like that. He said he want to get me to start doing TV stuff, but I ain't really too sure, 'cause you know, I'm not good with the camera (laughs).
You don't think so?
I'm getting better, but I'm really kinda awkward on camera. I'm getting better. But I don't think I'm good enough to be on the TV.
Who else, what else are you excited about, like as far as working with people? What kind of things excite you at this point with music?
Excite me, umm. It's a lot of new cats, man. I like listening to new stuff. It's this guy, 21 Savage. I was listening to his stuff. He say a lot of funny stuff. He just say like street stuff, but like funny stuff that everybody won't say on a song. He'll take it there.
Let's talk about the song you did with Future, "Aww Man."
I did that like, in LA a minute ago, and I gave it to him. I ran into Future in the studio in Atlanta when him and Drake was there recording What a Time to Be Alive. He just gave me some words of encouragement. He was like, "man, it's a pleasure working with you. I see you doing big things for the city man, keep it up." I didn't know Future messed with me that hard.
What's your writing process for a song like this?
I go off feeling, with stuff like this (laughs). So I ain't really write, write.
What are some of your other favorites on here?
"Came From Nothing." It's produced by this guy from Chicago, his name's C-Sick. I recorded that in Chicago in one of my homie's closets (laughs).
So you're still out here recording in the closet when the mood strikes?
Yeah, I wanted to—sometimes I like to go back to get that feeling. I always come up with stuff when I do that. So yeah, I like to take it back to that sometimes.
Things are going great for you now, but what kind of things do you get nostalgic for?
I'm kinda crazy man. I like doing stuff that I used to do sometimes. I like to record in closets sometimes. And sometimes I like to sleep on the floor (laughs).
Really? Why is that?
Yeah (laughs). I don't know, I just, sometimes I like to do it. I know it's weird, man, I just like to do it sometimes. I don't know what I get out of it.
Did you used to sleep on the floor in the past?
When I spent the night at my friend's house sometimes. I got locked up a lot of times, so I had to sleep on the little bench thing (laughs).
What's this next song?
This the last record on the project. It's called "Killin Me." It's produced by some guy from Canada, his name's Pro Logic. I actually got this from him when I was in the studio in Atlanta. Drake and Future flew all types of producers and stuff in, so yeah, I just linked with him, and he shot me some beats.
What was it like being there during that?
I was just sitting back chilling. I ain't wanna bust in nobody's session, you know what I'm saying. I'm cool with a lot of people in both of their camps.
OK. So "Killin Me," that's some heavy shit. Where's that coming from, the feeling like the world's on your shoulders?
It's just a lot of hard work, man. I don't know, you see I'm sleepy right now, right?
When you write stuff like "I feel I need a shrink on speed dial," that's the kind of lyrics that people really connect with.
Yeah, that's one of my favorite joints from the project, too. I was just speaking real stuff, and that's exactly how I was feeling at that moment. I always like when I getting vibes like that, when I can just tell exactly how I'm feeling.
A lot of people, especially rappers and musicians, can sometimes be like really hesitant to admit that they're feeling sad or struggling with anything. There's this idea that you have project you're successful all the time. How do you open up and make yourself feel comfortable doing that on a song?
I think that's how I started off. And that's what I like to do, making records like that. I started off with 'Water.' So that's kind of my specialty a little bit. You only get vibes like that every now and then. It's hard to catch stuff like that. You gotta feel it.
Like I said, I think it's really hard for artists to open up. And it's sort of ironic that even though we have like Twitter, Instagram, and stuff, and in a way everything's more transparent, it's almost like you're constantly having to put that face on that it's not that way.
I ain't really good at putting that face on. I put the face on exactly how I'm feeling that day, you know what I'm saying? If I'm pissed off, you'll know it.
One more thing I have to ask because people are curious: This fall, everybody was really concerned over this dude Slim Jesus. And you were, 'oh, I fuck with this guy, he's kind of taking my sound and doing the same thing.' What do you think about how people interpret that guy?
You're always gonna have some people that like what you do, and some people that don't like what you do. And I just thought it was funny, man. I took it for what it was. It was very entertaining, and I knew it was gonna get the attention that I did when I first saw it. When I first saw it it was like 12,000 views. I think it's like 16 million or something now. I just took it for what it was, it was entertainment to me. And it's hard to entertain me, so you entertain me, I know the masses is gonna take it and just eat it up.
Tour dates with Pusha T and G Herbo:
March 3 – Vancouver, BC – Vogue Theatre
March 4 – Seattle, WA – The Showbox
March 6 – Portland, OR – Crystal Ballroom
March 8 – San Francisco, CA – The Regency Ballroom
March 9 – Los Angeles, CA – Belasco Theater
March 12 – Denver, CO – Ogden Theatre
March 14 – Dallas, TX – South Side Music Hall
March 15 – Baton Rouge, LA – Varsity Theatre
March 17 – Houston, TX – Warehouse Live
March 18 – New Orleans, LA – Republic NOLA
March 20 – Nashville, TN – Marathon Music Works
March 21 – Atlanta, GA – Center Stage
March 22 – Charlotte, NC – Amos' Southend
March 23 – Washington, DC – 9:30 Club
March 25 – Philadelphia, PA – The Trocadero Theatre
March 26 – New York, NY – PlayStation Theater
March 29 – Sayreville, NJ – Starland Ballroom
March 30 – Boston, MA – Paradise Rock Club
April 1 – Montreal, QC – Club Soda
April 2 – Toronto, ON – The Danforth Music Hall
April 4 – Royal Oak, MI – Royal Oak Music Theatre
April 5 – Chicago, IL – The Vic
April 6 – Minneapolis, MN – Mill City Nights
Kyle Kramer is an editor at Noisey. Follow him on Twitter.