Toronto's Riot Fest was muddy as hell, and like all muddy festivals, attendees had to decide whether to go full-Woodstock and embrace the dirt or tiptoe around puddles all pissed off. Aside from the occasional troll-like mud man, who probably would've gotten dirty either way, people were generally kind of annoyed by the mud and went away regretting ruining their shoes. The point is, there are some festivals that are worth ruining your shoes over, and Riot Fest Toronto was not one of them. This would be fine for a festival called "Shoe Fest" or "New York Fashion Week" or "Coachella," but "Riot Fest"? There was something off about this.
Riot Fest was started in Chicago in 2005 by Michael Petryshyn and Sean McKeough, two DIY punk stalwarts, as a multi-day festival focusing primarily on local acts, taking place at venues across the city, and championing low ticket prices. It made a lot of sense at a time when that other Chicago festival, Lollapalooza, was shedding its punk roots and the Warped Tour had become a day school for emo teens in black eyeliner. Since then, it has transformed into a weekend carnival in Humboldt Park, Chicago, on the model of big, multi-stage festivals like Coachella and Bonnaroo, with sister events in Denver and Toronto. While Chicago's Riot Fest seems like an amplified (if distorted) version of its original self, its Toronto counterpart is like a half-rate copy with no clear identity or purpose. At best it was a weekend of randomly chosen but good rock music, and at worst it was The Warped Tour for old people without even the community spirit that makes The Warped Tour okay.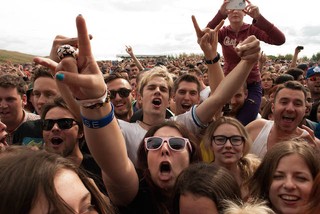 The weekend's festivities took place in the sprawling Downsview Park in North York, located where the subway ends and the 401 meets the 400, and where there's plenty of parking for people driving from the suburbs. This earned the smug disdain of Sebastien Grainger from Death From Above 1979, who poked fun at the GTA-heavy crowd in attendance. "We're from down there," he said, pointing south. "You're all from up there, right? You're probably all from Barrie." He and Jesse F. Keeler rolled through their set like a couple of machines, not looking very excited to be in Downsview Park. Compare this with Chicago Riot Fest, held in Humboldt Park in a buzzing neighbourhood where - this is the important part - the organizers actually live, and actually engage with businesses and community groups. Most people at Toronto Riot Fest, bands and attendees alike, showed up to Downsview Park not really wanting to be there and left not wanting to go back.
This isn't to say that the weekend was lacking in good performances. Saturday headliners The Cure sounded better than ever, even if Robert Smith could lose some wrinkles, and gave a generous two-hour set that spanned their whole catalogue. Punk and rock legends like The Buzzcocks and Bob Mould of Hüsker Dü gave searing performances that defied their age, pleasing old and new fans alike, while Brand New and Pup showed there's hope for the future too. The festival's best sets came from The Flaming Lips, whose stage antics and unadulterated joy are always infectious, and Death Cab for Cutie, who drew a palpable sense of devotion and respect from attendees.
But there was an unsavoury trend marking the whole weekend: punk and rock bands were relegated to smaller stages, while major touring acts - the kinds you can find at any festival - took the main stages, and brought the vast majority of the crowd with them. You can see The National, The Cure, Metric, and The Flaming Lips at just about any festival in any city this year, so why bother going to this one? Even more importantly, how did the festival organizers think these acts fit together? Can you really put The National on the main stage at at event called Riot Fest and still believe that your festival means something?
Chicago's Riot Fest shares many of its international headliners with Toronto, like The Cure, Social Distortion, The National, and The Flaming Lips, but it balances them with with a respectable smattering of beloved local punk acts. They also get a healthier serving of major touring acts, like Slayer, Wu-Tang Clan, and Weezer, who are set to play the whole Blue Album this year. It's not exactly a DIY punk event, but you can feel the sense of pride and purpose behind the whole thing. In Toronto, we got additional main stage bands like The New Pornographers, Stars, Billy Talent, Metric, and Death From Above 1979, as if the organizers figured out what was hot in Canada by listening to the CBC in the year 2004. Local punk bands PUP, Say Yes, Seaway, and Dead Tired were there, but hidden away on the smallest stage in the late afternoon.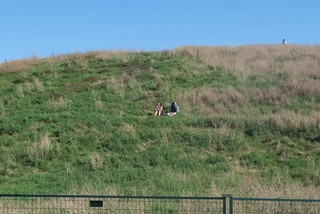 If Riot Fest taught us anything about the state of punk music, it's that punk isn't dead, but it belongs on a side stage at 4PM when no one is really paying attention, and that there isn't much of it in Canada anyway. That's the message that Riot Fest, ostensibly the greatest defender of punk still standing, is sending to its attendees in Toronto.
What is even the point of a festival, and how is it different from a bunch of shows in a field? A festival needs to have something distinct and special going on - something that brings people together for a shared experience that they can't get anywhere else. Riot Fest Toronto jammed a group of bands together based on their ability to draw crowds, with only the vaguest commitment to offering a punk (or even rock) program, and attracted attendees who had as much commitment to the weekend as they had to the radios in the cars they drove there. They moved from one show to the next, like turning their stereo dials, and then drove home pissed off about their dirty shoes. The whole thing could go away and no one would care. Isn't punk worth more than that?
Greg Bouchard would like to start a kickstarter for new, clean shoes - @gregorybouchard
Photos courtesy of Serena Passion - @serenapassion