When a sound technician asked DJ Mama Cutsworth to help him pop a boner during a set early in her career, she was having the first of what would be a number of experiences where, as a DJ who happened to be female, she was objectified.
"There was a really shitty power dynamic that happened where this guy was in charge of my sound, and he could make me sound awful by screwing with the sound board while I'm DJ-ing," she said, recalling that instance during an over-the-phone interview from Winnipeg, where she lives and works. "There's this really fine balance between tactfully telling him to stay away, but you also still have to work with this human. It's a frustrating environment."
That environment, which Mama Cutsworth (aka Sarah Michaelson) says lacks respect, makes for a challenging workplace, particularly for women. Although she wants her gender to stop preceding her occupation, noting that she is considered a female DJ before she is considered a DJ in general, Mama Cutsworth acknowledges there are fundamental differences between female and male DJ experiences.
"The most common way I've seen [sexual harassment] for male DJs is a woman coming up and acting flirty and showing her cleavage, trying to request her favorite Rihanna song," she said. "I don't know if male DJs feel threatened in the clubs, but of course there's always going to be one person's experience that I haven't heard about."
In early attempts to push back in what she, without blinking an eye, refers to as a male-dominated industry, Mama Cutsworth started hosting events that were influenced by strong females in obvious, and at times, unusual ways. At one such event called Stay Golden, women over 55 were invited to attend for free as the guests of honor because the cause for celebration was the 25th anniversary of The Golden Girls.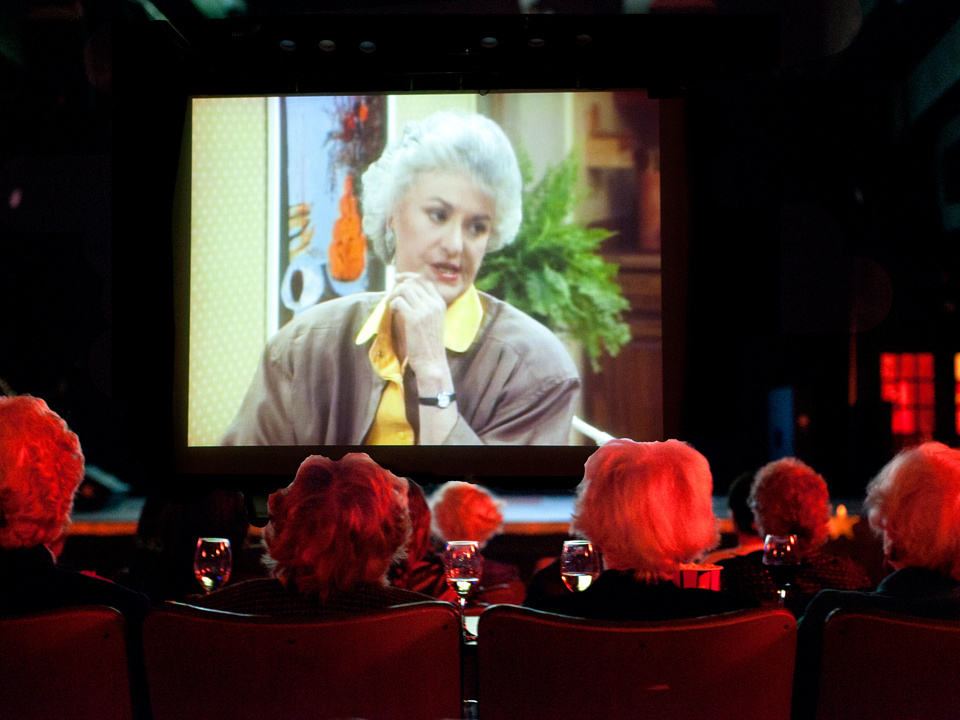 "We screened the pilot episode of the television show in a theatre and played Golden Girls bingo and then we had a dance party, and some senior citizens were there," said Mama Cutsworth. "The reason I wanted to celebrate The Golden Girls specifically, aside from it being a great show, was that it did something that, to this day, is groundbreaking. It was presenting women of a specific age, who barely get any air-time in terms of pop culture, and they were having sex, falling in love, not just being little old ladies. They were cool."
But ultimately, Mama Cutsworth wanted to infuse the industry with female influence that lasted longer than the course of a few rounds of bingo, and so, in 2012, she accepted students for the first season of training at Mama Cutsworth's DJ Academy. The school, which wrapped up it's third season on International Women's Day of this year, has trained around 40 women to date.
"We've had a mix of cis and trans women in the class, which has been really cool. It's been very exciting to see that a space that I've created to be welcoming to all women has, in fact, happened," said Mama Cutsworth, who is now in her tenth year of being a professional DJ.
According to Star Eyes, the number one reason there aren't more female DJs is that rather than helping female DJs in practical ways (booking or promoting them, as examples), people prefer to complain that there are few female DJs. But as someone who has, through the DJ academy, taken a big, practical step to create female DJs, Mama Cutsworth says acknowledging that there are not enough is an important part of helping them.
"Talking about there not being enough female DJs is part of the course [at the DJ Academy]," she said. "We talk about gender issues in the DJ scene. [We talk about] how it's not about being a DJ first and foremost. Female DJs are really considered sexual objects rather than really good DJs. It's a lot of celebrity DJ sets and skimpy bikinis at Bonnaroo."
Through these discussions and beginner classes, she has created a network of females interested in DJ-ing and music, and in the future she would like to hire those who are interested in pursuing careers as DJs as openers for her own sets, so they can begin with gigs that are positive and supportive, and free from experiences similar to the one she had during her days of starting out.
When asked what enough female DJs looks like to someone who has taken the practical steps Star Eyes says are lacking, Mama Cutsworth hesitated for a moment.
"If half the DJs in the world were female, I guess that'd mean there are enough. 50/50 if it had to be measured," she said. After thinking about the question for a moment, she responded with something that addressed the heart of her frustration. "After ten years, I still feel like a novelty as a female DJ. Having enough female DJs would mean no longer feeling like a novelty."
Photos courtesy of Ptash Film and Photography and Duncan McNairnay
@kristy__hoffman is a writer living in Toronto.