All Photos by Stephen McGill
Murder by Death—North America's foremost alt-country, post-apocalyptic, indie rock band—are great at creating ambiance. Over their fifteen year career, the five piece has lent their music to various soundtracks, providing the score for a number of movies and video games. Most notably their song "I'm Coming Home" was featured in the trailer for Quentin Tarantino's Inglorious Bastards. Frontman Adam Turla's baritone vocals, combined with the haunting cello of Sarah Balliet, create a sound that is inherently theatrical, and the group has played to this strength by writing story-driven songs that have covered topics from sibling rivalry to Satan.
Murder by Death's music straddles several different genres, and while the band began their career alongside acts such as Thursday and My Chemical Romance, they never achieved a similar level of mainstream or commercial success. To make rent the band has had to be creative. Recently one of the ways Murder by Death has paid their bills is by performing shows in really weird locations. Recently we spoke with frontman Adam Turla about the concerts and the hustle to provide for yourself with your art.
Noisey: You've played in some pretty strange places over the past year. Tell us a bit about it.
Adam Turla: This year has been our most ambitious in terms of concept shows. Every January we do a three-night stand at the concert hall of the Stanley Hotel in Estes Park, Colorado. Stephen King stayed there and had a ghost experience and dream about hurting his kid—then was inspired to write The Shining. We also did a more acoustic performance in a secret cavern in Kentucky for three nights. It was an old lagering cavern from around 1840 and happened to be under the property of a guy I know. The acoustics are bonkers, and it was an incredible setting for folks to sing along in. The vocals of the band and audience rang through the space all night!
For new years this year we played a show at Pappy and Harriet's in Pioneertown, California, just outside of Joshua Tree. It's a saloon from a wild west movie set that a few Hollywood dreamers created in the hopes of having a living western movie town. I'm actually answering these questions from inside the park. I spent the day wandering the desert and rock climbing.
Why did you decide to play concept shows?
Several reasons: We have played almost 2000 shows in this band. It started as house shows and DIY spaces for the first four years or so, then moved to club gigs and theaters. The idea was to do some places that no one or few people have performed in, as a more memorable setting for the fans and for us too.
The other reason is that because our band isn't part of any scene or genre, we often have to do things differently than most bands. We have to find our own way. We have never had a big record deal or gotten a huge payout to play a festival or been on the cover of a big magazine. We have an incredible career but have never been championed by the mainstream or the hipster world. When you don't get all the opportunities that most bands our size or even smaller get, you have to think outside the box.
Are the shows a chance for you guys for you guys to make some extra cash as well?
Sure. That's always part of a concert, that's how bands today pay the bills. Without record sales being a major contributor concerts took over as the breadwinning part of the job. I saw our digital income for spotify the other day and it was laughable. It's an incredible service, and we use it, but the income is comical. All you can do is laugh and come up with a different way to make money.
Murder by Death has put together two extremely successfully Kickstarters. One of the perks fans could get for donating to the campaign was that the band would perform a private show. I read that you were the house band for a barn wedding.
Hmm a barn? Did we do a barn wedding? We played an 1800's opera house for a wedding in Virginia City. We did an antique shop, a tent up in the Catskill Mountains, some living rooms. All sorts of places. It's not that I ever intended us to be anyone's house band, but those were really incredible experiences.
Your band is great creating atmosphere. It's also something you've cultivated in your live show, by adding set pieces and the occasional bit of fire. What do you think it adds to the experience?
For me it is about value and yes, atmosphere. We always saw our band like a book or a movie, but as music. When we can handle doing the production we make an effort to make the show look good by adding set pieces or DIY pyro. It's all stuff I build by hand, like lights inside bird cages or projections. That kind of I'm working on some awesome production for our spring headliner, actually.
The concept shows are like a production on another level. They're in the top shows we have ever played. Hands down. The fans the come are blissed out. I have heard the phrase "best concert of my life" hundreds and hundreds of times from these events. It makes us very happy.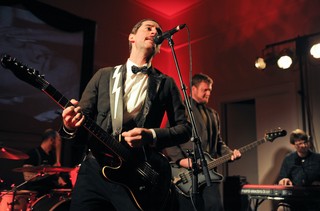 You mentioned that the past three years the band has played shows at The Stanley Hotel. That place is supposed to be haunted.
They tell us it is haunted, and actually have resident paranormal investigators there. I've read quite a few books on ghosts from William James' research to Mary Roach and I have no idea what I believe. I am not really a believer, I am more just willing to experience anything and everything, so for me it is about going and letting the experts tell me about what they do and having fun with it. We actually have a ghost hunt set up this year with the investigators. Cross your fingers for me.
Your band has written two concept albums. After playing the Stanley have considered writing a concept album about murdering the rest of your band after talking to a ghost at the bar?
No, that is a terrible idea.
Graham Isador is a writer living in Toronto. Follow him on Twitter.