Behind the Lens: Jonathan Mannion's Captured Some of Hip-Hop's Most Iconic Images
Mannion is responsible for eight Jay-Z album covers, DMX in a blood bath, ODB dressed as Rick James, and Aaliyah's last ever shoot. And that's just the tip of it.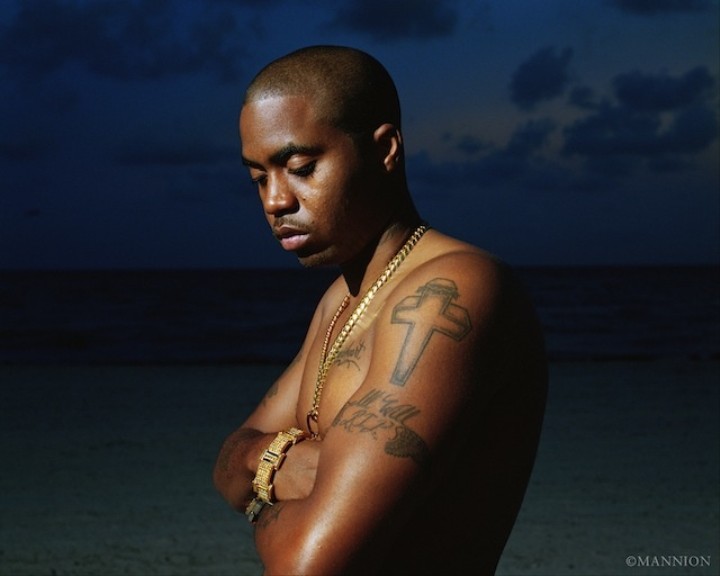 Aaliyah by Jonathan Mannion.
Jonathan Mannion is one of New York's essential hip hop photographers. Since he started shooting in the 1990s—after working alongside Richard Avedon—he made his mark with Jay-Z's Reasonable Doubt cover. Since then, he has shot Lil Wayne, Chris Brown, Eminem, Lauryn Hill, A$AP Rocky, Aaliyah, and dozens more. You could leaf through images of this photographer's work and feel as though you're going through a kind of hip-hop museum. More recently his Instagram shows he has been hanging out with Kendrick Lamar, the Swagg Man, and Swizz Beatz.
What sets Mannion apart is his vision: he gets rap artists to do things you wouldn't normally see them do. Whether it's putting DMX in a bathtub of blood or dressing up Old Dirty Bastard as Rick James, even Lil Wayne as an astronaut, he is a classic portrait photographer who brings a touch of the absurd.
These days, Mannion is packing up a decade's worth of photography work, closing up his New York studio and potentially, taking it back to the streets. To Mannion, the future remains hopeful, but free. Between packing up old prints (the contact sheets from his Aaliyah shoot are , too), we spoke about his favourite on-set moments and what to stay tuned for.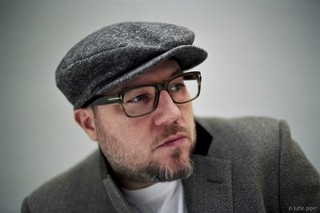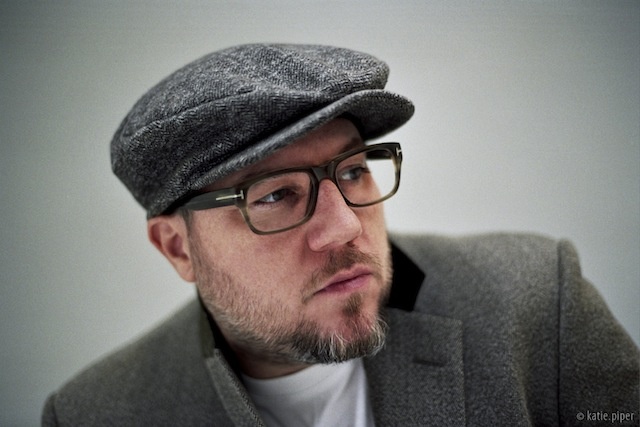 Jonathan Mannion by Katie Piper.

Noisey: Did all of this roughly begin in 1995? Why do you have such an affinity to hip-hop artists?
Jonathan Mannion: Correct, I have been in New York since 1993. I am 20 years in New York and 10 years in my studio as of August 2013. So there are major milestones achieved, but I'm now embarking on my third decade here in NYC, that is if I end up in New York the entire decade? Who knows. When I moved to New York, I was working for Richard Avedon as one of four assistants. One year was my commitment then I worked for Steven Klein and Ben Watts, which made me really solidify my craft and made me realize what I was passionate about: hip-hop and photography. Since 1988-89 I was a fan of hip-hop, but it was a college radio show and throwing parties at Kenyon College that set the foundation for my true knowledge of the genre. I was a psychology and studio art major at Kenyon which have proven to be invaluable elements to my craft. It allowed me to unify my interests in to one. Music has been a soundtrack of my life with hip-hop at the forefront of it all. Caribbean music is another passion point. Combine all of this, which has truly become pop culture today, and I found my initial calling.
What is your approach to the psychology of the shoot, how do you photograph the "real" them? Are you shooting them behind their persona?
I think there are truly defining moments from any session. Those moments change second by second and over the years... Jay-Z Reasonable Doubt is different than Jay-Z today. Jay-Z Black Album is different than any other time of his career. Marking a certain moment, having a dialogue with my subject, tapping into personality allows for a special interaction that yields a great photo.

The photographer's dynamic with an artist—in my case, with some of the greatest MCs who have ever touched a microphone—has been a rewarding job and a personal dream come true. I definitely chose the right profession. Ultimately, you have to allow the subject to take their guard down in order to help to guide the session in the right direction. Sometimes the image calls for laughter, other times strength, it just depends… Ultimately, I'm prepared to capture any moment. I want a full range of emotion from my subjects. It's when all of these elements come together that epic photographs are made.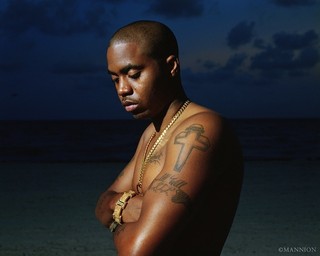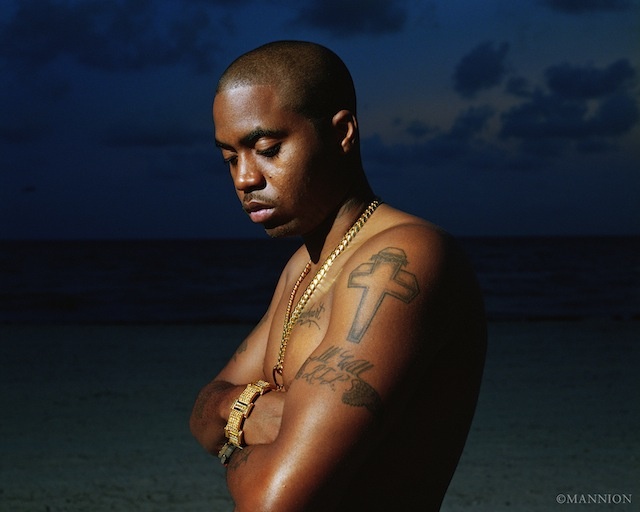 Nas' God's Son cover shot.

What about your shoot with Nas? It has a timelessness feel to it.
Nas' God's Son album cover was composed and calm on film, but inside he was happy and free. There was an old soul to the session reminiscent of a different time when things weren't so rough. It was nice to remove all those elements, cars, jewelry, etc. and focus on what his soul wanted to say in that moment.
Of course, sometimes it's nice to go overboard and to wear every chain you own in your possession; that works too. I have many photos where that was exactly what the session called for. It's about defining that moment, educating yourself on that person on what they want to achieve and importing visual and artistic wisdom and creative energy to make it a different moment than we've ever seen before. That allowed me to stay fresh constantly is that I'm always pushing myself to get that next photo, the one that's going to make a difference now. I challenge myself to come up with these images that will truly important images of these artists. I want my pictures to last forever.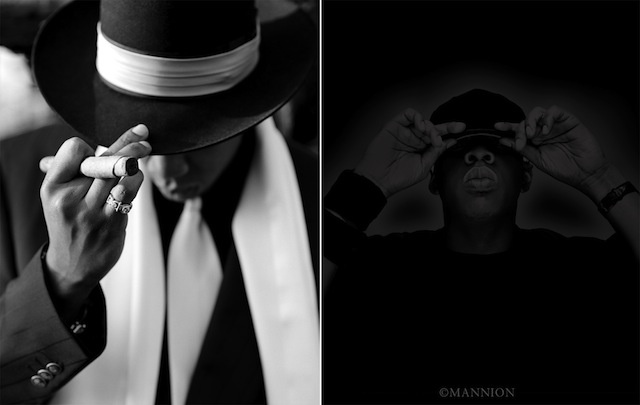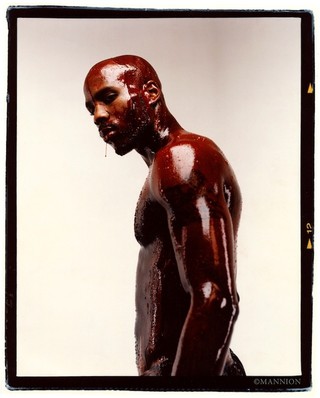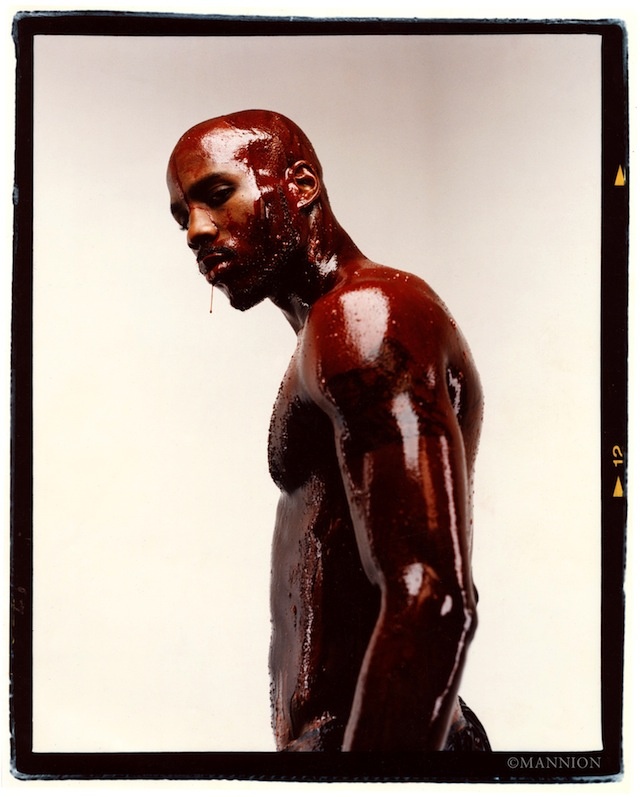 Jay-Z on the cover of Reasonable Doubt.

You've shot a lot with Jay-Z, who is a discerning person. How did you break through that?
I was really fortunate and blessed to have shot his album cover for Reasonable Doubt. It's strange, but he was born one day after me, one year apart. There is something about a Sagittarius' energy which is a complimentary energy especially with other Sagittarians I find. I think he saw early on that my visual voice was different than what he had experienced with other photographers. Because I was really clear about my vision, had pages of research, brought books and said, "Artistically, this is where we need to go and why," he knew that I really cared about making the project successful… and I really did.

It was my first ever album cover. Because of that effort and execution, achieving what he was looking for, it was time to do it again for In My Lifetime, Vol. 1… Then Volume 2… Then Dynasty… then again… The Black Album… eight albums in total. I think it is the most epic run a photographer has had with an artist in history. Everyone is always looking for what's next, but if something is working and feels right, you go with it. I was fortunate I had a decade with Jay. Those projects and images established a true foundation for what he was going to grow to become. I'm quiet around Jay, which is kind of funny because I'm rarely quiet, but there is something about that light he carries when he walks into a room. He's someone I really admire and respect for his talents and his personality.


DMX by Jonathan Mannion.
How have you got artists to do things they normally wouldn't do?
I don't think too many people have put DMX in a blood bath. Or when I got Old Dirty Bastard dressed up as Rick James. Lil Wayne as an astronaut was a big moment too. It's always trying to push the borders out; there are moments you get as gifts during photo shoots. Shooting Outkast for ATliens they gave me an entire day of their lives. Access is the biggest gift a photographer can get, genuine access. When an artist says, "Whatever you want to shoot, go for it," that's what allows the moments to develop and to get them to forget there is a camera documenting who they are in the moment.
I always want to give you the real impression of who these people are. Artists along the way have said to me that when they look into the mirror they see themselves the same way that they see themselves in my pictures. The version of what they see is what I document. There is something about being based in reality that works for me. I'm not into imposing a far-fetched vision, or some gimmick photography with a gelled-out world with disco balls, Ferraris and unicorns. I am a classic portrait photographer who wants to attach to someone's heart and soul in that moment as well as make them look as incredible as they can look. That is what I really aim for. It's rewarding for me but I do it because I want the best for the situation. I want to be remembered as the one who took an incredible photo of them.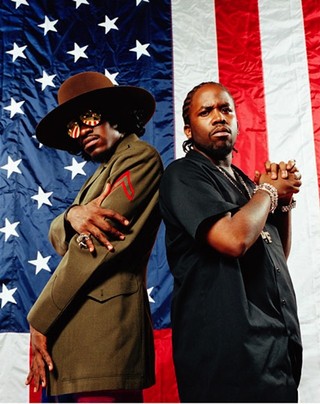 OutKast shot for The Fader by Jonathan Mannion.
Have you ever taught? You kind of have an inspirational personality.
I am moving in that direction for sure. I've lectured at the Apple store in Soho, spoken at the Soho House in Berlin and given a number of lectures at SVA (School of Visual Arts). Most recently, I gave a TEDYouth talk to 400 kids in New Orleans. What a true honor to be chosen to be part of such an important movement for the betterment of humanity.

Speaking a little about inspiration, I have a driving force that guides my work and that is to take the definitive portrait of that person in that moment. I passionately chase this concept with all of my shoots. It's about picking the right moments that reveal the essence of that character. For example, I photographed The Notorious BIG on stage at the Palladium in 1995. This is a moment that will never be duplicated, I fought for my vision that night, getting on stage to get the perfect angle of the scene. I believed in what I was doing and saw that I could elevate the entire genre visually. That became the goal and still is today.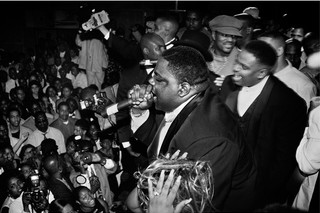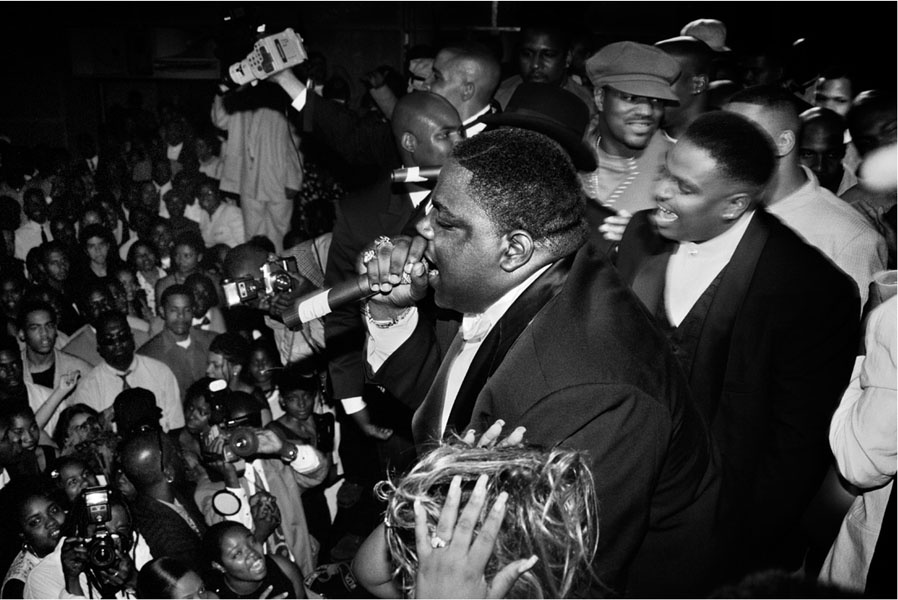 Biggie at the Palladium in 95 shot by Jonathan Mannion.

One of your most memorable shoots was with Aaliyah. Could you take us back?
I had an amazing photo shoot with her. I wanted to take the most beautiful photos of her to date and really gave the session 100% of my soul. As it turned out, this became her last photo shoot as we lost her shortly after. This session in particular was about that connection between us wanting to make important images. We gave it our all and thankfully so because the world has a gorgeous example of just how special she was. If I gave 80% or 90%—not that I ever do—the images could have fallen short of the mark and we could have never known how rich her personality really was. It's essential to give 100% ALWAYS.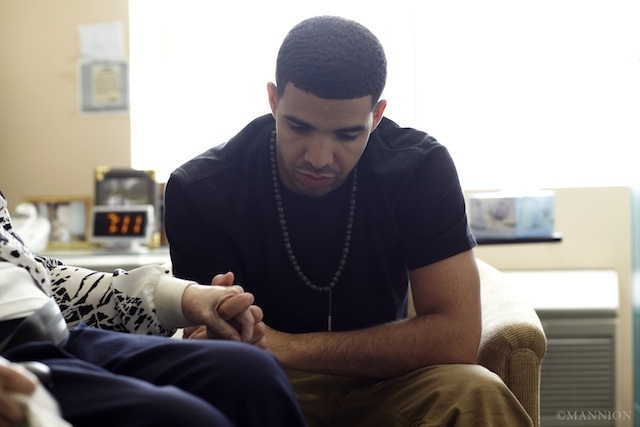 Drake by Jonathan Mannion.

A shoot from a few years ago with Drake, is very touching. Can you speak on the details.
On a trip to Toronto that I took with Drake while shooting for The Fader magazine, he mentioned that he had to stop by to share the good news with his grandmother about signing his record deal in NYC the day before. I asked to come along with him to the nursing home to visit her because I wanted to have a full range of experiences with Drake to document, as he's an artist that I truly admire.

As a photographer, I wanted to have access to the richest set of human interaction to show the depth of Drake's character. I ended up getting some of the most amazing photos of him and his grandmother as they shared an exchange about his record deal. He told his grandmother that he just signed a record deal for millions of dollars and he could give her anything she wanted. He said "Grandma, what do you want?" and she said, "I just want a hug and a kiss from my grandson." You remember moments like this, this is why we're here on earth, for a human connection, not always what people like to call the hustle or the grind. Life is so much bigger than a hustle.

Funniest anecdote that happened recently on a shoot?
One of my best friends is MC Serch from 3rd Bass, who hosts a problem-solving show on CBS this January. Whenever we are in a room together, I am literally in tears laughing, and so is he. He such a genuinely funny guy and we've always believed in, and supported, what each other is doing. We prove it with in this hilarious series. I had this giant stuffed Warhol banana in my studio and in a moment of spontaneity he just hugged the banana and held it like a puppy, then bust out laughing quickly deteriorating into a moment of basic grade-school humor. Too funny! I couldn't even see what I was shooting at one point because I was laughing so hard. He's a one of a kind & proud to call him my brother (from another mother).


Nadja is the definition of awesome and she's on Twitter - @Nadjasayej.