All photos by Visually Tasteful
Awakening to Snapchats of High Klassified belligerently yelling into his phone following a late night Halloween DJ set worries me that our morning interview may be off to a rough start. I arrive at his home where I find him in surprisingly good spirits despite his hangover. He's cheerful but upset about losing his double tooth grill the night before—an accessory that along with an afro pick often stuffed into his high-top fade make him instantly recognizable. The reason we're here is to document Laval, his bleak suburban hometown located half an hour from Montreal's downtown core. Much has been made of Toronto's suburb Mississauga and the distinct sound that has emerged from it yet little attention has been paid to the little brothers and sisters of Canada's other major cities. Kevin Vincent boasts a lot of pride towards Laval, Quebec. He pioneered the #LavalOuRien (Laval or nothing) movement which has now been used almost 1000 times on Instagram and gained enough steam to allow him to launch a Laval themed capsule clothing line with the staple Montreal boutique Off The Hook. "When I talk to my brother on my phone, instead of saying goodbye I just say Laval. I don't know why."
Anybody familiar with the 22-year-old's social media presence is aware that he's a natural comedian and as we pass by his neighborhood park it's clear that he's equally as funny in person. "This is the park where I used to sell dreams to bitches back in the day," he reminisces. "I made a love declaration to my ex in this park – bitch was in love after that, fam." This is also the park where he almost smoked his first joint, but admits that he was too scared to be high and ultimately backed out. He insists on posing with a cigarette throughout our photo shoot even though he doesn't smoke. While he abstains from most drug use, he is currently riding a high from the release of Kronostasis, the second EP he's released on fellow Quebec native A-Trak's Fool's Gold Records. The five-track project contains his most polished array of the epic, atmospheric and bass heavy arrangements that have gained him recognition in both hip-hop and electronic music circles. His resumé boasts collaborations with 2 Chainz, Metro Boomin, Mick Jenkins and A-Trak amongst others.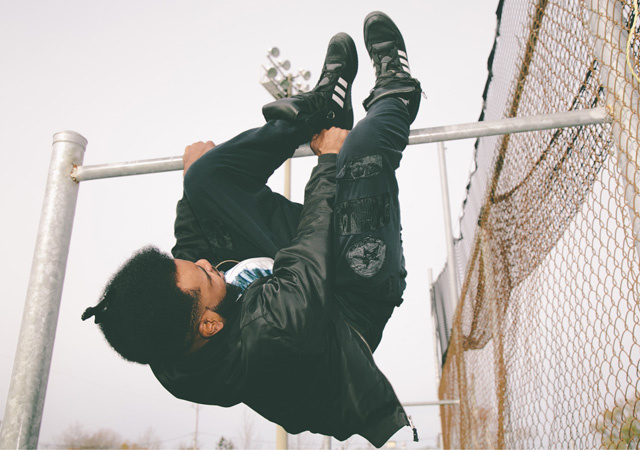 While walking around his elementary school, Vincent recalls the struggles of growing up as an overweight child. "I used to be fat bro, people used to bully me and shit. They used to take advantage of me. My pops hated my friends because they weren't my real friends and he knew it." He experienced alienation which lead him to spend most of his time with his older brother and cousins who were all into rapping. As most producer narratives go, he downloaded FL Studio and began making amateur beats which he describes as sounding like farts. "I was gonna stop making music and just focus on school but then I met my manager who pushed me to go deeper into music and work harder." Recently, he has slimmed down significantly thanks to what he calls his 'Healthy Boyz Entertainment' regimen; a mostly vegan diet centered around healthy snacking.
While Vincent won't outright admit it, it becomes obvious to me that the admiration he so fondly displays for Laval is somewhat tongue-in-cheek. When I ask him what he does for fun here he says he mostly stays home, playing video games and making music. He explains that his affection for Laval mostly stems from its tranquility. "I happen to enjoy stuff because of the vibes. Imagine you meet a bad bitch and she's really fine, I'd rather be with an ugly girl that has a nice vibe. That's how I feel about Laval – it's not the nicest city, it's kind of far from stuff, there's shit missing, but I feel like the vibe is so peaceful and inspiring. It's all about the vibe."
Noisey: What's the craziest thing that's ever happened to you in Laval?
High Klassified: About five years ago one of my cousins got into a fight with some Spanish dude, they got into a deep fight. A couple weeks later I was out at a bar and at this time in my life I was never going out. So I'm at the bar and there's this guy with long hair playing pool. When he saw me come in, he dropped everything and went outside to make a phone call. I was having a beer and like five Spanish dudes surrounded me, they wanted to fuck me up bro. I was on my own, I was with this white boy and he couldn't protect me for shit, he was more scared than me. I wasn't really scared I was just stoked, I managed to talk myself out of it.
When did you sign to Fool's Gold?
Two years ago. It happened so fast. I got this email from A-Trak saying that he fucked with my shit and maybe not even two days after I got the contract and I signed with them because I really wanted to work with them. It forced me to get into this shit more seriously. They always know what they're doing and the way that they brand me is perfect. For example they know that I'm super active on Snapchat so last night I did a Snapchat takeover on their account so they know how to treat me.
Tell me about making Kronostasis
I feel like making the EP was random, I wasn't like oh shit I'm gonna work on an EP, I was just making beats and the label asked me when I was going to drop another EP so I just started picking out the ones that I wanted. I had so many songs that I could use for personal releases so I was just like if I throw on this beat and that beat and this track with Mick Jenkins it could make a decent project.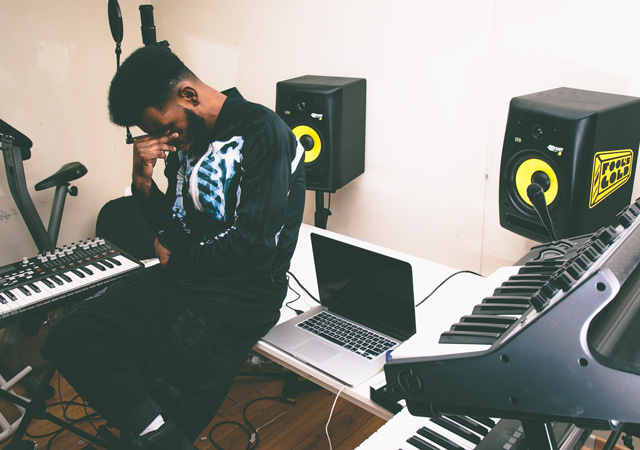 Do you think the scene in Montreal is growing? Is it different than it was five years ago?
Definitely yeah. I've been going out for like three years and three years ago all the shit we had was this thing called Booty Bakery, and Booty Bakery was the shit. Every weird kid like me was partying there. It was only once a month or like once every two weeks. It's not around anymore. They threw weird parties in weird places, it was nice. When Apt 200 came the scene got bigger. I feel like there's those kind of DJs everywhere in Montreal now. You can go to Belmont and you'll find one, Bluedog, any venue really.
Tell me about your involvement with the Low Pros.
It was me, Metro Boomin, Lex Luger, A-Trak–I met Young Chop and Sonny Digital as well. I flew to Atlanta and Chicago and we had fun studio sessions. There were a few tracks that came out of those sessions. We were making beats together all day and all night. I even met Young Thug before he was super big. He played some songs from his project and shit was nice. A-Trak told me he was about to go big so I wasn't surprised when he became this successful. He was a cool guy.
Is it true that you took Adderall to go to a video game competition?
Bro, I was going to Comic-Con and there was this Super Smash Bros competition. When I play Smash I can be really good or I can really suck and the gap between those is because of me focusing and me not focusing. So I was like I can't fail today so I took an Adderall to be focused all day. I even met two of my fans there and shit. I didn't do very well though. I felt like I wasn't good before this competition, it really opened my eyes. I played there and I won like one or two games and then I got fucked up but I started seeing how real n****s play and it made more sense to me. Now I play better. Video games are a big part of my life bro, like it's what I do–I play video games everyday. Video games have a huge influence on what I do. It's about vibes, even though I don't make typical 8-bit beats, I think that the vibe I create is the same vibe that video games bring me into.
Dean Rosen is a writer living in Montreal. Follow him on Twitter.