I'm biking toward a new venue in Toronto's west end, located in the basement of a building that houses an automotive garage and bike shop. It's a discreet spot in an area not really known for live music. I was invited here by Greg Benedetto, who, under the name Stuck In The City, has become the Toronto hardcore punk community's go-to promoter and booker for the past six years. In addition to regularly booking an incredible amount of shows, Greg is also responsible for the weekend-long Not Dead Yet festival, which takes place every November and is in its third year. Tonight, Greg's band S.H.I.T are releasing their Collective Unconsciousness 7'' at a show that's doubling as the inaugural event to take place at this venue they've affectionately named S.H.I.B.G.B's.
S.H.I.B.G.B's is a co-venture between Greg and S.H.I.T., which they plan to use as a DIY, all-ages venue as well as for their rehearsals. Its opening arrives at a time when Toronto has long been without a proper place willing to hold all-ages punk shows. After the shuttering of Siesta Nouveaux in 2012, a mixed-use venue located in the city's east end, the hardcore punk community that centred around Greg's Stuck In The City shows retreated to basements, living rooms, kitchens and sometimes other established, punk-friendly venues. The Soybomb, Sneaky Dee's and Parts & Labour all have had hands in supporting the hardcore community within the past two years though never served as dedicated, all-ages spaces. When Siesta closed to make way for condos, the scene suffered a major blow and lost its centre.
When I arrive, duct-taped to the front door is the word "PUNK," the only reason I know I'm at the right place. As I take my last step down a wooden staircase, I'm greeted by a sign that reads "Pay What You Can." The person working the entrance hands me a black button to wear on my jacket instead of stamping or marking my hand to show that I've paid. The space is open and economical. The concrete floors and sheetrock walls are bare and clean, save for the dust that suggests it's a recent renovation. The wall opposite the entrance is the focal point of the space, adorned with strands of christmas lights and music equipment set up in front.
Spore are the first band to play at S.H.I.B.G.B's, and a sizeable crowd has already gathered in support. The band is a tightly-wound ball of fury-- their brand of powerviolence perfectly distilling the youthful energy and passion that's taking this scene by storm. As they play through their brief set, vocalist Evan contorts his body wildly, goading more violence from his band as well as from the growing audience. Young bodies throw themselves across the room. I have never felt older.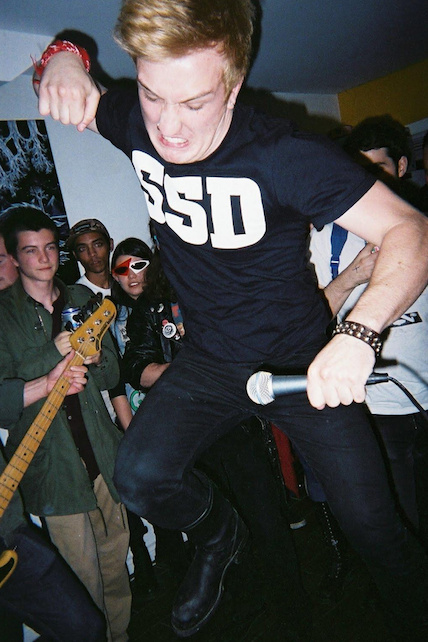 But I'm not the first to notice just how young everyone is. Julian, frontman for the band Wastoids tells me that when he started going to shows in 2008, the average age of the audience and bands would've been around the early-to-mid twenties. The community is the youngest it's been in a very long time, now dominated by seventeen and eighteen year-olds. He explains why the shift in ages is a good sign: "punk and hardcore is such a youth-centred subculture, if you have a scene that's really top-heavy age wise, it's not going to have a good renewal rate and isn't going to function well." For Julian, the community's future rests in its ability to recruit new blood. Central to that process is having a hub where people can gather. He remembers Siesta fondly, crediting it for the youthful scene he's a part of today: "Siesta, at its end, was a good starting point for a lot of younger people, but it disappeared pretty quickly. So the youth were like 'time to keep it going.' [As a young person] once you have a taste of that kind of environment, you don't want to go back to doing anything else." Julian credits Siesta Nouveaux for introducing high school students to DIY ethics. Those ethics instilled a model in them to create their own projects, and start their own bands.
Dancing wildly in the crowd during Spore's set are Sienna and Scott. Sienna fronts the awesomely-named Cunt Punt, while Scott fronts and plays guitar in VCR. Though both bands have been around for only about a year, they've received an incredible amount of praise from inside the hardcore community. Along with Anti-Vibes, Cunt Punt are making some of the best, most vital sounds coming from Toronto's Queer Punk community. Their demo features five incendiary songs that have an unparalleled punch and urgency to them.
VCR, on the other hand, make crazed, weirdo party music that Greg likens to Hank Wood and the Hammerheads and Lumpy and the Dumpers. There's a theatrical element to the band, as they rarely step foot on stage without some kind of costume. Scott is fairly quiet in person, but comes to life on stage. VCR's demo tape is an audible invitation to seek out the band live. They don't exactly make hardcore punk, but its members are heavily involved in the community. Mackenzie, VCR's bassist, played drums in Cunt Punt for awhile and is an avid photographer who can usually be seen up front at shows camera-in-hand. Matt, VCR's drummer, also plays in Wrong Generation with Scott, a band that has a more direct hardcore punk influence. It's not about sound though; VCR's creativity is weighted more heavily in the community than if they were to try and fit into some narrow idea of what hardcore punk can be.
Sienna and Scott are both in their final year of high school at the Etobicoke School of the Arts, and their stories are quite similar when I ask about how they got into punk. Their mutual friend Spencer, a schoolmate at the time and two years their senior, was their gateway into the hardcore community when they were only fourteen. At that early age, a space like Siesta Nouveaux would've been one of few places for teenagers to participate in some form of youth culture. Siesta wasn't the only all-ages venue of its time, but certainly its proximity to Inglenook, another high school, put it on the radar of many teens.
Siesta's open, all-ages policy encouraged young teens to show up in droves. By inviting people younger than nineteen to attend their concerts, Greg and the other promoters who regularly booked shows at Siesta Nouveax were ensuring their communities would live on by valuing and inviting youth to contribute. Sienna and Scott both recount to me the difficulties they've had more recently with inviting younger students out to shows, but speaking from a slightly more experienced perspective, Julian points out "you can't force younger people to come out, you can include them but you can't force them to participate. They just do that on their own. Treat them as equals." Part of what makes the community a continued success now is how it strives be open and accessible to everyone, not just teens. There are often disclaimers on show posters or Facebook event pages that range from explicitly stating that no racists, homophobes or transphobes are welcome, to more simplistic, but still effective, catch-alls like "no assholes." It's hard to tell if there are any steadfast rules to this community, but "dance" and "don't be an asshole" are about the only ones that come up in conversation.
That's not to say that assholes still don't show up. Spencer, the aforementioned gateway drug into the world of punk for both Sienna and Scott, says that most overt forms of racism or homophobia are weeded out rather quickly, but the more subtle, deeply rooted forms, like language, are harder to combat: "I feel like people in the scene, at the very fucking least feel something of a pressure from their peers-- or hopefully they do-- to not be queerphobes or transphobes. Still, unless a person is trans, they assume that I'm not and that I'm a dude and they will call me 'he' and 'his' and whatever. That's gross. People need to move beyond that."
Speaking specifically to how white this community is, Lautaro, Spencer's band mate in Burial Permit, adds: "not being a white person I've never felt excluded, it is a very white scene but I would encourage anyone who isn't white to check it out anyways. I wouldn't say that they should be afraid to try and like get into it. That's the only way I think the whiteness of the scene can change. It's not that Toronto hardcore is white dominated, it's Toronto in general. It plays out in the same way our whole society has white privilege." This community of Toronto hardcore bands is not immune to the larger issues that affect and control North American society at large, but by making inclusivity a priority, its members can call out problematic issues while simultaneously offering alternatives.
I ask Scott about what the hardcore community means to him, and he puts it plainly: "we'd never do the things we do if we didn't have that community! I realized it's so important. Very few people make art, especially music and performance, just for themselves." His point echoes Julian's with regard to how the community sustains itself-- it's a cycle of creativity spawning more creativity by example. It's a cycle that extends beyond city lines, too. Sienna recalls seeing Christine from Mighty Atom in the crowd, one of their earliest memories at Siesta, and thinking "wow, cool! Another female!" only to be blown away yet again when Christine got on stage to do her set.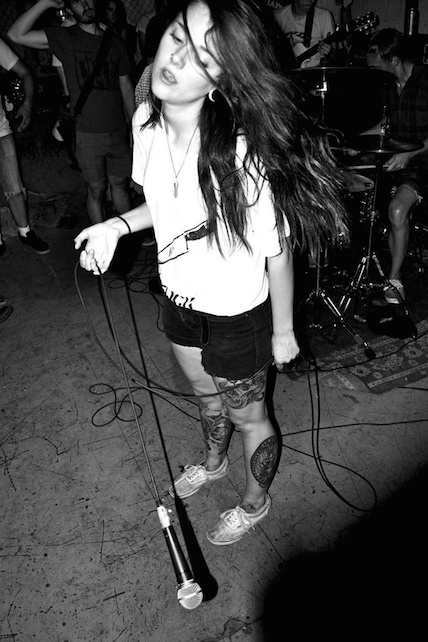 As a band from Kitchener, Toronto was an important touring stop for Mighty Atom in the Southern Ontario circuit, and Christine reveals to me that her band likely played half their shows here. Toronto hardcore does not exist in a vacuum-- there's a larger network of influence that relies on the strength of each separate DIY community for its own success. Places like Kitchener, Waterloo, Guelph and Hamilton are all integral to Toronto's own DIY communities and visa versa. DIY venues like Siesta Nouveaux and S.H.I.B.G.B's feed into that network by providing out-of-town bands places to play, where Christine says it's refreshing that "you don't have to make bar minimum to be able to get paid that night. You don't have to make sure people are drinking alcohol to have a good time." The healthy reciprocal relationship between Toronto and nearby cities keeps bands moving and people coming out to shows. In music journalism, Toronto tends to absorb the smaller cities nearby, erasing difference and nuance from the picture. The mass influx of young hardcore bands now cropping up in Toronto should be attributed to the success of those cities' hardcore communities as much as it is a sign of Siesta's influence.
Spore clear their stuff away from the performance area and make way for Gaucho. Though two-thirds of its members are also in S.H.I.T, there's very little sonic overlay between the two. The first time I saw Gaucho wasn't actually at a hardcore show, but at the fifth edition of this year's Long Winter concert series. Co-founded by members of Fucked Up, the Long Winter series was created in part to deal with the city's lingering all-ages venue problem. Jonah, Fucked Up's drummer and "the fifth Beatle for most of the city's hardcore bands" as described by Greg, says that although he was too caught up with his work in Fucked Up and Career Suicide to really be involved with what was going on at Siesta, he still cut his teeth in places that were its logical forebears-- venues like Who's Emma and Adrift Clubhouse/Skate park. In organizing the monthly Long Winter events, Jonah and his band mates took what they learned in an all-ages, DIY space and used that model to "smash the creative community together." Jonah boils it down to its essence: "punk is a by-line for low-level social mobilization. It's an excuse for people to go into the same room at the same place where there's theoretically no rules or boundaries. The mistake is to think that only punk things can happen at punk venues. It's just a collection point for people who are looking to do something." Long Winter is proof that not only is this Toronto hardcore community's reach beyond geographical lines, it also stretches outside of genre as well.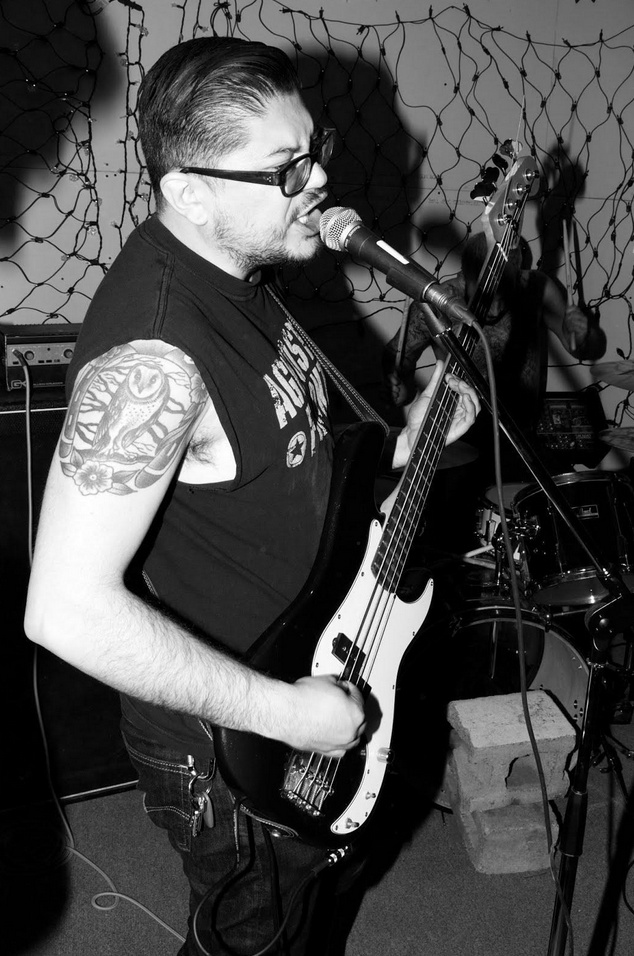 Following Gaucho's set at S.H.I.B.G.B's, electronic artist Kontravoid and metal band Abyss play sets before S.H.I.T close out the night. At this point, the room is absolutely full of people who are bustling about and exploring the space. This room is brand new for everyone-- full of possibility-- and there's a definite, palpable excitement about what its future will hold. It will serve as the backdrop to many photos, stories and firsts. It's new, but far from a blank canvas. Look hard enough and you'll find the tenets of DIY already at work. Sure, this community lost a venue, but they said goodbye and managed to not mourn it for ages like it was a content farm for Pitchfork. While the bands and buildings might have short shelf-lives, this community does not.
Michael Rancic is a freelance writer based in Toronto, you can find him on Twitter.
Mackenzie Burgess is a freelance digital and analog photographer living in Toronto, and plays bass in the band VCR.
Photo of VCR courtesy of Shane Parent.
---