The Canadian Grammies are Called the Juno Awards, and They're Very Random and Canadian
First off, all of these awards are sponsored by gigantic companies which makes them immediately suspect, and Rod Stewart's Christmas album got nominated as the International Album of the Year, which seems like a clerical error.
Earlier this week the nominations for the 2013 Juno Awards, aka the Canadian Grammys, were announced in Toronto. The main reason these nominations are announced in February is because we Canadians need something to distract us from the dead of winter. While nobody has ever taken these awards seriously (most of the nominations are based on sales), I couldn't ignore this announcement, because voters are rewarding some incredibly, incredibly mediocre music this year. Where to start? While I've previously defended our country's Great Pop Superstars Justin Bieber and Carly Rae Jepsen on this very site, I can't extend the same courtesy to the rest of the nominees for the bigger awards. There's Hedley and Marianas Trench, who are both from Vancouver and make incredibly generic, whiny "pop-punk" (I'm using that in the loosest definition of the genre possible) that's an insult to great or even good pop-punk bands everywhere. The only way I can tell them apart is because the former's lead singer was once a contestant on Canadian Idol.
The best description of this song is from YouTube user "Cristi D.," who claims that, "This song was 'Yolo' before 'Yolo' got popular." Umm...sure.
This Hedley song features a verse from some rapper who I've never heard of named P. Reign. It's hardly a collaboration on the level of 2 Chainz hanging out with Fall Out Boy.
The Sheepdogs are nominated for several awards. For those of you who don't know, The Sheepdogs once won a contest to be on the cover of Rolling Stone, mainly by making music and sporting facial hair that shamelessly rips off the bands that R.S. liked to put on their covers in the 70s. I thought these guys were well past their 15 minutes of fame, but notorious Bieber hater Patrick Carney co-produced their major label debut album, and they're playing pretty much every major summer music festival this year, so what do I know?
Weirdly, one of the nominations for International Album of the Year is this sucker right here: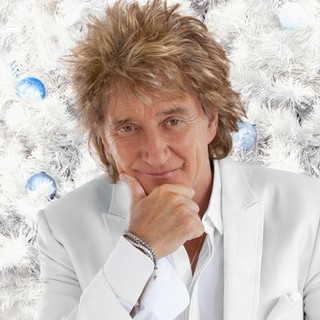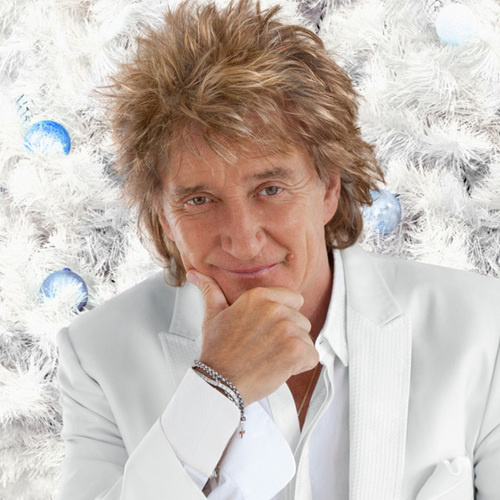 Just stare at that cover for a few minutes and be transfixed by Rod Stewart's glassy stare.
Merry Christmas, Baby is nominated for International Album of the Year, along with Maroon 5's Overexposed, Mumford & Sons' Babel, One Direction's Up All Night, and Taylor Swift's Red. With all due respect to Ms. Swift, I have a few questions about this category. For starters, how did the voters arrive on these nominations? Did they break into some hockey mom's minivan and rip off her Spotify playlist? How was Merry Christmas, Baby recognized over Michael Bublé's far superior Christmas album?
In the interest of journalistic objectivity, I listened to Merry Christmas, Baby, and it's fucking terrible. That saying about judging a book by its blindingly ugly cover? It's absolutely true in this case. The fact that there's also a song on here with Cee-Lo Green should surprise absolutely no one, because it's 2013 and at this point in his career, Cee Lo will clearly sign up for anything that might reward him with a big ol' sack of money. I'd continue, but I'll just direct you to The Kid Mero's poetic review here, and carry on.
However it isn't all bad news. Japandroids' new album is nominated, though they're probably more concerned about having one of their tracks in the running to be the Vancouver Canucks' official entrance song.
Everybody's favorite Canadian sci-fi nerds Rush are nominated for something like their 2,414th Juno. If any other band tried to make a concept album based on a steampunk novel co-written by drummer Neil Peart, I'd probably make fun of them, but the veteran trio are being inducted into the Rock and Roll Hall of Fame this year, and what have you done with your life lately? This also allows me to post this Rush-related clip from the TV show Archer.
There's an award called Breakthrough Artist of the Year Sponsored by Factor and Radio Starmaker Fund (all the categories are sponsored by random companies and organizations, making corporate synergy the real winner of the Junos), which includes nominations for Montreal's Grimes and Toronto's The Weeknd, despite the fact the latter's Trilogy "officially" came out in 2011.
Unlike the Grammys, the award for best R&B/soul album is called the R&B/Soul Recording of the Year and not "Urban Album of the Year." Recent Shoppers Drug Mart Night Manager Drake was kind enough to take a year off and let somebody else win Rap Recording of the Year, but he's nominated for the Fan Choice award, up against stiff competition from the likes of occasional duet partner Bieber, Carly Rae Jepsen, Nickelback, Vegas resident and poutine heiress Céline Dion, and Hedley. In a perfect world, this would be settled in a WWE-style cage match (my money's on Bieber—have you seen the kid's gym Instagrams lately?), but in lame reality the award goes to whoever gets the most votes from fans (which means Leonard Cohen is probably out of luck in this category).
The actual show goes down April 21st at the Brandt Centre in Regina, Saskatchewan. If for some inexplicable reason you feel like watching it, but you live outside of Canada, you can probably stream it from wherever you stream Gossip Girl reruns or cooking shows with Gordon Ramsay being a dick. As for me, I'm eagerly looking forward to having a few beers at home and watching this trainwreck. Or not. Probably not.
Max Mertens doesn't have a Juno but he's on Twitter - @Max_Mertens