Jim Reid (singer) taking lead
On Friday night, the Jesus and Mary Chain played their seminal 1985 debut Psychocandy in its entirety at Toronto's Phoenix Concert Theatre for this year's Canadian Music Week. Though it was barely audible, singer Jim Reid welcomed the audience and explained how the performance would be structured. In line with the UK and France Psychocandy tour the Mary Chain played November through February, there would be an initial block of songs, followed by a short intermission, and then the band would come back to play Psychocandy front-to-back.
The first block was a good survey of the Mary Chain's debut-orbiting career output. They opened with "April Skies," did breakthrough American single "Head On," Psychocandy follow-up single "Some Candy Talking," "Psycho Candy" (which also isn't on Psychocandy), "Up Too High," their fourth album Honey's Dead shock anthem "Reverence," and original single "Upside Down," and walked offstage. While roadies made stage and equipment adjustments between the sets, in a nod to the Mary Chain's humble suburban East Kilbride beginnings, a projector played the opening to a short archival film about the suburban Scotland town called "Town of Tomorrow" on the white stage backdrop. Then the Psychocandy album artwork flickered onto the backdrop, and with just drummer Brian Young onstage, that familiar Spector drumbeat kicked in. As the audience cheered and the remaining members wandered back, it was impossible to ignore a second mic at the front of the stage, and soon the Jesus and Mary Chain were joined by Liv Niles from supporting act Gateway Drugs. Stepping in to supply the harmony, she helped the band give a performance of "Just Like Honey" that was as enchanting as any other time you heard it.
There were moments like that all throughout the night: when the band shifted into "The Living End," the rapturous energy in the room during "Never Understand," and the wholly engrossing experience of watching William Reid fully immerse himself in the guitar feedback at the back of the stage while his brother Jim handled William's only Psychocandy vocals on "It's So Hard." But beyond those moments, it was glaringly clear this show wouldn't let you access the same place Psychocandy does. Psychocandy wasn't just an album—it was the Jesus and Mary Chain aesthetic: a carefully concocted cocktail of angst-ridden lyrics and sweet if spooky Spector-thanking pop music, heavily spiked with white noise and feedback and disguised by a visual buffet of leather, ray-bans, big hair, and a combative, intoxicated stage performance. A big part of what made the Mary Chain so intriguing when they were a new act was their habit of medicating nerves and eschewing perfection, resulting in a more primal, "psycho" energy; the performance Toronto got at CMW was polished, concentrated, and—on an important level—conservative. We live in a time where we have to take a Jesus and Mary Chain performance where we can get it. The Reid brothers have never had a healthy relationship, and probably still don't. But what they lack in perfection as human beings is hindsight and self-awareness, and it's a sober enterprise now.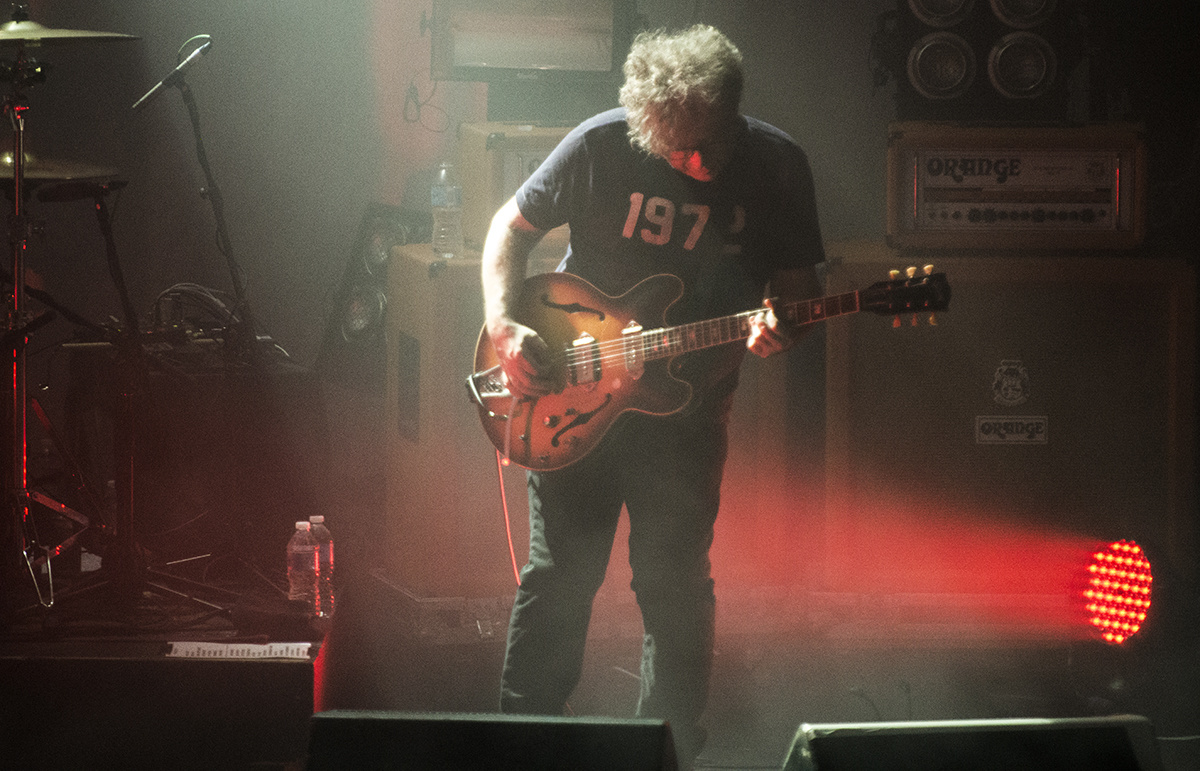 William Reid pictured on stage
Still, going in for a ticket on this tour felt like a gamble. William quit the band onstage mid-tour in 1998, and prior this past year's touring, the Jesus and Mary Chain had never performed Psychocandy in its entirety before a live audience, and "Cut Dead" and "My Little Underground" had never made it onto a Mary Chain setlist. On top of that, Jim still talks about getting into arguments with William about the band (the latest sore spot involves the new record the band's been working on forever, so no, no lack of inspiration for dissension here). So when Jim Reid called off the band just moments into "My Little Underground," you can bet the crowd checked the tension. But that was the closest thing Toronto got to a Mary Chain meltdown. The technical issue was fixed within seconds, and the audience got to experience a relative milestone in Mary Chain concert history.
What the Jesus and Mary Chain lacked in engagement and intensity at the Phoenix, it made up for in technical and professional prowess. The band sounded great. Jim Reid is still the shy frontman he always was, but instead of forcing that shy frontman to tread water with substances, he's confronting it head on with in-ear monitors and a performance that is outstandingly present and self-aware.
All photos by Matt Williams
Tom Beedham is an arts and culture journalist living in Toronto. – @Tom_Beedham