All photos courtesy of Derek Hui
It's difficult for me to admit, but it's true: Even though I'm from Toronto, even though I did graphic design work with Drake early in his career, even though he's given me a couple of minimal shout outs, I've never been to OVO Fest. But this year I had to. It was the 6 God's sixth annual instalment of the fest in the 6, and it came hand-in-hand with a recent beef with Meek Mill—not to mention this year's album If You're Reading This… made for some of Drake's most memorable crowd hits. So this year, I had to do it.
On the first day, the crowd seemed mellow, but there was a positive air about everyone's mood. There was no summer time tension or tough guy shit walking through the waves of people. Everyone was here to enjoy the show and the feeling was one of appreciation more than anything. We grabbed four beers for roughly $65 and got to our seats. I was still half confused about whether Drake performed that day, the next, or both. I felt like a kid lost in a mall on Boxing Day.
After an hour-long set from Sean and a solid 70 minutes from Cole, the show abruptly stopped during Cole's "Up All Night." Rain poured in from outside the tent as security ushered us out to a sea of people being sold $10 bootleg concert tees. Day one felt like a production. Both J.Cole and Big Sean came out to stage build-outs replicating neighborhood corners. They were performers on set, giving the crowd an orchestrated show. And the crowd ate it up—myself gratefully included. I hit the bar with some friends, stoked on the energy of the night's show and anticipating the surprises of day two.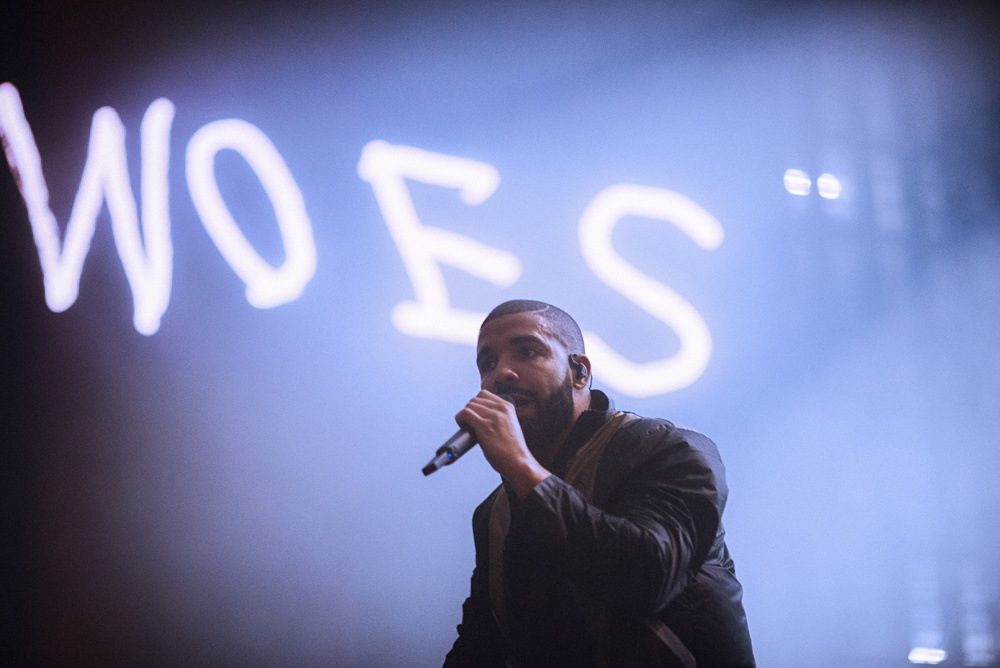 I awoke the next day feeling hungover and hoping to make it through the night riding on fumes. The energy in the crowd felt way different on day two. Everyone seemed like they were showing out, with dudes with bedazzled hightop shoes worth more than my apartment and girls looking like they were ready to get pregnant passing by me.
I walked in not knowing what to expect. I heard Drizzy was bringing The Undertaker out. I heard NWA was gonna be here. I heard Kendrick. Kanye. Will Smith. I hoped he would bring out Joe out to sing "I Wanna Know." I was charged and just trying to maintain composure.
This wasn't my first Drake show, but it was my first OVO Fest. Looking around, I saw Oliver, Niko, 40. I saw my brother Drex who got me the tickets and is now the manager of Majid Jordan. I was feeling proud for my city at this point, looking at these dudes and remembering working with 40 at The Remix Project, sitting next to Oliver while designing the cover of Comeback Season. To see this level of public admiration is wild.
This is a once in a lifetime experience. Not the show, but witnessing someone transform a population's perception of itself on a global scale. Drake did that, no matter what anyone has to say about his work.
Right off the bat I saw Toronto staples mingling in the crowd—Rich Kidd is here, Fresh from Get Fresh Co., Wondagurl, J-Mac, Boi 1da. It felt more like a family reunion than a concert. The feeling of appreciation for what was about to happen was mutual all around. We came to see a peer do what he was meant to be doing.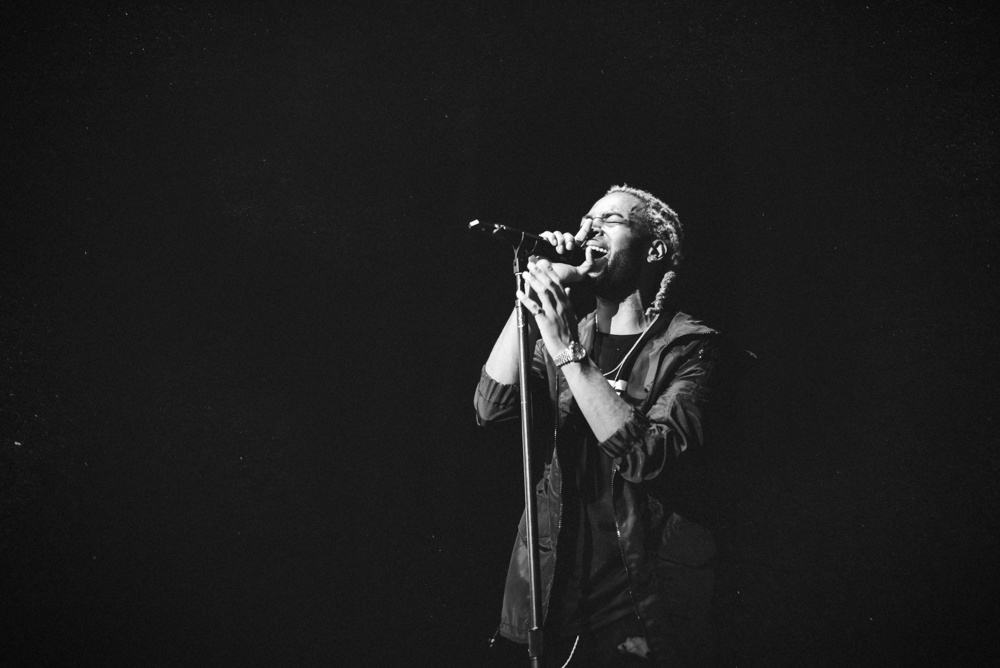 The show started at 8:05 with PARTYNEXTDOOR setting off the vibe. The pace was relaxed for the most part. He sent an RIP to the young homie Redway, who just passed away two nights ago. This was a tempo set; a temperature check. It was making sure we were all still breathing and not waiting with bated breath. I got it. But I sat down for the moment, waiting for the main events. I'm old and this beer won't stay cold forever.
In front of me there was a group of five kids, probably about 20 years old, trying to explain to each other what the 6 God is. "So who's the 5 God then?" I tuned out. Crowds make good performances great experiences, and I couldn't spare any part of my ears for this bullshit.
The sky went from purple to black as the lights went out. It was 9 PM and the crowd is going crazy. A massive iPhone screen charged as "Charged Up" plays in the background. The phone hit 100, and Drake came out in an OVO Jordan Flight suit, performing while the backdrop rifled through Meek Mill memes. This was what I'd wanted—rapping Drake doing rapper shit—a la Jigga doing Prodigy a disservice at Summer Jam in 2001. A nail had to be put in that coffin. I'm just saying. "You did it to yourself boy. I'll never let nobody disrespect my city."
The energy was crazy as he went through a series of his not so "singing n**ga" tracks before saying "Mans never been to OVO Fest when it's shut down, eh?" Skepta came out and killed "Shut Down." The vibe was crazy. I know that Stringer Bell would be proud.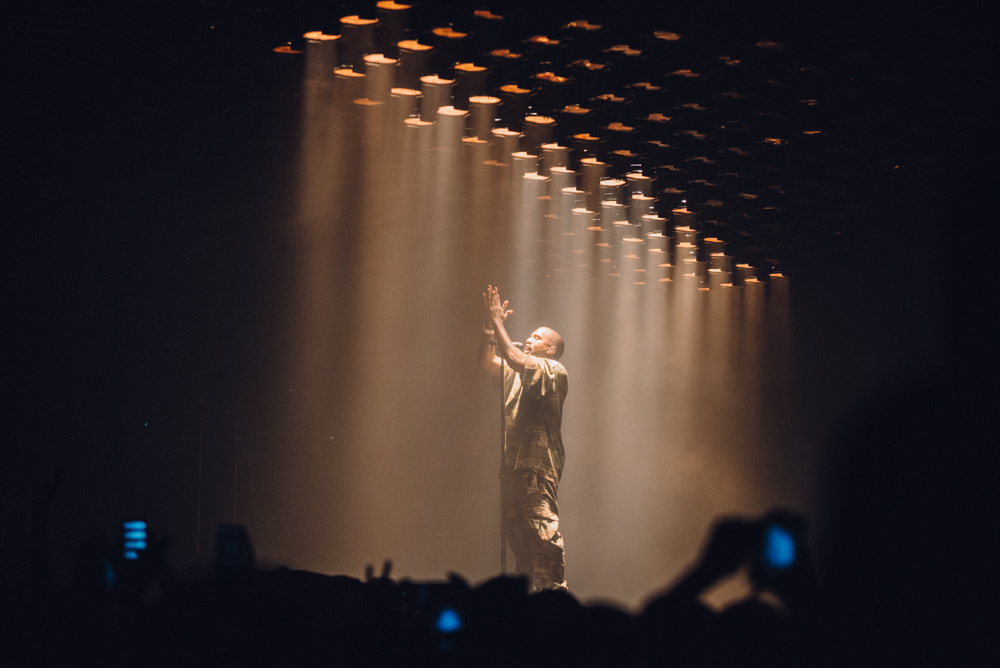 Future came out next; I still can't understand anything he says. He performed a few songs, and Drake came back out onstage to talk about idols and friends. He said that sometimes you get the chance to bring up a homie and sometimes you can bring out an idol. For the next six minutes a lighting rig lowered from the top of the set toward the stage. It angled down, and "Harder Better Faster Stronger" began playing: The lighting rig raised to reveal Yeezy. The crowd went wild.
I've seen Ye perform before, but not like this. He would stop himself mid-song like he was a piece of art waiting to be photographed. He was leaving nothing to the viewer's artistic opinion. It was orchestrated. He laid down when it was calm and jumped as high as he could when it was hype. He took a knee and posed. He danced for a minute straight. It was literally performance art, and it was beautiful. At one point he brought out Travis Scott, and the crowd went crazy. Scott jumped into the front row and had the whole place hype as fuck.
When Drake came back out, he brought up idols again, and people in the crowd started yelling out guesses for the next guest. Someone beside me said Pharrell right as "Drop It Like It's Hot" played. It was fucking Pharrell. It was Pharrell fucking Williams, dude.
I was amazed at what I was seeing, but part of me told me that most of the younger crowd wasn't feeling the same. The kids in the row in front of me looked annoyed as one of them turned his back to the stage and said "Fuck Pharrell. Fuck Kanye. Fuck everyone else. I just wanna see Drake the whole time."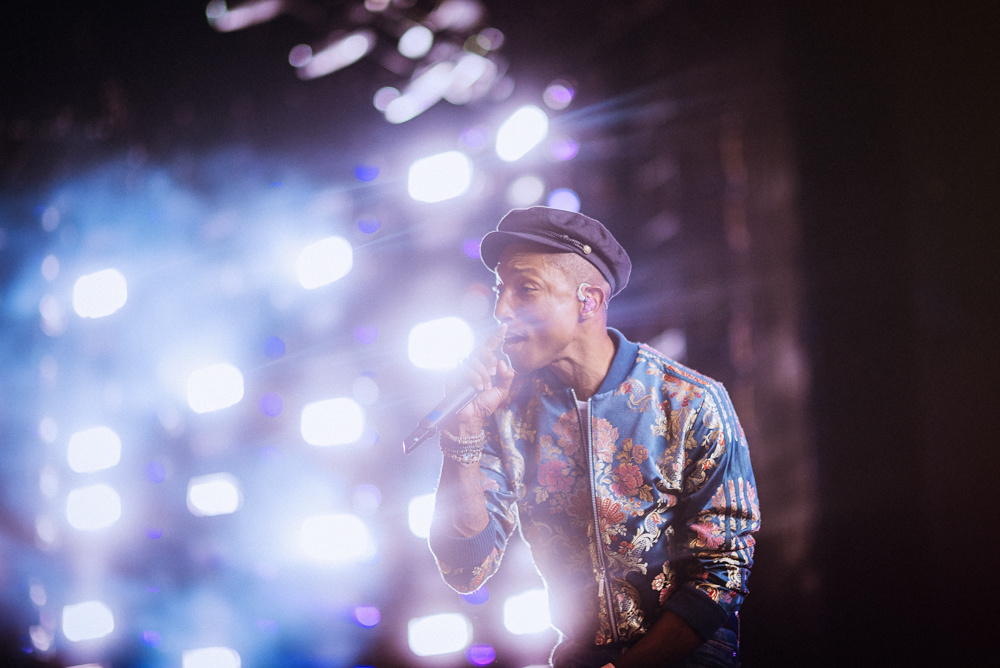 We were staring at our generation's version of Quincy Jones. We were looking at a legend who does more for people than just make music. I was confused all over again. But maybe this is what happens when you bring all ranges of success at all levels of careers together. Not everyone will be equally awestruck.
Drake came out again, and the children ahead of me could finally be happy. "Man, you're a king. The music you make, the way you dress" said Drake to Pharrell. "We appreciate you. We look up to you. And now you're on a mission to change the world. Thank you." This was where the admiration of a fan seemed to come out in his show. Pharrell bowed to him and exits the stage.
After a couple of crowd call-and-response tactics, Drizzy got back to the last leg of his show. His performance is different nowadays. His confidence on stage is strong. His engagement is like a young Jigga's. It's high energy but feels effortless. The audience is in his hands, everyone is in his control. That's kinda fucked up, but it's amazing to watch. I remember when he was unsure about being accepted for singing, when So Far Gone may have felt too risky. He owns all of his decisions now, and it's clear he has no regrets.
The crowd chanted "Fuck Meek Mill," but Drake said "We don't gotta get into that tonight". "Know Yourself" banged through the system as he brought out his whole squad to perform. The city is on his back, and his people are right behind him to support if need be. This was incredible. He wheeled "Back To Back" up ruthlessly, one more time and closed with "Legend," fittingly.
My experience at OVO Fest was both brightened and bothered by the people. Some say this was the worst one they've seen. This was the only one I've seen, but it was on a path I've watched for years. It's like holding a balloon and watching it float to space. There's a group who experience a moment when it's cool to witness and a group who experiences the entire thing and realize it's still going. Success happens to people at all levels, and when you can watch your friends and peers get to a level of global success it's incredible. But not everyone sees the route.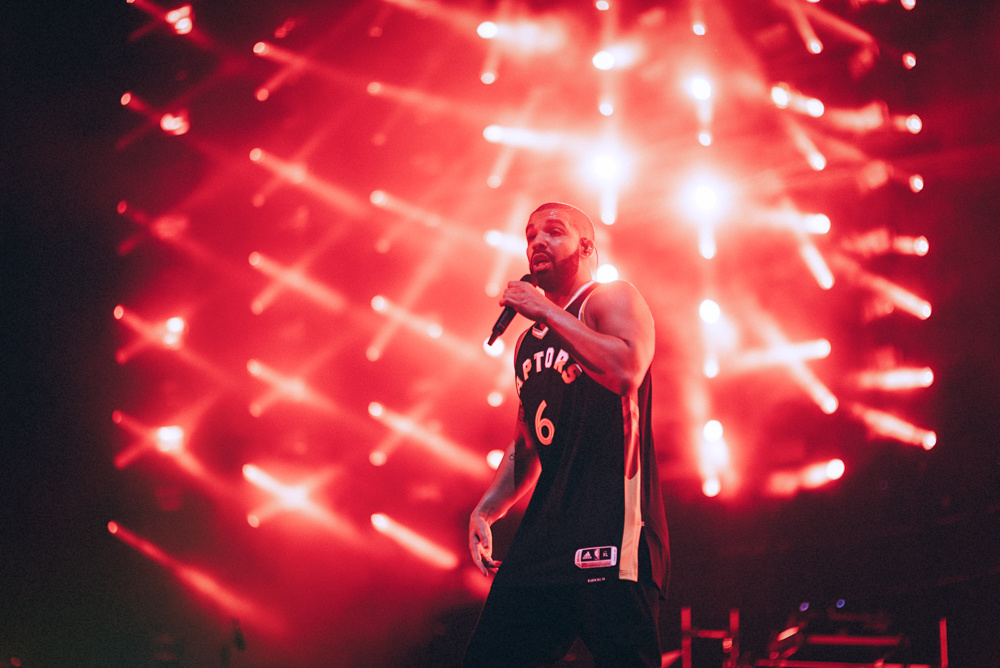 I've never known this city to be as supportive and as proud as it is now, and I've been involved in this scene for 22 years. We've never had much reason to state claim to our geography outside of health care and good weed and women. To hear someone at the level of Pharrell tell a crowd of 15,000 people that Drake holds his city down in a way that nobody in the rest of the world does, is telling. He doesn't organize this festival for his own sake. He does it to share his experience back with the city that brought him up.
With popularity comes access. With talented popularity comes limitless access. Drake is sharing that access. He's providing a window for a wide perspective of talent that he has the pleasure to be surrounded by. And you can tell when you see him at the side of the stage he's still a fan at the end of the day. He just had the capacity to turn his idols into his peers and make believers of the people who praised him. To witness that alone, in a climate where the whole city now has an identity that it is proud of, among such a wide range of people excited by the young and old, was valuable in more ways than I had expected.
Bryan Espiritu is an artist living in Toronto. Follow him on Twitter and Instagram.