At the corner of St Mary Avenue and Main Street in downtown Winnipeg stands the Times Change(d) High and Lonesome Club. Across Main Street lies a strip of empty parking lots, the CN Rail line and, in the distance, Shaw Park, home of the Winnipeg Goldeyes baseball club, perennial contenders for the American Association of Independent Baseball championship.
Four to five nights a week, 50 weeks of the year, the neon lights illuminate its cluttered windows, inviting folks to congregate inside the tight confines of the Times Change(d) and bear witness to consistently top notch local, national, and international roots music. Two parts hard blues, one part Texas honky tonk, with a splash of rural Manitoba social club, the Times serves patrons up with a decidedly original and intoxicating cocktail, with the kitchen pumping out the best Mexican menu in town.
"Times Change(d) is more than four walls and a stage," says Romi Mayes, a blues guitar player and songwriter. "It's an institution that has harbored and nurtured musicians of all ages." "It's simply a music-first room, which is becoming increasingly more rare these days," agrees Scott Nolan, a Winnipeg based songwriter who has toured with Mary Gauthier and Hayes Carll. "The waitress has a tattoo of Texas on her ass, and they used to let me bring my dog to gigs. It's the best bar anywhere!"
For John Scoles, the owner, president, and janitor of the High and Lonesome Club for over 14 years now, that music-first philosophy is central to the way he runs his 85-seat room. "I see value in things," Scoles says, sitting in the Times amongst the portraits of old blues greats, newspaper clippings, a rack of housecoats available to patrons for use, and a taxidermy armadillo one afternoon. "I'm trying to sell a way for people to feel really great as fans of music. That they're all good people with excellent taste in music. That make the musicians feel better, it bumps up the whole scene, it's the best way to nurture the art."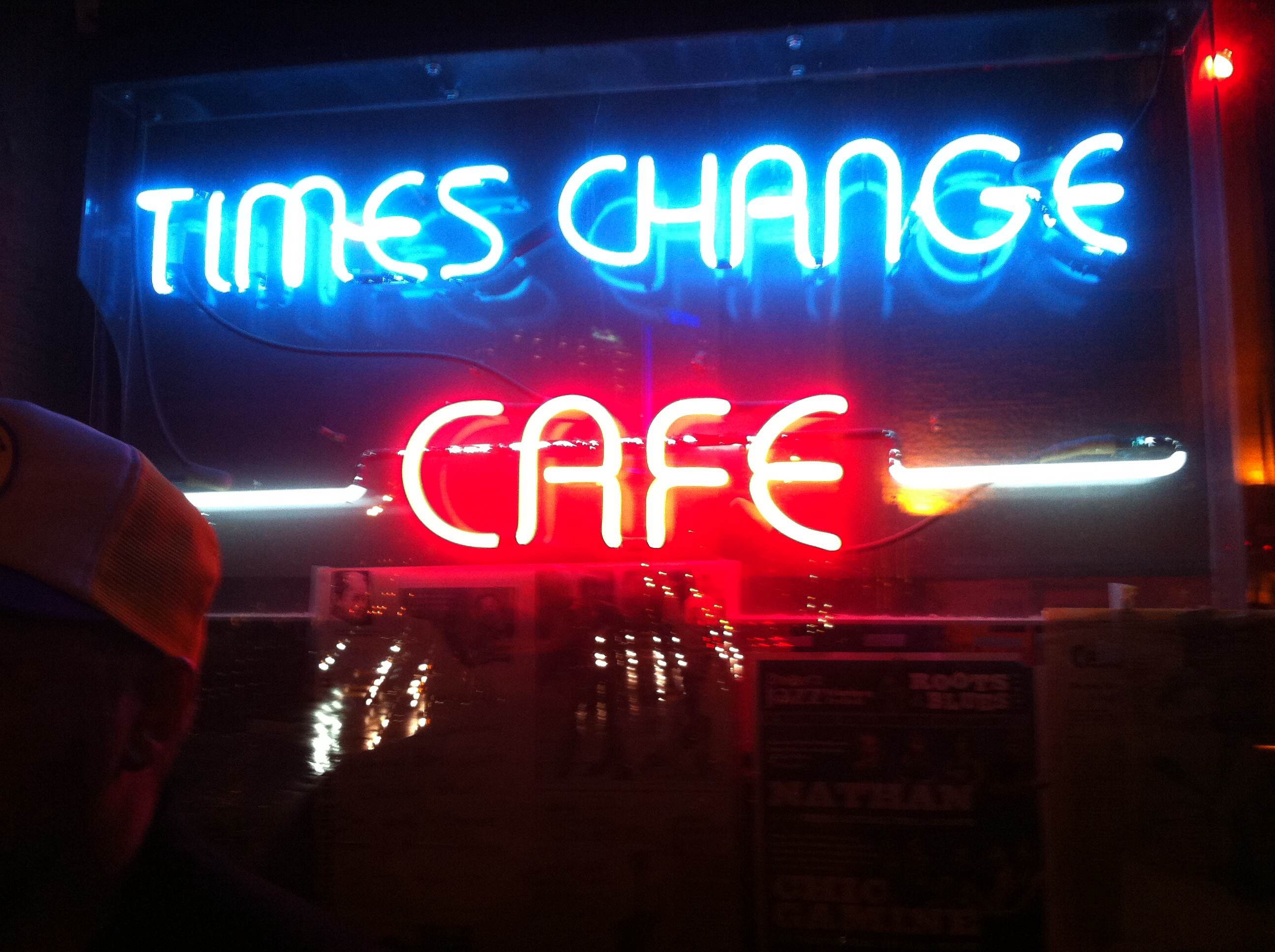 After spending a few years in Austin, Texas, drinking and soaking up the vibe at Antone's and learning directly from Clifford Antone himself, Scoles returned to Winnipeg. He got a job tending bar at the Times Change Café, and watched local blues legends Big Dave McLean and Gord Kidder perform week after week. "I used to joke about how if I sat here long enough, eventually I'd run it," Scoles recalls with a chuckle. "They said, 'Oh that's not possible. You'd just sit there getting drunk!'" "And they were correct," he says, "But I was also correct."
Since then, the small stage at the front of the Times, with a CN train passing in the window in behind, has played host to blues greats like Louisiana Red, T Model Ford, Little Ed, Watermelon Slim, Canadian roots big shots like Elliot Brood, the Sadies, the Sheepdogs, and Corb Lund, and an ever evolving cast of local upstarts like Mayes, Nolan, the D-Rangers, Andrew Neville and the Poor Choices, Del Barber, among many, many more.
"For me, honestly the best shows are the local ones where I think, for this moment, this is the best music event this is the best thing in the world that's happening for this second. And the chances of that being true are really high." "I think it would be worthwhile explaining in a historic venue as sort of like a AAA ball park," says Scoles, nodding across Main Street to Shaw Park. "The Times is a AAA ball team, and I'm the long-running, excessive drinking coach. There's some great players who we'd all love to see come up. We've got the short-stop who's the fan favourite, who's a local guy. But he's never gonna be in a major league. And that's OK. And we've got a few people who are coming back down, a few pitchers who've been in the majors and they've still got a decent arm on them. We're a small town park, and we lose some to the bigs on a regular basis. And the big leagues know it."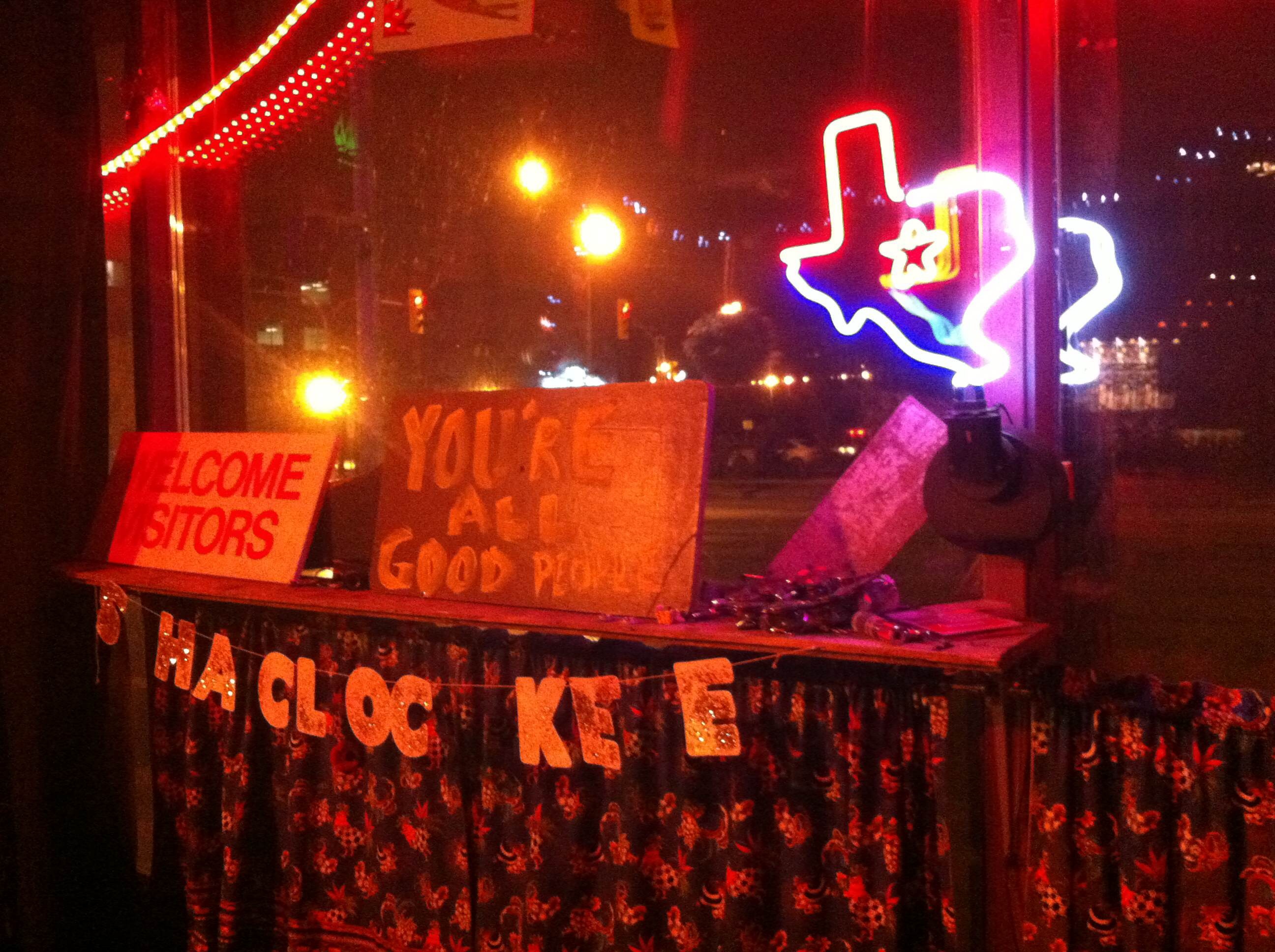 "If you're mired in history, you'll probably be always be in some battle with the future," says Scoles. The Fortune Building itself that houses the Times, which is mostly empty but for the street level honky tonk, was built in 1882 by a man who later died on the Titanic. The Winnipeg Hotel, neighbour to the south, as built in 1883. But the two buildings stand apart as relics from a different time, forts that remain as bastions of musical expression that dates back by the century, despite a number of close calls with closure by development. "Gentrification is a pretty powerful process."
But this summer, Winnipeg's central development corporation, CentreVenture, named the Times Change(d) as a poster child for the kind of development they'd like to see replace the empty surface lots along south Main Street. "I would never have expected, at this stage, to find myself as a poster child for future development," Scoles says, honestly bewildered. "When I started here, I thought I'd probably have the place shut down in a couple years due to generosity. But it hasn't been a problem."
"The neon lights, the amazing staff, the eager audience, this all makes for one mojo filled honky tonk," Mayes testifies. "Add impeccable taste in music and you have yourself a no-brainer stop on the TransCanada Highway, smack dab in the centre of Canada." Consider that your invitation to stop on by, good people, and belly up to the bar. You're in for a hell of a time.
Sheldon Birnie is a writer living in Winnipeg - @badguybirnie