Photos courtesy of author
If there's a story somewhere in last night's Polaris Music Prize Gala, it might just be that there is no story. Or, more accurately, there's no story like there was the past two years. If you pay attention to this Canadian music award each year, you'll remember that 2014 saw the award go to Tanya Tagaq's Animism, the Inuk throat singer who used her win partly as a platform to voice controversial views on the seal hunt (namely, that it should be supported). Animism is an unstoppable monster—a dangerous, boundary-pushing record. The year before, Godspeed You! Black Emperor now famously turned down the opportunity to perform, or even show up at the gala, saying "organizing a gala just so musicians can compete against each other for a novelty-sized cheque doesn't serve the cause of righteous music at all." Their album, 'Allelujah! Don't Bend! Ascend! took home the top honours, and Godspeed donated all the money to a music education program in Quebec prisons.
Last night, the legendary 74-year-old Buffy Sainte-Marie won for her excellent 20th (!) album, Power In The Blood. Was it the best album of the year? That really depends on who you ask. The Polaris is an award based on artistic merit that spans all genres and is voted by very opinionated music critics who each (mostly) have their own niche. Did she deserve to win? Absolutely. Like famous children's performer Fred Penner said early in the night to short and long list nominees, only one artist would take home the $50,000, but "you're all winners."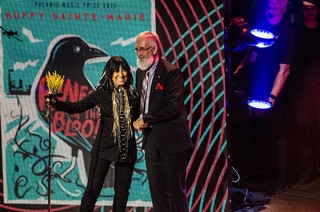 Every year, the decision is difficult because so many albums that end up on the short list are the kind of records everyone would be happy to see win. While the competitive aspect of awards shows of course filters into the Polaris, as it does all awards shows, this is a Canadian award, and if there's any competitive nature that might be bubbling under anyone's skin, it's hidden beneath a veil of politeness and well wishes. Truly, I don't think there is much of that going on. Most artists seem genuinely happy about whoever wins.
So, without debating or voicing a "new" controversial opinion (I don't have one—Buffy Sainte-Marie deserves the award as much as anyone), I will say this: the Polaris and its trappings this year felt very safe. Awards for artistic achievement are largely based, of course, on subjective opinion. And when a group of individuals inevitably have difficulty agreeing on what has the most artistic value, the conversation often quickly changes to what horse in the race made the most important or meaningful political statement (sorry if the language led you to imagine horses making political statements). If you think of it this way, Polaris as a political animal—and make no mistake, the Polaris is a political animal—then no one deserved to win more than Buffy Sainte-Marie.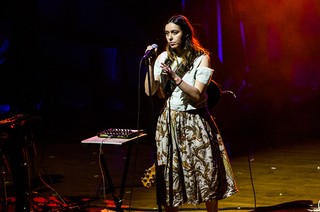 Power In The Blood, besides being a powerful, affecting and triumphant record, is steeped deeply in politics. Those politics are pretty status quo for a group of left-leaning media elite (Power In The Blood rails against corporations and colonialism, speaks up for the environment), and that's what makes it a safe choice. But it also doesn't particularly matter. In the 2015 stable of Polaris noms, Buffy Sainte-Marie had the only album that really, truly said something, or spoke up consistently for something bigger than its creator (also in the mix though was Braids, who played "Miniskirt" at the Gala—their badass track that takes on slut-shaming). And that's a pretty great reason to give someone an award. Sainte-Marie said she planned to split the prize money between charities for animal rights, marginalized people, and indigenous people and the environment. She doesn't really need it, after all. As a colleague of mine pointed out, she lives in Hawaii on "Up Where We Belong" money (a song she co-wrote, which was performed by Joe Cocker and Jennifer Warnes for An Officer and a Gentleman and won an Academy Award for Best Song).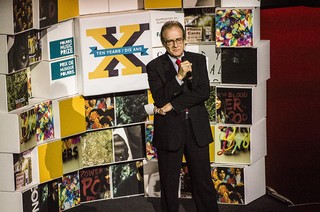 Speaking of politics, guess who showed up to do Drake's presentation speech (quite eloquently, I might add)? Councilor Norm Kelly, of course, who is having a banner year for showing up at music events in Toronto. Fred Penner had some funny 'jeez, granddad' moments when he referred to artists 'Mark Mill' and 'Social Broken Scene.' He also, referring to the $50,000 prize money, said, "for that kinda money, Drake could make it rain about the length of a B.A. Johnston song!' Dan Boeckner made an impassioned but misdirected speech where he stated, "when our vibrant and diverse arts community tears itself apart over issues, the forces of darkness stand around us and rub their sweaty fuckin' palms together. Our efforts are needed, our energy is needed, but they're needed for dire issues." It's worth pointing out that if an entire community feels that something is racist, that may well be a 'dire issue.'
Sainte-Marie also spoke passionately about wanting to take on major airlines that gouge passengers for checking luggage—citing a fee over $1,000 she one had to pay for ONE bag—which ends up restricting travel for musicians and university athletes who are very often also poor people. And that's some politics we can all get behind.
Matt Williams is a writer and photographer in Toronto. He's on Twitter.