Foxing Won't Last Forever, But Their Debut Album Will
We talked to the (don't call them an) emo band about the surprising success of their powerful debut album 'The Albatross'.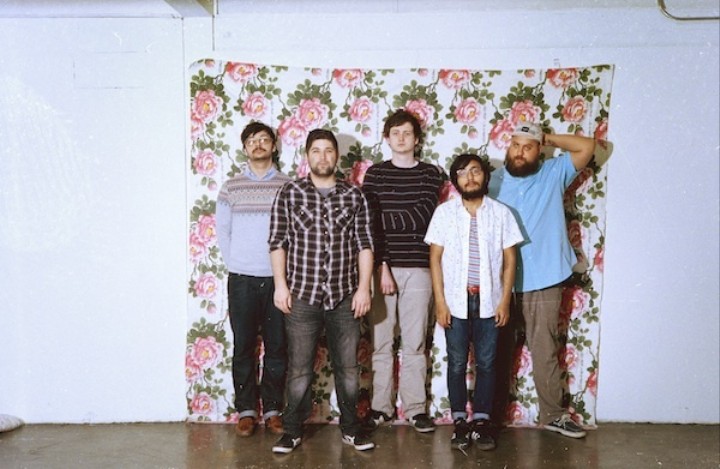 Emo bands don't last forever. Hell, some of the genre's most influential acts (we're looking at you, Texas Is The Reason and American Football) never make it past a single full-length and a handful of EPs. This is something that St. Louis-based upstarts, Foxing, understand. Named after the term for the chemical process that causes paper to yellow over time, they understand that what they're doing today isn't what they'll be doing forever, and that's OK.
However, that doesn't mean they aren't poised to leave one hell of a story behind to look back on someday. The refreshingly self-aware five-piece appeared at this year's SXSW festival and just signed a deal with Triple Crown Records to re-release their debut LP, The Albatross, just months after it came out last fall on Count Your Lucky Stars. We caught up with vocalist Conor Murphy and bassist Josh Coll to talk about remixing and remastering the record, the importance emotional honesty plays in their lyrics, and more.
Noisey: How were you guys initially approached by Triple Crown to join their label?
Josh Coll: After The Albatross came out, we were approached by several labels, and at the time we were also getting help from our band manager, Joe Marro. We were discussing the future of the band, and he said he felt like Triple Crown would be interested in working with us, and at the time we were honing in on where we wanted to go, and he said, "Hold off for just a little bit of time, just let me see if this is something that's actually a viable option." And we held off and waited to see what they were thinking. I think it was a week later we got an email from them saying they'd listened to the record and they really loved it, and then we started a dialogue and we felt that was the place we wanted to go.
Conor Murphy: From there, we met Fred from the label for the first time when we went down to SXSW. We met all the people that we now work with there. And all those people were just so nice to us, they felt professional in every way. It felt immediately like it was a good decision to go with the label.
What advantages do you feel that they'll be able to offer you as opposed to Count Your Lucky Stars?
Murphy: I feel like there's always a tradeoff going from a small label like Count Your Lucky Stars to a larger one like Triple Crown. I think we ultimately the things that helped us make the decision to go with Triple Crown was the support of Pete, who runs Count Your Lucky Stars. That in itself, just having support with him because we respect him so much, that was a big deal for us. It made us realize what all the advantages are to being on a label like Triple Crown. We're getting to a point where when we put something out, we want it to get to a large audience and we want to release our records to their fullest potential, whatever that means for our releases. With Triple Crown, it'll be a lot easier for us to take a step back to write rather than have to deal with more managerial problems on our own. I feel there's definitely advantages there that counteract the really awesome things about being on a smaller label.
Coll: I think that one big thing that Triple Crown will do for us is allow us to work with the process of writing and be at ease with everything else and know there's a safety net just in terms of that they have longevity as a label and they have a proven track record. Because of that, when we're ready to put something out or when we have an idea for something, we know we have a supportive team behind the fence that has a very similar vision to what we have and they're on board for pretty much anything that we're on board for.
Since the announcement came out that you were going to be moving to Triple Crown, have you noticed an increase in the amount of attention that your band has gotten?
Coll: I think there's kind of a push and a pull with that kind of stuff, especially because they didn't announce us with a brand new record. They wanted to re-release The Albatross, which came out four months ago or so, so there wasn't as large of a groundswell of immediacy with the announcement. But, I think it added a level of legitimacy to the record that we had just put out because, in no way is this a slight to the release that already happened with the record, but it is a record that we're really proud of and there's been word-of-mouth about it spreading, and having them stand behind it and say, "This record is viable, this is a good album that we want to put our name on as well," it's not that we've necessarily seen a huge, immediate impact from that, but I think that it's more of a building kind of thing. Things are being put in line. I don't think we've ever had this issue where people wrote us off or anything, but I think it's given it a level of legitimacy to us as a band.
Murphy: There's that realization that this isn't really just a hobby anymore, that we're playing music in this band, and just that realization from people that are close to us, they see, "OK, all this time and money and effort that you put into something, this isn't just some stupid thing where you go on tour and have fun." I think that was the most important thing for me at least. Not as much the attention we would get from new people, but the achievement of having that legitimacy.
As far as a fanbase adding to it, we're definitely seeing an increase in attention from other things we have going on just because we have all these other things going on at the same time. Like the tour that we just posted with Seahaven and Adventures, that helped us out a lot. That got us a lot of attention, and we haven't even gone on it yet. For what it is though, for a re-release of an album, it's an overwhelming amount of attention, really.
What prompted the decision to remaster and remix The Albatross?
Murphy: I go to school for audio engineering, and from going to school we're taught that remasters are bad and it's always a shittier album when its remastered or remixed. Because of that, I was against the idea when we initially brought it up, but because I'm so impressed with the remixing and remastering of the album, I don't have anything against it. The main thing is that it wasn't really for Triple Crown or for anyone other than ourselves, because we figured we were re-releasing this thing, and it took like a year of our lives that's the time capsule of that album, because we put so much time into it it felt completely necessary to polish up the things we didn't have time to do or didn't have the resources to do at the time we were recording it.
There's no overdubbing or alternate tweaks or anything like that, it's just levels and the tiniest little things to make it a cleaner, warmer, more desolate album than it already was. I think it just emphasized everything.
Coll: I think that when you hear "remix, remaster" you get images of George Lucas or something in your head and people that are constantly trying to tweak and alter their work, and it's a really strange thing because when you put something out there in its final form, that's what people are going to latch onto immediately. I don't think that was necessarily in our heads when we were going into the idea of doing a remix and remaster, but I think that we felt confident that we would be able to add something to it and also not alienate people who loved the original one. It's a very, very tasteful remix and remastering. I would venture to guess that if we didn't even say it was remixed or remastered that there would be a lot of people that wouldn't even notice.
Murphy: For us, we notice everything that we changed about it but it would be near impossible to distinguish between the two. I think there's probably going to be people who listen to it and, well, without a doubt there are going to be people who listen to it and say, "I wish they would've never done anything to this, it's horrible now." At the same time, someone would have to be extremely critical and really paying attention and trying to listen to them back-to-back to figure it out. For us, it's the album that we wanted to put out, is really what it is.
Coll: I think it's how hindsight is 20/20 with everything when you look back after you've finished a piece of work and there's a point in time where you have to cut it and run with it. You can sit there and be meticulous about every single thing, and after a while you just have to say, "This is it, and I'm fine with this." I think we did that, and after the record came out, going back to it there's always going to be something. "I wish I could tweak this a little bit, or a level was brought up here a hair." It gave us an opportunity to say, "OK, this album is going to be rer-eleased, why not go back and lightly go over everything that we wanted initially." I think the whole rerelease definitely helped justify that for us.
Your music, in terms of lyrical content, is pretty intensely personal and it makes a lot of references to very specific people and places. Do you ever feel nervous or self-conscious about putting out such intimately personal content in front of such a large audience?
Murphy: Yeah. [Laughs] It's definitely different between me and Josh.
Coll: I think that does become a concern. I think that anybody that creates something that is very vocal about it, there is that question of, "How much of my real life do I inject into my work? How will that affect my artistic life versus the personal, everyday side of my life?" We've always had the idea that honesty is such an important part for us in the writing process. It doesn't necessarily come down to holding punches or anything like that, but we felt like if we were to reveal parts of ourselves and our thought processes and things about ourselves that maybe we're not proud of or that are hard to cope with that there would be some kind of catharsis that would come along with that. It is strange sometimes when you reveal yourself to an audience because an audience hears things, and we experience art vicariously, like when I hear a song from an artist I don't know, I don't know their personal lives, I don't know their personal stories. All I can do is hear what they're saying and filter it through my own life and my own experiences. I think that's why we relate to music… we're taking someone else's words and somebody else's work and we're transplanting it into our own worldview.
So, it is a little strange sometimes to have people repurpose the songs in a way that isn't exactly the way they were intended to be, but at the same time, it's really important to trust your audience and not write things that are so broad that anybody could latch onto it. It's really surprising to me when people relate so closely to what we're talking about because it's such personal material and personal work. It makes us feel close to the people that are around us.
Murphy: As far as actually performing in front of people, there's something about recording really personal songs, there's something about it that's not nearly as vulnerable as when you play live. If you were in a room by yourself and really felt what you were going through when you wrote the lyrics, there's a level of that you have to keep up with when you're playing live. For me, every single time we ever play a song, I trick myself into feeling like I'm back into that state of mind when either Josh or I wrote the song. Every song that we have has this time stamp in my memory of, "This is the feeling that I was going through." And every one of our songs is, for the most part, a sad memory. It's an interesting thing, but it's also a really exhilarating experience to be able to share that with people where it's like I'm singing about the worst heartbreak I've ever had, and that's the most vulnerable point in my life basically, and doing it in front of so many people and probably fucking it up, probably singing the wrong notes and maybe messing up lyrics, but all these people are there with you.
Unless there are people watching it out of irony or leaving halfway through, all these people there are really caring about it and everybody there is really going through it with me, and with all of us, with the whole band. That, to me, that's better than avoiding personal topics. It makes it so worth singing about people that we care about and singing about things that hurt ourselves, it makes the audience feel more participatory because we don't write really broad drivel pop music that is meant to reach almost everybody. If you have a song that's almost very base level about heartbreak, of course people are going to relate to that because everybody relates to something so simple as unrequited love. But, our songs are very, very specific and autobiographical, people understand that and do filter it into their own lives. It makes it feel like we're all in this together.
You're hitting the road with Seahaven and Adventures. Is there anything in particular you're excited about hitting the road with those bands?
Murphy: I'm truly excited to be with both of those bands. I've heard so many great things about them both. This is only our second big tour with other bands, well, "big" meaning like, a long tour. We do a lot of stints by ourselves, and that's something I'm really excited about because we're not very used to experiencing the road with a whole lot of different people at the same time, and I think that's going to be really interesting. We're going to a lot of places where our friends are, and that to me is always the best thing about touring, because I feel like all my best friends live in, like, Milwaukee and Chicago and places that I don't live. That's always really, really awesome to get to go there and play in some of them.
Coll: Totally. I'm excited because we're going to the West coast, and I grew up on the west coast. It's exciting to go back to my home. Generally, we tour by ourselves, so this is the first time we're going to be with these people for a while, and it's exciting just in that we're going to end up in situations where you grow really close to the people that you're around and I think that we're always eager and excited to have fun with people we're friends with.
Ben Sailer has most definitely cried at a Foxing show before. Follow him on Twitter - @bensailer
Pre-order The Albatross digitally and physically and catch Foxing on tour:
05/08 – Saint Louis, MO. @ The Firebird
05/09 – Minneapolis, MN. @ Ballentine Post 246 VFW
05/10 – Chicago, IL. @ The Beat Kitchen
05/11 – Pontiac, MI. @ The Pike Room *
05/12 – Toronto, ON. @ Hard Luck Bar
05/13 – Pittsburgh, PA. @ Smiling Moose (Upstairs)
05/14 – Philadelphia, PA. @ Barbary #
05/15 – Boston, MA. @ Middle East (Upstairs) #
05/16 – New York, NY. @ The Studio at Webster Hall #
05/17 – Richmond, VA. @ Strange Matter
05/18 – Virginia Beach, VA. @ Shaka's
05/19 – Charlotte, NC. @ Area 15 *
05/20 – Wilmington, NC. @ Orton's
05/21 – Atlanta, GA. @ The Drunken Unicorn
05/22 – Jacksonville, FL. @ Underbelly
05/23 – Pembroke Pines, FL. @ The Talent Farm
05/24 – Orlando, FL. @ Backbooth
05/26 – Houston, TX. @ Fitzgerald's (Downstairs)
05/27 – Dallas, TX. @ Three Links
05/28 – San Antonio, TX. @ Korova
05/29 – El Paso, TX. @ Epic Nightclub *
05/30 – Meza, AZ. @ 51 West
05/31 – Los Angeles, CA. @ The Troubadour
06/01 – San Francisco, CA. @ Bottom of the Hill
06/03 – Salt Lake City, UT @ The Shred Shed *
06/04 – Denver, CO. @ Marquis Theatre *
06/05 – Kansas City, MO. Art Closet Studios *

* with Adventures
# with Seahaven, Adventures, Little Big League