Photo courtesy of Gray McBriarty
New Brunswick might have the world's highest tides, the World's Largest Axe, and the biggest fat cat billionaire overlords—but unfortunately our bounty of Big Things doesn't include the youthful demographic. With unemployment hovering around 10% for the under-25 set, 941 people decamping in the first three months of 2015, and roughly half the remaining population over 45, it could be even more depressing than usual to be a teenager in New Brunswick. Happily, much like hot knives, unprotected sex, and cars without mufflers, inventive problem-solving skills abound in depressed places.
New Brunswick's sons and daughters are seeking an antidote to the brain-drain and boredom in the form of DIY all-ages shows in punk houses, commercial spaces, and studios. And, at least for now, it looks like the kids might be all right.
Too-cool-for-school hauteur isn't how New Brunswickers roll—especially not at Claude's House in Moncton. The all-ages punk house has Sharpie on the walls, a picture of Jesus decoupaged to the toilet seat, and an excited black dog running around. But you can help yourself to the big pot of pasta simmering on the stove, and everyone pitches in to clean up. Small-town hospitality is strong beneath the hardcore exterior.
"It's very white trash here in a good way," says resident and organizer Josue Goguen. "It's a weird mutation of French and English. A lot of Chiac and greasy food."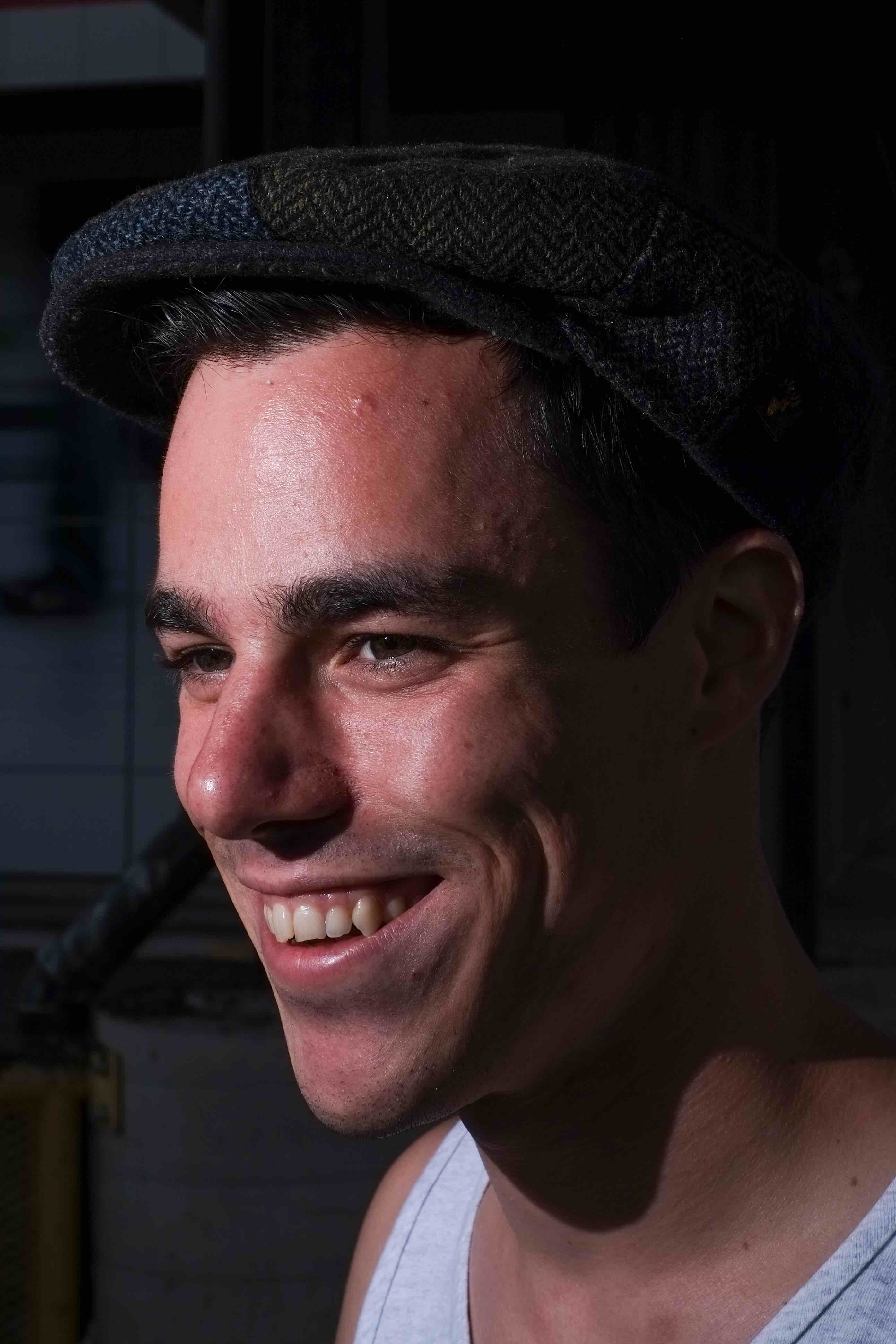 Claude's House co-founder Danny Bourque. Photo: Gray McBriarty
The venue is named after Claude Leger, a stalwart in the Moncton scene who played with Acadian post-punk band Idée du Nord until his death in 2013. In the time-honoured punk all-ages tradition, Colton Young and Danny Bourque started hosting shows in the winter of 2013. The aim, as Young describes it, is to "make the kids realize that they can do it themselves."
Lisa Leger (no relation to Claude Leger), 17, just finished Grade 11. She says all-ages shows relieve the tedium of high school life in Moncton. "I don't feel like I stand out. I can just be here, and nobody judges me. I used to really want to leave [Moncton], but now I'm attached to it because of the music scene."
17-year-old Ross Duncan says he hates trying to sidle illicitly into the bro-infested bars of Robinson Court. "It really sucks," Duncan says. "I find bars stressful. I don't want to get kicked out. All-ages shows take that pressure off." On a Sunday night in Moncton, Claude's House is the only place other than the bars with the lights on.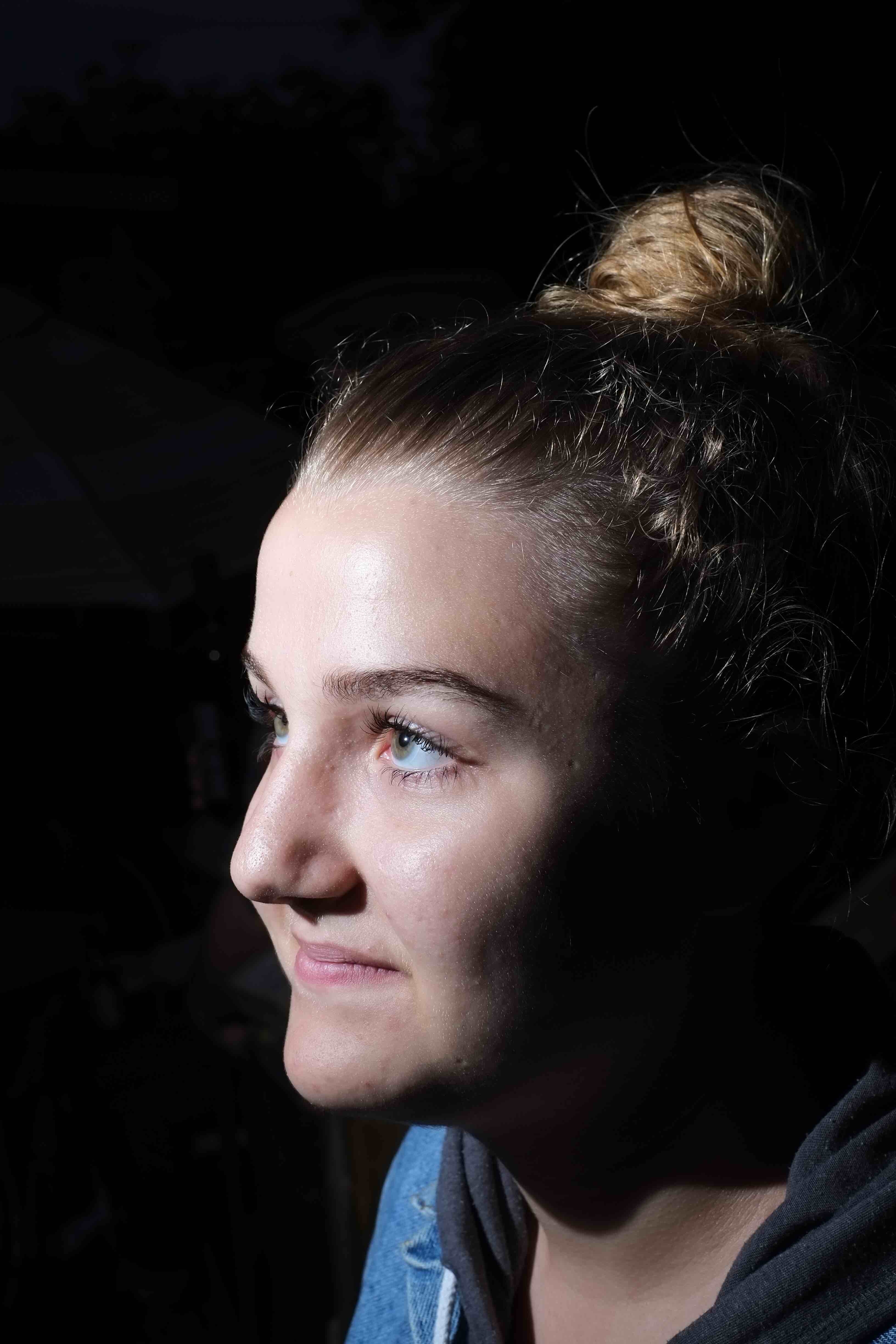 Lisa Leger, 17. Photo: Gray McBriarty
Down the road in the industrial port city of Saint John, kids are looking for a similar outlet. "There's this weird duality about living in Saint John," says Connor McDonald, 16, "and knowing there's an entire world outside."
The all-ages scene had a big moment in July 2014 when Stuart Buckley, now 21, founded The Shark Tank in a "gross" old paint store on the edge of town. It was the spiritual successor of The Shop and the Gothic Arches, two other short-lived all-ages venues. Buckley says without a dedicated space, things can get pretty ad hoc. "We put on shows at my parent's office building before we got busted. It was a pretty small space but we'd get like 30 kids out, it was insane. The walls would start to sweat."
Nailing down legit spaces is surprisingly difficult, despite Saint John's notoriously high vacancy rates. Accepting liability for hordes of unpredictable kids is too much to ask of most landlords, especially when there's little money to be made. While the Teen Resource Centre and local record store sporadically host all-ages shows, teens seeking a regular hit of live tunes have been forced back into illicit house parties and 19+ establishments since The Shark Tank closed last fall.
"The only thing to look forward to in Saint John is a chance to go and listen to music," says Sam Roach, 16. "There's nothing else that I want to do." But Jerry-Faye Flatt, 19, says even sneaking into bars is getting harder after a recent crackdown on ID.
"Every five seconds there's another condemned building, but when people try to find a place to have all-ages shows they can't pay the bills. The city or the province could help us. What else are they doing to help teens?"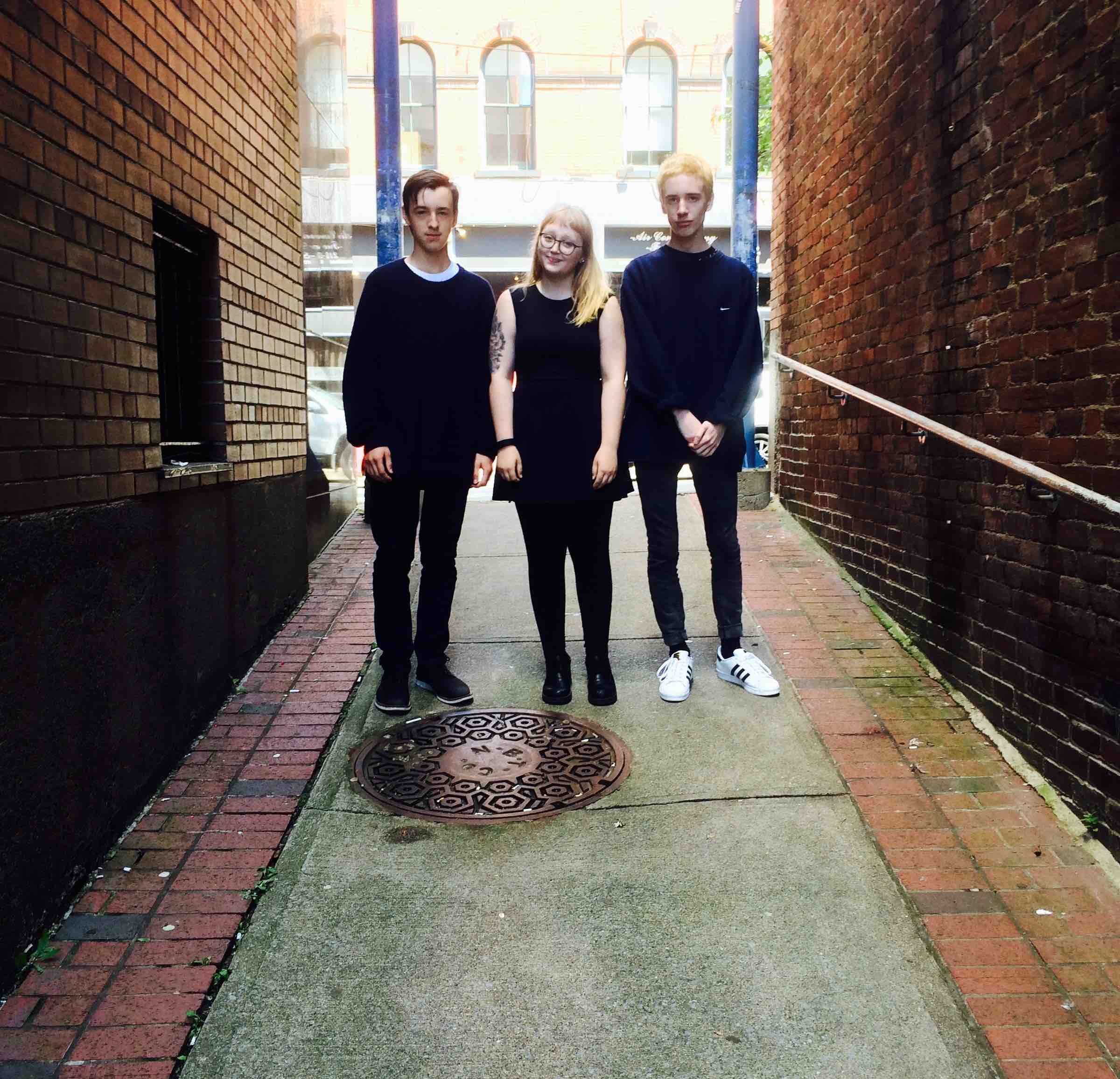 From left to right: Saint John's Sam Roach, 16, Jerry Faye-Flatt, 19, and Connor McDonald, 16. Photo: Julia Wright
In New Brunswick's capital, Fredericton, a freaky arts collective known as the Shifty Bits Cult are helping carry the teen scene. The dozen core members have forged an aesthetic out of self-confessed poverty. "Most of us don't have any cash. We have shitty jobs or no jobs at all," says Penny Stevens, 23, visual artist and reigning Cult queen.
All-ages shows happened every night of SHIFTY BITS INF4ERNO, the collective's big summer bash. Decorations included dismembered paper-mache arms made with pool noodles and donated paint, recycled hand-painted banners, and creepy plaster masks. Volunteer labor and found/donated materials are the collective's bread-and-butter.
Continued below...

"The DIY thing came out of necessity, but it's become our aesthetic. And we're able to do whatever we want because we don't have any financial expectations from anybody," says Stevens. But having no cash sucks in other ways: a studio above a 9-to-5 business limits when people can jam. For a while, they worked out of an unheated barn in Maugerville, 20 kilometers outside of town.
"There isn't a lot of affordable space that's open to rock-and-rollers," says Stevens, "but we make it work." The teens —including a strong contingent from the infamously badass Fredericton Youth Feminists—turn out regularly at the shows. Stevens says crafting something out of nothing sends a message: no matter where they are, kids can "feel free to make a weird path for themselves."

Penny Stevens. Photo: Julia Wright
While 19+ venues can count on liquor sales to turn a profit, all-ages venues everywhere operate on razor-thin margins. Way fewer people will shell out for live music unless they can get their drink on at the same time. And with teens in the Maritimes even more cash-strapped than their big city compatriots, there's seemingly little incentive to keep things going.
That's precisely why New Brunswick's all-ages scene is so magical: by rights, it shouldn't exist. Yet instead of bitching, organizers celebrate improvised spaces, Dumpster-dived materials, and a do-or-die tenacity often lacking in big cities. That's not to say a cash injection would be a bad thing. With kids packing sketchy basements and disused offices, it's crazy to imagine what could happen with little sustainable funding and a few tolerant landlords.
Penny Stevens envisions Big Things down the road for young people in New Brunswick. "This is the place I love, and I'm not leaving. There's a lot of talent here and the only way to showcase it is by getting our shit together and rallying the troops." Most importantly? The DIY scene proves it's not just losers who stay in the Maritimes. Claude's House regular Jesse LeBlanc sees mentorship as sacred.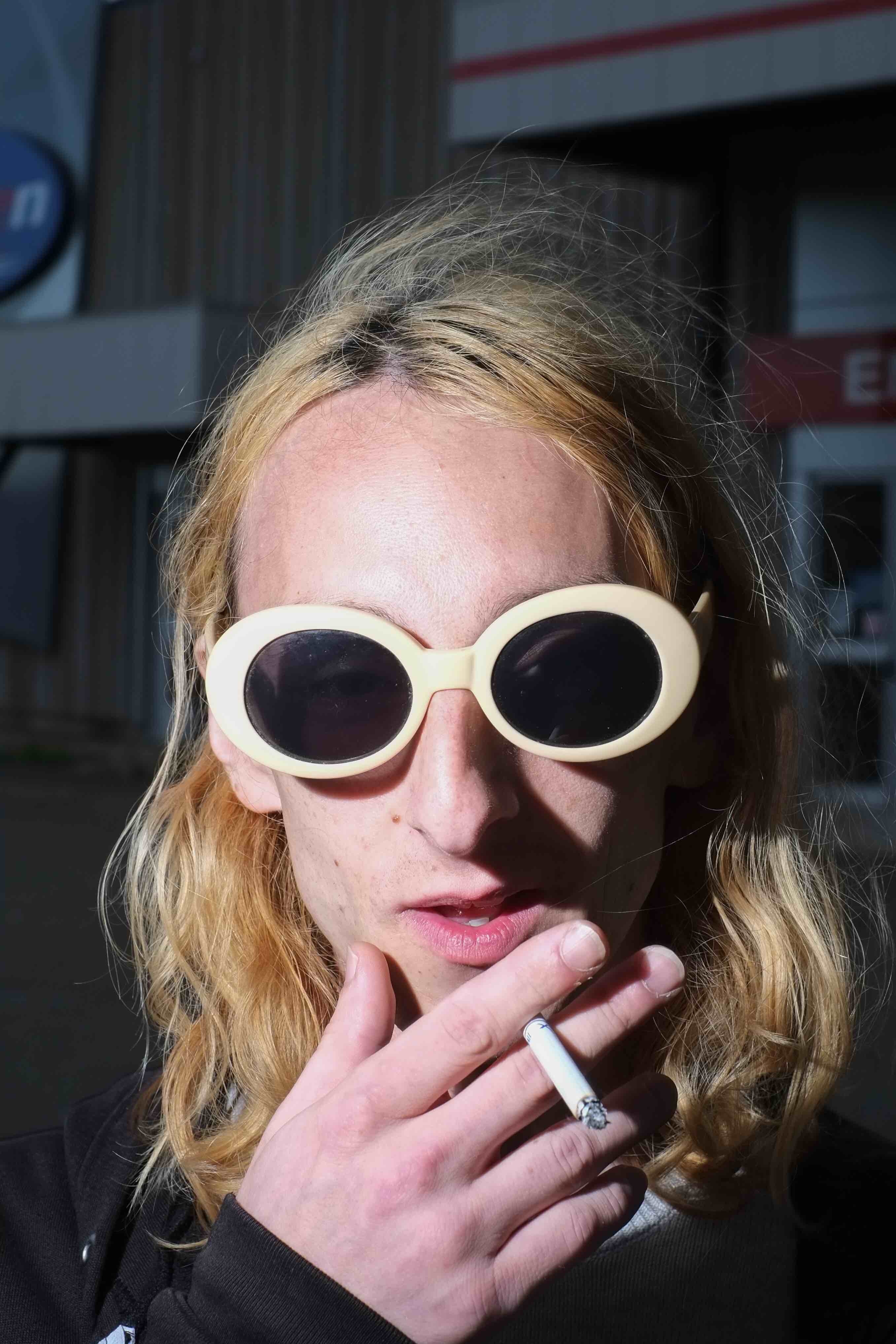 Jesse Leblanc. Photo by Gray McBriarty
"Everybody's in the suburbs. The downtown's empty – except for a few weirdo people making art and music. People have no aspirations of ever being big, because there's no chance that that could ever happen," says LeBlanc. "We're trying to bring a new era in. Now, all these weirdo kids are like, 'maybe there is a chance that we could amount to something!'"
"They wouldn't know that—unless they have a chance to come out to the shows."
Julia Wright is a writer based in New Brunswick. Follow her on Twitter.