A fixture of Montreal's music scene for over a decade, Lexis is an increasingly rare breed: a DJ and promoter for whom the music comes first. As the man behind Music is my Sanctuary, a site celebrating everything from hip-hop to rare groove and dance music, he's brought countless under the radar legends to Montreal without getting involved in the industry politics that can so easily sour one's passion for music. He's also the man behind 24 Hours of Vinyl, a web-streamed night celebrating good music and good friends that's spread beyond Montreal's city limits with Toronto and Vancouver editions. With the next night set for March 1st as part of Montreal's Nuit Blanche, we spoke with Lexis about the importance of vibe, the challenge of an all night event and how to keep a wax-only event friendly and inclusive for all.
Noisey: What was the original impetus for the project?
Lexis: It started in the Winter of 2011. It was an idea that came out of the reality of a Canadian winter. The first one happened in mid-December, one of those Decembers where you're a bit depressed, the days are short, you're stuck inside and you want to do something. The basic idea was to gather a couple of friends to come play music and from there it snowballed. I got my brand involved and I guess one of my main qualities is trying to find an angle to sell it and find a catchy name, so that's where the marathon angle came from. But it was very spontaneous, after the first one I realized I had something great going but really it was about getting friends together and having everyone bring over a bunch of great records.
The vinyl aspect is a big draw to the project. 24 hours of music would have already hooked people, so what made you go the all wax route?
Before this project I'd never done one single vinyl-only event and anyone who who knows us at Music is My Sanctuary knows we're not elitists or purists. It's really more of a celebration of the format rather than being a vinyl purist. It could be 24 hours of cassettes or 24 hours of CDs! As we move into a reality where more and more people are just streaming music on demand, it's really a celebration of physical formats. As DJs we all love vinyl the most but it's really not meant to have an exclusionary angle to it. I'd never hate on anyone who plays or CDs or Serato and I hope that shines through. It's really an "exercise de style" [style exercise] as we say in French.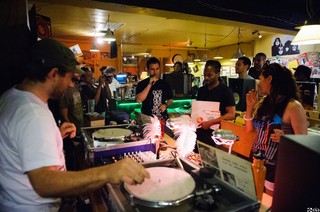 What challenges did you face with the early editions?
As the host, it's always very physical on me. Basically, I founded the project but I have a partner Philippe Sawicki and he's more responsible for all the coding, the cameras and the mechanics, but the main challenge is the lack of sleep! Every time I do it, I sleep on average 2 hours. After that, the difficulty comes with any live streaming event. It needs a very stable Internet connection. I guess the other challenge comes with balancing making the event enjoyable live in person and just as enjoyable online. It's a very different experience live and online and I want it to stay very intimate. I do it at Le Bleury when I do it in Montreal and I wouldn't want to do it at a venue bigger than that. What I want out of it is for it to be a 24 hour musical listening party and discovery marathon. It's not a 24 hour rave or party. If people want to come in person and dance to it, that's a bonus but the event really, is about showcasing the best of the best of what each DJ brings, musically.
Has the reaction varied from city to city?
Right now the event is still growing but it's still very much grassroots. There's still room for improvement in terms of getting the word out about the event and every time I do a new city, it's about rebuilding the promo. But every single edition has had great music and that's the important part. Whether I do it in Montreal, my hometown and 500 people come out to the event or I do it in Toronto and I know less people…I don't really care. What's important for me, is booking 15 amazing DJs that are all different so I don't hear the same music for 24 hours straight. I don't want to hear house music for 24 hours. I don't want to hear hip-hop for 24 hours either. So for me, every edition's been a success. Some events had a lot of people live, some had less. The actual online listenership has always done well and is still growing no matter the city. The one thing that does change is always the live aspect, when I go out to a new city, I have no idea what the venue's going to look like or if people will show up but what I CAN control is the quality of the DJs.
What do you have lined up for this edition?
The big names for this one are Kid Koala, Moonstarr, and an out of town guest named Rahaan from Chicago who does a lot of edits on the Theo Parish tip. All of that alongside a ton of great Montreal names. Previously we've had Jacques Greene, Amir, Eddie C, Poirier, Akufen, and Ohmega Watt and I try to balance out big names and new names.
This edition ties in with Nuit Blanche [an international festival brand promoting a variety of "all night" activities in cities across the globe], how did that come together?
Nuit Blanche is an official partner for this edition, and I want to do more of those, considering they throw events in 15 or so cities across the world. To me, it's a no brainer – the concepts fit so well together and it's a perfect match.
What were particularly memorable moments or sets?
One thing you can say that we do quite well that makes the event enjoyable is that we do a really good job of pacing and organizing the DJs in a sequence that makes sense. The opening night until 3AM will be more on the 4X4 Disco/House/UKG tip and starting in the morning, we'll play more jazz or soul or reggae because unless you're in a big rave, you don't want to hear house music at 6AM! For example, this edition, in the morning we'll have the guys from Jazz Amnesty and then we'll have someone else going into Brazilian music and then hip-hop before going back into electronic music. That's how I try to control the pacing. There's always tons of people online or in person who stay for 18-20 hours and that makes it enjoyable for them. Picking a favourite set would be really difficult. One thing I always do when I release the lineup is give people equal billing. The great thing about this event is that people that try it, whether online or in person, they fall in love with it. It's really important that anyone that tunes in for a few hours walks away with ten gems that didn't know about and they can research or go buy and add to their collection.
--
24 Hours of Vinyl will take place March 1-2 at Le Bleury in Montreal and live online at 24hov.com
Son Raw is a Montreal based DJ and writer. Follow him @Sonraw on Twitter