Photos by Katie Hovland
The brainchild of Chicago-based composer and sound artist J.R. Robinson, Wrekmeister Harmonies is a diverse and rotating collective of musicians known for exploring the darker side of life and the human condition through slow-building, atmospheric music.
Barely a year after the release of its critically-lauded 2014 album, Then it All Came Down, Wrekmeister Harmonies has returned with its latest stunner, Night of Your Ascension. Recorded over the course of a year in numerous locations including the crematorium of Chicago's Bohemian National Cemetery, the album combines the talents of over 30 collaborators including Marissa Nadler, Alexander Hacke, Chris Brokaw, members of Disappears, Indian, The Body, Yakuza and more (view this album trailer for the full roster), into an intense mass of sound that merges reimagined Renaissance-era madrigals with experimental noise, post-rock, drone and metal.
Thematically, the album examines two real-life horror stories that occurred nearly half a millennia apart. The title track focuses on Don Carlo Gesualdo, the 16th-century Italian nobleman and musical visionary who brutally murdered his wife and her lover and was haunted by his crimes until he died. The second song, "Run Priest Run," is a snapshot of convicted pedophile Father John Goeghan in his prison cell before he is killed by inmate Joseph Druce. Taken together, the two pieces provide a disturbing fusion of violence, terror, beauty, and reverence that takes direct aim at organized religion and society's willingness to look way in the face of tragedy.
Night of Your Ascension is out via Thrill Jockey on November 13.
Noisey recently spoke to J.R. about the new album and what it's like to record music inspired by murder in a crematorium.
Noisey: Wrekmeister Harmonies has expanded over the last several projects. How has that affected the dynamics of bringing your concepts to life?
J.R. Robinson: Some of the past recordings have been really, really easy. This one was much more challenging because there were so many people. I had an idea of what I wanted everybody to do, so it was up to me to get everyone to record what I wanted. Then there was a process of putting it all together, taking all this material and editing it down into one cohesive thing. Logistically it was kind of a nightmare, but personality-wise I get along really well with everybody and everybody was really happy with the final result.
As far as logistics, most of the musicians on your previous records lived in the same city, but it's grown far beyond that. How did that affect things?
For example, Alexander Hacke was coming in from Berlin on his way to somewhere else and had two days in Chicago. So it was like, "Okay, Alexander is going to be here. I have to book the studio and get Alexander in." Then looking down the road a bit, "The Body is coming into town. I need to make sure I get in touch with them." I happened to catch Marissa Nadler at a minute that she had a chance to do something. So I spent some time talking to Marissa, she recorded some stuff at home, and sent it to me. With the guys from Chicago it was like, "Okay, everyone is free on these two days. Let's go to the studio and work."
So that created more of a band dynamic, and everything else was composed and edited around that?
Yeah. For example, the string section for "The Night of Your Ascension." I had the original score of this Don Carlo Gesualdo madrigal I wanted them to use but I didn't want it followed to the letter. Chromatically, as it is written, it's pretty clashing. I wanted to make it all in the key of A and smooth everything out. And I wanted to record at this crematorium, so we had to get mobile recording gear and set up in there. Then I did the same with the choir.
Recording in the crematorium must have been interesting, especially given this subject matter.
It's a beautiful-sounding building that was constructed a long time ago. It has this awesome dome. There is a lot of marble and stained glass and wooden pews, so it sounds amazing in there. There is a lot of air and natural reverb in the room. Adding onto that, you have an actual working furnace underneath you on the floor below and in the same building there are thousands of urns. There is a definite vibe to the room that everyone noticed and the atmosphere lent itself to the recording process. Dealing with the subject matter of religion and death, I just thought it added a layer to the recording.
How did you choose these particular stories? They seem to have a lot in common, and a lot that's opposite.
The thing that ties the two individuals together over the centuries is the idea of organized religion. When Gesualdo committed these crimes, he was completely sanctioned by the church. Father John Goeghan committed these completely monstrous acts and was hidden by the church and shuffled around until it was like, "We can't hide this anymore." He was supposed to be in protective custody in prison, but they clearly didn't care about protecting him and he was brutally murdered by an inmate whose sole goal was to murder him. In that sense, the victims and the families of all of these children didn't get justice.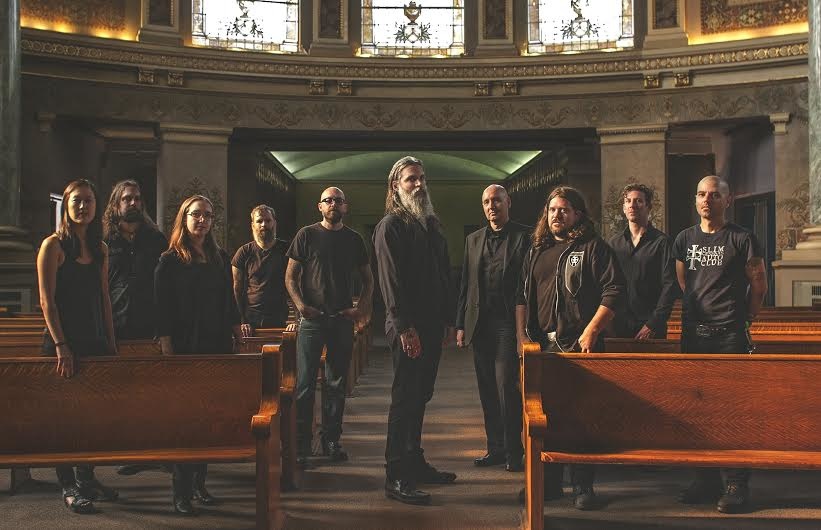 When you were creating the record did you think about it as two connected pieces, or just side A and side B?
It was distinctively two pieces. I wanted to cover this time span of hundreds of years between these two figures that both had to do with the idea of spirituality and religion and how one, Gesualdo, never really escaped what he had done. The whole event was just so gruesome and tragic that it actually drove him mad. He moved out to a castle in the country and cleared out a whole area of trees—just decimated them—because he was so suspicious of people coming to "get him."
I grew up in Boston where The Roman Catholic Church is a huge thing. The story of Father John Goeghan really shook the people there. Single mothers had entrusted Father Goeghan and the Catholic Church to look after their children. And he was a predator and he preyed upon them and the church did nothing about it for many, many years. The hypocrisy of that and the crucial oversight that allowed it to continue says, "We know he is abusing children, but we can't have this come out. We're not going to deal with it so we're just going to pass him off." To me, that's almost as sick, or even more sick, than the crimes Goeghan perpetrated against children.
With "Run Priest Run," I wanted to give off that chilling vibe of being incarcerated and having to deal with the past events that you've been responsible for, and also the idea of being in this harshly-lit environment full of fear. Then the fear is delivered to you, and it is unstoppable, it is consuming, and it annihilates you.
How much is meant to point outward, like, "As a society we've allowed people like this to be in our existence, so no one is going to get a break?"
This is a definite look at organized religion. This is what organized religion is about. You have faith in this institution. This is the institution you've placed all your value systems in. This is the system you've placed your beliefs in the community in. And to what end?
See Wrekmeister Harmonies* on tour with Bell Witch:
(*Instrumentation for the tour will be provided by Bell Witch and Esther Shaw)
12/02/2015 Barboza – Seattle, WA
12/03/2015 The Cobalt – Vancouver, BC
12/04/2015 Obsidian – Olympia, WA
12/06/2015 Ash Street Saloon – Portland, OR
12/07/2015 The Metro – Oakland, CA
12/08/2015 Starlite Lounge – Sacramento, CA
12/09/2015 Complex – Los Angeles, CA
12/10/2015 Alex's Bar – Long Beach, CA
12/11/2015 Flycatcher – Tucson, AZ
12/13/2015 Mohawk – Austin, TX
12/14/2015 Double Wide – Dallas, TX
12/15/2015 Record Bar – Kansas City, MO
12/16/2015 7th Street Entry – Minneapolis, MN
12/17/2015 Empty Bottle – Chicago, IL
12/18/2015 Vaudeville Mews – Des Moines, IA
12/20/2015 Marquis – Denver, CO
12/21/2015 Diabolical Records – Salt Lake City, UT