What Detroit is "known for" today depends on who you're talking to. Some focus on the city's bankruptcy and blight. Others zero in on "Opportunity Detroit," a Quicken-Loans campaign spearheaded by real estate mogul and billionaire Dan Gilbert that views the city as a blank slate, ready for the taking. It's urban farmland. It's an artist's enclave in waiting, the ultimate foil to New York's culture of unspoken privilege. It's a place where people were born and raised and have persevered. It's a city with a complicated and painful history.
What Detroit really is or what it will one day be is difficult to answer and so I decided to join Jamaican Queens on a tour of old and new Detroit—a quest to understand the city and how the band fits in. The band members settled here because they grew up in Midwestern suburbs—two members are from Michigan, one is from Illinois—and were attracted to a level of excitement that their childhoods lacked. "It's a city thriving with culture and it's cheap enough for me to afford a life making music and art," explains lead singer Ryan Spencer, who moved downtown four years ago. "The city may be bankrupt, but the suburbs are morally bankrupt."
After a little less than two years together and with a second album in the works, Jamaican Queens have honed a sound that incorporates rock, electronica, and R&B—influences Detroit is known for. The band's ability to tie danceable tracks to dark themes such as death and heartbreak allows them to make the gritty digestible and fun, and give an edge to the pillow-soft formula that's seemed to dominate the indiesphere as of late.
Having just released their debut album Wormfood on vinyl, I went to hang out with the band see how and where the city continues to influence them. I joined Ryan and his bandmates Adam Pressley and Ryan Clancy at the Centerfold Lounge on 8 Mile. Popularized by Eminem, the street functions as an invisible line separating the city from its suburbs. At one time the line wasn't so invisible; a wall was erected in 1940 to separate white and black homeowners.
Centerfold is the Cheers of topless bars. Strippers dance to Metallica and Iron Maiden and as we are later told by DJ Strawberry Steve, this is a "blue collar bar where everybody knows each other." As it's Valentine's Day, the bar is fairly empty. We pick a table in the far corner of the room as Columbiana s-l-o-w-l-y saunters across the stage. (Upon looking up Yelp! Reviews of the bar I learn that this is pretty standard. "Not inspired," reads one. "The dancers were 'Ok'," reads another.)
Ryan, who hasn't been to a strip club since he was 19-years-old, is floored by how normal it feels. "I don't know maybe when I was 19-years-old I was a wimp. It's either that strip club was way seedier or we're just seedier."
After the boys debate internally over how to appropriately tip the dancers, we notice that Clancy has been missing for about ten minutes. I'm told he's outside in the club's infamous smoker's lounge, so we decide to find him. As we pass through the cramped entrance the bouncer is watching Judge Judy on a mini-TV. "There's nothing better on," he says.
We cross the car park to what looks like a converted garage in someone's backyard. Stray kittens wait out front begging for scraps. We're soon joined by a woman and her friends; later, she will tell us her name is Fat Stripper Amber. Fat Stripper Amber huddles next to the space heater trying to keep warm in spite of her sapphire velvet tube-dress. Crouched low and close to the heat, she puffs on her cigarette making small talk with her companions: DJ Strawberry Steve and a woman who does not give her name. It's the woman who first acknowledges our presence. "What are you doing here?" she asks directly. For the first time we are forced to make vague excuses about what increasingly feels like a trespass.
The woman, it turns out, is a regular customer of Amber's. She and her boyfriend have already visited Centerfold three times this week to see her. Today, they've surprised the dancer with a traditional Michigan Valentine's gift: a haunch of venison. The boys awkwardly struggle to make small talk and soon we're sitting alone in the empty Smoker's Lounge. What started as a trip to a strip club is now just a band sitting alone in dingy room.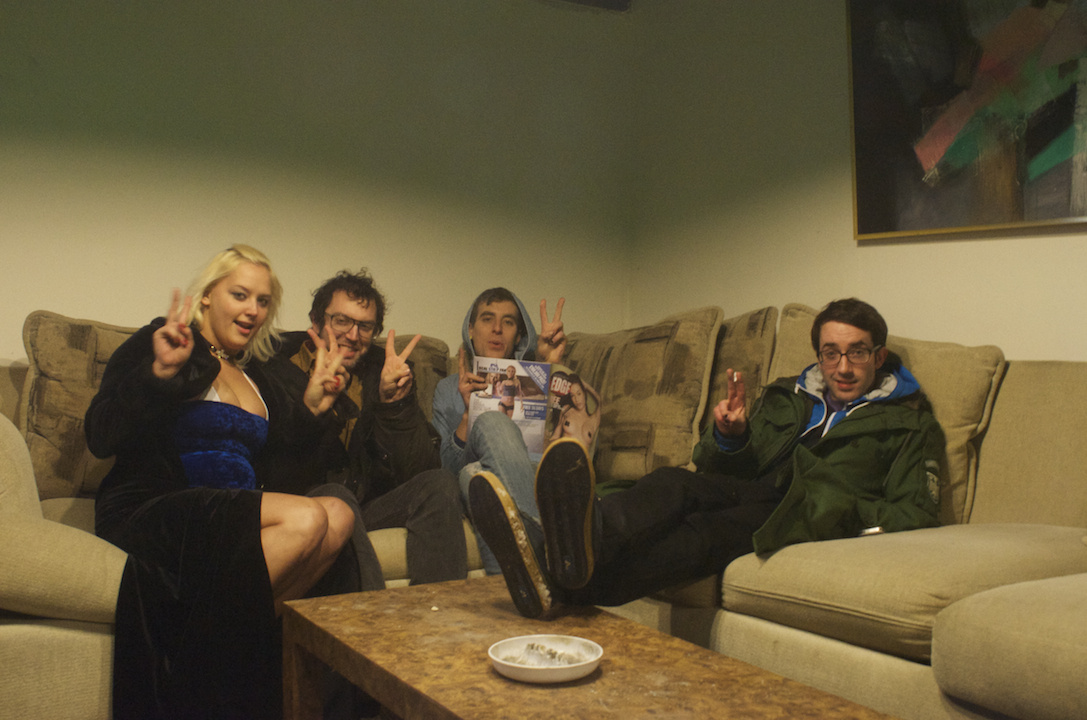 Leaving 8 Mile, Adam jumps on the I-75. Heading south, the freeway works like a mood ring; the various levels of traffic indicate what's happening downtown. Mild traffic: a Kenny Chesney concert or any sporting event that's not baseball. High traffic: a Tigers Game. If the hype of the casinos is to be believed, Downtown Detroit is where metro-Detroit goes to play.
With hypnotizing multi-colored lights illuminating the outside, the $825 million Motor City Casino complex is like a neon cuttlefish out of water. For suburbanites coming downtown to get wild, it represents a night of belligerent recreation; for those addicted to the idea of hitting the jackpot, it's the promised paradise that keeps them coming back.
Still, it's the shittiest paradise I've ever been to. If Las Vegas is a place to go for a weekend of discreet sin, MCC is where you go to wrestle with your demons. As we enter the parking lot it becomes apparent that everyone has decided this would be the perfect place to take their loved ones for Valentine's Day. Parking is a mess and Ryan, who decided to take mushrooms after we left Centerfold, starts to panic. He begins to tell us about how he and his ex-girlfriend came here two-years ago on their first date, which also happened to be Valentine's Day. He is interrupted by a friend who wants to keep things in a happy place: "Let's check into Tinder! I think our stats go way up in a casino!"
Before anyone can check in, we find a spot and make our way to the "main event." When the elevator doors open, it turns out we have to wait in a long line similar to airport security. The crowd looks bleary-eyed and vaguely pissed; no one seems like they're ready to have a fun Friday night on the town. Once we're past security, MCC suddenly closes in. Oxygen is pumped through the AC system to keep punters pepped. Indoor smoking is still legal, which means we're constantly walking through clouds of acrid air. MCC feels like a cruise ship: cheesy, with limited escape routes and tons of people you don't want to know.
Natalie Cole's "This Will Be" is pumped in over the oxygen. Throngs of people stare into brightly colored screens as "…this will be an everlasting love" croons through the speakers. Every few minutes, we hear the swish of a magic wand indicating someone has won something. Along with the décor and the free coffee, it's a calculated business move. Places like Centerfold are too dreary to pretend they're offering anything but what's inside; the casino, on the other hand, is a series of funhouse mirrors supposedly expressing our hidden desires. It's not difficult to imagine some complicated machinery tracking and processing every interaction that takes place inside, so that some high ups can flip it back to us as a product. If Detroit was once famous for its material production, this is a cannibalizing, self-consuming environment.
Ryan, who's grown noticeably more anxious inside, picks up on this trend and is determined to play something with a person. He smacks down $15 at an almost empty roulette table and loses immediately. War proves just as unfruitful. Perhaps it's the clip art flame carpeting—or the shrooms—but Ryan doesn't seem very fazed by his bad luck. He remains optimistic as we head over to the Bill Breaker Machine. Someone breaks a $20 bill into four $5 dollar bills. The casino has reduced us to marveling at the abstraction of money—because we now have four bills it seems like we've somehow won. But casinos are only as fun as what you put in, and we're all kind of broke.
Walking out Ryan notices a woman wearing a purple jumpsuit, floor-length fur coat and sunglasses. "I love your outfit!" he shouts. She misses his compliment and instead raises her two daiquiris into the air: "These! Four bucks!" The daiquiris remind me of the one Tigers game I've been to. The actual baseball playing came secondary to the all the expensive distractions being sold: $12 hotdogs, $8 beer and multi-colored daiquiris in clear plastic tubes.
The casino and the game both represent the face of fun!, new! Detroit, which makes sense since they're owned by the same person: Mike Ilitch. (Technically, his wife owns MCC since MLB rules prohibit him from owning interest in gambling establishments.) Mike, who also owns the Red Wings, made news last year when former mayor David Bing confirmed that he believed Ilitch owed $1.5 million in unpaid property taxes on his Red Wings Arena. This news has been confounded by the fact that a few weeks ago the city agreed to assist Ilitch in the building of a new $650-million entertainment center/Red Wings Arena downtown, and passed a proposed deal, which sold him 39 vacant parcels for just $1.
This kind of suburbanization presages a future whitewashed of anything that cannot be easily accounted for by marketing data, ticket sales or crime statistics. With this in mind we decide to steer our evening away from the moribund sports bars, casinos, and arenas and focus on the city's youth—a combination of former suburbanites and born-and-raised Detroiters—who have come together to enjoy the city for what it is and enliven on their own terms. Our first stop is a show with the theme of "Heart Break" at the Contemporary Art in Detroit gallery. Driving through the historic Woodbridge neighborhood we pass row after row of Victorian mansions, a noticeable juxtaposition to the cement and LED Leviathan we just spent the last hour in.
Clancy has a piece in the exhibition—a journal entry from when he had his heartbroken by his "dream girl" in 2011 while living in China. As he re-reads his own entry he starts to smile. "At the time that was the most pain I had felt in my life. Looking back though I guess you can say now it's sort of like a welcomed depression. I mean, it wasn't welcomed at the time, but now… yeah, it was the best. I learned so much from that experience."
About an hour later I catch Clancy standing outside the show smoking a cigarette. The group is trying to decide where to go next when Clancy says, "I want to go to New Dodge Lounge because I want to hit on a girl I'll never be with." As he exhales, side banter ensues, something about her moving to Cambodia and Clancy needing to stay positive.
"It's this girl I kind of love. She loves someone else but loves me whenever they break up," Clancy is saying. After some silence he quietly adds, "I really like liking her."
Our last stop is 1217 Griswold—a loft in the heart of Downtown. Recently the residents received a notice of eviction from Dan Gilbert, whose Bedrock Real Estate bought the building.
Griswold has been a force in the music scene in Detroit since the 1990s, when a bunch of DJs began throwing parties in the space. Today, you could catch local Detroit talent such Kyle Hall and Jay Daniel playing to a crowd that's a mix of Detroiters, suburbanites, young, old, black, and white. This is a place that is uniquely integrated and inclusive, and the reception doesn't feel forced or disingenuous. People are there to have a good time. While it's disconcerting and sad to see the Griswold lofts in its last few days it also doesn't feel like the end. After all, it's not like the city is short of spaces, and there is an excitement to realizing just how much agency the people here have accrued.
Jamaican Queens is a part of this scene, even as they seem aware of their position in a wider context. As we've moved from 8 Mile to Downtown, I've seen them deftly and at times awkwardly navigate the tricky historical terrain and their positions of relative privilege within it. Similarly, their music does not foreground their struggle. They draw inspiration from Detroit, but seem to understand that they cannot place themselves at the center of the frame. As I am about to head out I look for Ryan – Clancy has found a ride to the New Dodge Lounge and Adam left to meet up with his girlfriend—but I can't find him. He's faded into the background, somewhere on the dark dance floor.
Previously, we premiered the video for Jamaican Queens' "Wellfleet Outro".
Photos courtesy of Izaak Schlossman
Allie Gross is a writer in Detroit. Email her at allison.elisabeth@gmail.com.