On Tuesday, I wrote about how the Minnesota Timberwolves and the Milwaukee Bucks could potentially break the hammerlock that Golden State and Cleveland currently have on the NBA. Those two are long shots, but other teams are positioned to disrupt the league's reigning duopoly as early as next season. There are two, in fact, and I'll be talking about both of them today.
The Washington Wizards and the Houston Rockets are part of the NBA's upper-middle class, which until now has produced little more than mildly annoying foils for the Cavs and the Warriors. But maybe, just maybe, these two teams can become serious threats in 2018.
Washington Wizards
Shortly after his Wizards were eliminated by the Boston Celtics in the Eastern Conference semifinals, Bradley Beal made a confident yet poorly timed comment about how petrified the defending champion Cavs should be of his team.
"Cleveland didn't want to see us," he said. "I always said that. I felt like that's the reason they didn't play us in the second round. They didn't want to see us in the second round. If they were going to go down, they were going to go down in the conference finals. They didn't want to go down in the second round."
On one hand, this came off as a feeble battle cry from a sore loser. How is Beal to be taken seriously after he made only 31.3 percent of his threes in the second round? (To be clear, Beal is awesome and shouldn't be blamed for Washington's demise, but he also doesn't look great claiming the team that demolished the team that his team lost to was shaking in their high-tops.)
On the other hand, maybe Beal has a point. Maybe the Wizards wouldn't have lost to the Cavs by 100 combined points over a five-game span like Boston did. Maybe their exuberant top-shelf star power would have been more formidable against LeBron James and Co.
Given that both Washington and Cleveland should remain fundamentally unchanged next season, the best way to analyze the future is to peek back at the recent past. Even though they went 1-2 against the Cavaliers during the regular season, the Wizards played them about even. Beal didn't take the floor in Washington's first loss way back in November, and the Wizards' second loss hinged on a say-your-prayers turnaround by James to send the game into overtime.

In the 73 minutes John Wall and Beal shared the floor, Washington outscored Cleveland by 2.0 points per 100 possessions. Neither team could guard the other, which has been a common theme over several matchups during these playoffs.
One thing working in Washington's favor is time. James will be 33 years old next season, and at some point his age is going to translate into a tiny step back. The Wizards, meanwhile, can reasonably hope for 27-year-old Wall, 23-year-old Beal, 23-year-old Otto Porter (assuming the Wizards bring him back—more on that in a second), and possibly even 28-year-old Markieff Morris all to come back as better versions of themselves, with head coach Scott Brooks on his second season in D.C.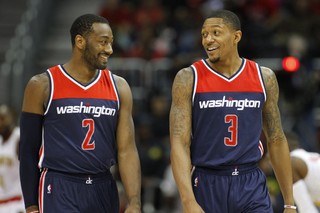 Washington's bench is a concern, and largely the reason we just saw the Wizards flame out in the playoffs, but the front office has very few resources to improve it this summer. The Wizards will likely be in the luxury tax if Porter re-signs, which would leave mini-mid-level, biannual, and veteran's exceptions as their only available tools to fill the holes in those lineups. That's probably enough to go after guys like Michael Beasley, Omri Casspi, and Ray Felton, but those names hardly inspire confidence. Maybe Tomas Satoransky can give Washington decent minutes as a backup point guard. Maybe Ian Mahinmi can bounce back to have a healthy season. Or maybe not.
And yet, to reach the top of the Eastern Conference, it somehow seems less critical that the Wizards shore up their putrid reserves than ensuring that their best players can get even better. Wall is Washington's franchise player, but his jumper still has room to improve. Porter can get stronger, and perhaps receive an expanded offensive role. And Beal? His continued growth feels most crucial for this team's future, especially in a potential showdown against the Cavaliers.
It's hard to pinpoint any one specific area of Beal's game that needs to get better. He's already a sensational pick-and-roll playmaker who can create his own shot, rain fire off screens, and wreak havoc in transition. If one "weakness" was exposed in the playoffs, it was an inability to attack with his back to the basket. According to Synergy Sports, Beal finished only ten possessions with a post-up during the regular season. That number helps explain why the Celtics weren't terrified to have Isaiah Thomas guarding him in the playoffs, even if Beal ultimately dominated that individual matchup, but it won't dictate how Beal approaches off-season workouts.
"We'll do a little post game work, but he's not taller or longer than most of the guys that guard him, so that's not to his advantage," Beal's trainer Drew Hanlen told VICE Sports. "We'll add turnarounds over both shoulders. He already has a great face-up game."
Beal also plans to work on different ways to draw more fouls and create space off the dribble behind the three-point line. This should sound horrifying to opposing teams. Beal's True Shooting percentage was already in the high 60s in two games against Cleveland this year, with heavy minutes and a usage rate that was slightly above his season average. Him performing at that level in a seven-game series isn't inconceivable.
Even if they don't land a big fish to lift their bench this summer, Washington already has enjoyed a bit of success with lineups beyond its starting five that match up nicely against Cleveland's smaller groups. With Morris at the five, Porter at the four, and Kelly Oubre on the wing, the Wizards outscored opponents by 15.8 points per 100 possessions in just over 50 minutes this season. (The same group was barely utilized in the playoffs.)
The Wizards should really like their core. It led them to a 49-win season, and they were a few unlucky bounces and a Kelly Olynyk podium game from the Eastern Conference Finals. Just imagine what can happen if everyone stays healthy, and Beal leaps from awesome to unstoppable.
Houston Rockets
The Rockets were built to trade uppercuts with the Warriors. From top to bottom, this year's team felt engineered in a lab to dethrone last year's 73-win juggernaut.
The recipe starts and ends with an ideal supporting cast for James Harden, one that provides space for his drives and several outlets once he knifes into the paint. It was as fatal an offense as the NBA's ever seen.

We'll never know how close (or far) this experiment came to actually taking the Warriors down, however, because Houston flamed out in the conference semifinals against a San Antonio Spurs team that didn't have Kawhi Leonard in Game 6. It was one of the more perplexing series finales in recent memory, but extrapolating too much from any one game (or series) can be foolhardy.
The Rockets finished the 2016-17 season with the NBA's second-best offense and third-highest point differential. They deserved the "championship contender" label they wore for most of the year, and general manager Daryl Morey would be wise to roll back a majority of those pieces for another run.

A second season in Mike D'Antoni's system, with a full year for Lou Williams to acclimate himself and 23-year-old Clint Capela to grow, could lead to an even more diabolical attack. Granted, Nene will likely move on, but that could very well just open up more minutes for Capela, Montrezl Harrell, or Sam Decker to make the most of a new opportunity. Every other complementary Rockets part is under contract for at least one more year.
On the other hand, Morey may feel like accentuating Harden's strengths can only get the Rockets so far. Perhaps more star power is required to outclass a seemingly unbeatable foe. Houston doesn't have enough assets to outbid other teams for an All-Star on the trade market, but it can clear cap space and go all-in for one in free agency.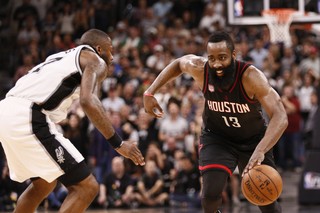 The most intriguing target is Blake Griffin. At first glance, the five-time All-Star might seem badly miscast in D'Antoni's offense, but for the purpose of lessening Harden's burden and offering some variance to an attack that's increasingly predictable as a playoff series develops, Griffin can unlock so much more than meets the eye.
No, he can't spot-up beyond the arc or consistently threaten defenses as a pick-and-pop weapon, but his presence would open up more doors for Harden, beyond conducting high pick-and-rolls on every single possession.
Picture Harden as the screener for Griffin, a catch-and-shoot option on the weak side, or a cutter who occupies the defense's attention while Griffin operates in the post. Not having to be the architect of every open-floor opportunity would drastically simplify Harden's life. According to Synergy Sports, Harden turned it over on 28.9 percent of all possessions where he was the ball handler in transition. This ranked 77th among the 85 players who led at least 50 fast breaks last season. Griffin only turned it over 13.6 percent of the time and placed 11th in points per possession.
Much like James turning the keys over to Kyrie Irving for lengthy stretches here and there, situations where Harden can give the ball to Griffin and get out of the way could refresh other areas of his game.
On the defensive end, Griffin would be an undeniable upgrade in every way. He isn't Draymond Green, but opponents don't go out of their way to hunt him down, as the Spurs tirelessly did to Anderson in the second round. Griffin can switch screens, and he would make opponents think twice about sticking a smaller wing on him when he sets a pick for Harden.
Against the Warriors, Houston could trot out a Griffin, Harden, Trevor Ariza, Eric Gordon, and Patrick Beverley unit that matches up pretty well with Golden State's most versatile groups.
The Rockets could clear enough space to afford Griffin's max deal by attaching their 2018 first-round pick to Ryan Anderson's contract and letting a team like the Brooklyn Nets, the Philadelphia 76ers, or the Timberwolves absorb the three years and approximately $61 million left on it. And without dipping into the tax, they could stock their bench with a plug-and-play marksman at the veteran's minimum like Anthony Morrow, and maybe even add someone like Kyle Korver with the room exception (that's probably not enough, but signing him to a two-year deal near $10 million makes it slightly more likely than impossible).
Replacing Anderson with Griffin would change how the Rockets play, but that might be what's necessary to finally loosen the Warriors' stranglehold in the West.
Want to read more stories like this from VICE Sports? Subscribe to our daily newsletter.