The cakes they serve at baby showers these days look like something out of an OB/GYN textbook. The old standbys used to be sweets made to look like a baby bump or a rubber ducky. Now, it's not out of the ordinary to see a vagina cake with a crowning doll's head, strawberry blood, toasted coconut pubes, and a chocolate-frosting asshole.
I discovered hundreds of these pussy-inspired cakes when I was scouring the internet for inspiration for my sister-in-law's upcoming baby shower. Of course, vulgar cakes aren't anything new. If you've ever been to a bachelorette party or happen to have a group of friends with a gross sense of humor like I do, you've probably found yourself face-to-face with a cake shaped like a penis, jizzing a load of vanilla frosting. But over the past few years, dicks haven't been the only body parts turned into sweets. Thanks to this emerging trend, cake makers are increasingly using their artistic prowess and culinary talents to depict the female anatomy.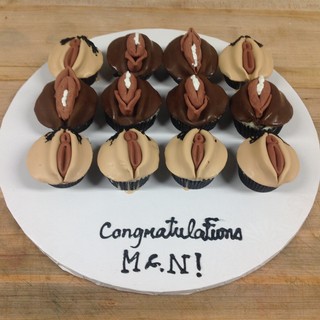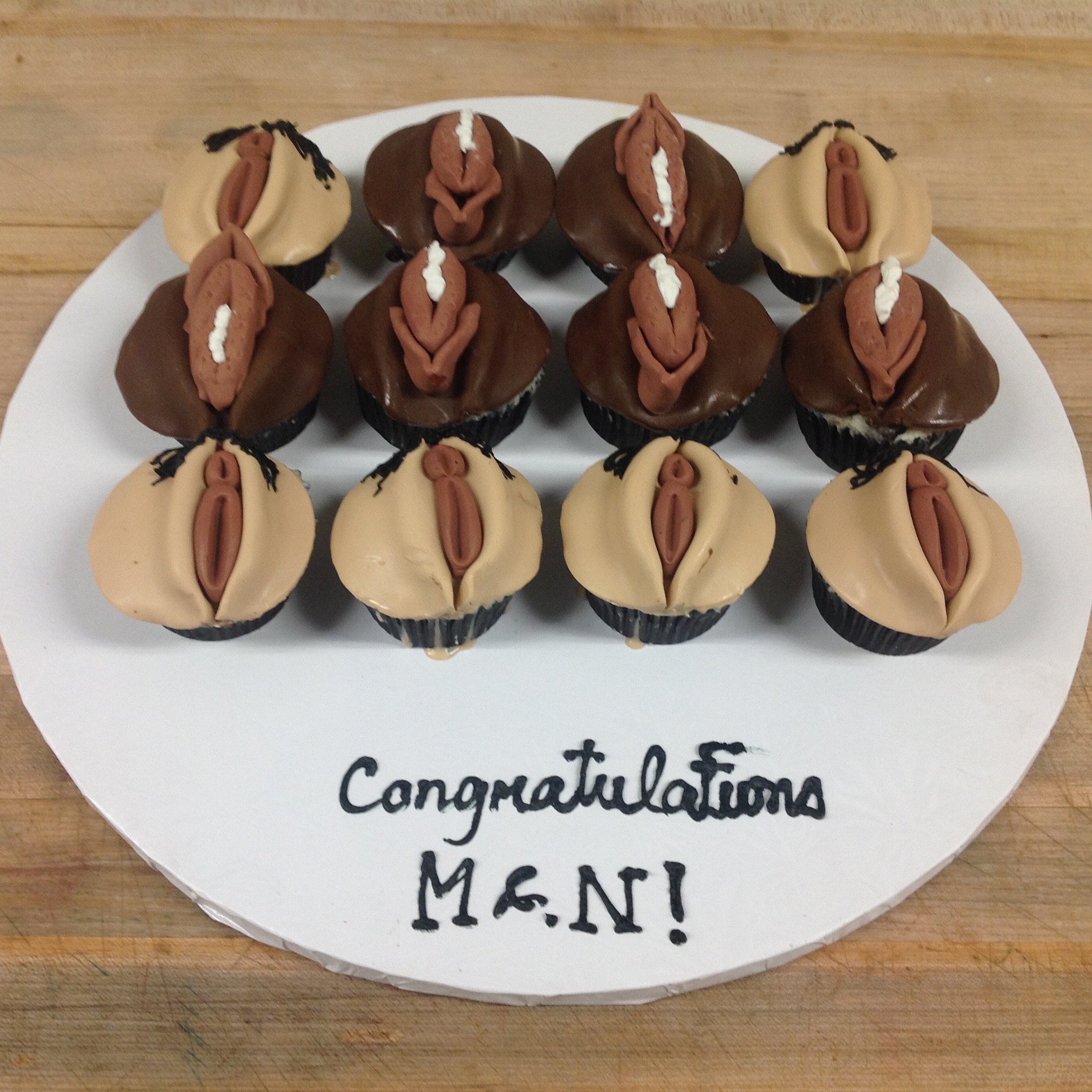 Michael Kaz, the founder of Erotic Baking in New York, said he has been making vagina cakes for the past ten years. While the vagina has yet to catch up to the popularity of dick and ass cakes, he has noticed a recent increase in requests for events like baby showers, where people will shell out $200 for a vagina cake to feed around 15 guests. The trend has even been embraced by celebrities like Christina Aguilera and Jersey Shore's Nicole "Snooki" Polizzi.
"When a vagina cake is requested for a baby shower, it is always a design related to childbirth," he told me. "I think the friend or family member who orders the cake is trying to bring a sense of humor to the horrifying experience of childbirth." Kaz recalled one request for extra slime to represent the discharge and another where the husband wanted twin baby heads, with one wearing a pair of glasses.
Last summer, Johanna Nagan was surprised with a vagina cake before giving birth to her second child. In lieu of a traditional baby shower, Nagan's friends threw her a vagina-themed party and celebrated with the detailed sweet—a large pink vagina cake covered with brown sprinkles and strawberry blood with a baby's gooey head sticking out. A photo taken of the cake that was shared online and was quickly picked up by several different media outlets.
"The experience of having a vagina cake is liberating," Nagan told me over email. "Having a graphic cake opens the door to talk about all this stuff. What surprised me the most was no one told me about so much of what happens with pregnancy and motherhood. No one tells you that your vagina may tear to your butthole and you may not have a clean wipe for three years."
Nagan said there was another similar cake at the party that said "I tore mommy a new one" in chocolate script. "Instead of cringe about my upcoming birth, I laughed," she added. "Because the cake was funny and true."
While the vagina cake might seem like a trivial trend, these depictions can help open up discussion about a subject that, even with our pussy-grabbing president, is still considered taboo. Not to mention the fact that, plenty of women are pretty unfamiliar with their own genitalia. A survey of 1,000 British women conducted in 2016, found that only 44 percent could correctly identify the vagina on a medical illustration and less than one third of participants could label the six different parts (ovaries, cervix, vulva, fallopian tubes, vagina, uterus).
Midwife and author Ina May Gaskin has written extensively about the paradox of female genitalia in today's culture, pointing out that it is constantly exposed in pornography, yet remains off-limits in terms of childbirth.
"In ancient cultures, the sight of a vulva of a goddess was a sacred image—our culture has made it taboo," writes Gaskin in her book Birth Matters. "Why aren't people in society allowed to see what this looks like? I think it would be good for women to learn that nature provides the goods for such work. Seeing is believing, after all."
British professor Emma Rees, director of the Institute of Gender Studies at the University of Chester and author of Vagina: A Literary and Cultural History, agrees that vagina cakes can be a positive phenomenon that can help foster discussion.
"We are denied the terminology, so we're silent, and so abuse from female genital mutilation (FGM) to rape carries on," said Rees. "If a vulva cupcake or an episode of a TV program makes someone think about this and speak the truth about women's bodies, then that's progress—but we have to be prepared to confront millennia of accumulated misogyny and disgust to do this."
As I dove deeper into vagina cake images on the internet, I noticed that some of the dessert depictions of childbirth were done with the intent to shock, instead of educate or celebrate. That is something Rees finds problematic.
"They run the risk–quite literally–of sugar-coating the very real abuses that women and girls
endure around the world," warned Rees. "If you serve up and eat a vulva cupcake, imagining you're terribly edgy, but then do nothing about the fact, according to the WHO's latest statistics, that 200 million women are living with FGM right now, then you're virtue signaling and far from engaging in an empowering act. You're actually contributing to the fractures that run through feminism, nullifying its status as political movement, and making it nothing more than a fashion."
In today's political climate where women's reproductive rights from abortion access to birth control are under attack by the Trump administration, it's true that slapping a vulva on a cake isn't enough when it comes to fighting the powers that be. But it's something. For Nagan, the cake was just the beginning of her teaching her daughter about the power of the vagina.
"I took my seven month baby to march in the Women's March in DC where I wore a beautiful vagina pin in my hair that was made for her baby shower," said Nagan. "Because vagina is not a dirty word, it is a powerful, priceless, life-making part of humanity and I am raising a daughter to know her own power, and not be ashamed of a vagina."
Follow Erica Euse on Twitter.
Lead photo by Chuck Johnson.