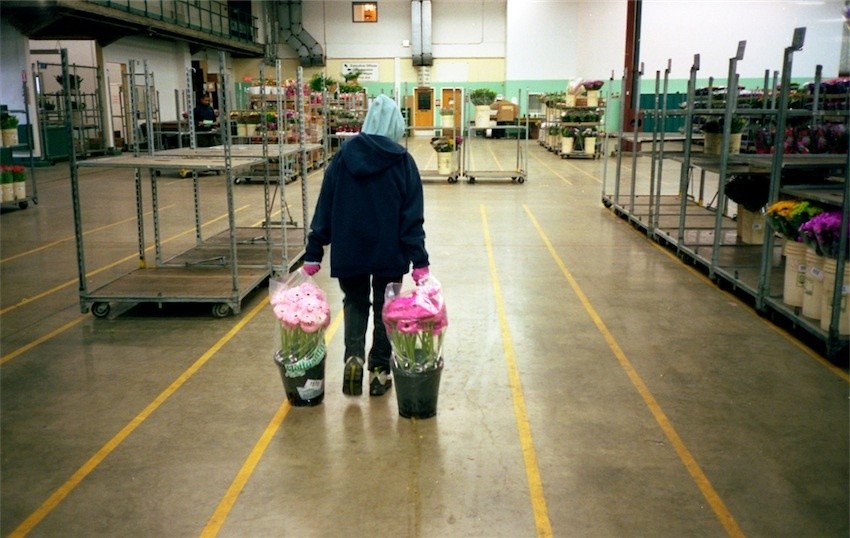 I'm hesitant to admit to something so girly, but don't we all like getting a bouquet of flowers?
I'm hesitant to admit to something so girly, but don't we all like getting a bouquet of flowers? An impromptu batch of roses can make my heart swell, and I kind of hope for it on Valentine's Day, which is usually a pipe dream. It's a beautiful, sweet nothing of a gesture, the ultimate cure-all symbol.  All year round, flowers are the go-to for new love and lost love. They commend success, births, and sympathize with sickness and death. Giving flowers is so deeply engrained in our sense of occasion that we often don't think about how odd it really is. Congrats/Sorry! Here, have some nature. Cut and wrapped in cellophane with a bow. Just for you.
I wonder about this while I stand outside my house shivering at five AM. I never, ever get up this early unless it was for a plane ride to a warmer place than Vancouver, and I've missed those kinds of flights on more than one occasion. But I had got to chatting with a local florist named Heather a while ago, and she's picking me up to take me to the second largest Dutch-style flower auction in North America. Not many people know that this kind of thing is tucked away in our suburbs. I didn't know until Heather told me.
In Holland, flowers are a big, big deal and have been for a long time. I'm no history buff, but I do know they're crazy for tulips and they gave Canada a bunch of them after the war. Holland's Aaslmeer auction has been the beating heart of Europe's flower industry for decades, putting chrysanthemums on tables, cheap bouquets in convenience stores, mending a boyfriend's bad move, and charming moms daily. The Holland auction is the biggest of its kind, and it's hosted in a building that Heather tells me is about the size of a small town. Vancouver's auction is tiny compared to it.
"Everything red, white and pink is going to be so expensive today," she laments. She's a talented, small business owner coming up on her biggest day of the year, and today is one of Valentine's Day week's crucial auctions for getting the good stuff. For Heather, this week means staying up late even before a 4AM wake up, packaging hundreds of water tubes (you know, those things that go on the bottom of roses) in front of the TV all night, adding the right amount floral solution, and getting all the little details prepped -- details that will make Valentine's Day madness run, hopefully, a little smoother.
We drive through an industrial zone, just east of Vancouver in Burnaby, lined with flower import businesses and distributors and we can see the parking lot is already packed. I think all of these people are totally insane to start their business day at 6AM sharp. Inside it's quiet and it smells noticeably more beautiful than outside. Three huge clocks with spinning dials hover above three tracks, lined up with what looks like an endless stream of pretty flowers. The sterility of this place isn't warmed by the pretty petals rolling through.
I'm totally excited by this weird place, but it's business as usual for every other body in the 500-person auditorium. Their faces are turned up at the clocks and one finger is on the button of a Back to the Future-looking keypad. Heather is undoing her computer cords and setting up to start bidding. I can't help but notice it's a male-dominated crowd of bidders. It's an inverted auction style where the price drops every millisecond over about ten seconds. You have to know what's worth paying for, and get it at just the right second to get it, and get a good price, whether you're bringing it down to your own mom and pop shop or distributing it to Washington or Alberta.
I've never stood in a room where supply and demand are laid out right before me under one roof. I know about the costs of our consumerism, but I didn't think about flowers. It's much easier to point the finger at dollar store toys and plastic coffee cups. Selling and buying flowers isn't so simple. Often, it involves pumping the product with chemicals in greenhouses with big heating bills. They're cut, frozen, shipped and wrapped in plastic, shoved in plastic vases, and given a plastic stick that holds a little card that says "I love you." And because all that really matters is their fleeting beauty (the auction felt kind of like a beauty pageant actually), there's tons of tossed product. It's one of the more perishable goods we can buy, except we don't even get to eat it.
Like so many other industries, free trade means foreign business offers cheaper prices for cheaper products, which threatens B.C.'s local floral industry. It's been hurting these days, and Heather says it's hard to find lilies now, even though they were everywhere a few years ago. Columbia and Ecuador have ideal climates, exploitive labour laws, and big farms (think cocaine) and their flower industries for roses and the like are booming.
"It's like the fashion industry and disposable clothing," Heather tells me. "People are going to buy the knock off but it's not made as well. Big box wholesalers like Whole Foods are selling 20 roses for twenty dollars. Those roses going through [the auction] were going through at a dollar sixty or two forty per stem. How is it that Whole Foods can sell twenty roses for twenty dollars, unless it's a sub-standard product? Or they've got a deal worked out straight from the grower? It undercuts the market."
There's exports here like Birds of Paradise and tropical plants. Some are better hidden by tricks of the trade, such as imported bulbs grown through their last stage in BC for a while. Overall, Vancouver's United Flower Growers auction is very conscious about supplying mostly local growers. It's easy math. If the industry doesn't support its own growers, then they disappear. No more lilies. "If everyone had paid that extra two or three cents in the last five years, some of those growers wouldn't be out of business right now."
At the back wall there are rooms with windows looking out over the auction. Buyers are sitting in front of computers with phones or headsets. Heather tells me those are the Costco types and big flower wholesalers. Perhaps they get the good seats because they're buying the most.
Two hours later the auction just kind of ends as quietly as it started. The buyers stream into the warehouse rooms to grab their order. There are hundreds of carts everywhere and the auction workers are dragging them around and putting the flowers together with their order numbers. Heather can't find the Green Trick she ordered, so we start looking around. I'm trying not to get run over by all the action and I have no idea what Green Trick looks like. I notice some particularly exotic looking flowers that say "Israel" on their package. I feel guilty for thinking they're so beautiful. We pile her order of pink orchids, miniature roses, and some Ikea flowers (which I now know are called Gerber daisies) into her car. I barely fit back in myself.
Downtown is just coming alive as we get back. I didn't ask, but I imagine that Heather went right down to her shop to get working on her craft. That's a damn long workday to get used to if you ask me.
Happy Valentine's Day. Go to your local florist and buy a plant.

Hey you, go check out Kate's blog!
More Valentine's Day stuff:
All Around Losing: Dating Is Terrifying