Winnipeg Woman Punched on Bus After Standing Up Against Sexual Harassment
She says she sustained a black eye and several shattered teeth from the incident.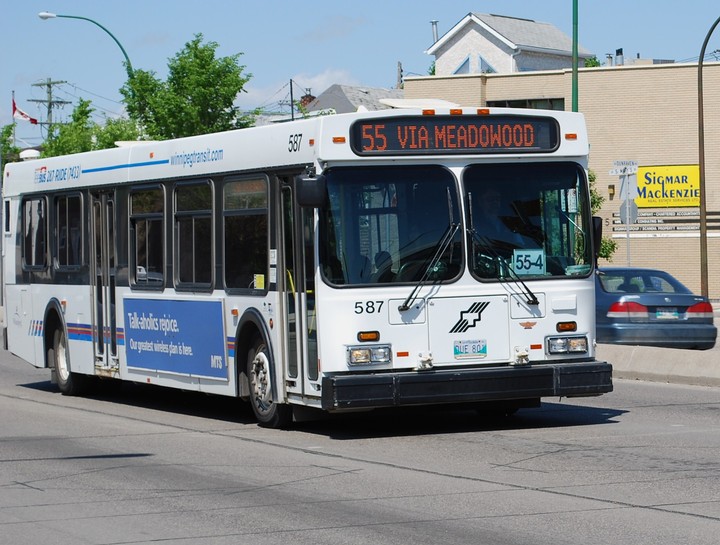 Photo via Wikimedia
A Winnipeg woman says she was assaulted on a bus after she tried to stop a man who was allegedly sexually harassing another woman. The incident allegedly happened on the night of Saturday, November 4 and left Aisha Walker with broken teeth and a black eye, CTV News reports.

In an interview with CTV Winnipeg, Walker said she felt the need to intervene when an intoxicated man persistently asked a young woman on the crowded bus "if she wanted to dance."
According to Walker, the man kept "shaking up to" the woman and tried to "grind up on her." After about ten minutes of witnessing this kind of behaviour, Walker said she intervened.
Walker then said she switched spots with the woman and started arguing with the man. "It got heated," she said. "I was swearing at him, I was insulting him, name-calling."
Another guy on the bus then got involved, according to Walker, trying to interrupt the argument between her and the alleged sexual harasser. But, Walker said, when she "questioned" the man who had interrupted, he responded violently. "I asked this man how my defending a woman who no one else would is stupid," Walker wrote on the GoFundMe that she set up following the incident. (She has since stopped accepting donations on the GoFundMe.)
"I guess he didn't want to be questioned because, at that point, he struck me in the face with all of his might and immediately got off the bus," Walker said.
According to the GoFundMe that Walker set up following the incident, she was left with "several shattered teeth" and "a black eye" following the alleged attack.
Walker filed a police report after being urged to by the bus driver, who had stopped the vehicle and cleared off passengers following the incident. Winnipeg police are still investigating what happened.
So what should we do if we, like Walker did on Saturday, see someone falling victim to a sexual harasser in public? According to a previous VICE interview on this troubling scenario you might find yourself in, Toronto police spokesperson Victor Kwong said bystanders "not giving a shit" isn't uncommon, but that "by doing nothing, you're allowing these crimes, whether serious or petty, to continue."
Kwong recommended helping the victim, calling the cops (or pressing an emergency button if you're on transit), and being a good witness. He also warned that if the harasser appears to be mentally ill, you should only try using de-escalation tactics if you're properly trained. And while Kwong said police "will never tell someone to get physical," it's possible that you'll be protected by the Good Samaritan's Act if you had a legitimate reason for doing so.
Todd Minerson, executive director of White Ribbon, an organization that educates men about how to stop violence against women, also previously told VICE that talking to the victim or standing in the way of the harasser can be helpful.
"I'm not a hero. What I did should not be considered heroic, it should be the norm," Walker posted on her Facebook on Tuesday. "I don't want to leave the impression that only 'special' people do the right thing. I didn't do this for fanfare, or for any kind of reward. I did what I did because it's what I believe in."