The faces of Donald Trump and Kim Jong-un looked down onto the concourse of Waterloo station, beamed out from giant TV screens. More incendiary rhetoric from the American president, more deadly threats from the North Korean supreme leader, and the prospect of nuclear war still there for us all.

I was on my way to New Malden, a suburb in south-west London that is home to approximately 700 North Korean defectors, more than anywhere else in Europe. In the last few weeks, as the United States and North Korea have faced off against each other, a lot has been said and written about the unusual, repressive regime presided over by Kim Jong-un. Fascination and repulsion with the "hermit kingdom" runs easily and dangerously into the idea that ordinary North Koreans are enemies of the outside world.

Until the 1980s, South Korean propaganda literally depicted their erstwhile countrymen to the north as red creatures with hooves, horns and spiky tails, intent on spreading the contagious disease of communism. Today, a flavour of this hostile, alienating exoticism remains, and the obvious truth that North Koreans are people like anyone else gets lost, meaning that the idea of huge numbers of them dying in a blaze of "fire and fury" is seen more in terms of how it might affect people outside North Korea.
---
WATCH: On the Frontline of the Neo-Nazi Rally in Charlottesville
---
Jihyun Park, who escaped from North Korea not once but twice, and who spent six years in China living as the slave of a Chinese man, has lived in Manchester since 2008. She tells me over the phone that she "cannot sleep at night because I am frightened about what might happen. I am really worried about my country's people because they don't really know what is happening. It's painful."

Kim Tae Hee, a North Korean refugee living in South Korea, echoes Jihyun's sentiments and is troubled by something else, telling me, "I am seriously concerned by this current situation because if the North Korean regime comes to dominate South Korea, it will target the North Korean refugees that live here and will make it their priority to kill us."

Concern for the safety of their friends and family in North Korea is exacerbated by the fact that communicating with them is very difficult. North Korea remains a virtually sealed society, impervious even to computer hackers. "My husband's siblings live in North Korea," Jihyun says. "Two years ago, we paid money to a broker and we spoke to them for two minutes. After that, we heard nothing for over a year. It turned out that my husband's youngest brother had been sent to a labour camp for six months."

Kim Tae Hee speaks to people inside North Korea regularly, but another defector, Jiyoeng Lim, says she is the only member of her family left alive, and that she cannot communicate with anyone in the country. Hyungsoo Kim, a North Korean living in Seoul, tells me that he can speak to members of his family three or four times a year.
"It must be very difficult for the North Koreans to parse Trump's statements and his language… the risk is that they might miscalculate."
Around dinner tables in North Korea, conversations about the prospect of war will be inevitably influenced by the control Kim Jong-un's government has on what people can and can't read and watch.

"Ordinary North Koreans are subject to a heavy diet of state propaganda that paints the North Korean state, specifically Kim Jong-un, as the sole protector, provider and progenitor of the citizenry," says Markus Bell, lecturer in Korean and Japanese studies at the University of Sheffield. Bell believes this means the current situation will be seen, largely, as the "latest in a series of aggressive acts by the American imperialists and their South Korean running dogs, to use common North Korean state phrasing".

Jihyun Park believes there are grounds for thinking there has been an improvement in this area. "When I was in North Korea, I was brainwashed," she says. "But now there are many people who listen to foreign radio and watch South Korean movies. This is illegal and dangerous, but it gives people access to information from the outside world."

The former British ambassador to North Korea, John Everard, thinks the response inside the country is the kind you would find anywhere else in the world, namely, "a mix of patriotic pride, fear and apprehension". Everard speaks warmly of North Korean people and adds that, "North Korea is a subtle society with all kinds of groups and much more variety than can be seen from the outside."

Everard notes the "wicked sense of humour" possessed by North Koreans, and tells me that, as a diplomat, he could make jokes with representatives of the North Korean government that would be met with "stony faces" by their equivalents in Washington, DC.

Nevertheless, the former ambassador says that "we should be worried; this is sabre rattling but there is a very real risk that it will escalate. It must be very difficult for the North Koreans to parse Trump's statements and his language… the risk is that they might miscalculate".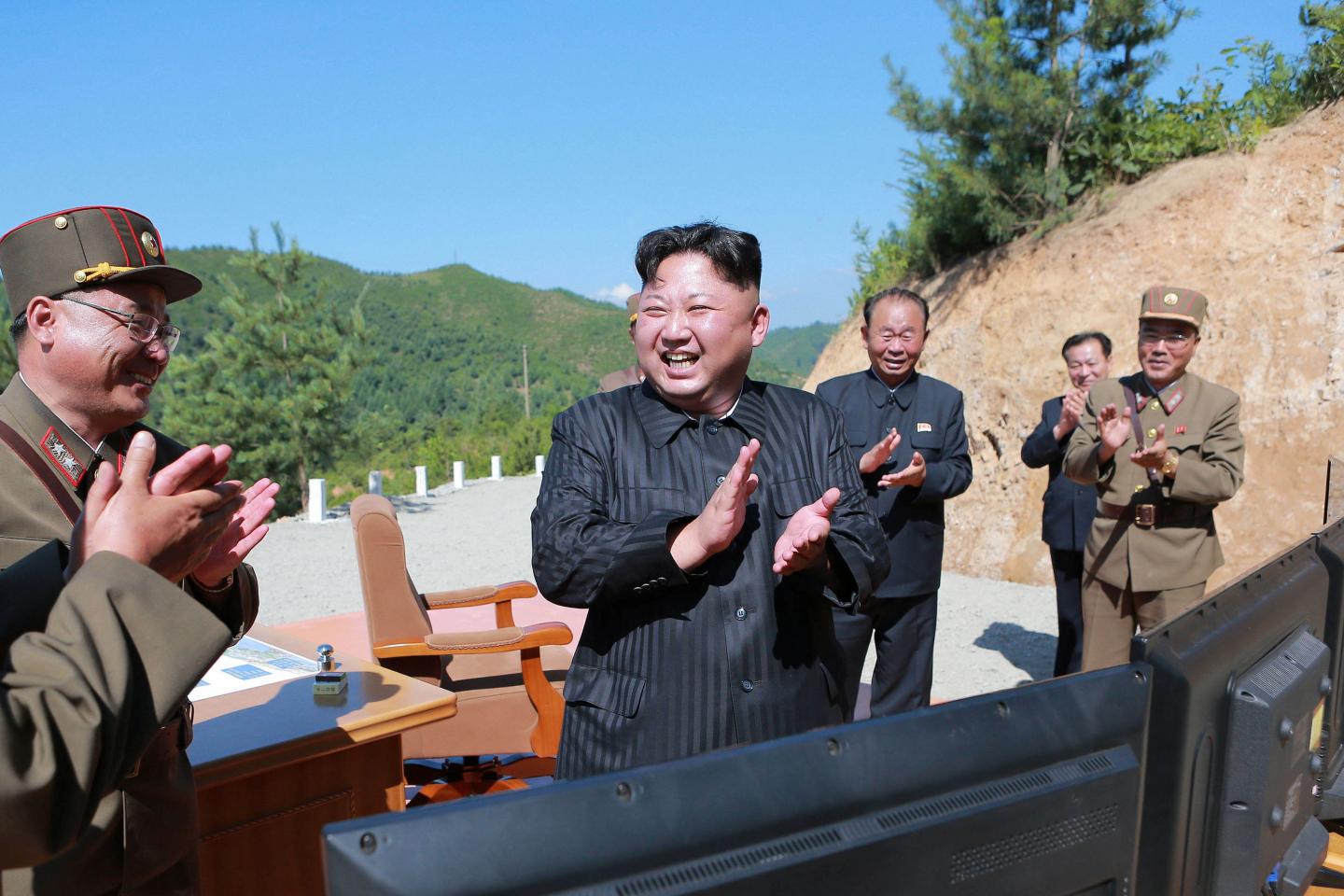 Markus Bell adds that, with Trump as president, "We're really relying on the calm and considered leadership of those around him to negotiate a path that doesn't lead to the deaths of tens of thousands – or more – Koreans. Given the inexperience on this matter of those he has surrounded himself with, I'm not optimistic about a peaceful outcome."

While John Everard thinks the danger comes from the prospect of a North Korean miscalculation leading to an attack on American territory, Bell believes that "at this time, Trump is a greater threat to regional peace than North Korea".

Feelings about Trump – who has often sounded rather like Kim Jong-un in recent weeks – among the North Korean defectors I spoke to were mixed. "I like Trump because he is clear about what is on his mind. Kim Jong-un is totally different", said Jihyun Park. "I strongly agree with Trump's sanctions on North Korea."

"To be honest," Kim Tae Hee told me, "North Korean refugees expected that Trump would collapse the North Korean regime as soon as possible. However, he is also so timid when dealing with North Korea. I am thinking he is also just a politician?"

"I think the tension between North Korea and the USA is between Kim Jung-un and Trump," said Jiyoeng Lim. "North Korea says that South Korea and the USA are invaders hoping to start a war and that Trump is a bad guy. To change the North Korean regime, ordinary people in North Korea need to have access to outside information." The view of Americans in North Korea is so entrenched that when Jihyun Park first met an American in real life, she was frightened of him.

The North Korean government has been using Trump's rhetoric to prove what it has said all along. "Every time Trump uses North Korean-style bluster like, 'Fire and fury,' he feeds the North Korean state in its claims that the imperialist Yankees are just waiting for the chance to attack peaceful North Korea," says Markus Bell. "Trump is, unfortunately, way out of his league in playing brinkmanship with the DPRK. They've been doing this for decades and are masterful at it."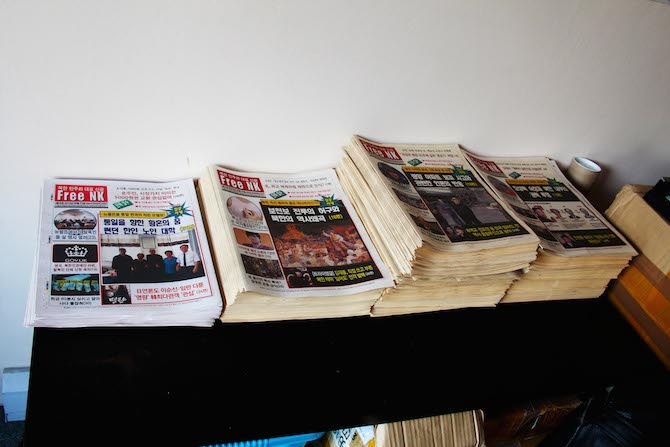 In New Malden, the North Korean residents were keeping their heads down. Sam Yu, the manager of a café on the high street, told me you can spend days in this slice of English suburbia without ever having to speak another language besides Korean. The North Koreans who live here, almost all of whom speak a very limited amount of English, work in supermarkets, restaurants and shops, often unable – because of their legal status and their command of English – to get other jobs.

At Korea Foods, a large, Costco-like supermarket in an industrial estate next to an A-road, the manager tells me that while they do employ someone from North Korea, he doesn't want to speak to the media. Next door, the upstairs office of the Free NK newspaper – which carries news on North Korea in English – is closed. Over email, Joo-il Kim, who runs the paper, tells me he is no longer in New Malden.

The priority for North Korean defectors remains the transformation of the state they've fled. There is a hope among some that the escalation of aggression on behalf of the US could lead to the change they long for. It could also simply be that the hawkish neo-conservatives intent on taking control in Washington are looking to put China on the back foot and aiming to secure new American bases in the Indian Ocean.

North Korea's propaganda machine is a source of great fascination to the outside world, but it can't protect its people from the apprehension brought on by the prospect of war. Those North Koreans who have escaped their country, in New Malden, Manchester and across the world, know this only too well. They fear for their friends and their family. They fear for the future of their homeland.

More on VICE:
What Happens If the UK Gets Caught in the Nuclear Crossfire?
Meeting London's North Koreans