From the time the Pittsburgh Penguins won the Stanley Cup on June 12, 2016 to the time the Penguins won it again on June 11, 2017, Sidney Crosby had one of the best 365-day runs in hockey history. Championships, awards, the sudden ability to recover from a concussion in record time—Crosby truly did it all.
But what is content if you're not ranking and judging people better at their jobs than you are at yours?
Here are Crosby's 13 biggest accomplishments over those 365 days ranked from least to most impressive by someone who hasn't even won a fantasy league over that time.
13) The 2016 Conn Smythe Trophy
I've beaten this horse so much that PETA is bringing charges against me despite the horse being dead and metaphorical, but I don't care. Phil Kessel had this stolen from him by the media members that voted for Crosby and I won't hear otherwise. Somehow Kessel being a "third-line player" disqualified him but not Justin Williams in 2014. Go figure.

---
---
12) Crosby's facial hair, 2016
It has gotten better over the years. Still not great, but it's gotten better.
11) Crosby's facial hair, 2017
It's gone from "glued on pubes" to "good enough to be worn by a hipster" and that's saying a lot.
READ MORE: Sidney Crosby's Brilliance Was the Hockey Story of 2016
10) 2016 World Cup MVP
I mean, does anyone care that he won this award? Does Crosby even care? This isn't a breakdown of everything won by Crosby in his life, but where do you think he ranks an exhibition tournament MVP that featured "Team Europe?" It has to behind all the Cups, all the Olympic golds, all the world junior golds, the Memorial Cup, any random youth league trophy, team or individual, all the individual NHL awards, any fantasy league trophy, a trophy for finishing third in a bowling alley birthday party and winning a free small coffee during the Tim Hortons roll up the rim promotion. I'd bet $20 that when this was brought to his attention after Game 6, he had forgotten about it.
9) 2016 World Cup championship
The team award is at least a little better.
8) The 2017 Conn Smythe Trophy
I won't go so far as to call this thievery. It's more like a bank error in Crosby's favor. Someone attempted a wire transfer to Evgeni Malkin's account but the funds were rerouted and Crosby has no intention of returning the money. There's some sort of international banking practice that states anything that rightfully belongs to a Russian can be given to a Canadian at any time. More like the Con Smythe, IMO.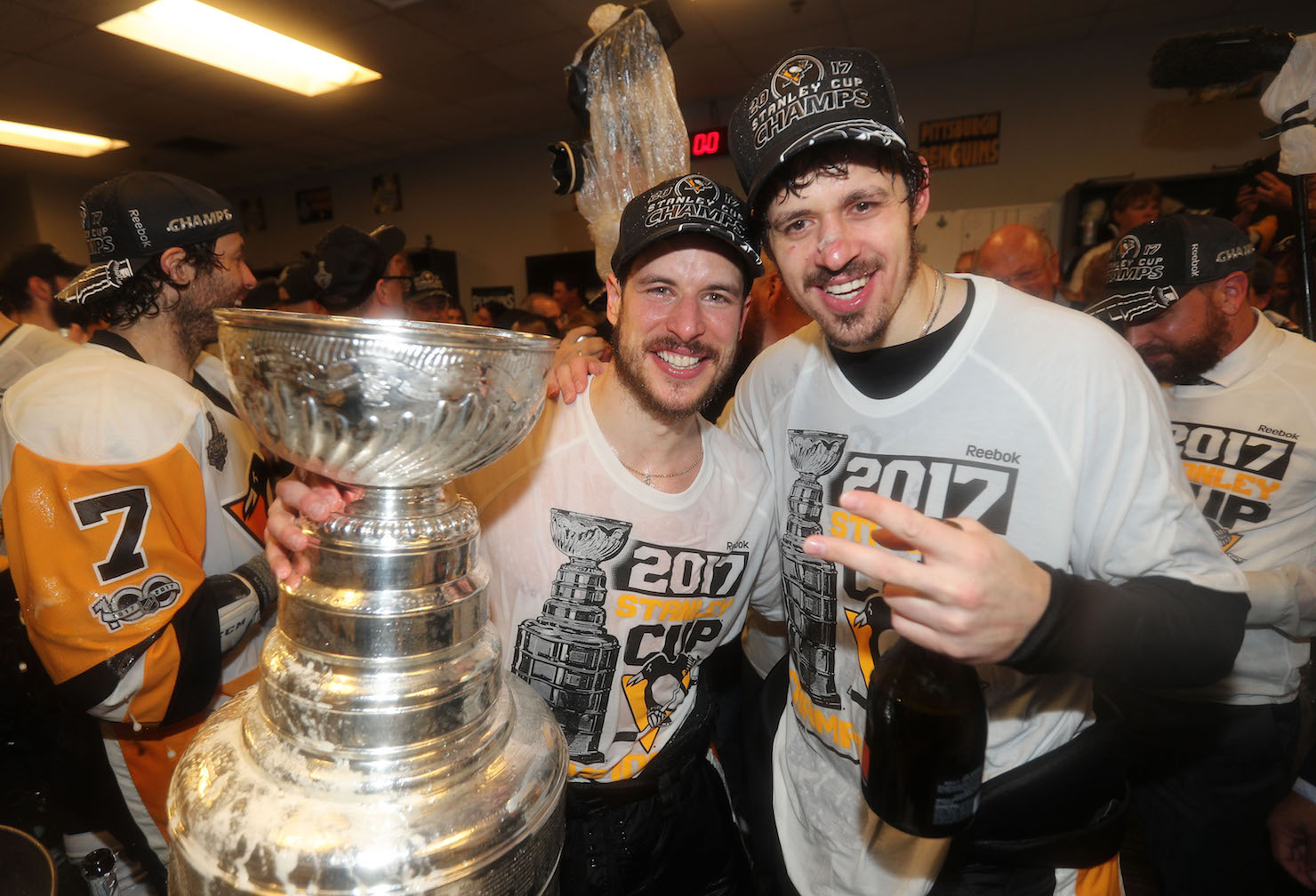 7) 2016 Hart Trophy finalist
He finished second to Patrick Kane, but hey, at least he earned it.
6) 2017 Hart Trophy finalist
He will finish second to Connor McDavid, but hey, at least he earned it.
5) Keeping it together emotionally for four months knowing this was it for Marc-Andre Fleury
Crosby and Fleury are besties. Like, at a Joey/Chandler level. Fleury agreed in February to waive his no-trade clause, thus exposing him to the expansion draft and signaling this would be his final season in Pittsburgh. I won't go so far as to say this is like finding out a loved one has four months to live and then spending that time doing everything on their bucket list, but it's the sports equivalent. Love conquers all and so did Crosby.
---
---
4) 2017 Rocket Richard winner
Much the way I'm positive Crosby forgot about winning the World Cup by June, I totally forgot Crosby led the NHL in goals this year. I even covered the Penguins' final game of the year in New York and someone asked what it was like to win the Richard and my first thought was, "He won the Richard?" But he did! Forty-four goals isn't exactly a number that blows you away, but scoring is down and he did it in 75 games. It's a subtle reminder that he can rip 40 goals home whenever he wants and would probably have another Richard if not for two years with Mike Johnston and concussions.
3) Recovering from a concussion in like a day
Remember when Matt Niskanen appeared to end Crosby's season and maybe even his career during the second round of the playoffs? That accidental, yet vicious, crosscheck to Crosby's head appeared to spell doom for a player that has had his share of reported (and probably unreported) concussions during his NHL career. Yet Crosby was back after missing just one game, making it one of the more miraculous recoveries from a brain injury in sports, and even perhaps recorded, history.
Now, you could be saying, "Dave, this is clearly an example of the Penguins and the NHL playing it fast and loose with the health of a human being for the sake of sports glory." To that I say, "How dare you, sir or madam?" Rushing someone back from a concussion? In sports? That's blasphemy. Clearly the reason why Crosby came back so quickly is because he discovered the secret to curing brain damage and will be soon releasing his medical findings, perhaps after the parade. A scientific breakthrough of this magnitude kicks the snot out of any World Cup trophy.
2) 2016 Stanley Cup
Yeah, this is the one that broke the drought and finally gave one of the all-time great players his second Cup, but it felt like a foregone conclusion once Mike Sullivan got everything figured out before the end of the regular season. Was there any point during the 2016 postseason where you thought the Penguins were in trouble? Maybe down 3-2 in the conference finals, but that was against the Tampa Bay Lightning without Steven Stamkos, which is that franchise's full name now.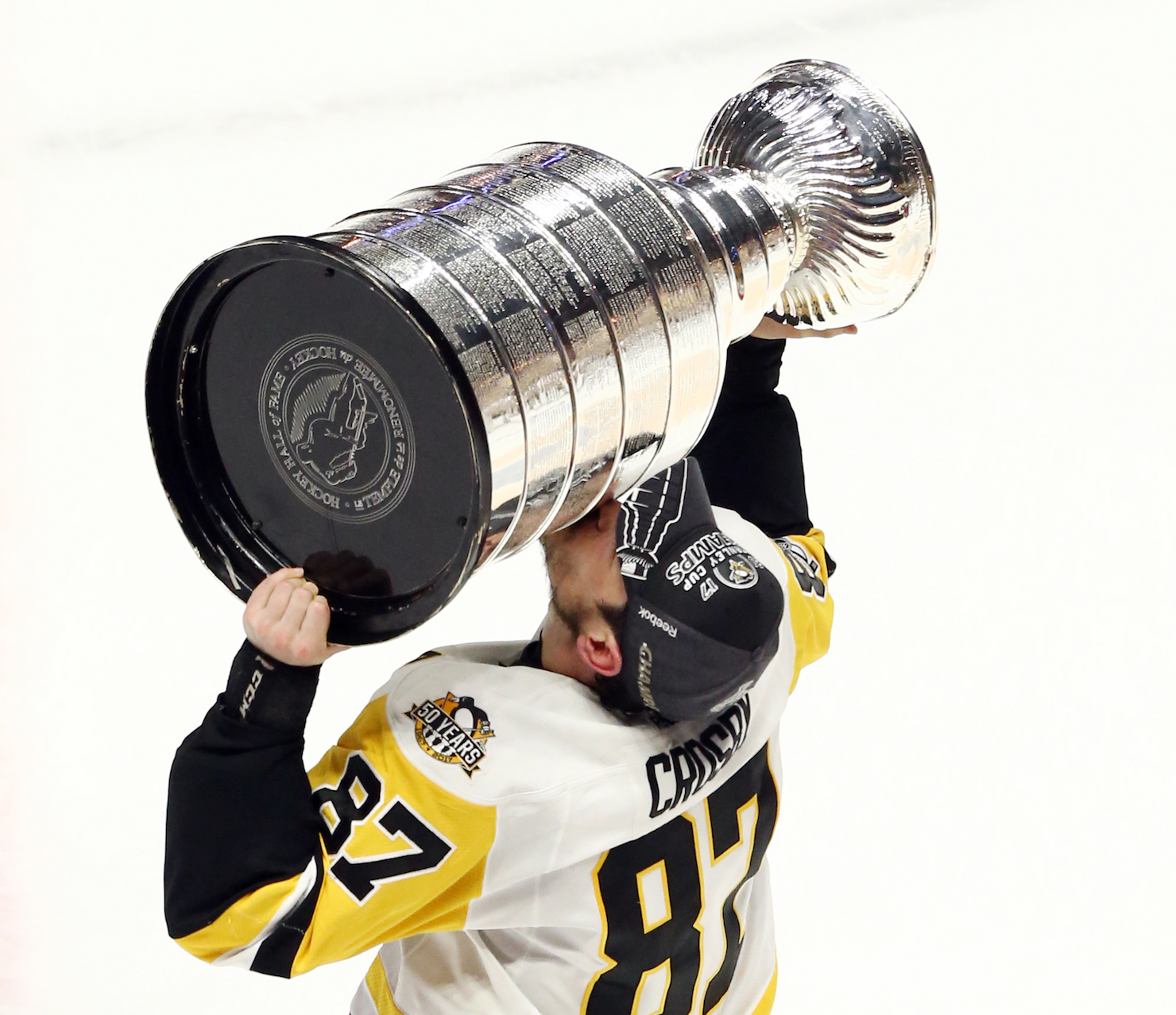 1) 2017 Stanley Cup
No Kris Letang and no Matt Murray for two rounds. Crosby wasn't the true MVP of this run, but he did far more heavy lifting this time around. He dominated Games 4 and 5 of the Cup Final and was a beast before the Niskanen incident in the second round. You can debate if winning a second Cup with seven years of pressure built up is a bigger deal than winning a second straight with a decimated team, but I can't because the second thing is the way bigger accomplishment. Even if the Penguins win a third straight Cup next year, it won't be as amazing as this one.