Andrew Stoeten answers your questions in our Blue Jays Mailbag, which runs weekly at VICE Sports. You can send him questions at stoeten@gmail.com, and follow him on Twitter.
Jose Bautista has likely played his final home game as member of the Toronto Blue Jays, having received an emotional send-off on Sunday at Rogers Centre. But the Jays' season continues on, and so does this mailbag!
So let's dive in, shall we?
If you have a Blue Jays question you'd like me to tackle for next week, be sure to send it to stoeten@gmail.com. As always, I have not read any of Griff's answers.
As much as we all love Bautista is he done? The stats (WAR) seems to indicate so. Any positives?
Stefan
The only positives to see are in his past, unfortunately. He's not too far removed from an excellent 2015 season, and his walk rate was still elite last year, and he showed a bit of pop as well. But this year he has truly been awful, like you say. Jays fans, I think, have tried not to think much about it—I know I've tried—but it's hard not to see when you look at his numbers. This year there have been 433 players to make at least 100 plate appearances, and right now, per Baseball Reference, Bautista is dead last among them by WAR. Below Pujols, below Sandoval, below all of them.
His walk rate is still decent at 12.5 percent, but that's his lowest since 2008, and his strikeout rate of 24.3 percent is significantly higher than the 16 percent ballpark he'd regularly be in at his peak. His isolated power is down, he's batting just .203, and he's only barely passable as a defender—if that.
Last week at FanGraphs, Dave Cameron went even deeper, looking at Jose's plummeting contact rate and exit velocities, and said this:
"Bautista's exit velocity is down three ticks from last year, and most problematically, it's down on balls in the air. This is where Bautista has earned his keep over the years, and now when he elevates the ball, it just isn't hit all that hard. And so his production on fly balls has similarly cratered."
When that skill goes, there just isn't a whole lot left for Bautista to produce with, Cameron explains. He's easy to shift, because he's an extreme pull hitter, and his swing—designed for loft—doesn't produce a lot of line drives, but does produce many easy out pop flies.
And there's reason to think that skill is genuinely leaving him, because Alex Chamberlain, in an August RotoGraphs piece in which he found a backdoor into Statcast's Estimated Swing Speed data, noted that since 2015, Bautista's average swing speed had dropped 2.6 mph, taking him down to just "barely above average" by that metric—not a good place for a batter who needs to hit home runs to be productive.
---
---
It's not impossible that he finds a way out of this, I suppose, but by the look of it that would likely mean transforming himself as a hitter. And given that he provides no value anymore on the bases or in the field, getting a team to give him the opportunity to do so may be an even bigger challenge than the transformation itself. So... yeah... this is probably it, I'm afraid.

---
If Jose has a chance to sign with someone - and I hope whatever happens is his choice and not forced on him - who is it?
Christopher
The Rays?
I mean, I haven't thought through the ins and outs of anybody's roster here—because we're talking about a guy who, if he tries to make a go of it, is going to be fighting for a spot at the back end of somebody's 25-man roster—but Tampa is close to his home, they play in the AL and so can let him DH, they would perhaps appreciate adding a little star power to their team for a low cost, and would surely like sticking it to a division rival if they did end up getting a nice season out of him.
---
Purely hypothetical: If Jose can't find any takers for his services and wants to come back for one year at $5 million, would you sign him?
Adam.
I wouldn't. Certainly not for that price, and certainly not if I'm not the Jays, who on Sunday watched him walk off the Rogers Centre field for the last time in about as perfect a way as could have been hoped. Like, do you really want to undo that, bring Bautista back on a cheap deal, and then have to go through the indignity of cutting him at the end of spring training? Because that's likely where you're headed if you do so.
Sure, if the club moves out a couple of outfielders over the winter and has a glaring hole out there, money left to fill it, and few other options, maybe I'd consider giving him a look. But that's really about it.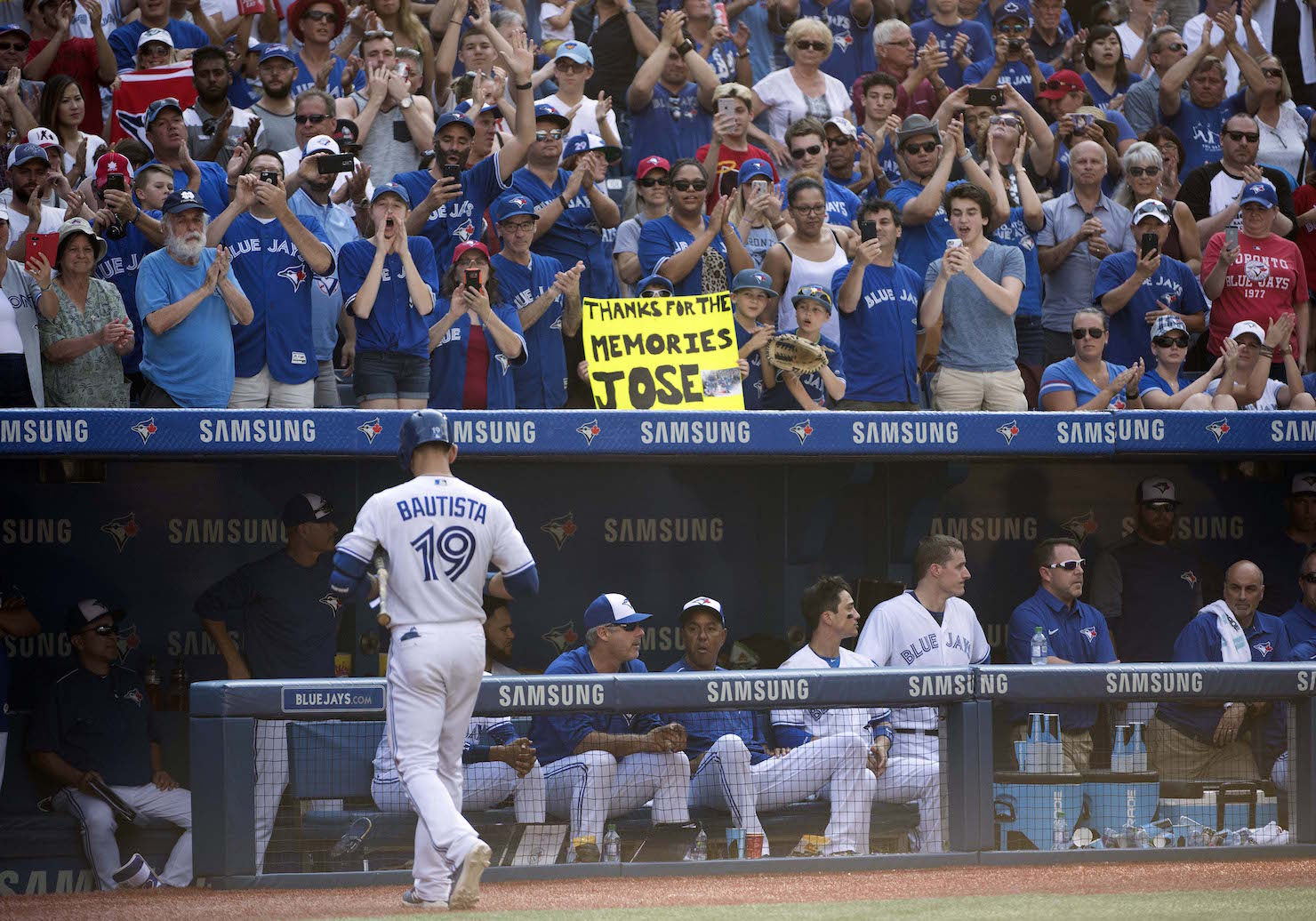 I understand the sentimental aspect of this question, and I really don't want this to be the end for him either, but objectively it sure looks like it. And Sunday was so perfect, that I think we should all be very happy to leave it at that.
---
While it will be weird not seeing JB out there barring a surprise in the offseason, who's the 4/5 OFs projected north for next year?
Julio
Well, barring a surprise, the answer here is pretty easy, but why are we barring a surprise? I think there very well could be one—though I'm not entirely sure where the Jays' heads are at on this. Though, perhaps that's because I don't really like what I've heard from the club on it so far. Ezequiel Carrera has hit very well this season, Steve Pearce has been OK, too, and in a radio hit a couple weeks ago Ross Atkins praised what the club had gotten from left field this season, but... he can't really believe that, can he? They can't really be content with Carrera and Pearce in left, Kevin Pillar in centre (who has been as bad as ever at the plate this year, while his defensive numbers have slipped—"Kevin Pillar has been Kevin Pillar," said Atkins in the same interview, which maybe isn't a compliment), and Teoscar Hernandez in right, can they?
I'd hope not! And it's not like the GM would come out and tell the public that he was trying to move players, or unhappy with their performances. So it's definitely possible that they are as unenthused with that outfield as I am, and I'd figure most fans are, too. For now, though, that appears to be where the club is at, with guys like Anthony Alford and Dalton Pompey (assuming he gets back healthy) waiting in the wings as depth. (And, sadly, with how Bautista has played this year, it does at least constitute an improvement out there).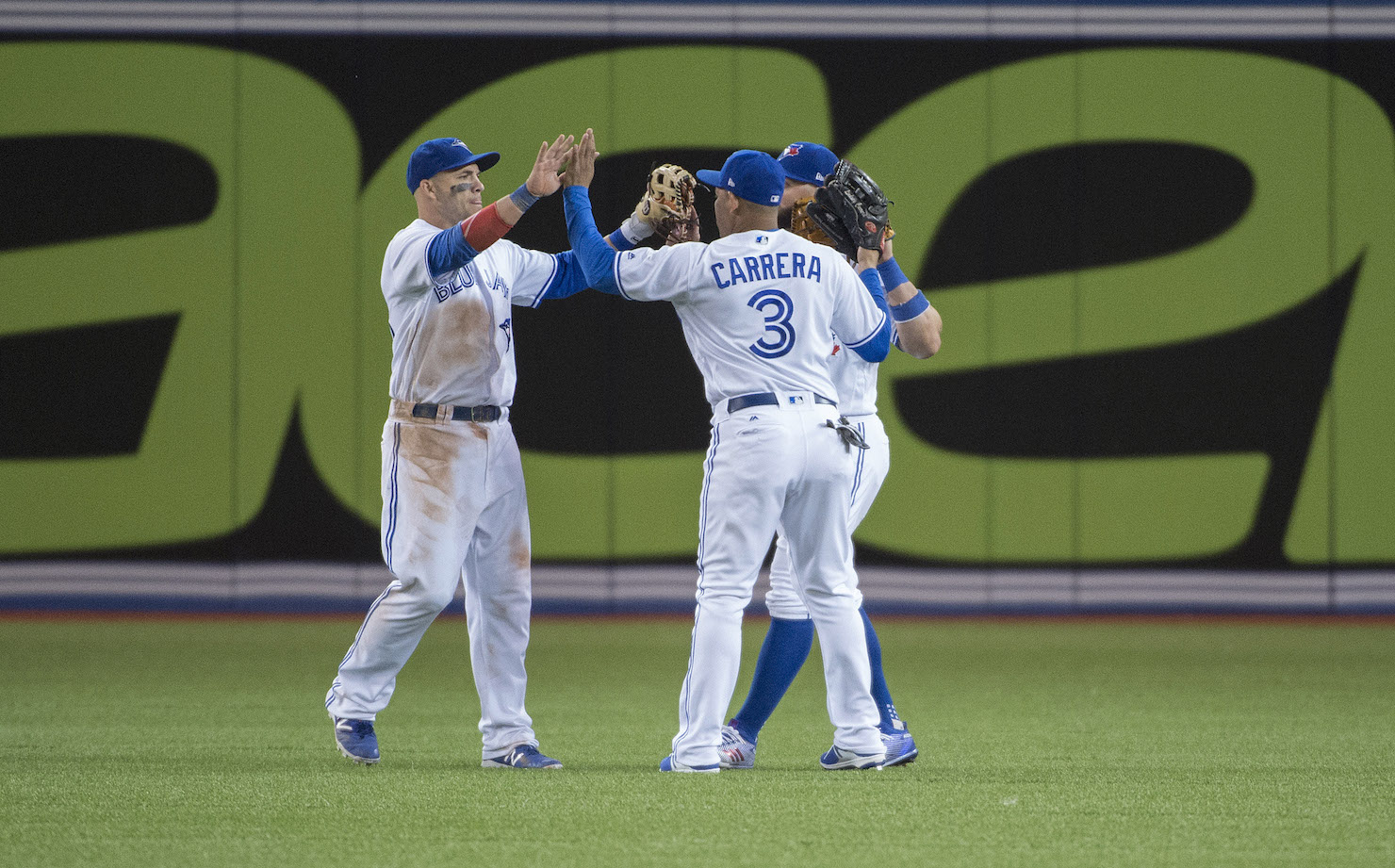 Still, I have a hard time believing that they won't try to improve on those spots. They might not be able to accomplish it—and maybe that's why they're not vocal about what they feel they need to do here (a lesson learned from last year's talk of getting younger and more athletic)—but there's no way they should be as content with that group as they've allowed us to believe. Because the thing is, in an ideal world Teoscar would be in Buffalo, and I personally believe that a more well-rounded player ought to be the primary left fielder, too—perhaps Devon Travis, or a second baseman brought in who could also play in the outfield when Devo is healthy. I wouldn't be opposed to moving Pillar, if the right deal came around, and expecting to get at least similar production from Alford or Hernandez, either.
So things could get interesting. They might not, though! And I guess that's the kind of place the club wants to be in—they have a high enough floor there that they don't necessarily have to do anything, it would just be better if they could.
---
Andrew –
Due to the fact that the Jays are giving it (at least) one more run in 2018 (especially w/ the Marco signing!) do you see: 1 – any interest in offering a bridge deal to Cargo to man right field in case none of the young guys prove ready, or is he done? 2 – If yes, what do you think he would sign for?
Thanks
Briggs
Please tell me that by "Cargo" you mean Carlos Gomez, not Carlos Gonzalez. Because the Rockies' Gonzalez has been awful this year—77 wRC+, negative WAR—so I have no interest in that unless they can get him for next to nothing and can use their resources to help the club elsewhere. I suppose Gomez, of the Rangers, has been pretty alright, though. Despite being a right-handed hitter he seems to have hit right-handers well the last several years, and shifting him from centre to right field would be a positive if his arm is good enough. Both are free agents, and at some point in free agency you have to roll the dice a little bit, but I'm not sure these are the guys I'd do that on.
---
Hey Stoeten,
The Jays have one of the worst offences in the league this year. Do you see them prioritizing the addition of a middle of the order bat in the offseason? From here it looks like they will be fielding a pretty similar lineup in 2018 with the same injury concerns. Teoscar will probably be in right but we obviously shouldn't expect too much from a rookie. The only clear potential upgrade I see is flipping Pearce or Morales plus prospects for a legitimate left fielder who can hit. Do you agree?
Thanks, dig your stuff!
Jason
I very much don't agree!
I certainly don't think that's the "only clear potential upgrade," nor do I think they should move prospects for a left fielder (or anybody, really). I don't think it's nearly such a given that the lineup will be similar. I also don't think the lack of offence this season was due to a lack of middle-of-the-order bats, but mostly due to Bautista's decline, Donaldson not being quite himself most of the year, and the scrubs that got so many plate appearances when Tulo, Travis, and Martin were injured.
Having those guys healthy will go a long way. Beyond that, the Jays could very much upgrade in places like any of their outfield spots, at DH, or on the bench. That's like eight of their 12 or 13 position players!
---
Do you foresee any Blue Jays player doing what Bruce Maxwell did on Saturday night? If so, who?
Phillip
Bruce Maxwell is, of course, the Oakland A's player who knelt during the American anthem over the weekend. And the thing is, I don't think it's fair to single out a player and burden him with that kind of expectation. Consider, for example, that Chris Archer of the Rays, when asked about Maxwell's act, told reporters this weekend, "From the feedback that I've gotten from my teammates, I don't think it would be the best thing to do for me, at this time." We don't know what anybody's internal tensions are, and nobody should be telling anybody how they can or cannot, whether they should or should not, peacefully protest. That said, I'd love to see players on the Blue Jays follow in the footsteps of Carlos Delgado, reject neutrality on this and get on the right side of history and humanity—which, obviously, is to kneel in solidarity with those who are being so viciously denounced and demonized for simply and quietly trying raise legitimate questions that so many powerful and privileged people are too afraid to even hear, let alone begin to reckon with.