The only Valentine's Day I ever had with a legitimate boyfriend is a foggy memory at best. A generic box of chocolates, flowers that were probably from a grocery store, and an Italian dinner at a restaurant a few steps from my ex's place is all I can, and need, to remember. Guaranteed, 99 percent of anyone who's ever celebrated Valentine's Day has an eerily similar story from their past too.
So why, I ask myself, do people continue to go out of their way to force one amazing day out of this shitty, forgettable month? And why am I still jealous of non-single people who get to push aside their responsibilities for an entire day just because they're in love?
This Valentine's Day, I wanted to join in on the fun, but without a partner attached. Instead of rolling my eyes at the clichés, Instagram posts, and public displays of affection, I would jump on the bandwagon. I'd treat myself to the Valentine's Day of my dreams because, god dammit, I deserve love too.
When I tell my friends that I will be celebrating Valentine's Day alone, some of the responses include, "Why?," "Like, alone as in, by yourself?," and my favourite, "That sounds depressing."
But despite some weird looks, I set out to make this my best Valentine's Day yet. Here's the play by play of my big day.
On the morning of Valentine's Day, I wake up and make myself breakfast in bed. While this concept might seem romantic in movies, it's actually horrifying in real life. Try balancing food and drinks on a platter in bed while trying not to get crumbs all up in your sheets. It doesn't work and it's disgusting.
After *five whole minutes* of trying to balance my boring breakfast on my lap, I turn on a Valentine's Day playlist, sit as stiff as a rod, and stuff my face while listening to "Everything I Do (I Do it For You)."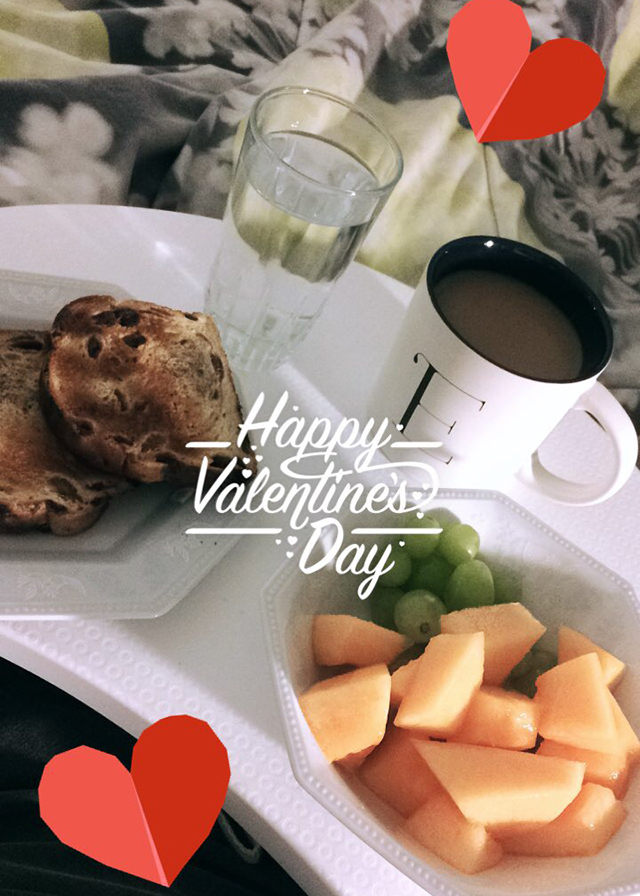 The next step in my itinerary is to buy flowers and chocolate, and write myself a love letter. I've always appreciated handwritten notes, so since this day is dedicated to loving myself, I head to a romantic spot in the city to write my letter.
I end up in Toronto's Distillery District, which was once a distillery (duh) in the 1800s and is now home to tourists and used mainly as a backdrop for couples' engagement pictures and Instas. One of my most vivid memories of this area is fainting into a pot of plants from heat exhaustion a few summers ago...so if that doesn't scream romance I don't know what does.
Once there, I sit on a rock in front of this famous red heart sculpture and write my letter. Unfortunately I didn't think this through very well because it's freezing, I didn't bring gloves and the rock is icy. So, I pen a really quick letter just so I can shove my hands back in my pockets and get back on the road.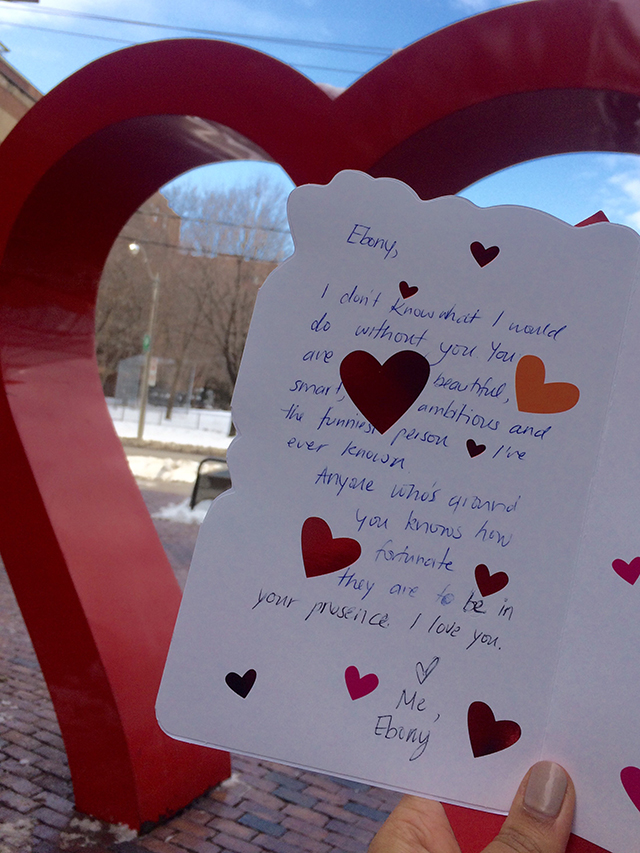 In the meantime, I follow in the footsteps of every taken person on my Instagram and announce my undying love for myself with an obnoxious photo of today's gifts. The reception is positive.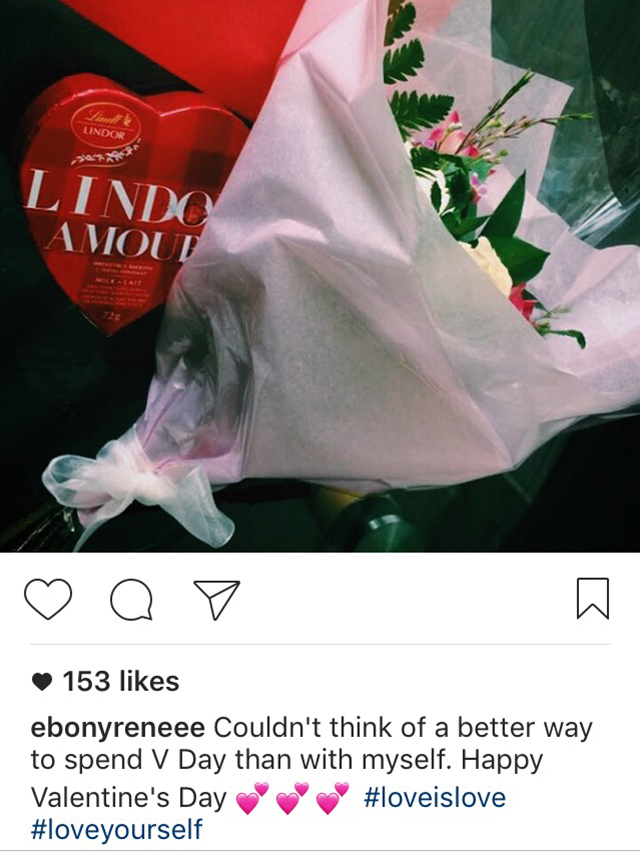 Next up, a romantic movie. I look up the showtimes for a nearby cinema and turns out the only relatively romantic film out right now is Fifty Shades Darker. While I'm all for rough sex in films, I'm not a fan of bad acting and inconsistent plotlines. But since it's my only option for a successful Valentine's Day, I go watch it anyways.
In my rush to buy a $4 sub sandwich and hide it in my backpack before the show, I'm running late. Fortunately, I manage to snag the very last ticket for one spot in the back corner. Going to the movies by yourself means never having to save someone a prime seat.
The theatre is filled mostly with couples and the occasional group of young women or solo elderly ladies. I identify with those old women on a spiritual level. At 65 years old, you're sure as hell getting off on two hours of a naked Jamie Dornan on Valentine's Day. Plus you've got an extra large bag of popcorn so there's not much to lose and so, so much to gain.
Plot twist: I don't hate the movie. It definitely isn't good, but it's entertaining.
After the movie I go home to get dressed for dinner. A week ago, I bought a ticket to dinner at a rooftop restaurant offering a five-course, prix-fixe menu for Valentine's Day.
So, in heels and a red dress with a high slit, I arrive just as dinner hours begin. After the hostess hangs my jacket, she smiles and says, "Would you like to have a seat at the bar before your partner arrives?" I shake my head and she stutters in confusion before walking me to a table.
My table is in a spot where I can watch (judge?) all the couples perfectly. Every table is decorated with a vase of red roses and a candle. Couples are passing bouquets of flowers and wrapped presents over the tables.
When my server appears, he asks if I'd like anything before my guest arrives. I tell him it's just me and he says "Oh OK," before telling me about the menu and silently removing the other place setting.
I eat at restaurants alone pretty often, but I have no idea how this will play out on Valentine's Day. Every single staff member smiles at me when they pass by and most start small talk while they clear my plates or run my food. I'm not sure if this attention towards me is out of pity or boredom, but it feels as if my singleness is as apparent as an airplane on a freeway.
To top it off, a (very kind) manager gives me a complimentary drink near the end of the meal. He plops it down and says, "Happy Valentine's Day." He might as well have said, "I'm sorry you're alone right now."
I appreciate the hospitality and friendly staff though, so I ask my server to take a picture of me. As he does this, I can see people looking at me, definitely wondering why on Earth I'm documenting such a lonely time in my life.
During dessert I take some time for reflection. This has been the most relaxing and rewarding day I've had in months.
The big question is, why haven't I thought about doing this before?
Valentine's Day is infinitely better when there's no pressure to impress because the only person you have to treat is yourself. There's absolutely no disappointment, and definitely no break-ups looming down the road.
As I walk home from dinner, so full and satisfied that I could cry, I stop by a dollar store to pick up one of the heart-shaped balloons I see in the window. I carry it all the way home with me to remind everyone how obnoxiously in love I am. With myself.
Follow Ebony on Twitter.