Simmering just below the surface of a trade deadline that quickly spiraled into turbulent chaos is one unanswerable question that makes just about everything else that transpired—from the Lakers clearing a bunch of cap space to Memphis holding onto Tyreke Evans to Masai Ujiri finally losing his faith and patience in poor Bruno Caboclo—feel pointless: Did Cleveland do enough to keep LeBron James?
If the blood transfusion Cavaliers general manager Koby Altman gave this roster leads to a fourth straight Finals run, and the team actually matches up well enough with the Golden State Warriors (or Houston Rockets) to the point where it makes sense for James to stay put and run things back (at least) one more time, then the franchise's decision to increase their luxury tax bill, surrender a 2018 first-round pick, and take on salary for the 2018-19 season, will have been worth it.
Cleveland's trades not only bring in players that better complement James, but they also create so many more fascinating lineup options for Ty Lue to toy with. (A semi-related aside: should James be in favor of his team's new direction, Altman still has that Brooklyn pick—i.e. whichever prospect on a rookie contract gets selected—to dangle after July 1 for even more beneficial win-now help.)
Not only did the Cavaliers add four players who can be on the floor in the fourth quarter of a Finals game, but they got rid of six players who don't belong (in their current states) while opening up two roster spots—Kendrick Perkins will fill one—and allowing them to be active participants in the buyout market.
If LeBron walks, Cleveland immediately transforms into an irrelevant garbage bag, regardless of where the Nets pick lands or who else is under contract. So, acknowledging that this was the alternative whatever they did this trade deadline, let's analyze what each new face now brings to the table.
Assuming he's healthy, George Hill might be the ideal non-star point guard who can help James overthrow the Warriors. He's long, can switch across at least three positions when motivated to do so, and currently leads the league in three-point percentage, knocking down 45.3 percent of 128 attempts.
Hill doesn't need the ball in his hands, but can make positive things happen out of the pick-and-roll, or plunk in a floater after attacking a closeout. At his best, he's rock solid, which is exactly what James needs. Hill by himself wouldn't move the needle for Cleveland, but Hill with all the other pieces Cleveland traded for is extremely meaningful. On offense, the Cavs won't ask him to do what he can't, and installing him at the point of attack will do wonders for their defense.
He'll harass the opponent's starting point guard throughout the playoffs (whether it be Goran Dragic, Victor Oladipo, John Wall, Eric Bledsoe, Kyle Lowry, Kyrie Irving, Steph Curry, or Chris Paul) and open driving lanes as a respected spot-up threat who's shown he can also knock outside shots down off the bounce. The defensive upgrade at the position is obvious, but how Hill improves an offense that's been slightly below average beyond the arc is critical.
That brings us to Rodney Hood, who was Hill's teammate on the Utah Jazz last season and arguably the best player to change teams on Thursday. Not that the Cavaliers need him to reach his full potential over the next four months, but there's a universe where Hood one day elevates his game to a borderline All-Star level.
He's real good, averaging an efficient 17 points with a respectable usage rate this season. On some nights he's more explosive than others, but has underrated handle that allows him to create something out of nothing when a favorable matchup presents itself.
Much like Hill, the 25-year-old can't be left alone on the perimeter, and is plenty comfortable pulling up behind the three-point line if his man ducks under/gets caught in a pick, while the screener's defender opts to drop back.
He's shooting 43.3 percent this season on shots launched after one to six dribbles, per NBA.com, and among all shooters who average at least two pull-up threes per game, Hood's accuracy is right up there with Irving, Curry, Paul, and James Harden. (Volume and circumstance obviously matters when comparing him to those players, but the point here is that Hood doesn't need a ton of help to create his own efficient look.)
He's 6'7" and will provide the sort of flexibility and dynamism on the wing someone like Dwyane Wade, Jae Crowder, and Iman Shumpert could not. Again, like Hill, Hood's presence by itself would potentially rehabilitate one position, but adding him to lineups that also feature Thomas, Wade, Crowder, Shumpert, Derrick Rose, or any other Cavalier that contributed to Cleveland's recent woes would not have solved any problems.
However, put Hood beside Hill, the other two pieces Altman just acquired, and every other holdover, and all of a sudden, he looks like an important addition. Speaking of those two pieces, Jordan Clarkson and Larry Nance Jr. embody the athletic verve Cleveland yearns for.
Coming from the Los Angeles Lakers, neither has ever played a meaningful minute in the NBA, and Clarkson's off-ball defense leaves much to be desired. But both come from a switch-happy scheme that had a ton of success earlier this season. If Tristan Thompson can rekindle the twitchy quickness he displayed in the NBA Finals two years ago, playing him beside Nance Jr., with James at the three, will toss a wet blanket on offenses that are used to torching slower big men in space.
Utilizing those two with James may create some spacing issues, but don't be surprised if Lue chooses to close some games with both in his frontcourt, accompanied by James and two of the team's many spacers. And Clarkson isn't in Irving's universe as a shot maker, but he can create some headaches as someone who relentlessly carves his way into the paint.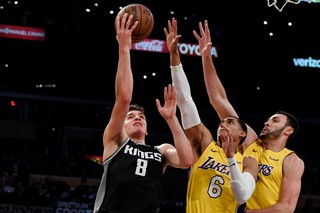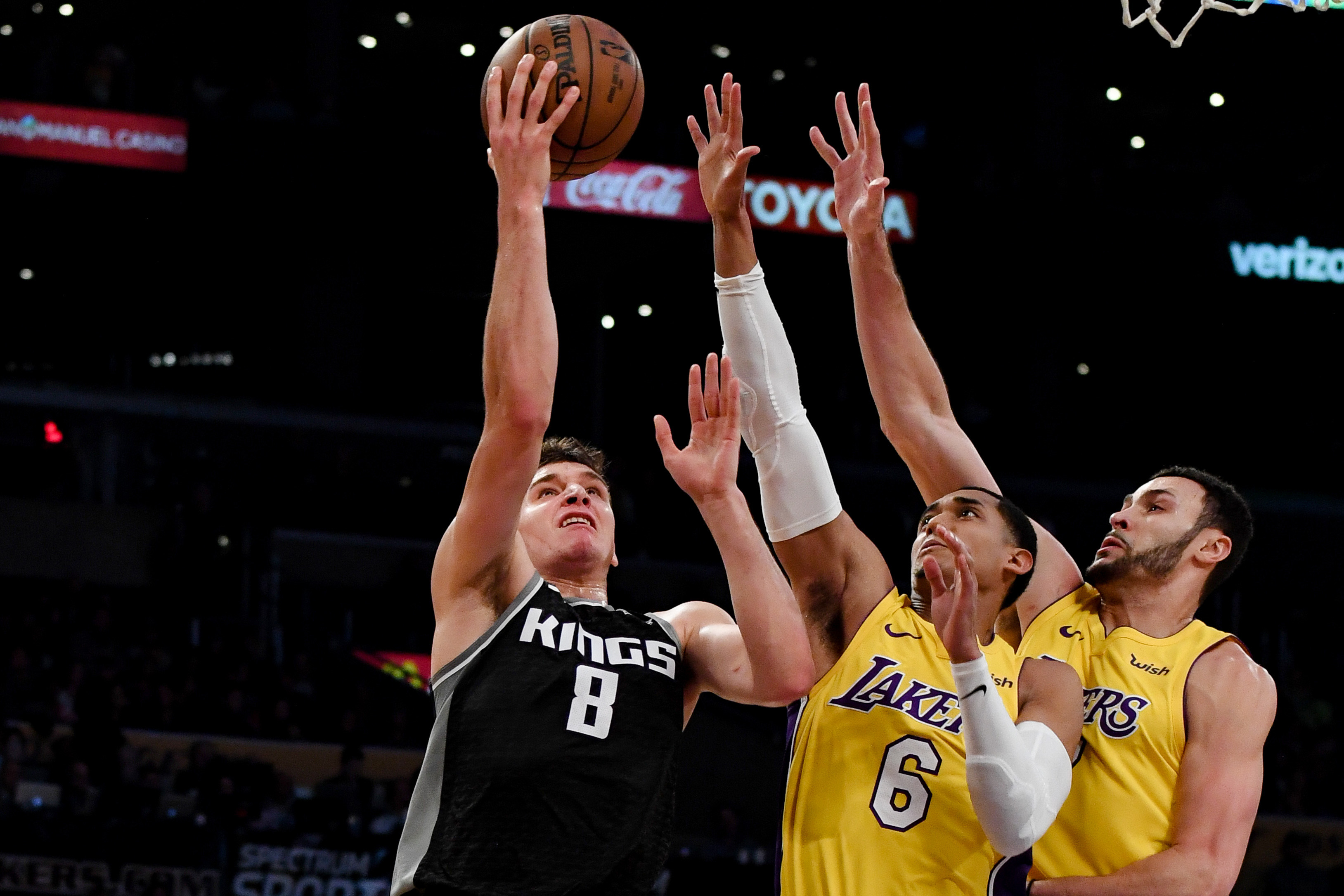 When evaluating all four additions and attempting to calibrate how they'll perform on their new team, the fact that each went from not even thinking about the playoffs as early as this morning, to being teammates with one of the greatest players who ever lived, on a team that has Finals-or-Bust excitement, genuinely matters.
Not to suggest any of them ever took nights or possessions off, or exhibited questionable effort despite being situated in low-expectations environments, but their stakes on a game-to-game basis are undeniably higher, playing on national television every week, beneath a different kind of microscope.
And for someone like Hill, who spent all year playing with a bunch of rookies in prehistoric two-big units that cramped the floor and made mistakes, running pick-and-rolls with Kevin Love and catching kick-outs from LeBron will feel like nirvana.
James makes everyone around him better. He draws attention on a level Nance Jr., Clarkson, and Hood have never known. That matters. And if each one plays within himself while excelling at the role they're assigned, Cleveland will not only find itself back in the Finals, they'll also come armed with more stylistic options than ever before.
Whether that's enough to take down whichever team emerges from the West is another discussion, but the Cavaliers will enter that series with fewer weaknesses and less baggage. They're modernized and youthful. If that's enough to keep James in Cleveland for at least one more year, then all will have been worthwhile.

This article originally appeared on VICE Sports US.