Steph Curry Might Be Declining—It Doesn't Matter
Curry changed the game of basketball. But he's pulling up for three less often and less effectively. Good thing the Warriors are the Warriors.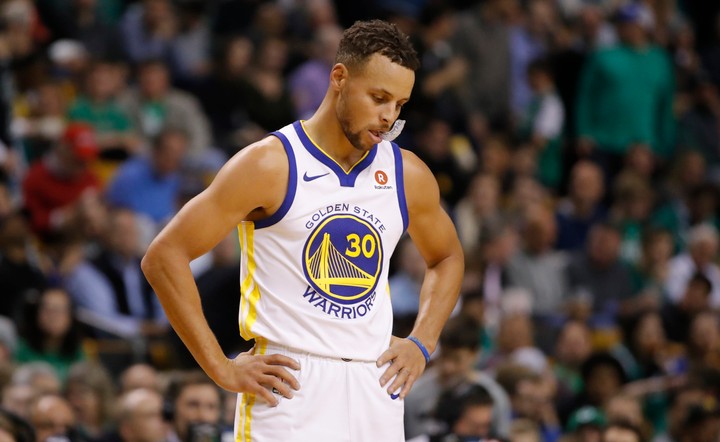 Photo by David Butler II - USA TODAY Sports
Still in his prime and not quite finished with a third decade on this planet, Steph Curry might be the most important, dangerous, and intoxicating offensive player in NBA history. Not only has he already had a profound impact on just about every aspect of basketball—at every level, from every viewpoint—but he has done so with style: with aesthetic grace and wonder.
There will never be another like Curry. Even with Kevin Durant, Klay Thompson, Draymond Green, and Andre Iguodala all meshed together inside a gratifying symphony conducted by a head coach who knows success, the Most Valuable Player argument for Curry makes itself. He corkscrewed the center position into an existential crisis and helped turn switch-happy tactics into the golden standard of pick-and-roll defense. He redefined what the word "gravity" means within the context of sport, and as the first option on a team that isn't stocked with household names he could probably still dine out on long twos and lead the league in scoring. Containing him for 24 seconds at a time is like trying to catch a butterfly while it throws ninja stars at your face.
He remains wildly efficient—with a True Shooting percentage that's about the same now as it was during his first MVP season—and is an irreplaceable puzzle piece on one of the most impressive dynasties ever assembled. He ranks second, behind only James Harden, in Offensive Real Plus-Minus, and is by far the most migraine-inducing presence in basketball when conducting a pick-and-roll. The Golden State Warriors play like a 76-win team (LOL) when he's on the court and a 30-win team (again: LOL) when he rests, according to CleaningTheGlass.
But relative to the impossibly high bar he set for himself over these last few years, a few gray hairs in his game may be starting to show. With three straight stampedes to the Finals in the rearview mirror, the only other player since 2015 who's logged at least 1300 playoff minutes with a usage percentage higher than 30 is LeBron James. The toll on Curry's mind and body has been heavy, and without saying he's no longer one of the best players alive or the most potent weapon at his own position (both statements are easily still valid), it's more than fair to wonder if what we're currently witnessing can be described as subtle, irreversible decline.
An extremely small sample size mixed with an intentional reduction of his responsibilities during the regular season make measuring something like this incredibly difficult, if not impossible. But beyond a nine-point dud against the Boston Celtics on Thursday night (his first single-digit scoring performance since December 15, 2016!) Curry's game-by-game production from beyond the arc has been spotty.

He went 3-for-13 from deep in a three-point win against the Washington Wizards; 2-for-10 in a 30-point win against the Dallas Mavericks; 3-for-9 in a one-point loss against the Houston Rockets on opening night; 2-for-9 in a 17-point win against the Miami Heat; and 2-for-7 in a 24-point win over the Minnesota Timberwolves.
Curry's value comes in many forms, but his claim to fame is the pull-up three, a trendsetting practice that elevated him, and his organization, to the NBA's penthouse. In so many ways this shot defines who Curry is and how limitless Golden State's offense can be. Even when it's not even launched, the mere threat of him catapulting the ball towards the rim opens up lanes and opportunities for everybody else—it's why Zaza Pachulia still has a career.
But right now, Curry's pull up three has been more book of matches than 800-degree blowtorch. Two years ago, 31.8 percent of all Curry's shots were pull-up threes. He made an incredible 43 percent of them, and shot 39.8 percent when there was "tight" coverage, per NBA.com.
In 2016-17, the percentage of all his shots that were pull-up threes dropped to 28.6 percent, and he "only" made 36.7 percent of them. The accuracy on his contested threes also dropped considerably. The big change this season, apart from the drop in percentage made, from 36.7 to 32.3, is that for the first time since Golden State began its dynastic run, Curry is shooting more off the catch than off the dribble. (According to Synergy Sports, 14.8 percent of his used possessions came off a screen last year. That number is up 6.6 percent.)
Curry is also averaging as many (few) drives per game as Jameer Nelson, and after shooting 67.5 percent within three feet of the rim over the past three seasons, he's now down to 55.3 percent.
It would rational to dismiss these numbers and believe brighter days are ahead. And even if they aren't, the Warriors can still waltz their way to three championships in four years with Curry playing exactly as he is now. That's how unfair they are, and every player has to evolve at some point or another.
But going forward, what happens if regression hits faster and harder than expected? What happens if Curry can no longer utilize the tightrope-walking skill that singlehandedly altered how NBA basketball is conceptualized? He'll always be able to shoot, which means he'll always require at least one defender's attention. But it'll be interesting to see how Golden State adjusts if/when Curry is no longer the pull-up artist he used to be.