Andrew Stoeten answers your questions in our Blue Jays Mailbag, which runs weekly at VICE Sports. You can send him questions at stoeten@gmail.com, and follow him on Twitter.
The Blue Jays' season is winding down, and apparently we're all looking firmly toward the future.
And why wouldn't we? This season? Woof. But that doesn't mean things are all bad as far as your Toronto Blue Jays go. They're just, y'know, mostly bad. Hey, but don't sweat it, spring training is only 150 days away.
So let's warm ourselves up for a long winter of Blue Jays fan infighting, and take a look what's in this week's mailbag!
If you have a Blue Jays question you'd like me to tackle for next week, be sure to send it to stoeten@gmail.com. As always, I have not read any of Griff's answers.
Out of all the changes Atkins/Shapiro have made since taking over, which can we legitimately criticize and which have been pretty darn good?
Kate
As much as I'd like to be the arbiter of what is or isn't legitimate to criticize, sadly, I can't tell anybody that something they want to be critical of is off-limits. I can only just tell them what I think they're missing—y'know, as forcefully as possible.
---
---
But you're right that there are definitely moves that fans looking to criticize the new front office will glom onto as clear examples of their ineptitude—sometimes even rightly! Few of them have to do with internal changes (beefing up analytics, more focus on player development, adding the high performance department, etc.) so I'll focus mostly on player moves here. And in that respect, I think there are a few things that get lost in some folks' rush to shout about the club's most obvious and inarguable missteps. One of those is the fact that every front office, even the very best of them, makes mistakes all the time (Brett Anderson was in the Cubs' Opening Day rotation, for God's sake!). It's just the nature of the sport. Another is the fact that, here at the tail end of a rather miserable Jays season, in which they've ended up in last place after going to the ALCS last season, the mistakes sometimes get amplified beyond all proportion.

The reality of the 2017 Blue Jays is that what has sunk them more than anything has been the health and performance of players the front office had virtually no choice but to rely on—and no reason to expect to get so little out of. Aaron Sanchez made just eight starts this season, and produced zero wins above replacement, after being a 4 WAR pitcher in 2016. Josh Donaldson's made up for lost time in August and September, but his 4.4 WAR on the season is practically half of what you'd expect from him. Marco Estrada wasn't as good as we'd grown accustomed to. Troy Tulowitzki was a 3 win player in 2016, but was replacement level this year. Devon Travis only gave the club about a half of a win over 50 games. And their main replacements, Darwin Barney and Ryan Goins, have been about a win-and-a-half below replacement level.
Fans expect the front office to know better than they do, so it's not illegitimate to be upset that the club relied on those players who turned out to be so unreliable—especially the ones, like Tulo and Travis, where reliability was already a question mark—but, for me at least, the difference between analysis and mere whining is trying to think through such decisions in the context of the time when they were made. It would have been nearly impossible to move Tulo last winter and make the 2017 version of the team better. It would have been impossible to move Travis, who ended the year injured, for more than pennies on the dollar. And even the decision on Jose Bautista made plenty of sense. It was hardly a sure bet that Bautista would bounce back, but only the most unserious, negative fan could possibly have disapproved of giving the franchise icon what was essentially a one-year contract and hoping that his 1.4 WAR season in 2016 wasn't a sign of true decline, but instead was a byproduct of the leg injuries he dealt with all year.
It's with all those core players not having the kinds of years they were safely expected to as a backdrop that the mistakes—and the "mistakes"—really come into view.
By "mistakes," in quotation marks, I mean the silly things that angry fans will try to twist into looking like worse mistakes than they were by ignoring factors about them that don't suit their narrative. The Jays not paying crazy money for many years to Dexter Fowler, instead letting him go to St. Louis, for example. Or the bizarre notion that the two Francisco Liriano trades were anything but giant wins for the club.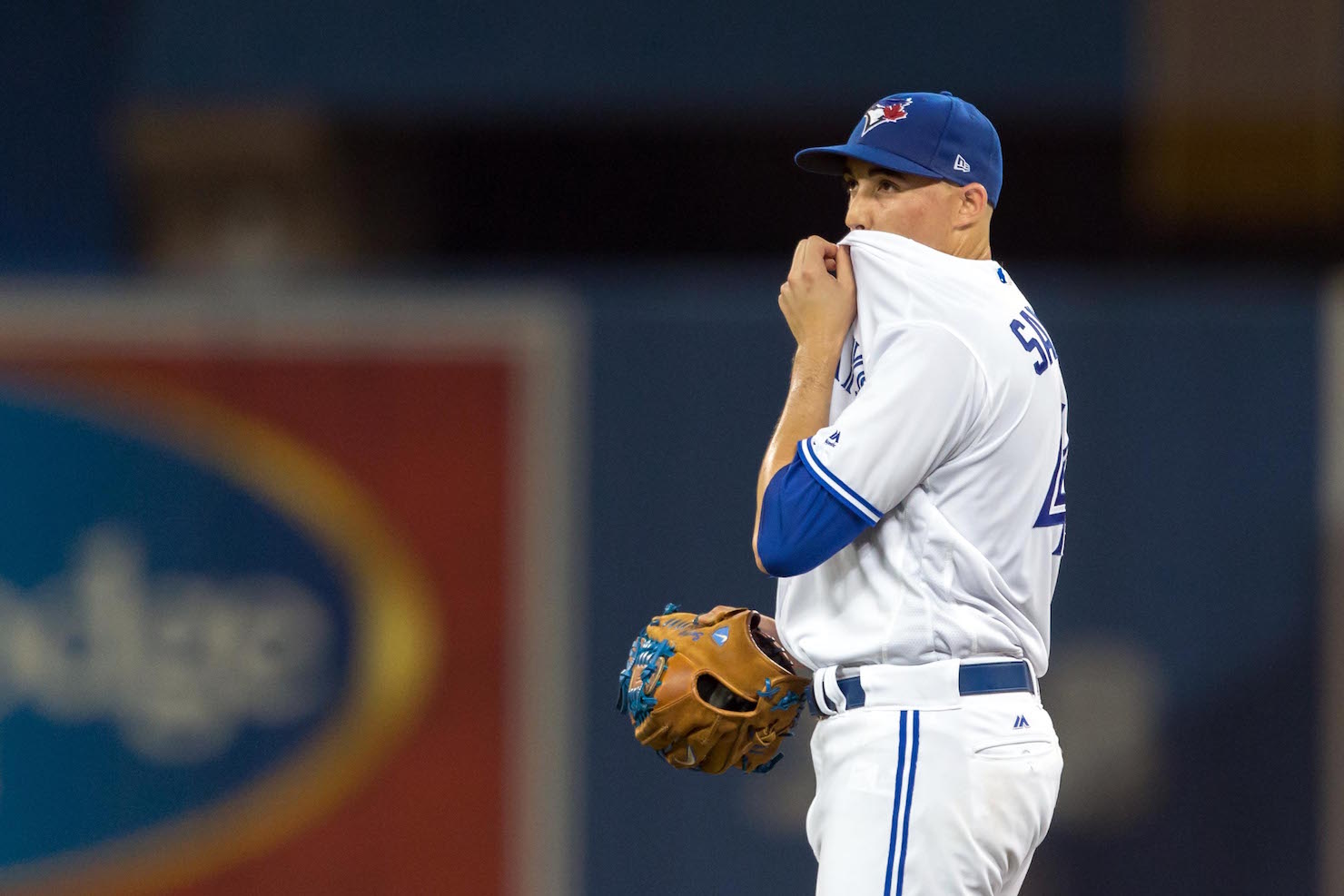 The big actual mistake, of course, was Kendrys Morales—not only his contract, but the way the club rushed to sign him while Edwin Encarnacion was still available. Though this, in my view, was far less of a mistake than the fans desperate to point fingers at the front office try to make it. The Jays certainly read the market wrong, but surely much of their view of the market was based on Edwin's camp's own horrible misreading of it. They made the biggest offer that Edwin would see, and Edwin's camp turned it down based on the belief that more money would be out there for him. Had that belief been valid, the Jays' rush to go sign what looked to be a suitable replacement (yes, there were plenty of red flags on Morales, but there were things to like, too: a very good final four months of 2016—he posted a 136 wRC+ over that span, five points better than Edwin has this year—strong exit velocities, and the fact that choosing him would free up extra payroll space to help strengthen other areas of the team), made sense. They didn't want to come up empty on both players, allowing Morales to go somewhere else while waiting on what they believed to be the pipe dream that was Edwin. It was the same thing they had done the previous winter in rushing to nab J.A. Happ rather than waiting to lose out on David Price just to make it look like they really wanted him. Only this time it backfired.
Obviously it was a mistake. A giant cock-up on both sides. The Jays should have read the market better and not been nearly so assured of Morales' performance. Edwin should be here and it still hurts that he isn't—and he'd be $20 million richer if he'd taken the Jays' offer. But the fans who scream and shout and cover their keyboards with spittle about how clear it is that they should have waited for Edwin's free agency to play out a little longer probably need to think harder about some of the context there. Free agency isn't like shopping for groceries, it's like multiple auctions going on at the same time, and especially difficult if you're a team that can't write a cheque for whatever they want, whenever they want, to whoever they want.
And that's sort of the thing, I guess. Every transaction has context, and trying to understand that is, I think, the important thing. Fans love to shout "MISTAKE!" about things (much like they used to like shouting "LIAR!" about J.P. Ricciardi), but in most cases the appropriate response to that is, "So what?" Not in the sense that it doesn't matter, but in the sense that you're going to need to tell me more about it before I should care. If we look at moves and wonder what on earth the club is doing, or we understand perfectly what they're doing and conclude that their motives are dubious, that's cause for real concern. Making loads of mistakes, or mistakes that the club will have difficulty getting out of, are also big problems. But there are going to be mistakes along the way. To simply present a list of deals you'd like to take back and think it's sufficient evidence to prove front office ineptitude really doesn't work. Which, I guess, is why I'm not really answering your question here.
None of this is to say that this particular front office is beyond reproach. It's just... trading Ben Revere for Drew Storen maybe looks bad (absent any understanding of the needs of the roster at the time, or ignoring how bad Revere is) until you flip Storen for Joaquin Benoit and go to the playoffs. Paying almost $16 million in 2017 for Liriano and Nori Aoki maybe looks bad until you realize what that money actually got the club: they likely don't make the playoffs in 2016 without Liriano down the stretch, they likely pay more than that over multiple years to sign a starter to fill R.A. Dickey's rotation spot last winter, and they end up with legitimate catching and outfield depth (and maybe an everyday outfielder in Teoscar Hernandez) in the process. Trading Liam Hendriks for Jesse Chavez looks bad until they flip Chavez for a depth pitcher in Mike Bolsinger, make the playoffs anyway, and come out of it all with a pretty nice looking bullpen regardless.
Like... you can criticize any and all of these moves. But I guess what I'd say is, try to understand the thought process behind it, and be aware that good process can often still lead to bad results. And don't pretend that there is a magical front office out there operating without missteps, or that you can draw a clear line from the mistakes this front office has made and the record of the 2017 Blue Jays. There isn't, and you can't. Oh, you can draw some sort of a line, but at this point in their tenure, it's still going to be very fuzzy. That's baseball for ya!
---
If they re-signed Encarnacion (instead of Morales and presumably Pearce), does the offense (or this season) look any different results-wise?
Darren
Maybe not a whole hell of a lot, but perhaps enough to make a difference, sadly.
Edwin has been worth three wins more than Morales and Pearce, per Wins Above Replacement. And while I'd grant that it's possible that, because of things like sequencing, he might have pushed a few more runs across at a few more opportune times, maybe hit into fewer double plays—or double plays at less crucial moments—and maybe helped turn a few more than just three losses into wins, it's hard to go much farther than that.
I can't blame you for thinking that seems weird, given that we're talking about one player with a .377 on-base and .500 slugging, and another with a .305 and .450. But the math works.
In a 2012 post, Baseball Reference explained that, the way they set it, a replacement level team would win 52 games over the course of a full season (they'd play at a .320 clip). The Jays have now played 150 games. Based on that .320 winning percentage, a replacement level team would have won 48 of 150 games. BR's version of WAR pegs the Jays at 7.5 wins for position players (woof) and 17.6 for their pitching. That's 25.1 wins above replacement. Add that to the 48 wins a replacement level team would have, and you get 73 wins—a little higher than the 70 wins they do have, but quite close.
Add three wins for the difference between Edwin and Morales/Pearce and you're now at 76 wins, and still in the race for the second wild-card spot—at least theoretically.
Then again, the Jays' pythagorean record gives them just 66 wins, and per that BR piece, their "WAR wins" should be a little bit closer to that, so maybe it wouldn't have made quite so much difference. Had they found someone above replacement level to take those at-bats from Pearce, though, maybe it does. If having Edwin on the books would have precluded them from adding Joe Smith's salary, maybe it doesn't.
All of which is to say, the math bears out what we all would have guessed, I think: The Jays would have been better off with Edwin instead of Morales, but that the difference between the two is hardly what has sunk this season.
---
Hi Stoeten
Do you feel that the Blue Jays rotation in 2018 will be good enough to be competitive if it only consists of members of the 2017 roster (re-sign Estrada, Koehler, Anderson hope for a return to health from Sanchez)?
Thanks
Joshua
I don't see why not. If they're healthy.
Per Baseball Reference, Stroman has been worth 5.3 WAR this season, Happ 3.0, and Estrada 2.5. Sanchez last year was worth 4.9. Even if you don't expect Sanchez and Stroman to repeat their career-best performances, getting something like 12-15 WAR out of your top four starters is a hell of a place to start. Even just nine or ten wins out of that group, with another big year from Roberto Osuna and a bunch of nice pieces in the bullpen behind him? The Jays would end up with one of the better staffs in the league. Maybe not Cleveland, but certainly good enough to be competitive if their position players aren't hot garbage again.
---
What's the best strategy to deal with squid people who spend the entire offseason demanding a complete rebuild?
Tim
First, though you'll want to do it with a bit of tact, you'd probably do well to remind them that this isn't hockey. The Jays have two of the best prospects in all of baseball in Vladimir Guerrero and Bo Bichette; one was acquired as a July 2 free agent, the other as the 66th overall pick in the draft. When was the last time a player picked in the third round of the NHL draft ended up being one of the top two or three prospects of that class within literally a year? Hint: never.
The draft in baseball isn't the kind of panacea it can be in hockey, basketball, or football.
Sure, teams can accumulate young and cheap talent through trade, but in the Jays' case, how well are they even going be able to do that, exactly? Josh Donaldson has obviously a lot of value on the trade market, but with only a year left on his contract, few teams are going to be willing to give up a franchise-altering prospect to land him. They'll give up something nice, for sure, but then what?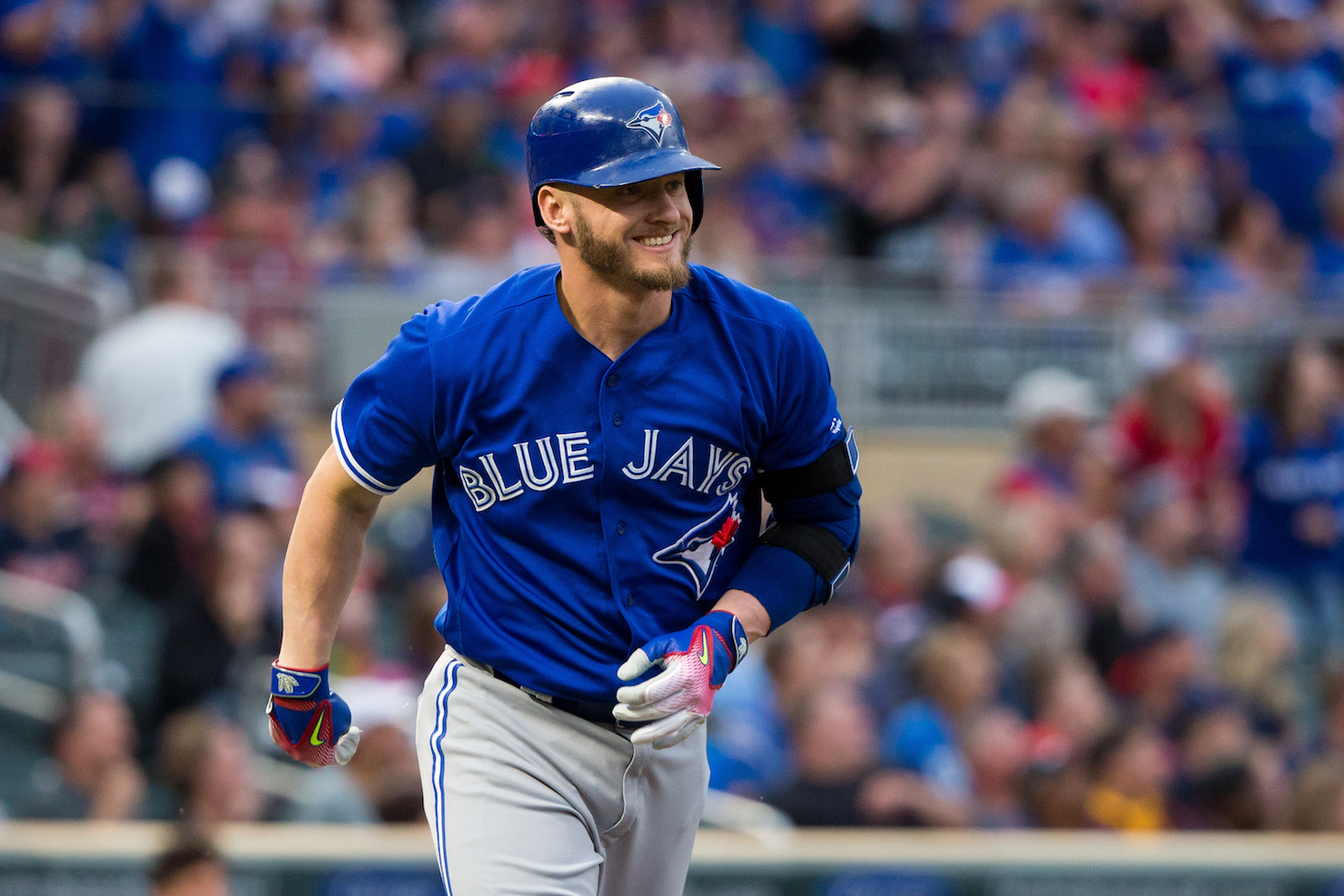 The Jays, minus Donaldson's six or seven wins, would be dead in the water in 2018. And even if Guerrero and Bichette should be ready to step in by 2019 (along with Anthony Alford, Danny Jansen, and a few others—at least in an ideal world), that season's probably not looking great, either.
The thing about all that is, 2020 will be the final arbitration year for Sanchez, Stroman, and Osuna. If the Jays are writing off at least the two years in between now and then (when they'll all be expensive, and the roster having come together as hoped is far from guaranteed—ask prolonged rebuilders in San Diego, Cincinnati, Oakland, Philadelphia, etc.), trading off those three when they still have multiple years of reasonably cheap control becomes practically a no-brainer.
So now you're looking at what? The hope that the current crop of prospects, plus whatever you get from your sell-off, start to really make noise come 2021, or 2020 at the earliest?
In a vacuum maybe that even makes sense. It's easy to say so now, when the idea of enduring three or more awful losing seasons are just an abstraction. But with the second wild card now a thing, stronger depth, prospects starting to knock on the door, and a group of position players they'll tinker with over the offseason, there's no reason to think that the Jays can't potentially be competitive next season. And while it's true that it's not ideal to play for the second wild card, it also gives them another year to figure out how they approach 2019—whether they push to extend Donaldson, whether they think Bichette and Guerrero and Alford, et al, are ready enough to worth building around as early as then, whether they can find even more pieces to help them stay immediately competitive in a post-Donaldson world, or whether they come up empty on the field and choose to sell off a bunch of pieces with a view to 2020 and beyond.
The damage to the club's under-the-hood rebuild of pushing these big questions off until next summer won't likely be enormous, and is mitigated by the revenue they'll generate and the maintaining of the strength of the brand—things that should help keep the budget healthy should they find a way to position themselves for a run in 2019 (far from impossible if the right prospects hit early, and the club is able to reinvest money coming off the books for Donaldson, Happ, and Pearce) and in the years to follow.
Believe it or not, not every good team had to strip their big league roster to nothing and make their fans suffer for several years in order to get there. I know it's cathartic after a bad season to dream of burning it all down and starting fresh, and this aging roster is not without some obvious problems, but it's hardly ridiculous to think that they can work on fixing those while both still trying to stay competitive and trying to build up their prospect pipeline. It is, in fact, precisely what they've been doing the last two seasons. Which, of course, is easier to do with Donaldson here, that's a bridge they simply do not have to cross just yet, and would hardly be better off if they did.
---
Hi Andrew,
Love the column and I am a regular reader!
Any news you can find on the renovation / rebuilding of the Jays spring training complex in Dunedin. Reports are saying there was no damage from Irma which is great but they really need a new facility. The stadium is tiny and has none of the amenities the other stadiums have and the parking situation is not great at all. Additionally, the complex needs all sorts of renovations as well as Mark Shapiro has previously mentioned.
Do we have a timetable for a new or renovated facility. I still believe teaming up with Philadelphia and moving to Clearwater is the best option. There is room to build the facilities they need in Clearwater by Spectrum Field with minimal inconvenience to fans with winter homes in the area and team personnel who live there in the off season.
Any update would be great!
Thanks!
Mike
There hasn't been a whole lot of spring facility news to speak of lately, but the club, the city of Dunedin, and Pinellas County, seem to be moving forward on the $81 million project to stay at—and refurbish—Florida Auto Exchange Stadium, which we first heard about a year ago. Sorry to say, but Clearwater doesn't seem to be in the cards—though you're right about there being the space and the parking at the Phillies' site, it seems as though the business community in the city of Dunedin really worked to make sure the Jays will stay there.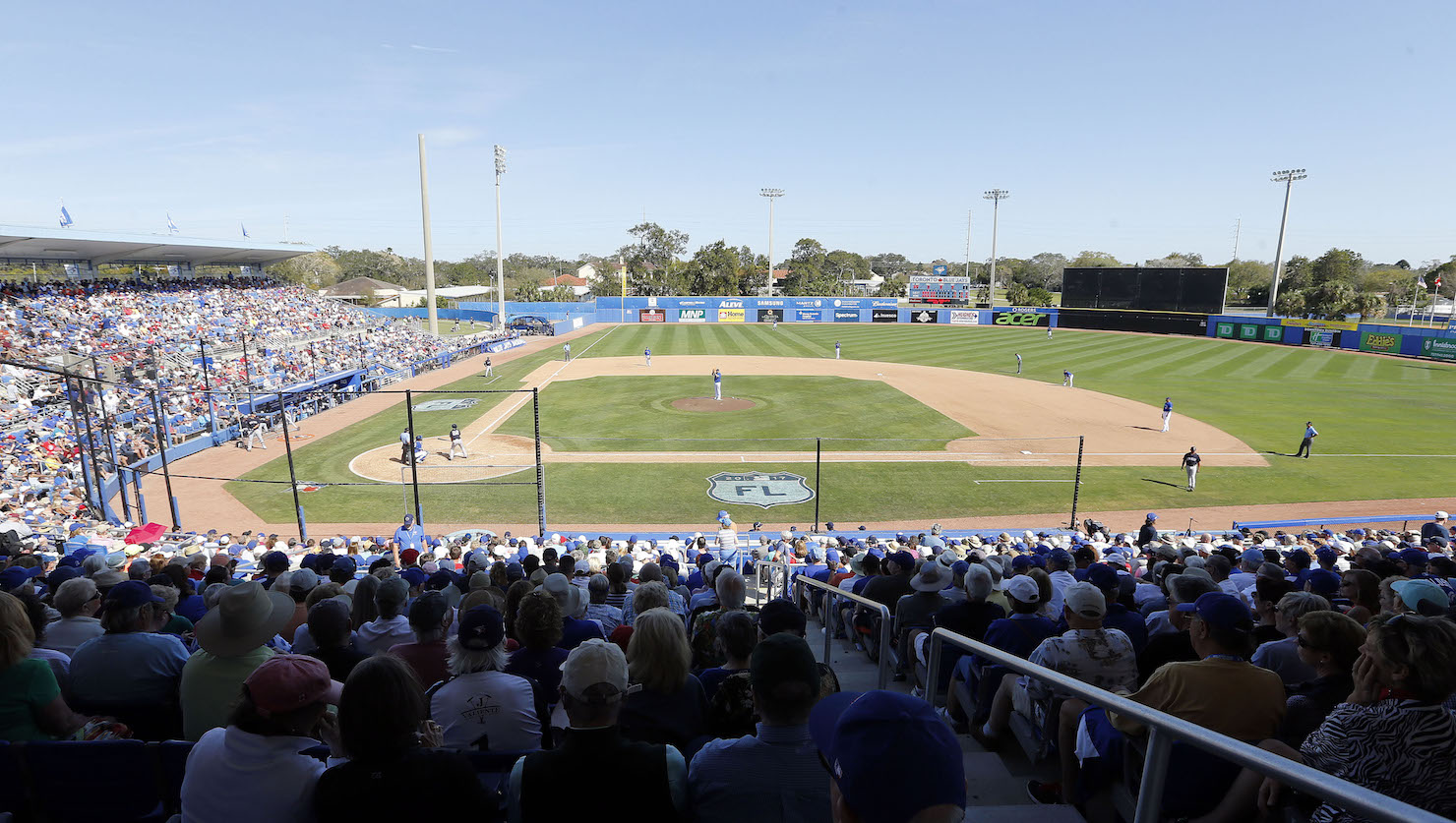 Nothing is official yet, but according to a piece at TBNWeekly.com last week, Tim Ramsberger, the chief operating officer of Visit St. Pete/Clearwater, spoke to the paper about how funds collected from the region's "bed tax" (a 6 percent tax levied on all hotel guests) were being allocated.
"We just completed our first run of applications for contracts, which were approved by the County Commission," he said. "Five to six contracts have been approved totaling about $40 million over the next two to four years. Another, the Toronto Blue Jays spring training complex in Dunedin, is in the process."
We'd perhaps know even more about it if it hadn't been for Irma. The Tampa Bay Times noted on Sept. 10 that a meeting scheduled the next day had been cancelled due to the hurricane. At it Dunedin city commissioners were to be updated on the Jays' negotiations. As of yet there is no makeup date set, but it sounds like this is probably going to happen.