Another year has passed. Almost fifty UFC events, a couple of dozen Bellators, a handful of World Series of Fightings, and a few more Rizins are in the bag. More knockouts, submissions, fouls, refereeing mistakes, judging cock-ups, and controversial results than you can shake a stick at. A thousand different stories at different points in their arc—fighters have fallen from the heap, ascended to the top from obscurity, and risen from the ashes over the course of the past twelve months. With another trip around the sun in the books it is time to hand out the most sought after accolade in mixed martial arts, Fightland's Slacky Awards.
Each year I consider if we need a new award. A 'Shame On You' award for exploitative promotion? A tough field this year: Kimbo Slice versus Dada 5000, Ken Shamrock vs. Royce Gracie III, CM Punk versus Mickey Gall, Gabi Garcia versus octogenarians. Perhaps a 'Why Are We Even Here?' award for worst question at a post fight presser. An easy win for the journalist who asked Robbie Lawler if he thought about keeping his hands up when Tyron Woodley knocked him out. But for the time being we will stick to the tried and tested categories of the previous two Slacky Awards: Gameplan of the Year, Event of the Year, Technical Turn-Around of the Year, the '...But Why?' Award for Low Fight IQ, and Breakout Technique of the Year. As a disclaimer: these are entirely the opinions of the writer and are, of course, utterly pointless.
Gameplan of the Year: Cody Garbrandt vs. Dominick Cruz
2014: Jon Jones vs. Glover Teixeira
2015: Rafael dos Anjos vs. Anthony Pettis
When assembling 'of the year' lists it is always tricky when a contender emphatically announces itself in the dying days of the year. You view it with a suspicious squint, thinking that the recency of the performance is distracting you from something better that happened earlier in the year. I have come at it from every angle in my noggin and I can't think of a better gameplan and execution this year than Cody Garbrandt's masterpiece against the great Dominick Cruz on the penultimate night of the year at UFC 207.
We went over this in How Cody Garbrandt Killed the King, but Garbrandt's genius was in drawing the bantamweight division's master matador into playing the part of the bull. The low hands, high head, and marching footwork which Cruz utilizes so well when he is in control of the distance, all allowed Garbrandt to land heavy counter blows when Cruz went on offense. Drawing Cruz forward with slight retreats, Garbrandt would stop as Cruz overcommitted and mark him up with counter punches 'in the kitchen'.
All of this from a fighter who supposedly had Cruz 'in his head', who was known for pouncing on opponents early, and who stormed out of the press conference ahead of the fight. At no point in the fight did Garbrandt lose composure, get drawn away from his gameplan, or look as if he was doing something he didn't want to be doing. Garbrandt in the lead up to the bout and Garbrandt in the fight were like night and day, and that transformation in itself made this fight even more magical.
Some readers have pointed to Conor McGregor's second performance against Nate Diaz as a candidate for gameplan for the year, but I am reluctant to give the award to a repetition of a gameplan which had already been demonstrated against Diaz and his brother a number of times before. Kick and circle: anti-Diaz 101. The nature of Cody Garbrandt's performance, exploiting a hole in Dominick Cruz's game which had only been shown in the merest glimpses up to that point, seals the deal on this award. Though McGregor – Diaz II marks an important turn in the Conor McGregor tale: a concession that power and timing are not always enough. In addition to the frequent low kicks, McGregor's use of the whizzer/overhook throughout that fight (even taking a hold of it in punching exchanges and then putting his back to the fence in order to catch his breath without eating body blows) was an interesting development in that bout. The fight was also one of adaptations and an arms race of tactics and adjustments—certainly one of the best technical bouts of the year at any rate.
While many have suggested that Luke Rockhold is due the '...But Why?' Award for Low Fight IQ for his second fight with Michael Bisping, instead I believe that His Fistic Majesty is due two mentions in the Gameplan of the Year category. Against an admittedly aged Anderson Silva, Bisping utilized a hundred feints and non-committal strikes a minute to throw off the counters of the bigger hitting Brazilian.
Silva proved a handful on the feet for Daniel Cormier on short notice later in the year and badly hurt Bisping at a couple of points in the bout, so no matter how you feel about Bisping, he had to bring something clever to get by the middleweight legend. Against Luke Rockhold, on short notice, Bisping actually looked prepared for his old foe. Circling away from the left kick which had caused him so much trouble, and flat out refusing to pursue Rockhold—who had skipped back and check hooked Bisping frequently in the first bout—Bisping encouraged Rockhold to lead. Rockhold has always been a sloppy boxer on the lead and on his second long, lunging jab, Bisping decked the middleweight champion and took the crown. Bisping looked anything but great against Dan Henderson, but his other two fights in 2016 were as crafty as any you saw this year.
A final mention for Ryan Hall. There are a lot of areas in Hall's game that require some work to catch up with the level of MMA fighter he is now being matched up against, but against the very experienced Gray Maynard, Hall used just two ranges to completely bamboozle the veteran. Through long side kicks, hooks kicks and round kicks, Hall marked Maynard up at range. When Maynard advanced, Hall looked to dive for a leg entanglement. Maynard didn't want any part of Hall at kicking range, or on the ground, and there was nothing to keep Hall in punching range. An excellent gameplan demonstrating that whole areas of the game can be avoided with the right threats in other areas.
Event of the Year – UFC 206
2014: Glory – Last Man Standing
2015: UFC 189
UFC 205 was full of action with McGregor-Alvarez, Romero-Weidman, Jedrzejczyk-Kowalkiewicz, Woodley-Thompson and Nurmagomedov-Johnson, this writer's favorite event of the year was probably UFC 206. Perhaps it is because I went in so pessimistic because of all the interim title nonsense and the failure to secure Georges St. Pierre for a Canadian pay-per-view, but the card knocked my socks off. Matt Brown and Donald Cerrone tore the house down in a slobberknocker. Lando Vannata scored perhaps the knockout of the year with a gliding side kick into wheel kick. Kelvin Gastellum went up to middleweight, weather Tim Kennedy's storm and then showed off his tremendous hands. Olivier Aubin-Mercier showed that beautiful Tristar jab in front of the home crowd. Emil Meek and Jordan Mein passed each other at different phases in their careers but still matched up beautifully to provide a war of attrition. Max Holloway made easy work of the great lightweight, Anthony Pettis in the main event. And then there was Cub Swanson versus Doo Ho Choi, a breathtaking spectacle and the most exciting fight of the year. If the made up interim belt added five thousand buys, maybe it was worth it because more people got to see this gorgeous night of fights.
Technical Turn-Around of the Year – Max Holloway
2014: T.J. Dillashaw
2015: Rose Namajunas
There haven't been that many rapid turn-arounds in 2016. This award given to TJ Dillashaw on its inception and certainly, Dillashaw at the start of 2014 and the end of 2014 were completely different animals. While Max Holloway has only had two fights this year, and his improvement has been continuing since 2013/2014, he is certainly deserving of this award. We used to joke about which Holloway would turn up—the one who can box and bang the body expertly, or the one who only wants to throw flying knees—finally Max Holloway has developed the patience and calm to go out and take control of the fight from round one until the final bell or until, more likely, his opponent falls down. Looking at the Holloway who was perplexed by Conor McGregor's side kicks and leaping lead uppercuts, and comparing him to the methodical, switch hitting, complete MMA striker who has chalked up ten straight with no trouble and who decimated Anthony Pettis on the feet like no one else has been able to, the technical strides have been astounding. That McGregor rematch cannot happen soon enough and Holloway is well overdue for a shot at Jose Aldo's featherweight title.
Elsewhere, the great Demian Maia continues to improve by retaining what is useful and discarding what is useless. Gone is the Maia who tried his best to strike with Mark Munoz and others. He can still pop, as Gunnar Nelson found when his arms were beginning to drop to his hips in anticipation of Maia's shot and the Brazilian blasted him with the loudest punch of the night. But Maia now is all about getting to the back. All roads lead to the back. He'll take the mount first, he'll use top control, and he looks more comfortable hitting from the top than ever—shaking up durable fighters like Nelson and Carlos Condit with his blows—but the back is always the goal. In 2016, Maia clung to Matt Brown's back and wore down his defenses over three rounds to sink a choke with thirty seconds left in the fight. Three months later he strangled Carlos Condit in under two minutes. The paths are all the same, but Maia has become exactly what a Jiu Jitsu master in mixed martial arts should be: an inevitability. He's going to get your back, and when he does he's just going to hold the position and keep attacking until you can't keep up with him or you lose the decision after rounds of purely defending yourself.
A final mention for Tim Elliot who was widely recommended by readers for this award. Tim Elliott has always been weird and tricky, I don't know if his time away from the UFC made him any trickier for Demetrious Johnson than he already was, but certainly the benefit of having multiple five round fights outside of the UFC did nothing but help Elliott in preparation for Johnson. The UFC are reluctant to let flyweight non-title fights on the main card, let alone giving flyweight contenders the chance at five round fights. It is just nice that fans now care about Elliott, who was cut from the UFC far too early.
The '...But Why?' Award for Low Fight IQ – Ryan Bader vs. Anthony Johnson
2014: Ali Bagautinov vs. Demetrious Johnson
2015: Tim Boetsch vs. Dan Henderson
Bad fighters don't win this award. This one is uniquely for good or even great fighters who make baffling choices or miscalculations in big fights. There's no shame in a foul up on the big stage, but these are remembered as some of the strangest moments in fighting. It is hard to think of a more fitting performance this year than Ryan Bader against Anthony 'Rumble' Johnson. Johnson is a hard hitter, known for directly fighting off takedowns and for fading in the later parts of a fight. Bader's decision was to come out, attempt no set up, and duck in slowly for a single leg takedown within seconds of the opening bell. It ended really, really badly. Johnson sprawled, moved to Bader's back, and battered him flat on the mat.
This year has also seen a number of fighters fall into the mindset that all out aggression is the best course of action at all times. Fabricio Werdum was famously starched by Stipe Miocic as chased after the title challenger with his hands down by his waist, swinging.
But many of Werdum's best performances were also about getting on the offensive and keeping up his offensive output and this often resulted in him leading with his face and swinging with his hands low. After the Miocic loss, Werdum rebounded by overwhelming Travis Browne in exactly the same way.
Derek Brunson took this to extremes. After overwhelming Sam Alvey and Uriah Hall in impressive fashion, Brunson looked like a parody of himself against Robert Whittaker. With his chin almost three feet ahead of his waist, Brunson ran in pumping left straights and diving for Whittaker's hips from a couple of meters out. Whittaker's class and composure soon pulled him ahead and a counter punch against the running Brunson sent him stumbling and burst his eye open, only to be followed by a high kick for the knockout.
A truly baffling performance from a very gifted fighter.
Finally a less egregious performance but still an odd one. Frankie Edgar found success with every single low kick he threw against Jose Aldo, who ate them in the back of the leg as he attempted to pivot off line. This happened in their first fight, and proved to still work almost one hundred percent of the time in their second fight.
Except Edgar abandoned it altogether in favor of running in on straight lines through the fourth and fifth rounds, the strategy which Aldo's pivoting was there to counter in the first place.
Breakout Technique of the Year – Imanari roll
2014: Electric Chair Sweep
2015: Snap Kicks
This is always a tricky category because there is nothing new under the sun. We're not dealing so much with new techniques as we are with techniques that are catching on with multiple fighters. This was a tremendous year for jumping kicks, particulary the two part bicycle kicks with Alistair Overeem, Paige Vanzant and Yair Rodriguez all scoring bicycle kick knockouts.
It was also a cracking year for hook kicks. A technique I have had to reevaluate in mixed martial arts: the hook kick always seemed very high risk, medium reward. While guys like Justin Scoggins and Stephen Thompson have found success by sprinkling a couple into each performance, Ryan Hall has been able to really open up with it because a missed or caught hook kick almost plays perfectly into a dive for his opponent's legs.
Straight punches to the body were also finally getting some love. Joanna Jedrzejczyk has made excellent use of this when an opponent stands near the fence, as they are prone to squaring up and exposing their solar plexus as they put on 'the earmuffs' to protect themselves. More and more fighters were utilizing it this year, most notably Stephen Thompson when Tyron Woodley retreated onto the fence.
But the winner of Breakout Technique of the Year has to be the Imanari roll, or the upside down shot. Where the above methods are all an extra string to the bow, the upside down shot opens up a world of possibilities for the grappler. Previously when a grappler could not get a takedown he was stuck, unless he was able to pull guard or half guard which isn't a particularly sound strategy in the modern era. The Imanari roll fills the overlap in the Venn diagram between 'shot' and 'guard pull'. Additionally where a grappler might have to keep shooting takedowns, making himself more and more susceptible to a timed counter knee, the upside down shot can be used to keep the fighter's head away from his opponent's rear knee.
Tony Ferguson entangling Edson Barboza and reminding us all how much more fun this game would be if upkicks were legal on a kneeling opponent.A nice switch 45 into an inside upside down shot.
While Imanari famously got counter kneed by the great Joachim Hansen, modern fighters are doing a better job of taking their head away from the line of the knee strikes.
The aforementioned Ryan Hall is most famous for this shot but this year you were just as likely to see it from Tony Ferguson, or even a surprising one from Rory MacDonald. It most certainly is hot stuff right now.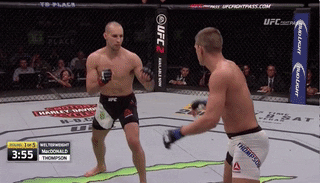 Parting Thoughts
Another year, and this game hasn't stopped being beautiful yet. There were bad moments in 2016. And boring moments. And downright tragic moments. But the highs still tower over the lows and are far more frequent. Any time you find yourself watching a terrible fight this year, take a moment to reflect on this: we've been fighting for twelve thousand years, and it's still getting better. I think it's safe to say that even if 2017 struggles to live up to the rollercoaster of action that was 2016, we still have plenty of reason to smile and look forward to the next twelve months.