Pettiness has no bounds. And now it's clear that there is no office too high above it. We're already so swept up in the dick-measuring contest by which our nation now governs itself that it shouldn't come as a surprise to you that President Donald Trump and Vice President Mike Pence consider the NFL's new anti-protest policy to be a real "win."
Today, the NFL announced that they would fine teams, and reserved the right to punish players who did not show respect for the flag and stand during the national anthem. The numb-skulled, hand-wringing white oligarchy that run the sport and our country happen to have equated those protests—which symbolically happen during the anthem to acknowledge that our nation is indeed sick with racism and that people hope better for it—with anti-patriotism. Which is categorically absurd and in fact the very definition of patriotism.
Nonetheless, the powers-that-be felt the need to celebrate today's news, so Mike Pence decided to take to Twitter about it:
Is it a pathetic gesture to celebrate the silencing of black voices in order to create a squeakier, cleaner, more acquiescent citizenry? Most definitely. But maybe if there's one laugh we can take away from all of this, it's that Mike Pence chose CNN—of all outlets—to broadcast "his" "victory" lap. So it's only fake news when you want it to be, huh, Pency-baby?
And just in case you thought the lapdog would bark without his owner howling in at the chorus, Trump decided to get in on the action and retweeted him: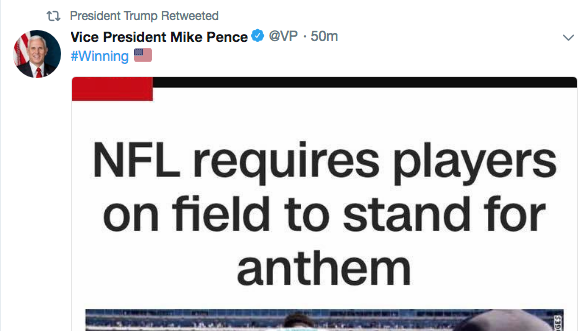 Our very own Keystone Cops inside the White House are of course intimately familiar with the anthem debate. There certainly wasn't any way that Trump was going to leave the topic alone after he said NFL owners should fire the "son of a bitch" protestors and unleashed a tweetstorm that fast-tracked this debate to CrazyTown, leaving NFL owners shitting their pants back in September. Shortly after Trump threw gasoline on the fire, Mike Pence famously (and shamelessly) staged a protest of his own, when he walked out of a game between the Indianapolis Colts and San Francisco 49ers because several Niners players kneeled during the anthem.
So now, they have their win. Because people like Trump, Pence, and NFL owners really needed a "win" right now.
This article originally appeared on VICE Sports US.