Wonderkid Christian Pulisic probably could have predicted that he'd raise alarms by guaranteeing that the USMNT were going to pull out an away win at the legendary Estadio Azteca tonight against Mexico. After all, the U.S. has never won a World Cup Qualifier there before—and for good reason. But it seems like the 18-year-old has put a bit of a target on his back with his big talk in the buildup to the hotly anticipated match.
Yesterday—right before Pulisic is set to play his first game at Azteca—the Mexican sports newspaper Record put Pulisic's quote on blast, prominently displaying Pulisic's guarantee in blaring yellow block letters on their front page.
Here's a bit bigger version for you to gander (and yes, American sports like basketball are popular in Mexico):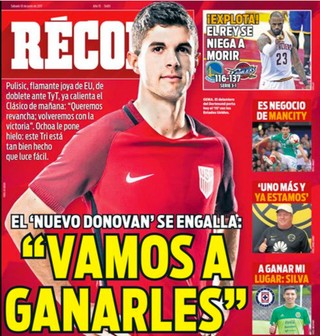 But the other element to the headline that's particularly choice is the part that says "El 'Nuevo Donovan' se engalla," which means, basically, "The 'New Donovan' gets cocky."
(Also of note: Record's cover today took a rare English headline, saying "Hey, Gringos, please... SILENCE"—it's getting heated.)
In case you don't know, Landon Donovan picked up a bit of a reputation south of the border for occasionally terrorizing El Tri. (The height of his rivalry yielded this glorious commercial, which nowadays feels a little more sensitive than it used to be.) So to call Pulisic the "New Donovan" is pretty high praise. Or draws mockery. Either way, it's showing that Mexico isn't sleeping on his talent.
But we over here, who have been seemingly tracking every breath the kid takes, realize that Pulisic might promise something even more than what Donovan was showing at this age. The only difference is that Donovan had a little bit more meat on his bones by 18. With Pulisic and 5'8" and 139 pounds soaking wet, bumps don't come lightly. Place nice with The Future, would you please, Mexico?