Andrew Stoeten answers your questions in our Blue Jays Mailbag, which runs weekly at VICE Sports. You can send him questions at stoeten@gmail.com, and follow him on Twitter.
The Blue Jays continue to inch toward .500, and toward relevance in the American League. And although the trade deadline is still more than six weeks away, the thoughts of the fan base seem to have turned to reinforcements, and what the front office can do to make this roster better.
And while no realistic answer about the 2017 Jays' trade prospects is going to be satisfying to fans clamouring for better options in the bullpen, in left field, and at second base, as we open up this week's Blue Jays mailbag, we learn that such trivialities aren't going to stop fans from speculating! So let's dig in, with an especially transaction-heavy early-June edition!
If you have a Blue Jays question you'd like me to tackle for next week, be sure to send it to stoeten@gmail.com. As always, I have not read any of Griff's answers.
At the start of the season, you said the Red Sox were most likely to challenge the Jays for 1st in the AL East. In mid-June, the Yankees have a 3 1/2 game lead. Do you still think the Red Sox are the biggest obstacle in the Jays way to winning the division?
Jonathan
Yeah, I do.
Despite also leading their divisions, I don't think the Twins or the Brewers are real, either.
Which isn't to say that the Yankees aren't better than a lot of people gave them credit for, myself included. I expected that they'd be pesky, and that they wouldn't be pushovers in their games against the Jays, but after all the veterans they traded last July and over the winter, I certainly didn't expect this.
But I also don't expect this to continue. Aaron Judge looks legit, but he isn't Mike Trout. Nothing about Aaron Hicks has ever suggested he's anything close to one of the ten best hitters on the planet. Right now Didi Gregorius ranks just inside the top 60 in wRC+ among hitters with at least 150 plate appearances, and there are six Yankees regulars who rank ahead of him. Six!!! And stupid Jordan Montgomery is giving them productive starts, to boot! That shit is nuts!
---
---
These Yankees may not fall off to the point where they're still not really good, but they will fall off. They have 102 games still left to play. A lot can happen. The Yankees entered Monday with a four-game division lead on the second-place Red Sox, who are only 3.5 up on the last-place Blue Jays in the tight AL East.
And while the Red Sox have been a bit of a delicious mess so far, I still think that, top to bottom, they have the most talented roster in the American League, outside of Houston. That usually means they'll be the team to beat. Not always, but usually. And I don't think I've seen enough yet to bet against that. Even with the Yankees doing the best to make us all question everything we've ever believed in.
---
Jays badly need a good lefty in the pen, which LHRP would you like the Jays to target? My pick: Brad Hand.
Newfound Lanny
Yeah... I don't think the Jays badly need a good lefty in the 'pen.
They certainly could use one if a good one came along at the right price, but the acquisition of bullpen lefties seems to have become something of an obsession these last few years among Jays fans who haven't quite yet noticed that they've been doing just fine getting lefties out.
Obviously having Brett Cecil during the club's runs in 2015 and 2016 helped a lot in this regard. And obviously getting left-handed hitters out is important. But do we have to sweat so much about which hand someone throws with when they're doing so?
---
---
No. No, we don't.

Hand, as you mention, was the No. 2 lefty reliever on a list of possible deadline trade candidates posted at MLB Trade Rumors on May 19. The only name above his was the Pirates' Tony Watson, whose season has gone sideways since then (he's allowed 10 earned runs over his last 10.2 innings), meaning that you're probably not wrong in identifying Hand as as one of the best options out there.
But considering that, let's play a game…
Player A: .180/.319/.410, .320 wOBA, 47 batters faced
Player B: .234/.333/.319, .288 wOBA, 54 batters faced
Player C: .182/.333/.277, .278 wOBA, 57 batters faced
Player D: .189/.211/.216, .189 wOBA, 38 batters faced
Player E: .228/.276/.326, .264 wOBA, 98 batters faced
Player A? It's Brad Hand, and the numbers we're looking at are how opposing left-handed batters have fared against him so far this year.
Players B through E? Joe Smith, Ryan Tepera, Danny Barnes, and Joe Biagini.
The samples are small, yes, but for me it underlines the fact that it's more important to just have good pitchers. Handedness matters, but no so much that we need to use words like "need" or "badly need" about a problem that doesn't really exist.
---
Hi Stoeten
With Devon Travis out potentially long term, will it take another injury for the blue jays to see what they have in Jason Leblebijian? Tough to watch Barney/Goins every night at 2B.
Thanks!
Joshua
I get where you're coming from on this, because it definitely has been tough to watch those two at the plate lately, but Goins and Barney have been good soldiers for this club. They seem to be well-liked and well-respected. And given that this a club that relies so much on a pair of injury-prone middle infielders, having backups that are as capable with the glove as those two makes a bit of sense.
The way Leblebijian has hit in Buffalo so far this season, he's earned himself a closer look, but I think the Jays will really have to be compelled to ditch one of Goins or Barney in order to bring him here. And "ditching" them is what would be necessary, because Goins is out of options and Barney can refuse the assignment and elect free agency.
Alternatively, they could DFA Chris Coghlan to clear a spot for Leblebijian and I don't think anybody would bat an eye. But Coghlan may well be the player who is due to lose his roster spot once Steve Pearce is ready. And with Pearce due back soon, and capable of playing a little bit of second base in his own right (especially when the Jays' more fly-ball-heavy pitchers are on the mound), I guess my question is, how badly do the Jays even need to force a move here?
Will the difference between Leblebijian and Goins or Barney for a few days be enough to justify losing a key piece of organizational depth just to bring him up? Or to justify shortening their bullpen? Do we believe enough in his defence and that his Triple-A numbers will translate?
I'm sure it's possible that there could come a point where the front office decides the pros outweigh the cons here, but I don't think the case is overwhelming just yet. Even though, like you, I'm curious to see what he might do, too.
---
With Pearce 0 for rehab and Zeke and Coghlan looking less than stellar what can be done with Left Field between now and trade deadline?
Scott
Not to be too glib, but... uh... Steve Pearce can get healthy and fans can start to recognize that Ezequiel Carrera has actually been pretty good?
Shit, he hasn't even just been "pretty good," he's been "good." Maybe even better than good!
Yes, yes, the defensive gaffes are tough to watch sometimes, but Carrera has wiped away all those sins with a legitimately impressive season at the plate so far. Zeke's Thunder has carried him to a .292/.363/.410 slash line, and a 111 wRC+. Part of the reason he's been able to be so good is that John Gibbons has shielded him from left-handed pitching—something that's helped because, despite having a strong reverse split over his three previous seasons, this year, in a tiny sample against lefties, the left-handed hitting Carrera has been abysmal. If Carrera was a true everyday player (like the guys I'm about to compare him to) his numbers almost certainly wouldn't be as good.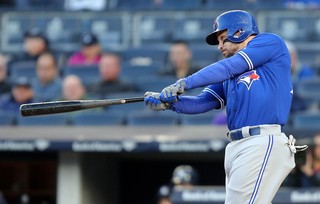 Still, though, Mookie Betts has a 112 wRC+! Same for Josh Reddick. Miguel Cabrera ranks below Carrera at 110. Also behind Carrera: Chris Davis, Michael Brantley, Wil Myers, Jose Bautista, Dustin Pedroia, A.J. Pollock, and nearly 150 hitters with at least 150 plate appearances so far this season!
I can't imagine he'll keep this up for the whole year, and I do think that left field is a place where the Jays should and will look to upgrade, it's just... I don't know that they're going to have all that much incentive to do anything dramatic. To find a player who will give them more than Carerra is giving them right now—and more than what they'll presumably get from a platoon of Carrera and Pearce, once the latter returns (and no, his rehab stats don't matter)—currently looks like it would be an expensive proposition. That could change, of course—Carrera's production could fall off a cliff and Pearce could come back in as much of a funk as he was in April—but it's really not a problem until it's a problem.
---
Hey Stoeten,
Big fan - keep it up. Two questions. First, if Smoak continues to be for real in July/August, do the Jays consider doubling-down and extending him again? How good does he have to be, for how long, before there's an extension conversation? (Not advocating for this, just wondering). Second, what's the deal with the Giants? Do they not mind the stench of human urine?
Cheers,
Tim
Whoa! Holy hell, man! Let's maybe not rush too quickly into hoping the Jays become the team that signs Justin Smoak to his big post-breakout contract... when he's 32... with a track record that will still be overwhelmingly underwhelming. If, one year from today, this question still seems like a reasonable one—and not totally and utterly batshit, like it would have seemed as recently as April—fire up your barbecue, purchase some illegal fireworks, get liquored up and take a load of air horns up to the roof, because it's time for a goddamn celebration! At that point you can maybe start thinking about thinking about extending Smoak. Until then? Just enjoy the bloody ride and hope it doesn't end in carnage.
As for the Giants, to be perfectly honest, I'd have taken a roll of the dice on Sam Dyson, too.