When my grandmother gets sick her cough reverberates throughout her entire body and she can only talk for a finite amount of time before her voice completely disappears. She's fought a long, hard battle with cancer, kicking and screaming the whole way. My grandmother stands taller than everyone else, at around five feet in heels. She's my hero, she's my rock, but she's also human and she's very susceptible to pain. During these bouts she's in a lot of pain, her joints hurt and her chest hurts: this is her reality, being a cancer survivor.
I've been trying to convince her to consider using medical marijuana to help manage her pain. It took me a long time to bring it up to her: she grew up in Colombia in the 1940s saying "never have I ever, and never will I ever" to marijuana. During my most recent visit, I brought up cannabis tea. To my absolute surprise, she said that she'd consider trying it, if I made it. Now that we've reached this stage of kind-of acceptance, more challenges are down the road. What about making sure she feels comfortable with self-titrating, and knowing that she's doing it in a safe way.
Medical marijuana has been legal in Canada since 2001 and seniors using it to help manage their ailments and illnesses isn't a new thing, but there's still a need, and want, for more education to help those who think marijuana use hasn't evolved past Cheech and Chong. Despite our 16 years of medical marijuana legality, seniors are still having trouble accessing and understanding the benefits. Now, with legal weed on the way, apparently we're going to be toking up legally on July 1, 2018, including seniors in the conversation is important. Knowledge will defeat any misconceptions that they hold about marijuana and its uses.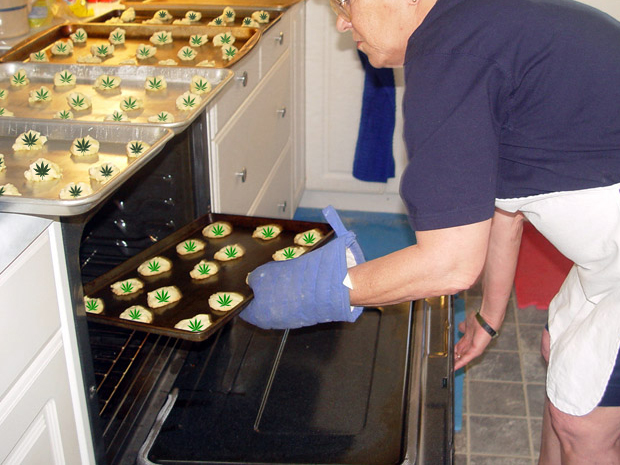 A lot of research on motivation to use marijuana is conducted on teenagers and young adults, points out one study on baby boomers using marijuana. But, according to research from CAMH, the percentage of Ontarians over 50 that used marijuana in the past year quadrupled between 1997 and 2015, but advocates say there's still more that needs doing to involve them in the growing market.
"The thing about seniors is that there's still a lot of barriers to access," Hilary Black, the director of Patient Education and Advocacy for Canopy Growth and founder of BC Compassion Club, told VICE. "Many of them still are very concerned about the stigma and the only way to dissolve that stigma is through education."
Seniors having adequate access to medical marijuana is an issue close to Black's heart, as she says medical marijuana saved her grandmother from a second hip replacement. Black made her grandmother a tincture that worked so well, that she stopped taking heavy painkillers, but her grandmother's doctor threatened to fire her as a patient if she kept using medical marijuana. This was just four years ago, but the lack of knowledge of medical marijuana still persists.
"There's a great knowledge gap for physicians in terms of appropriately authorizing the use of cannabis for a large variety of conditions," said Dr. Alan Bell, a GP in Toronto who has been involved in educating physicians on the uses of medical cannabis for several years. "Physicians who are interested in getting the education can get it."
Bell has developed a program, accredited by the College of Family Physicians Canada, to educate physicians on the proper uses of cannabis for medical purposes. He says that while seniors can benefit tremendously from cannabis, it's important that they're getting it from licensed producers and seeing healthcare professionals who can prescribe the appropriate agent with regards to concentration of CBD and THC.
"The recreational use of cannabis may be perfectly fine for the dispensary world," he said. "But the medical use should be exclusively in the realm of the licensed producers who are producing high grade cannabis products that are quality controlled for the agent that the physician is authorizing."
Among those licensed producers is Lyn Kusher, 66, owner and founder of Ma Kush's Natural in California.
"These people want knowledge, they want education, they want products, but they don't want to take it not knowing where it came from," said Kusher.
Kusher was born with hip dysplasia, but she didn't start having any problems until her 40s. At first she didn't have many issues, but in her 50s it started getting worse. She got her hip replaced a few years ago and, to deal with the pain, she started using a cannabis oil that someone else made from olive oil. She would also smoke a joint, "every now and then."
"[The oil] was really disgusting, but I would just pour it in my hands and massage it into my legs and it worked," she said. "It helped me a lot, in fact, I carried it with me everywhere I went. I even took it on airplanes and stuff."
At this point Kusher came to a profound realization that she could just make the oil herself, from coconut oil. Around the same time, in preparation for the hip surgery, she also bought some edibles.
"When I ate those edibles I got ill, felt nauseous and threw up. It was a horrible experience," she said. "Then I decided I was going to start making my own edibles, to have something that I know what it is, that I know who grew it and I know where it came from."
From there she got certified by the county sheriff and began selling in dispensaries and online. Her niche is the seniors market, what she calls an "untapped and overlooked" market.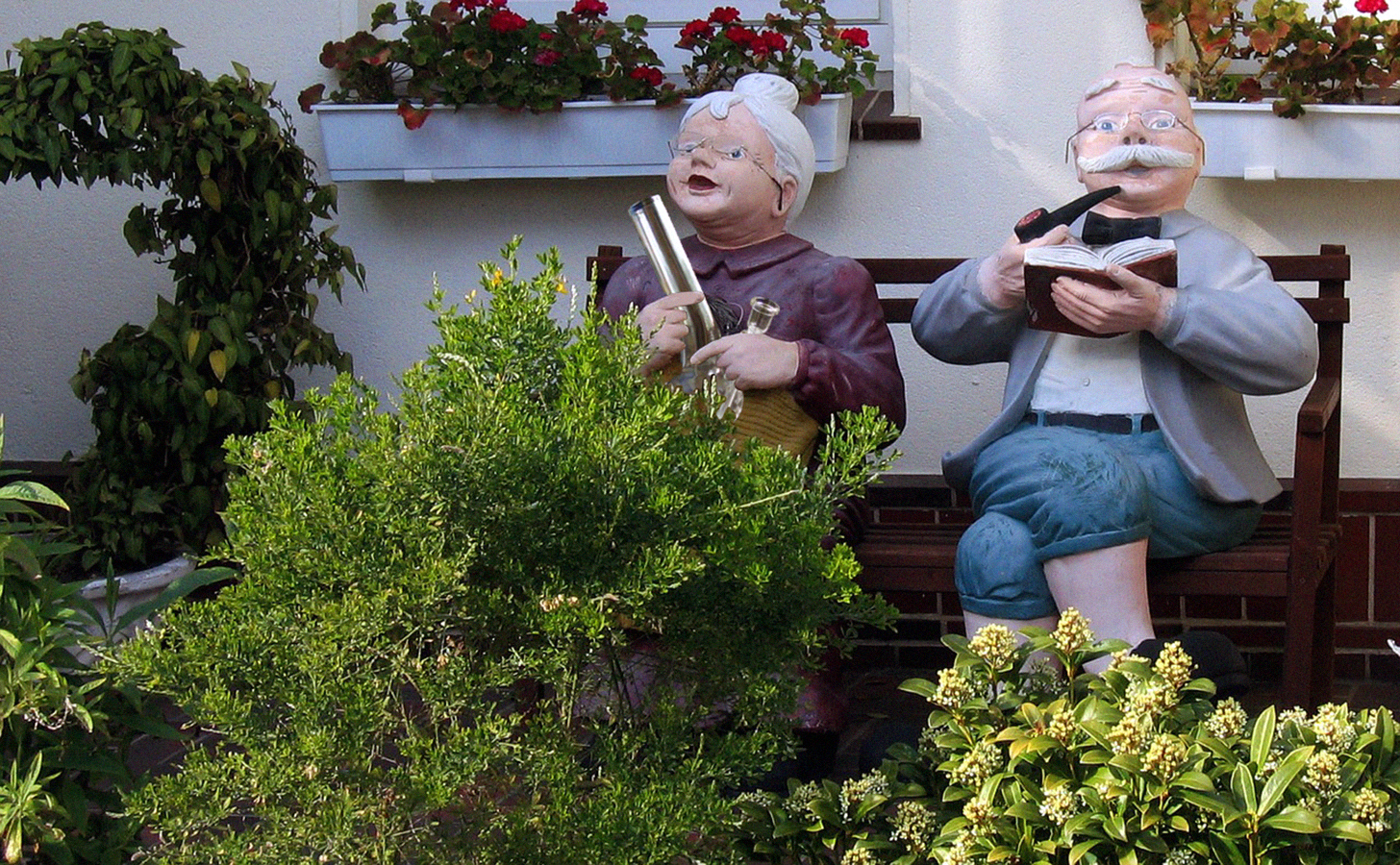 "The crowd that I want to appeal to are in my age group," she said. "I can't tell you how much time I spend on emails right now, trying to explain to people little things that they have fears about because it's that crowd, but that's my crowd. I'm excited to take care of them because you know what I can relate to them. I can tell them a lot of things."
Seniors, and seniors groups, are looking for education on the benefits of medical marijuana, one such group is CARP. The Vancouver chapter has brought in presenters to speak to members about medical marijuana.
"A lot of the people of my generation still picture Cheech and Chong from the late 60s sitting in their barracudas toking up," said Geoff Cowman, 62, acting chair for the Vancouver chapter of CARP. "As an aging population, we're probably not that educated on what marijuana is all about in today's society, beyond what we get from the media, which isn't always accurate, or beyond what we perceive based on own prejudices."
Cowman said that both presentations were extremely well received and two women from the chapter dealing with chronic pain have since gone on to using medical marijuana. But, this type of open arms acceptance isn't always the case.
"Most seniors still view medical marijuana as a recreational drug that a bunch of loser kids smoke to either piss of the law or the parents," he said. "That view is completely inaccurate relative to how it can be used to manage a variety of different afflictions, but the attitude is going to take some time to change."
"It's more about bringing them out of the closet than selling them on all of the benefits."
Before attending the seminars on medical marijuana, Cowman said he wouldn't have even considered medical marijuana as an option.
"It was an eye opener, no question," he said. "Would I consider it as an option? Probably. I've never smoked a day in my life so smoking it would never be an option for me, but there are at least eight other ways to ingest it. To put it this way: I wouldn't rule it out."
This is exactly what Robert Platshorn, 73, Founder of The Silver Tour in Florida, has dedicated his life's work to, teaching seniors the benefits of medical marijuana.
Platshorn spent almost 30 years in prison for smuggling marijuana as a part of the Black Tuna Gang. Not long after he got out, people within his senior community in Florida started asking for help getting marijuana for health purposes. Knowing that he would have gotten in serious trouble had he helped them directly, Platshorn tried a different angle: he worked towards changing the law by educating seniors about medical marijuana through seminars.
"It's more about bringing them out of the closet than selling them on all of the benefits," he said. "Most of them knew something, or at least knew somebody in the family had used it for glaucoma or to overcome the negative effects of chemotherapy, but they wouldn't come out of the closet because of the negative connotations of being cannabis users."
Platshorn only sees one resolution in the marijuana debate: full legalization
"Then a senior can walk in and talk to a budtender, somebody in the dispensary who will steer them in the right direction, answer their questions," he said. "Too many seniors aren't comfortable with the dispensary system that requires a state card."
"I was in pain that was literally killing me and I took one puff from a joint and all those years of pain went away."
Michael Greenblatt, 69, uses medical marijuana to help manage his multiple sclerosis, and he's been doing so since he was 53. Prior to that, he had never smoked marijuana a day in his life.
"I was born in 1948, so, essentially what I was told was between 1950 and 1970 [was] you'll die, that it's the worst drug, and to never use it."
Greenblatt credits his son, who works for Canopy Growth, with putting him on to medical marijuana at first.
"Oh jeez, talk about turning my life around, I was in excruciating pain, my son knows, he listened to me scream in the garage for months. I didn't want to scream in the house," he said. "I was in pain that was literally killing me and I took one puff from a joint and all those years of pain went away."
He doesn't smoke marijuana now, but uses an oil.
"I've had it once today," he said. "I'll have it a couple hours before supper and then when I go to bed I'll have some, it takes care of my nausea all day, my spasms, my pain, generally my appetite stays reasonably normal."
Greenblatt said that legalization makes no difference to him, but he believes it's something society should have access to.

"Do I think it's something society should have? Yes. Do I think there should be some controls on it? Yes I do," he said. "And if I knew what I know now, would I have gone to it sooner? Oh yeah, I would have."
John Lindsay, CARP Sudbury vice chair, didn't start using medical marijuana until a year ago. He was 79.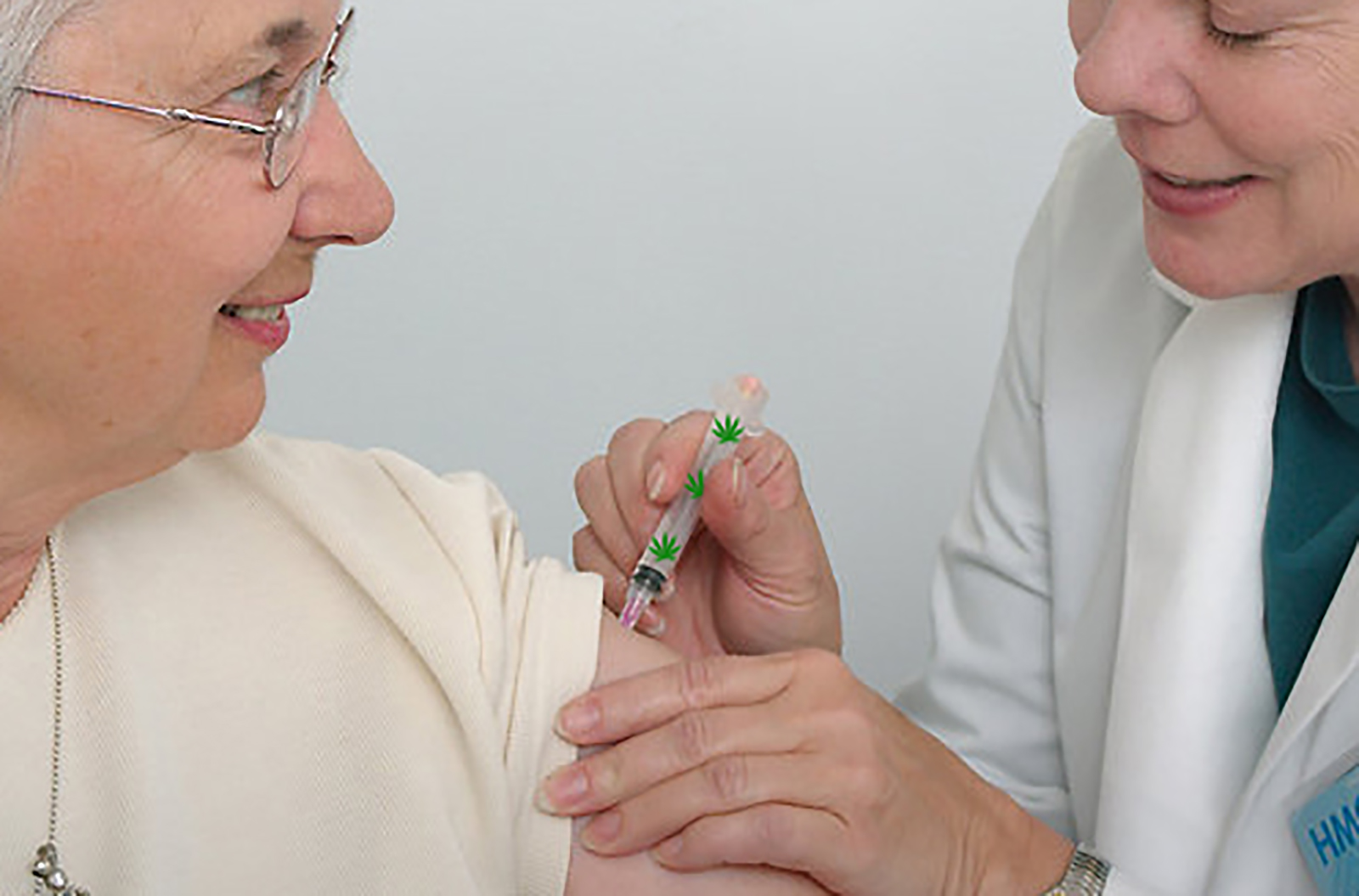 He started because CARP Sudbury was going to have the owner of the local dispensary come in and give a presentation, ahead of time Lindsay and another CARP member decided that they wanted to check out the dispensary beforehand.
"We went to the clinic to see what the experience was," he said. "So that when they came to speak to our group there would be two of us at least who would have had some experience."
Lindsay said that it's helped him out with his arthritis pain and sleep problems.
"I was rather suspicious for a while because of the sleep, I'm taking it, being knocked unconscious and not waking up till morning, which is great because previous to that I'd be up all night," he said. "I was curious. Thinking: am I imagining this, is this a placebo effect?"

A few months ago, on a Sunday afternoon, he decided to take his oil in the afternoon.
"I went about doing my business and then, wow, there's an effect," he said. "I was obviously a little high and I went to listen to my music, that was nice."
Almost everyone I interviewed for this story had a documentary recommendation for my grandmother to watch, or a product for her to try. Members of the senior community are embracing medical marijuana wholeheartedly and want to share what they've learned, they're also hungry for more information. As far as legalization for recreational purposes, not all of them feel so closely tied to the cause because they have what they need, but they're definitely ready to go out and dispel any misconceptions that other seniors have about medical marijuana.
Follow Lisa Cumming on Twitter.