In this series, Khabar Lahariya, the Bundelkhand-based digital media platform and rural women's reporting network, spoke to four "Humans of the Hindu Yuva Vahini" over a period of nine months. Through the year following Yogi Adityanath's elevation to the post of Chief Minister of Uttar Pradesh in March 2017, Khabar Lahariya asked members of his Hindu youth organisation about their motivations and loyalties.
This instalment features Seema Giri, a 25-year-old activist who is determined to carve her own place in the world.
I first met Seema Giri in 2015, at a police station in Banda. I was checking up on records for a rape case I'd been reporting, and she was there to help expedite the filing of a domestic violence case. Soon after that I met her again, in her capacity as a social activist volunteering with Vanangana, a women's rights organisation.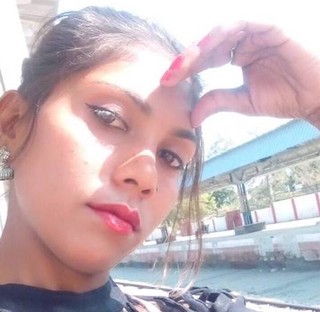 Giri, then in her early 20s, had a natural confidence and the ability to articulate her thoughts in an attention-grabbing style. "Main geedad nahi hoon", she said to me over chai one evening, just as the sun was setting over Banda's stifling air. "I don't scare easy. I can't live my life that way, always scared, always second-guessing myself."
I later learned that Giri had had an early marriage. After years of abuse, she walked out of the sasural. "I had had enough", she told me.
Giri's fierce sense of self made her special to me. It's not every day that I see a reflection of my ambitions and desires in another woman in Bundelkhand—a woman working hard to make something big and meaningful out of her life. I started seeing more of her as she became one of the regular faces on the local nukkad naatak scene, participating in short skits organised by Vanangana to raise awareness of violence against women. These plays centred on the agency of women, and the oppressive nature of the institution of marriage. Whenever our paths crossed, which was often, I'd hear of possible promotions, about of her frustrations at being passed up. She always seemed to be busy, buzzing about.
Then, with the state Legislative Assembly elections around the corner, I heard that Giri had quit volunteering for Vanangana and joined the Hindu Yuva Vahini's little-known and somewhat ad-hoc women's wing, the Matr Shakti. It was early 2017, and despite the winter chill, it seemed all of Bundelkhand—all of Uttar Pradesh—was heating up. There was a lot of disgruntlement about the incumbent Samajwadi Party in the air, and the Bahujan Samaj Party seemed unable to counter the gaining momentum of the BJP's mantra: "Sabka Saath, Sabka Vikas". Every kasbah and gaon I went to on my Chunavi Dangal beat, I sensed these ripples. The women were only talking about voting for the BJP, and I knew the women voted as a collective.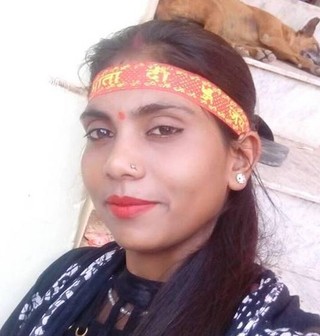 Sure enough, on polling day, I saw hordes of men smoking beedis and shooting the breeze on the "public holiday", while women went to the booths in large groups and small clusters, then carried on to work. A few months later when Giri, now 25, called me to announce that she had been made head of the Matr Shakti, I was curious to hear her account of the elections and her experience in what I thought of as an organisation that promoted machismo and normative gender roles over women's rights.
Giri had also found love—originating, in true Bundeli style, in someone dialling a wrong number.
I rode the bus to Banda to meet her that very evening. I expected Giri the exuberant hustler, but was surprised to find her in a mellow, reflective mood. Evidently she wanted to meet me as a peer, or friend. As dusk fell, it was clear through our conversation that Giri felt she had finally procured a position of importance in her world, where those who had harmed her, bad-mouthed her, told her she was nothing—only a woman, finally respected her for her achievements.

Giri had also found love—originating, in true Bundeli style, in someone dialling a wrong number. She narrated the story to me one evening at the Khabar Lahariya headquarters in Karwi one evening. Is he the lucky guy then, I asked, pointing to the blood-red sindoor look she had going. "Hai! Shaadi!" she shrieked. "I would never want to get married. Ever." She winked at me, explaining, "You lose all your freedom. Why would I ever do it?"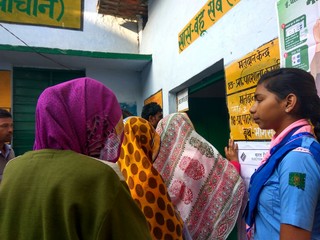 I wondered if this opinion was at odds with her seniors in the Matr Shakti (Giri was the only member in her 20s). "Manju ji, Santosh ji, Saraswati ji, woh sab toh aged hain," she confirmed—the wing is called what it is for a reason. "They encourage the older women to step out of their homes at least," Giri pointed out—"It's a good first step." From what I had observed, the Matr Shakti seems to play a maternal role, ensuring timely meals for the HYV's testosterone-fuelled members, for instance.
"Entry nahi hoti ladkiyon ki," Giri told me—girls are not allowed. It was a safety issue, she said. "If something untoward happens to a young girl, who will take on the responsibility?" There was an exception though, for married women. "Mostly the Hindu Yuva Vahini lets couples in," she said, "they prefer it if a husband and wife both want to join together." Giri, the ekal mahila, the independent woman, found her own solution. "I got both my brothers—one younger and one older—to join the sangathan first."
In the beginning, Giri was welcomed only by the women. But she quickly created a long-lasting impression on her male peers. "Everyone in the sangathan knows me, and I know everyone", she affirmed.
"At every meeting, there are routine checks on how many people in your networks you've sensitised. How many people you've personally made aware of the existence of HYV and its dynamic social work. You have to explain yourself."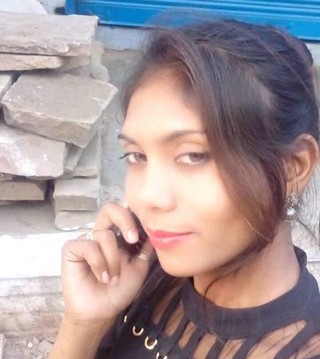 Amazingly quickly, Giri became a self-moulded brand ambassador for the HYV. Every time we met, she never missed an opportunity to praise the organisation. "This is real social work," she'd say. Dissecting the importance of the HYV, Giri told me that the organisation "handles" those "boys who run around here and there"—"woh yahaan sambhal jaate hain."
Giri now felt the sangathan was the best vehicle for addressing unrest, for example land disputes. She also listed blood-donation camps as a significant contribution to society. "All our sangathan brothers are first in line," she told me in an interview late last year in Banda. "They donate blood to Muslims also. Our organisation might have Hindu in its title, but there is only goodwill for our Muslim brethren, amongst us."
I wondered whether Giri would toe the HYV line when it came to an issue closer to her heart. Surprisingly, she did. "If there's a troubled marriage at the heart of the problem, we try and initiate a samjhauta [reconciliation] so that children and family are not disturbed," she said. I bit my tongue, thinking about her own history. " Ghar nahi tootna chahiye aakhir," she said. "Ultimately, a home shouldn't fall apart. We try our best on that front."
What was less surprising was when I came across Giri's smiling face plastered on a wall next to someone who looked like a local spiritual guru. It was a political campaign poster for the civic polls, and Giri was canvassing for something called the Shakti Chetna party. I had never heard of it, and I reckon she hadn't either until she became its candidate. Had the HYV ousted her from its ranks, as had the several heartbroken men we'd spoken to? I called her up at once.
"Arre, how are you?" she greeted me; and giggled at my incredulity about her latest stunt. "I was in the mood to fight elections," she said, "Come meet me sometime?"
When we finally met for some chai par charcha, it was after the civic polls, in December 2017. She hadn't won her fight, she told me, and had also been suspended from the HYV. "Well, at least I tried," she began, still somewhat heady from the campaign trail. "It was kind of like Seema ka prachaar"—good publicity—"wasn't it?" I nodded, thinking she had likely got more from the Shakti Chetna Party than they had from her.
Giri claimed that she left the Hindu Yuva Vahini to fight elections of her own volition. " Jhooth nahi boloongi. Shaam ka time hai," she said. "I won't tell lies after sunset." We both laughed at the typical UP refrain.
She continued. "I know everyone in the sangathan is mad at the high-up officials. They're making their anger against the party also very apparent," she said, alluding to the air of discontent about those people who had prefixed their HYV credentials with an "ex".
"They told me I could come back after the elections were over and join the organisation again."
Giri's view was more practical. "We can't be in such obviously political situations as official members of the Hindu Yuva Vahini now, can we," she said. But what of all the ambition, I asked her. How much of a high can the youth of Banda get from donating blood and settling land disputes?
Giri smiled quietly and, between sips of tea made for us by her mother, revealed a bit more. "See, I was told that if I was keen to fight the elections, then I should resign from the sangathan and contest from whichever party I felt most inclined towards," she said. "They told me I could come back after the elections were over and join the organisation again." She seemed unsure, however; her words were more hopeful than certain. She also expressed an interest in becoming a journalist, and I offered to support her.
As 2017 drew to a close, I tried to find out if Giri had been accepted back into the HYV fold. She had stopped picking up her phone, and seemed to have dropped off the face of the earth.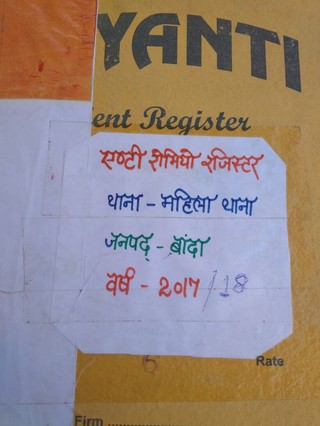 Giri resurfaced in February 2018 with a new number and a message on Whatsapp, "Didi, I'm back" sealed with a kiss emoji. I was planning a news report around Valentine's Day in Banda, and wanted to find out if young men and women were feeling threatened by the messages from various organisations to act like better Hindus on February 14. Who better to interview than Giri, who had once loudly critiqued the Hindu Yuva Vahini's infamous Anti-Romeo squads in my office. "How do the police know it's a Romeo on the prowl, I'd like to know," she had proclaimed.
But there she was at the bus-stop in Karwi, a woman of a different day and era. Now back in the sangathan, Giri looked as determined as ever and charged to be at the head of the table.
"Valentine's Day is just an excuse for boys to try and get it on with girls," she spat out with more conviction than I could believe. Then she turned to me and, almost as if sharing a secret, said, "But we should know better, right? Chaar din ki chaandi, phir andheri raat"—it's four days of bliss and then you're left in the dark. "Better to pull ahead of them while we can."
Read the rest of the series here.
Follow Khabar Lahariya on Twitter .