This 17-Year-Old's Kimbho App Is Doing Better Than Baba Ramdev's
And it's not even a messenger.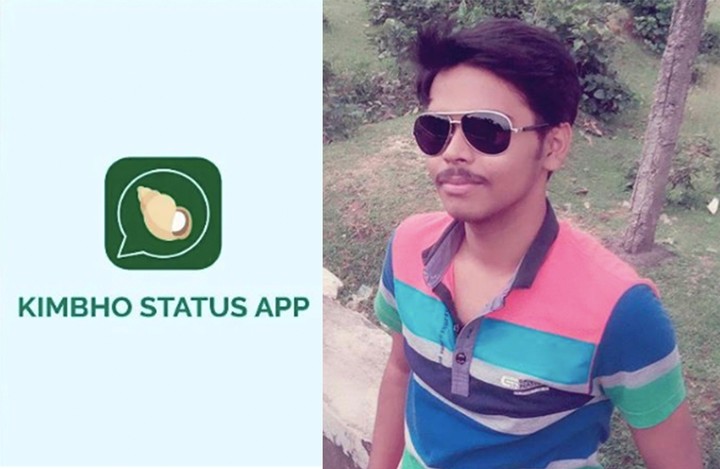 Image: Kimbho Status App and Rajnish Kumar.
Baba Ramdev's Kimbho, a "swadeshi messaging platform" which has been described as a rebranded American chat messenger dropped today. The app aims to take on WhatsApp, which has over a billion downloads on the Google Play Store and has become an important tool in winning elections in the country. Kimbho, meaning, "How are you? What's new?" in Sanskrit, turned out to be rife with security loopholes and was taken down hours later.
However a quick search for Kimbho on the Google Play Store reveals a crapload of clones. VICE spoke to 17-year-old Rajnish Kumar, developer of Khimbo Status App (called Khimbo App), the most popular of all of them as of now. The app is a basic status app (that's a thing) that lets you pick a status from its menu and then pastes it across your social media. He spoke to us over the phone from Deoghar, Jharkhand.
VICE: How did get the idea?
Rajnish Kumar: I was just going through an article that Ramdev baba has launched a new app called Kimbho. Uske baad, I thought that there are many apps for WhatsApp statuses, so why not make a status app for Kimbho.
How much time did it take?
I saw it trending around 9 AM in the morning. I started making the application at 10:30 AM and it was uploaded to the Play Store around 12:30 PM.
How did you get it out so fast?
I made the application on a platform called Thunkable. I made the app directly from there. I then linked it to my website hosted on Blogger.
What has the response been?
The Kimbho app is the first time I'm getting serious traffic. The app had over 50,000 views in an hour. I had placed banner ads too before launching.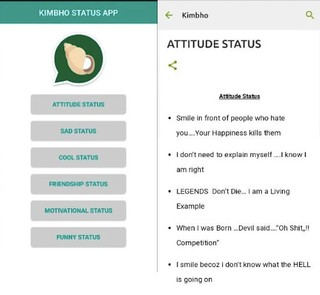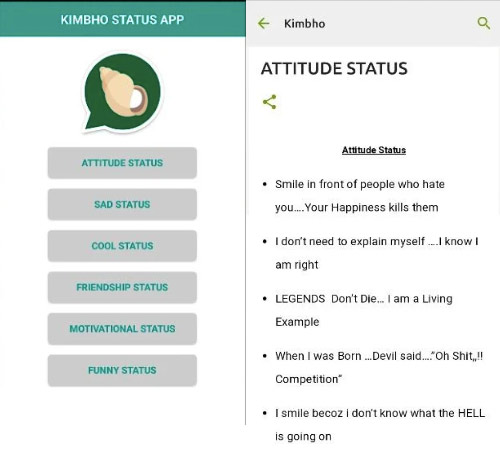 Why did you use the same name and logo as Ramdev?
Because it was getting popular and appearing on search lists. I will change it now.
Have you faced any legal issues?
If Kimbho has an issue with the app I'll change the name, no problem. Aisa koi issue nahi hai.
Other than making apps, is there anything else you do?
I'm in 12th grade studying Science. I have a YouTube channel and but haven't enrolled in their ad program so don't make a lot of money.
Sometimes, after exams, I like to paint. I use pencil colours, sketch colours, watercolors.
Have you always been interested in tech?
I have been into it since class 10th. When I start researching a subject, I keep doing it only. Internet mein bahut zyada interest hai. [I'm super interested in the internet.]
What are your plans for the app in the future?
Haven't thought much. I just think about making apps of things that are trending. I'll do my graduation and then think.
Why the obsession with trending?
Khushi bahut milega. Thoda si iccha hai. [It'll bring happiness. It's a little obsession.] I want people to know me, know what talents I have.
Which is your favorite status from your Kimbho app?
[Laughs] Attitude waala [see screenshot above].