Lucky Saxena wants to marry his partner someday. Image: Lucky Saxena
Lucky Saxena, a 23-year old from Noida, Uttar Pradesh began working for BJP politician Vimla Batham—a former MLA—a few years ago. On 29 May, he uploaded a complaint to the centralised public grievance portal (CPGRAMS), becoming the second gay man to do so this week.
Saxena identifies as a homosexual and, he told me over the phone, is in a relationship with a Muslim man. On the prime minister's complaint portal, he introduced himself:
"Gay by orientation, and I would like to humbly request you please legalize LGBTQ in India and also remove the section 377 bcuz I'm facing lots of problems in India, I have my partner and his religion by Muslim my mom dad did not accept him, please legalize so that parents accept me and him."
Saxena told me he stopped working at the BJP office in Noida after six months because he wanted "to work for some NGO that works for LGBTQ people." I asked how much he'd known about his party's stance on India's queer community. "At that time I had no knowledge about that. It is only recently that I've come to know that they are against," he said.
Earlier, in late 2013, Saxena was involved in a campaign where he claims he helped collect 10,000 mobile numbers for BJP's Apnaahangout. People send missed calls to a number and are called back to work for the party.
Saxena, who is pursuing an distance-course MBA from Manipal University, is out only to his sister. His partner's parents "are forcing him to get married. He can't come out to his parents." While the two dream about getting married someday, "we can't get married legally here," Saxena pointed out.
He hopes that since Prime Minister Modi "keeps visiting so many countries—US, Singapore—he must have gained some knowledge about [LGBTQ rights]. He is the PM, he would know what different countries are doing," Saxena said. "Australia also legalised the same-sex marriage recently. Itna toh pata rehta hoga PM ko."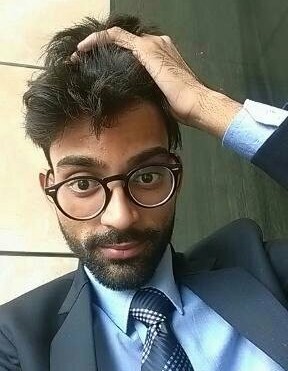 Follow Maroosha Muzaffar on Twitter .