"It's an Insult": Senator Scott Brown is Appointed American Ambassador to NZ
The Trump administration is reportedly vetting its new man for ambassador to New Zealand—and perhaps unsurprisingly, he's been a controversial choice. Scott Brown, the Boston Globe reports, is under consideration for the top job in New Zealand and has told associates he will get the nod for the position. Brown is an ex-US Senator, who once posed nude for a photo-shoot and was named Cosmopolitan America's Sexiest Man in 1982. More ominously, he's spoken in support of torture of detainees, including "enhanced interrogation" techniques like waterboarding, and faces sexual harassment allegations from former Fox News contributor Andrea Tantaros. Speaking to the Sunday Star Times, former US intelligence advisor Paul Buchanan called Brown's appointment an "insult".

"It just shows you what importance we have to the Trump Administration."
Drunken Dan Apologises, But Can Expect Conversations Over Sponsorship
Adidas have confirmed that they're yet to speak to former All Black Dan Carter after he was charged with drink driving in Paris late last week. Carter is currently back in New Zealand but is expected to face a court date after reportedly being busted by French police for driving over the limit. Adidas global marketing manager Adam Daysh told Stuff that the company hopes to "catch up with him at some stage", but "haven't had an opportunity to speak directly to him" as yet.
Just last year, Carter signed a new three-year sponsorship deal with the label, which coincided with a lucrative contract he took with French rugby club Racing 92. He's since publicly apologised for the incident saying he has to let the process run its course and face the consequences. "I am sure a lot of you have seen the headlines. No excuses - I made a massive error of judgment and have let down my club, my fans and most importantly my family," he said on Facebook. "I am just glad no one was harmed."
Survey Shows Majority of New Zealanders Pro-choice
A new survey by pro-choice group Abortion Law Reform Aotearoa New Zealand asked 1000 New Zealanders whether abortion should be legal in a range of circumstances – from medical emergency threatening the mother's life, to a desire not to have children.
More than half the respondents said they thought abortion should be legal in all the listed circumstances. The poll also indicated most people don't know how common abortion is - with only 14% of adults correctly estimating that around one in four women have had an abortion. Abortion in New Zealand is still covered by the Crimes Act, and requires two doctors to agree that continuing the pregnancy would result in serious danger to the woman's mental or physical health.
Pads and Tampons Could Be Government Funded
Pharmac is currently considering whether to help cut the cost of tampons and pads for New Zealand women. The government funding agency, which subsidises healthcare and medications, told RNZ it was considering an application to assist with the cost of sanitary items. The move comes after reports last year that some women were unable to afford sanitary products, and were forced to use rags or newspapers instead.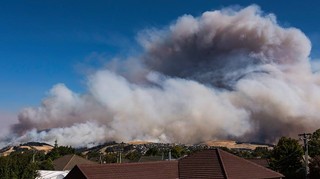 Christchurch Residents Still Can't Get Home to the Razed Port Hills Because of Rockfall Danger
People forced to flee their homes when wildfires ripped through the Port Hills last week face a new danger—the possibility of boulders falling down the fire ravaged slopes and onto houses. Geotechnical engineers have been dispatched to assess the risk of areas where vegetation has been burnt off, leaving boulders perilously exposed.
Meanwhile, with the temperature in Christchurch predicted to head toward 30 degrees over the next two days, firefighters are still working to keep the fire contained. The fire may look under control on the surface, but areas underground where the root systems continue to burn present a high danger of flare ups. Firefighter Alan Beck told Stuff he and his colleagues may have to miss today's funeral of helicopter pilot Steve Askin who died last Tuesday fighting the blaze. "We'll try to get to it, but we know his family will understand if we're needed on the job."
Hunt For The Wilderpeople Cleans Up at the NZ Film Awards
No surprises here. Hunt For The Wilderpeople, Taika Waititi's heartwarming dramedy, took out seven awards at the Rialto Channel NZ Film Awards over the weekend, including Best Film, Best Director and Best Screenplay. The film, which is an adaptation of Barry Crump's novel Wild Pork and Watercress, also saw Sam Neill finally take home his first ever Moa (for Best Supporting Actor), while the Michael Fassbender-starring western Slow West ended up with four awards of its own including Best Cinematography and Best Production Design. Danny Boyle, the director behind Slumdog Millionaire and the just-released T2: Trainspotting was also on hand as a special guest presenter on the night. Here's the full list of winners.