Sidonie-Gabrielle Colette, known mostly as just "Colette," had one of the most profoundly impactful literary careers of any woman in French history, winning nominations at the prestigious Prix Goncourt and a Nobel Prize in Literature, despite having her byline stolen by her husband in the early years of her career. She was also a formidable public figure, exerting immense cultural influence by refusing to adhere to the social norms of the time. It's about time we had a movie about her life.
Colette's story began long ago, during the Belle Époque—the Parisian literary and artistic renaissance, full of opportunity and demand for creative expression. That is, if you were a man. She was born in 1873, and lived in Burgundy before marrying Henry Gauthier-Villars, or "Willy," an enterprising author and publisher who began publishing her Claudine novels under his own name. These novels were inspired by Colette's childhood in the countryside, and sparked a readership of young women in particular—the kind of audience that the literary establishment of the time could have never anticipated.
The Claudine novels were written in diary style—one of the first works of literary fiction to focus on the coming of age of a teenage girl from her own perspective—and traced Claudine's childhood, education, and move to Paris. They were seen as somewhat subversive for their exploration of love and lust, airing same-sex eroticism in an era when women were supposed to be chaste. As the Claudine novels became international best-sellers, Willy coerced Colette in increasingly horrible ways, like locking her in a room until she had produced updates on the next novel in the series.
In the film Colette, Keira Knightley portrays the burgeoning author as she struggles to break free of her husband's manipulation, and ultimately claim her byline on the Claudine novels. Unable to unshackle her writing from her husband's influence, she pursues a career in a music hall and begins to make her own money, a story which she recounts in The Vagabond. During this time, she also begins to date Mathilde de Morny, the Sixth Marquise de Belbeuf, known by her nickname "Missy." (The film portrays "Missy" as a transgender man—academic scholars debate whether Missy identified as transgender).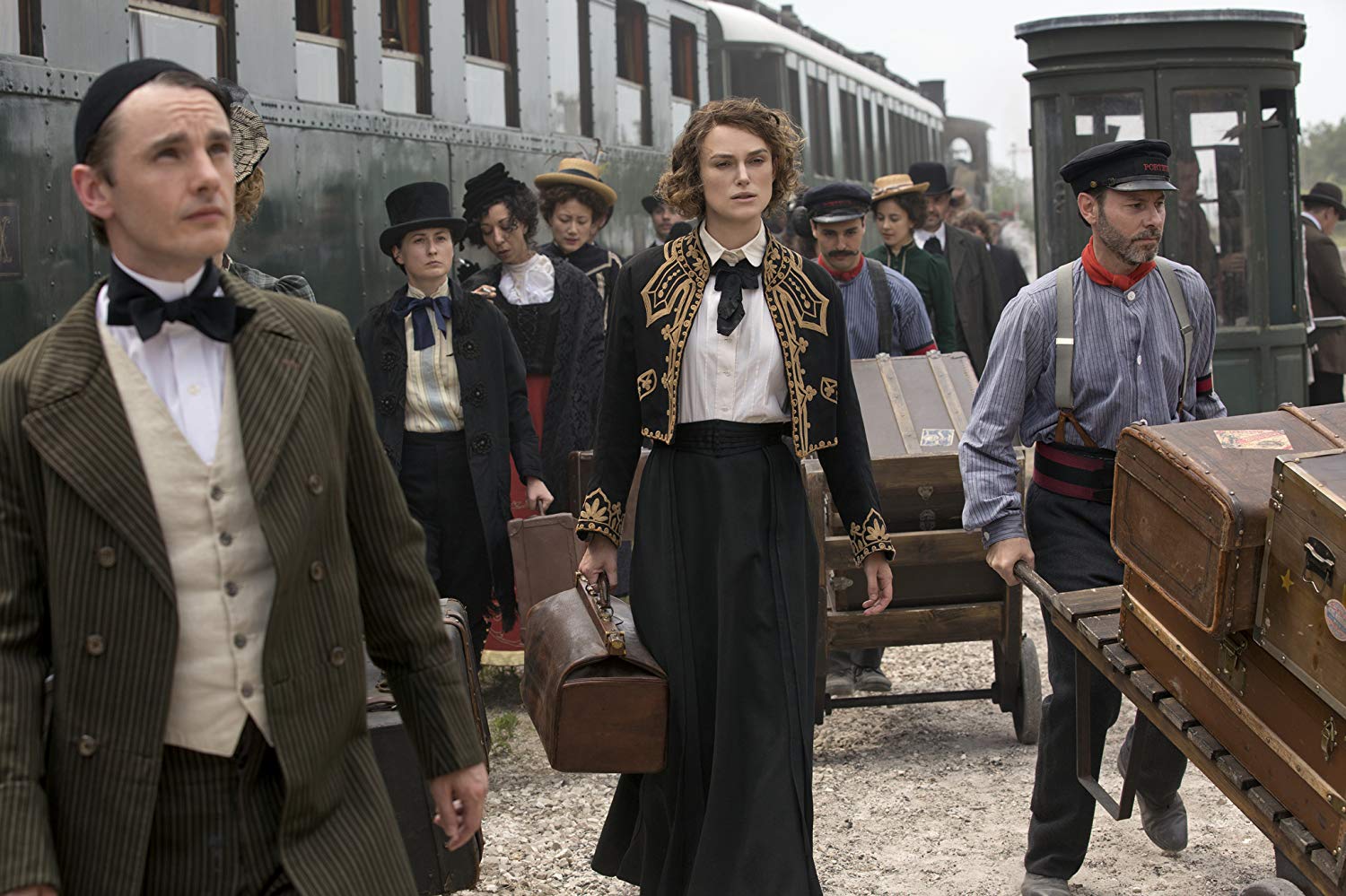 To read Colette's literature is to be spellbound by its emotional nakedness and authenticity. In The Vagabond, Colette explores her own desires for independence and love in equal parts, and the ways in which she is forced to negotiate the tradeoff between the two due to a social climate that only lets women pick one. She wrote, "I have found my voice again and the art of using it." It is both a feminist statement, one that predates any kind of feminist movement, and a larger meditation on the power of writing.
It makes sense, then, that so much of the film is an explicit homage to the pain and jubilance of the writing process. Colette displays writing as both exhilarating and deeply depressing—a herculean emotional task, where life is given additional meaning in retrospect as Colette hashes over how to commit it to the page. The movie is filled with the persistent imagery of a quill daubed repeatedly in ink. Composition books are filled with scrawls, sentences and pages are dashed off with incredible speed, and then chopped up with unforgiving edits.
These chapbooks are characters in their own right, tossed casually into a desk where they're painstakingly saved and revisited in times of turmoil. They're a metaphor for Colette and Willy's relationship, which finally breaks when Willy asks his assistant to let the copies burn. They are quite literally Colette's life, as so much of her writing was semi-autobiographical. The chapbooks are also the site of one of the film's largest turning points—the moment when Sidonie-Gabrielle Colette finally becomes, simply, "Colette," shown in close up with the decisive strike of her own editorial quill. It is the moment Colette begins to own her desires and her identity.
In Colette, female queerness is finally rendered like a celebration. So often queer relationships are framed as a tragedy, like in Carol or Blue is the Warmest Color, on the rare occasions we get to see lesbian relationships on screen at all. Even big budget romantic comedies that make great strides in mainstreaming queerness, like Love Simon, don't quite get at the exhilaration of fully possessing your sexuality—not simply coyly testing the waters or facing the emotional turmoil of coming out, but actively understanding the power of same-sex seduction and flirtation.
---
---
As Colette grows into her confidence, she plays with the way she dresses, dabbling in masculinity and androgyny, punctuating outfits with wicker hats, wearing wide culottes that mimic the appearance of a skirt while revealing themselves to be pants. When she finally emerges in a full suit it's breathtaking. It's easy to wonder how many women will watch Colette and find something they had long ago assumed could not be part of their identity, simply because the film doesn't presume female intimacy to be purely platonic. And this may still seem transgressive. It is a great irony that we had to wait till 2018 for a film that took its source material from the 1800s. So hellbent is the modern American film industry on erasing the narratives of people who do not fit the mold.

Keira Knightley has become famous for her period piece dramas (Pride and Prejudice, Atonement, Anna Karenina, even Pirates of the Caribbean) but this is a wholly different role for her. This is the Knightley we deserve—iconoclastic, the type of figure who can transfix an entire generation of fin de siècle Parisian women into getting the same haircut, the type of figure who can readily portray the one woman who so prolifically captured the city of lights in her beatific scrawl.
Director Wash Westmoreland already anticipates the comparisons to Big Eyes, a film that is also about a man claiming credit for a woman's work. Frankly, it's about time we had more of these films. Colette is still so extremely relevant as women's work is undervalued and shamelessly co-opted by the men who push women into ancillary roles while vampirically sucking away the emotional labor we have been socialized into thinking we need to offer.
It is the "hand that holds the pen that writes history," the movie repeats like a refrain, and in Colette's hand, we have someone writing history that has existed so long on the margins, someone who can finally make these stories known and who is so meaningful precisely because, thanks to women like her, others get to have a pen of their own. It is time for women to hold the pens that write history. Thank goodness that story has finally been brought to screen.
Follow Nicole Clark on Twitter.

This article originally appeared on VICE US.