Chlöe Swarbrick began her political day with coffee, surrounded by constituents, in a café in a light industrial area of her Maungakiekie electorate. She wore a badge of Captain Planet's face on the lapel of her blue blazer, as half a dozen adults, and two children, sat over enormous flat whites and cheese scones and shot questions in Swarbrick's direction. The discussion traversed Swarbrick's areas of expertise and interest—the TPPA, New Zealand's lack of a written constitution, ACT leader David Seymour—as she alternated between resting her chin on her hands and coughing into the crook of her elbow.

Two months ago, 23-year-old Swarbrick's parliamentary career looked assured. She was number eight on the Green's list and the party was polling at about 13 percent, a percentage that would have seen them increase the 14 MPs they gained in the 2014 election. Then began the fallout from former co-leader Metiria Turei's decision to disclose that she had committed benefit fraud in the 1990s—which, in turn, led to revelation she had also committed voter fraud. Coupled with an ascendant Labour under Jacinda Ardern and disunity in the party, the Greens began to haemorrhage support.
Now the party faces an existential threat: its unbroken 18-year parliamentary spell is in jeopardy, with the latest poll putting the party at just under the five percent threshold for returning to Parliament. If these numbers held until the election, it would be a disaster for the Greens, obviously, but also for the Left as a whole, with those votes wasted, and evaporating into the MMP ether.
Swarbrick acknowledged the precarious position of her party, very much laying the blame for it—as did every other Green MP I spoke to that day—on the rise of Ardern, rather than the effect of Turei's disclosure. Swarbrick remains optimistic about her party's chances, and unbowed about why the Greens need to be not just in Parliament, but central to the next government—just as, she says, some of the party's ideas certainly will be. "We've been campaigning on the same issues we've been campaigning on in this election for decades and we've opened a window to political discourse in this country that has meant that you've now got a National committing to taking 100,000 kids out of poverty You've got Labour talking about climate change as the nuclear-free moment of this generation."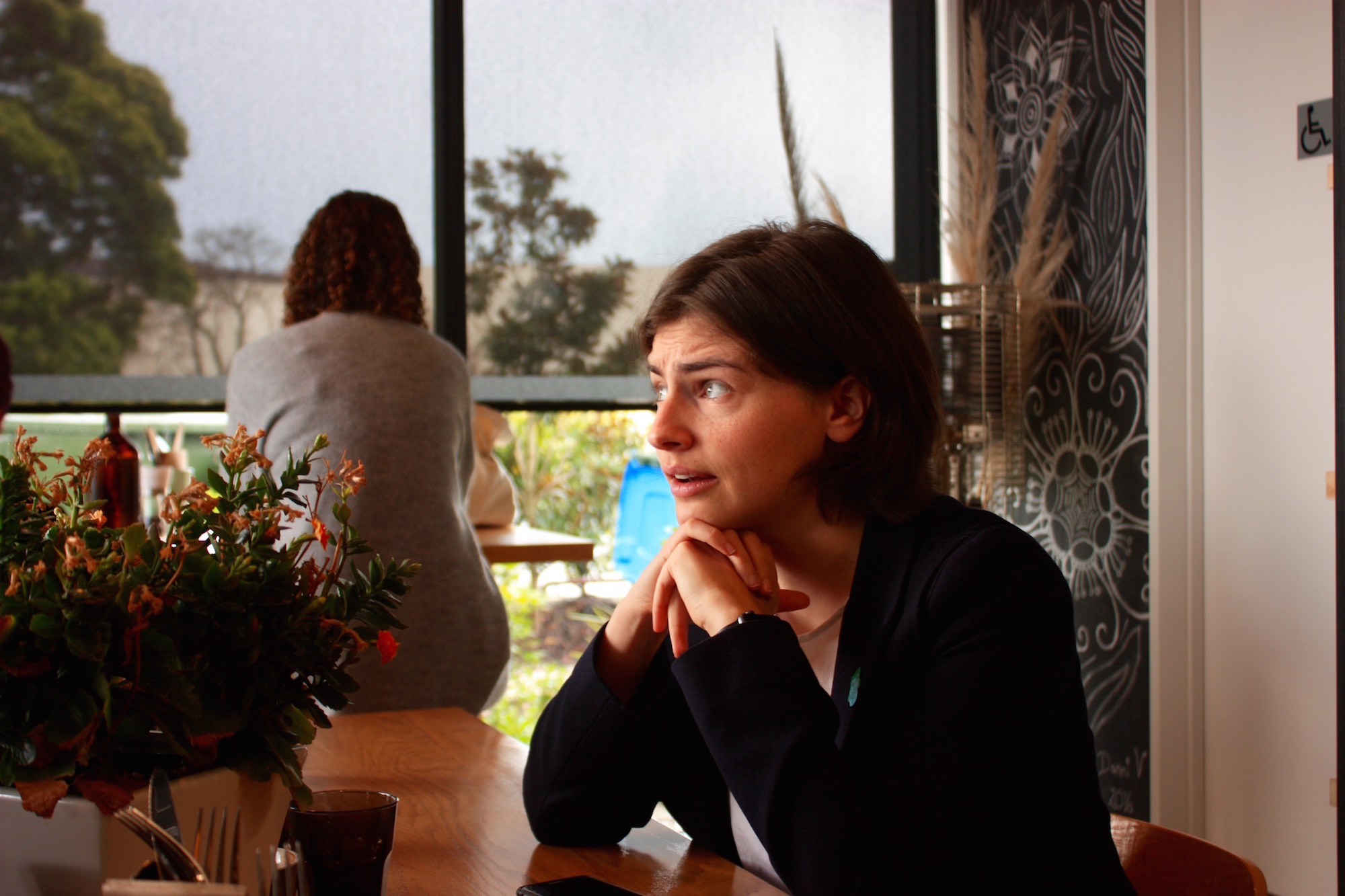 It was an auspicious day for the Greens to launch their own climate change policy: the BBC World Service, as I followed Swarbrick across the city, was overflowing with news of Hurricane Irma, even as the damage from Hurricane Harvey was still being tallied. Auckland was being hit by a minor imitation, fast-moving cowls of cloud periodically and furiously dousing the city in rain. I was reminded of the apocalyptic atmosphere of Martin Amis' London Fields: "It was hard to believe that the weather had until quite recently been a synonym for small talk. Because nowadays the weather was big talk. The weather made headlines all over the world. Every day."
The weather was big talk at the Green announcement, too. Queen Street's Unity Hall was packed, party faithful flowing out the door, as a procession of climate experts and Green Party members—including patron saint of the party, Jeannette Fitzsimmons—spoke of the threat posed by climate change and the lack of action taken by successive governments
James Shaw's speech, when he arrived on stage to much applause, was heavy on oratory, as he told the crowd that we now inhabited not just a world suffering the effects of climate change, but a climate changed world. He committed his party to, among other things, a carbon-free New Zealand by 2050, planting 1.2 billion trees, and a tax on pollution that would fund an annual dividend to all New Zealanders over 18. He positioned his party's climate change plan in a grand litany of New Zealand opposition to historical wrongs: Parihaka, the disenfranchisement of women, apartheid. "Today," he said, "we need to honour that legacy and live that tradition."
"We will not give up. We will not give in," Shaw said, as he wound up his speech, the apocalyptic tone appropriate not only to the threat of climate change, but also to the plight of a Green Party facing expulsion from Parliament. "We will not give way, because the hour is too late, the threats are multiplying. The storm is rising, and the Green Party is the only party that is willing to meet it."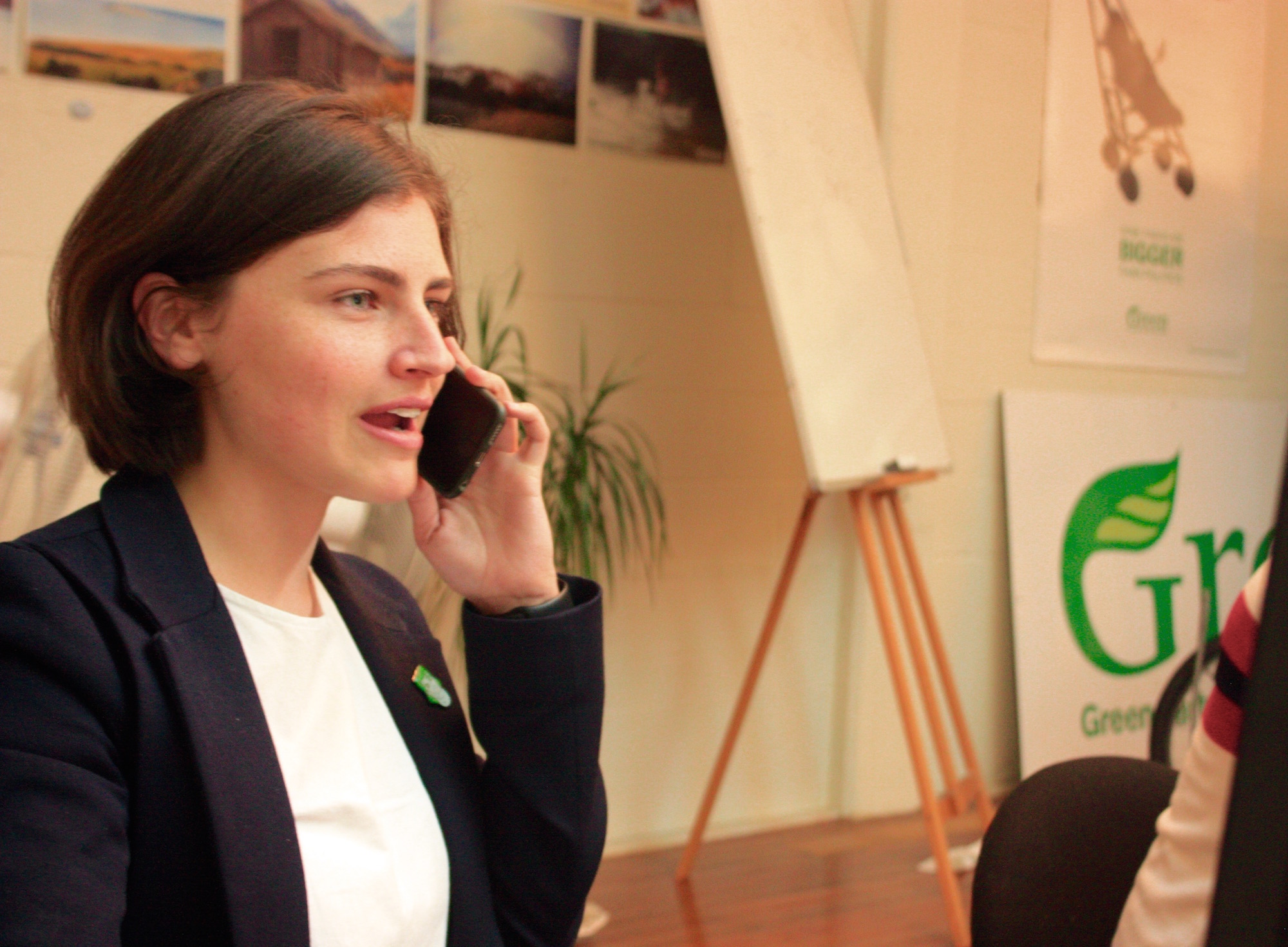 I met Swarbrick after the speech, as the hall emptied and people stood around in loose huddles drinking tea and eating biscuits. We walked up through Albert Park, clouds swirling and rain spitting, to K Rd and then to the Green Party office on Mercury Lane. A flat-deck ute emblazoned with Green Party regalia was parked outside, while inside half a dozen volunteers worked the phones, and Marama Davidson—now wearing a hoody—worked at a desk as Stevie Wonder and Beyoncé played over the stereo.
I asked Davidson how the party was responding to the pressure. "We're at a real breaking point. We need to claw every single vote back. Every single vote is powerful, and we're doing our best to remind voters that if they want real action on ending poverty, real action on cleaning up rivers, and real action on climate change, a party vote Green is how to ensure that a progressive Labour government will do that."
On the other side of the divider that separated parliamentary from party staff, Swarbrick talked about the Turei saga and that huge drop in the polls, as we sat under exposed beams covered in fairy lights. "On that TV," she said, pointing at the wall opposite, "we watched Metiria resign, and then the poll result came out. There were really no words. I just had to say, 'To be totally upfront this sucks, and it sucks the way Metiria was treated but the campaign is bigger than any one person and Metiria was the first person to tell me that.'"
She said that any nervousness in the Greens camp was tempered with belief, and with desperation to get across that five-percent line. "It's been galvanising, it's been unifying, and it's meant that we've doubled down like nothing I've ever seen… people are concerned about that potential negative outcome, but that only pushes them to work harder."
That day's announcement felt very much like a return to core Green values, and Shaw's oratorical flourishes a play for all-important media coverage, the talking point that'd guarantee coverage on the evening's 6PM news. It's a symptom of the election cycle Swarbrick takes issue with: "Politicians have to speak in sound bites in order to get cut-through and they have to say the same thing [over and over] in order to get cut-through—it's just this self-fulfilling cycle which I think is unhealthy and it disengages people from politics and it's boring and unproductive."
In an election that feels increasingly presidential, with the two major parties soaking up political oxygen and leaving little for the minor parties, it is the only legitimate strategy, harmful, perhaps, to the political culture in the long term, but necessary in the short—something like how our increasing resistance to antibiotics will, in the end, kill us all.
That daily scramble for 6 o'clock news coverage, Swarbrick says, is not "conducive to a flourishing democracy". Much better, she says, to get people excited about politics and talking to other people about the process. "I think that's how the little guys win. It has to be through idealism. It has to be through not losing hope, because if we give that up we may as well go home."
Swarbrick climbed to number seven on the Green list following Turei's resignation as leader, which means—essentially—that if the party makes it over the five percent threshold and into Parliament, Swarbrick will be there too. But if not? "I'm 23. Life goes on."
Follow James on Twitter.