All photos by Chloe Orefice
This Saturday will see the nationwide celebration of UK Pride, but in amongst the floats, glitter cannons and general decimation of Soho, this year's events have even more meaning to them: 2017 marks the 50th anniversary of the Sexual Offences Act 1967, the legal decriminalisation of homosexual acts between men over 21. While there was a long way to go from this legislation to equal LGBT rights (a journey that is far from complete), the 1967 Act marked an undeniable progression towards freedom for many people.
But what was life like before the Act, and how did the effect of the legislation slowly change life for British LGBTQ people? How did it affect openness, and personal expression, and society's attitude towards LGBTQ people? To find out from those who lived first-hand through the decriminalisation, we spoke to older members of the community about identity, Pride and the 50th anniversary of one of the most landmark laws in queer history.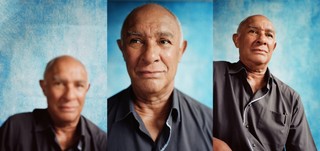 Edward Jacobs
VICE: Tell us about yourself
Edward Jacobs: Well, I'll start right at the beginning. I was born in South Africa. I lived there for over 50 years but most of that early part of my life was a double life: a closeted gay professional by day and then a compulsive, promiscuous hedonist by night. This kind of resistance went on for years, as I didn't really know any other way. Until about three years ago, I came across Opening Doors London who introduced me to their various activities – which coincides a time of my life when great change was happening anyway – but it certainly assisted greatly in exploring ways of dealing and associating and understanding other gay men in a social sense. Whereas previously I'd only ever viewed men through a lens of sexual availability, desirability and no real interest in the rest of their being.
How do you feel knowing it's the 50th anniversary of the decriminalisation?
Well at first, of course, I didn't feel very personally affected by [the anniversary of the decriminalisation] as I had always lived under the radar so to speak. I have ever since have had a new approach to viewing life and I realised I feel very happy being implicated as it's such a liberating experience for all kinds of people who have been oppressed, lost their jobs, their families and sometimes even children because of the law – so I'm very pleased about it.
I look forward to the rest of my life. The beauty of it all is that I don't have any fixed plans. I'm drifting purposely which is to do with the stream. The stream will flow wherever it will but I just know I'm in the right stream.
Are you going to Pride?
I definitely am. I went last year – for the first time, to my shame – and I had a really wonderful time, so I'm looking forward to this year. I remember I wasn't involved, but I remember the first Pride marches – which were really protest marches – and this has now turned into a festival, a carnival, a celebration of who people are including myself. It's so wide-ranging, I used to be concerned about myself as a gay man and didn't think of the other categories that don't fit the norm, I mean what is the norm now. But I'm glad it fits into the wider social idea not just sexuality.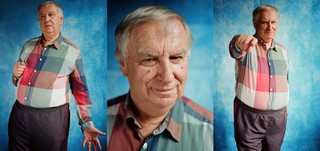 Jeremy Hart
Tell us about yourself
I came back to London from North Wales about four-and-half years ago with my civil partner. I lived in the Victoria area and I lived with my partner for two years of that. We'd been together for six years in Wales and unfortunately – or fortunately – a new man came who lived on the fifth floor. My partner fell in love with him and eventually he moved in with him, where he is now, so the choice was, either I stay in and watch TV or find organisations like this: Opening Doors.
What's been a milestone for you in the last 50 years?
It's been a gradual process as it was a really stressful time. I was arrested once and lost two jobs and nearly a third by people's attitude. There weren't places to meet other gay people [and] you had to look over your shoulder. I wouldn't say [there's been a] particular milestone as we still face discrimination – even in the '80s there were still remarks – but I think it was gradual. More acceptance and more openness. But you feel the atmosphere is getting more open and Pride is building up, especially organisations such as churches.
There was a film some years ago, it was called Brokeback Mountain. I didn't like it but it wasn't a typical gay film, really it certainly wasn't stereotypes. Very popular and tragically one of the actors died – so I mean that film. There was a play that has resurfaced called Boys in the Band, it was about intolerance to the gay community and friction within the gay community because I think relationships are tougher as they're under pressure. Things like that are milestones.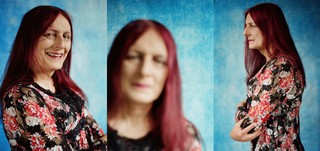 Ola Satchell
Tell us about yourself
I was working as a nurse in a drug and alcohol program and whilst I was there I transitioned, after being there for nine years I suddenly discovered I wasn't wanted. So basically I got forced out and there I was looking for a new job, I ended up working for a small LGBT charity and one of the remits for the charity was helping to support older LGBT people so that's how I got involved in Opening Doors.
How do you feel knowing it's the 50th anniversary of the decriminalisation?
It's been a couple of oddities: I think the big change has been that when I was three there no role models growing up. I mean there was no internet when I was three. I grew up not knowing other people like me and I suppose that's the biggest change – things are much more open and talked about, you've got a lot of role models, got services that now exist that never existed before. So in a sense there's not really one milestone, there's been a gradual change in attitude but it's only recently you realise how great that change has been. I mean I remember the days if I went outside walking like this I could get arrested for soliciting, I could get breached for attacking a police officer, they wouldn't get done for assault, I'd get done for breaching the police or that I was inciting them to attack me. You've got the Gender Recognition Act of 2004, which was probably one of the biggest things, as suddenly you could rid of the ties, you don't have anything that could link you to that anymore. You know people don't have to know about your background.
It'd be great if Pride was just an excuse for a good knees up – I mean it is, but there's still an element about Pride that's about affirming. I wish Pride was about having fun rather than reminding people about acceptance.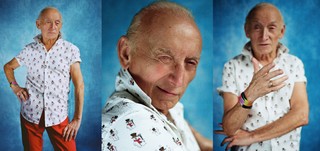 Claude Lucbernet-Sivewright
What's been a personal milestone for you in the last 50 years?
What is important is fairly new – it's the civil partnership and gay marriage. I was married to a man: we married, he died in 2010, but before that we lived together for 38 years "in sin" as it was called. None of our friends considered it sin, nobody judged it because we were together. I personally never had to hide it, my partner had to be a bit more cautious about it but at work but nobody asked questions but if he did he'd have to lie.
There was one film that would've been important today, it's an all black and white film and it's called Victim – that exactly proves what life was like back then, and what life has become now: people commit suicide, people were blackmailed, I mean it was terrible, I never knew of this and I'm not saying it's completely disappeared but it's not so hopeless.
Edward, Jeremy, Ola and Claude are all volunteer Ambassadors for Opening Doors London (ODL), the largest specialist provider of services for the older LGBT community in the UK. ODL provides a wide range of regular social groups and opportunities; a Befriending Service and campaign for and give a voice to older LGBT people. To support the vital work that Opening Doors London does for older LGBT people, please consider making a regular donation here .