The Twin Peaks fandom is like any other, in that its members dig cosplay, are willing to splash a load of money on merch and will go to any – any – loosely associated organised event near or far. With the new and highly anticipated season of Twin Peaks about to air when tickets came on sale, this year's Twin Peaks UK Festival sold out almost immediately.
On Saturday, people were queueing quite happily for the signings with Sherilyn Fenn and other stars of the show for an entire day without leaving for food or water. In other areas of the festival, those without the stamina or money for celeb access were getting cherry pie tattoos, watching live owl displays or listening to James Marshall – who plays James Hurley – croon sweet nothings.
We went to the event, at the Hornsey Town Hall Arts Centre, north London, to meet some of the avid Stans who'd dedicated their weekends to everything Lynch.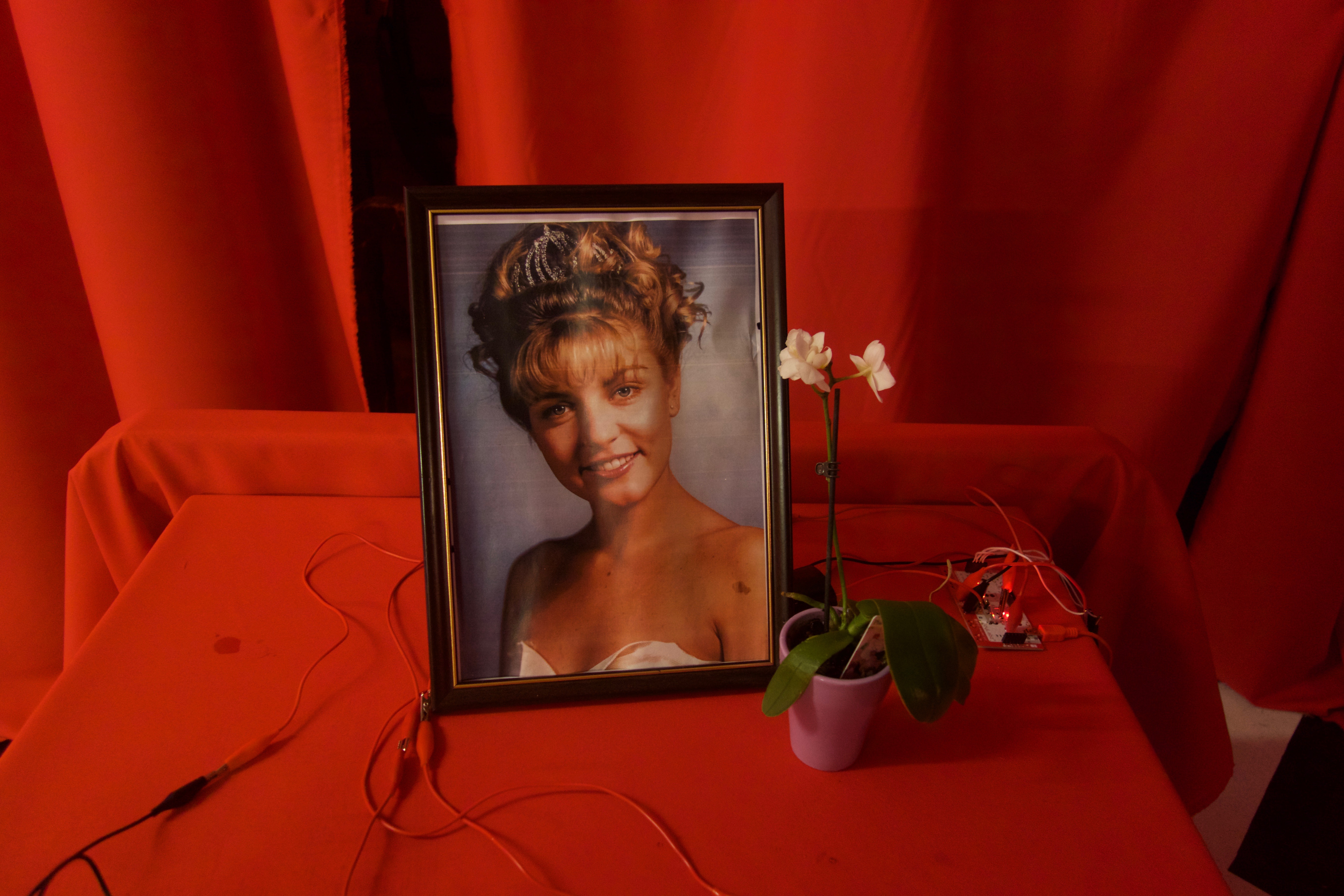 Jo, 45, Australia, living in London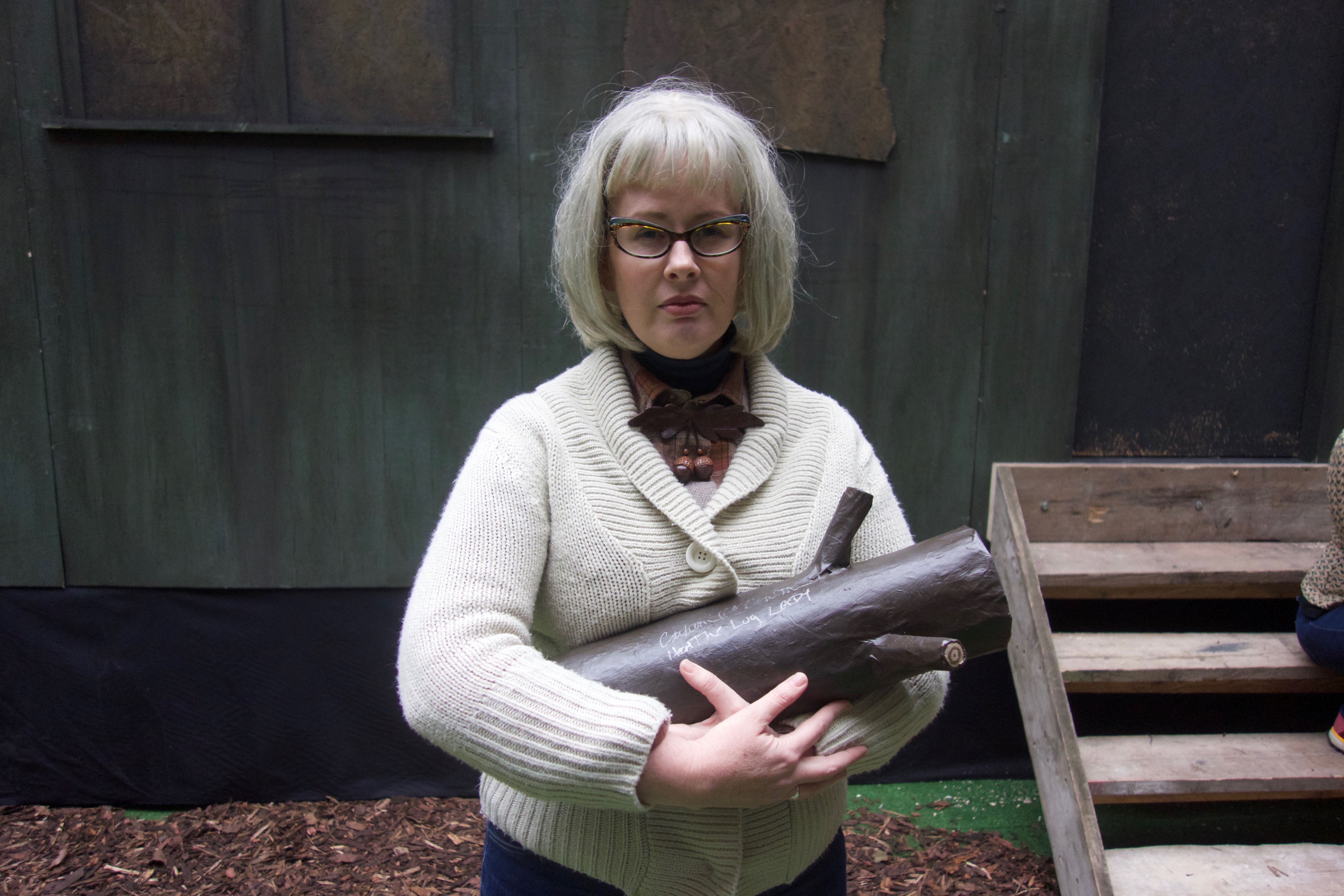 VICE: Tell me about your log.
Jo: My friends run the Double R Club, which is Twin Peaks cabaret. When they first started it they asked me to do a Log Lady burlesque act because I was the only performer they knew who wore glasses onstage. When they had the first Twin Peaks festival in the UK, the Log Lady, Catherine Coulson, was one of the guests. She came and saw my act and told me I had lovely breasts, and she signed my log. I was more just standing there, going, 'Oh my god, the Log Lady is so famous and wonderful.' She was very polite and giving, interested in all the fans who had put a lot of time and effort into costumes.
That's lovely you got the chance to meet her before she died.
Yes, and at the festival the year she died they had a tribute area and everyone brought logs to leave there. Fans could collectively honour her memory.
Were you a big fan when asked to perform?
I hadn't even watched Twin Peaks before they asked me. I quickly binge watched it and then said yes to them not for any reason other than because I loved her. Because I met her she has a very special place in my heart and always will. I even feel a little bit possessive when I see other people dressed as Log Lady, and then I tell myself to calm down; they're allowed to love her too [laughs].
Will you be performing this weekend?
Not this year. I'm doing Twin Peaks manicures, and all the money goes to my friend's cancer charity. I've felt like a bit of an interloper actually – people have been making very obscure references to the show and I don't even know what they're talking about.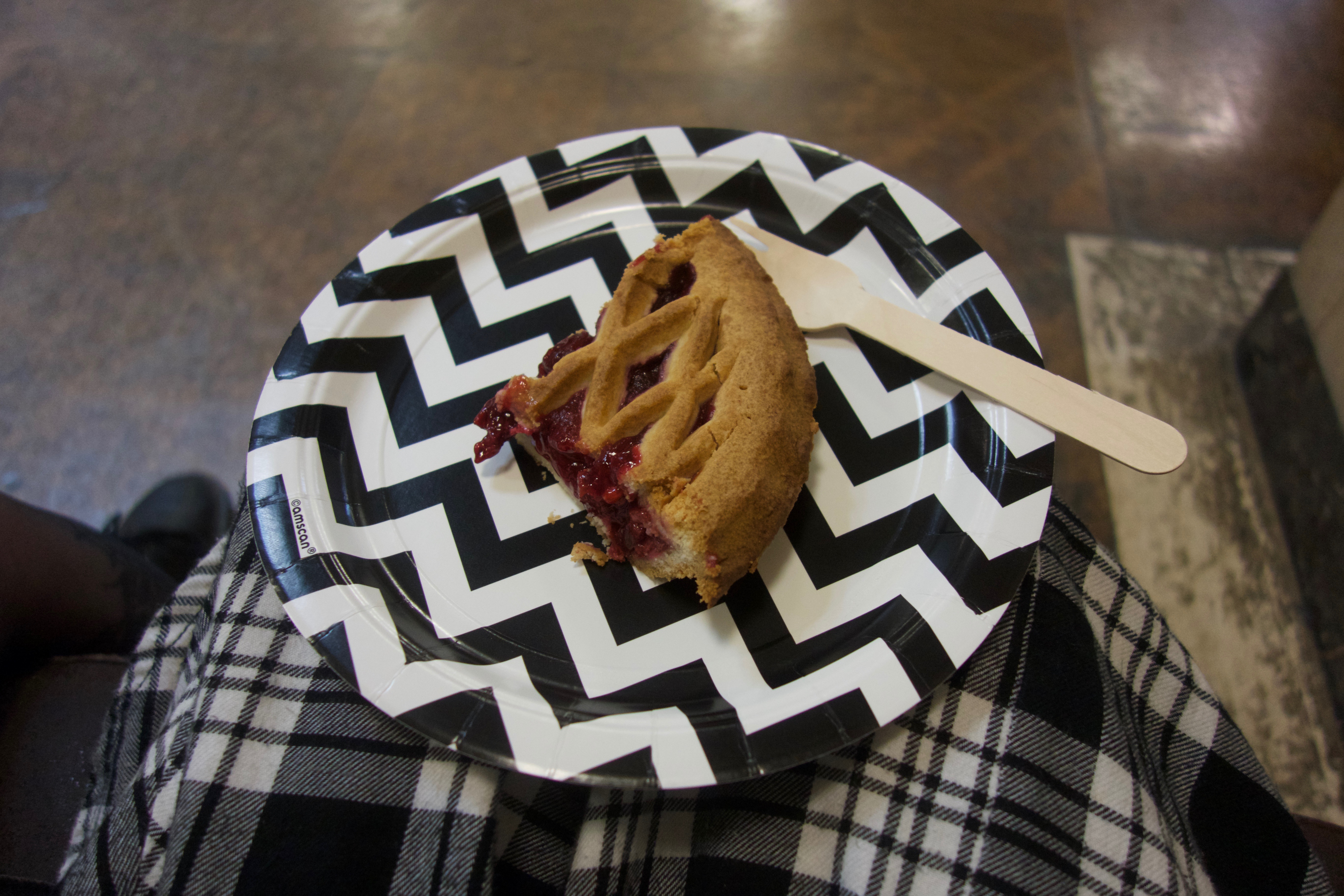 Sally, 28, Denmark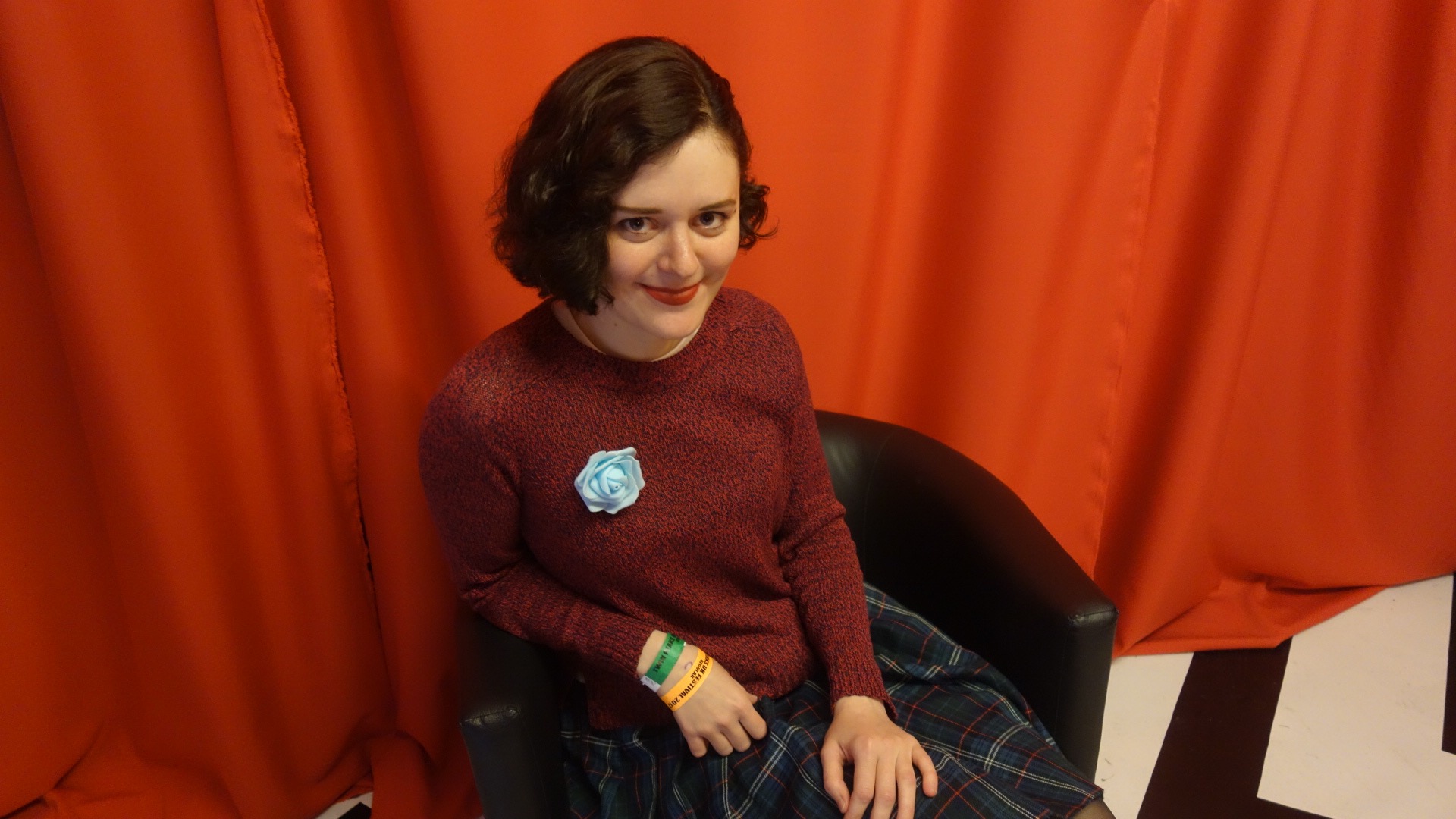 VICE: Sally, you make a brilliant Audrey.
Sally: Thank you, I cut my hair myself to look like her. Twin Peaks was never something I could speak to my friends about, but then I met my boyfriend and it was actually because he had a picture of himself as Agent Cooper. I thought, 'Wow, a very specific taste, I must know who this person is.' We've been together for a year-and-a-half and we've gone together to Twin Peaks events as Audrey and Coop many times, and won quizzes.
You have finally brought Audrey and Coop romantically together.
Yes, we're turning our living room into the Black Lodge. We've painted it red and we got the black and white zigzag carpet and red drapes. We're living the Twin Peaks life. It's been a big part of our dating, a strong mutual interest, so when we moved in together over the summer we thought, 'Let's do it.'

You can watch Twin Peaks in there too.
Yes. There are so many fans in Copenhagen, and when we were over there we arranged for them to come and visit once it's complete.
That'll be great. Any final words?
Twin Peaks might be over for now, but really it's just the beginning. You can keep interpreting it on and on and on. Everyone tries to decode its meaning, but this show can mean anything to you personally. I might watch it in a number of years and it'll mean something new to me.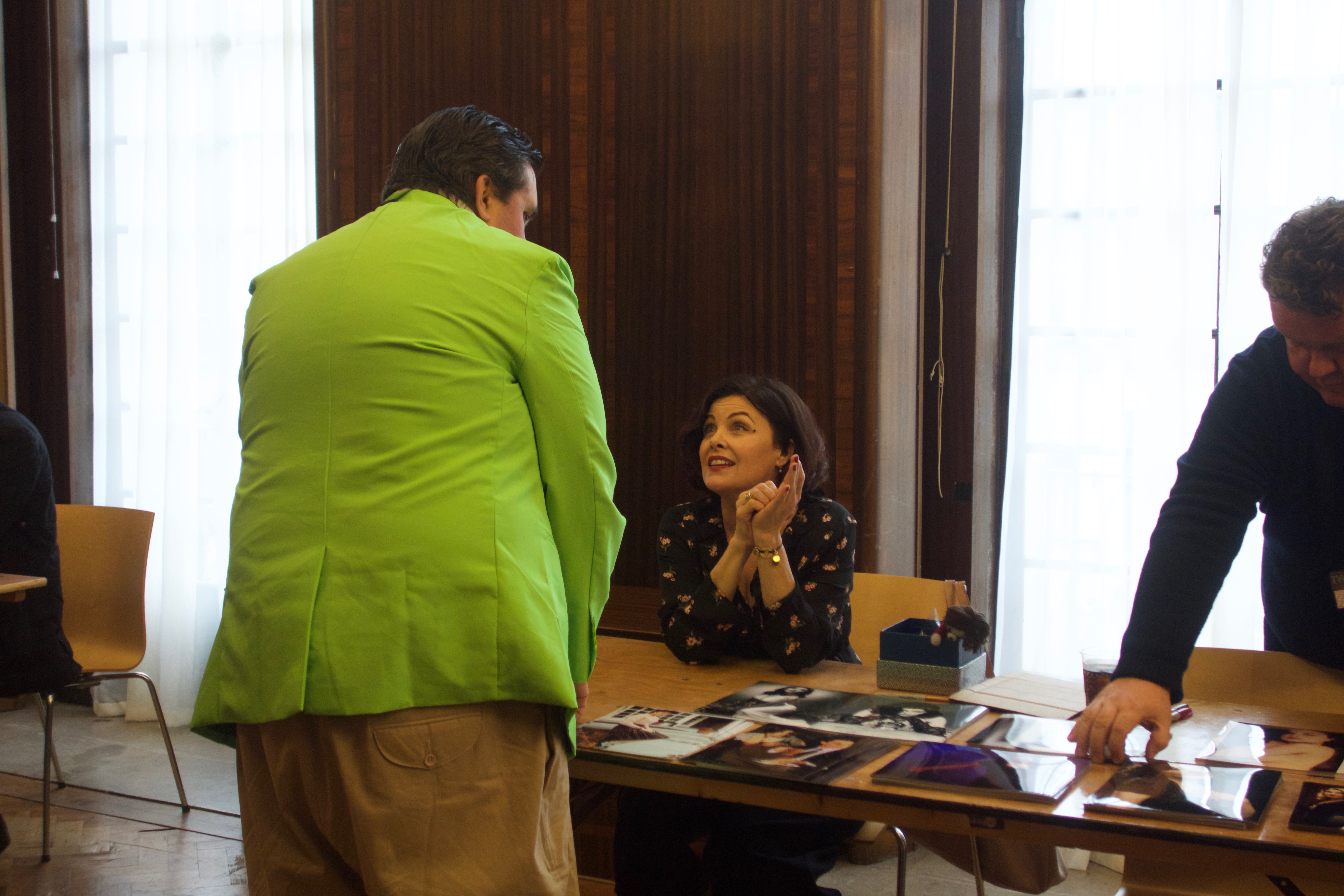 Ben, 26, Lake District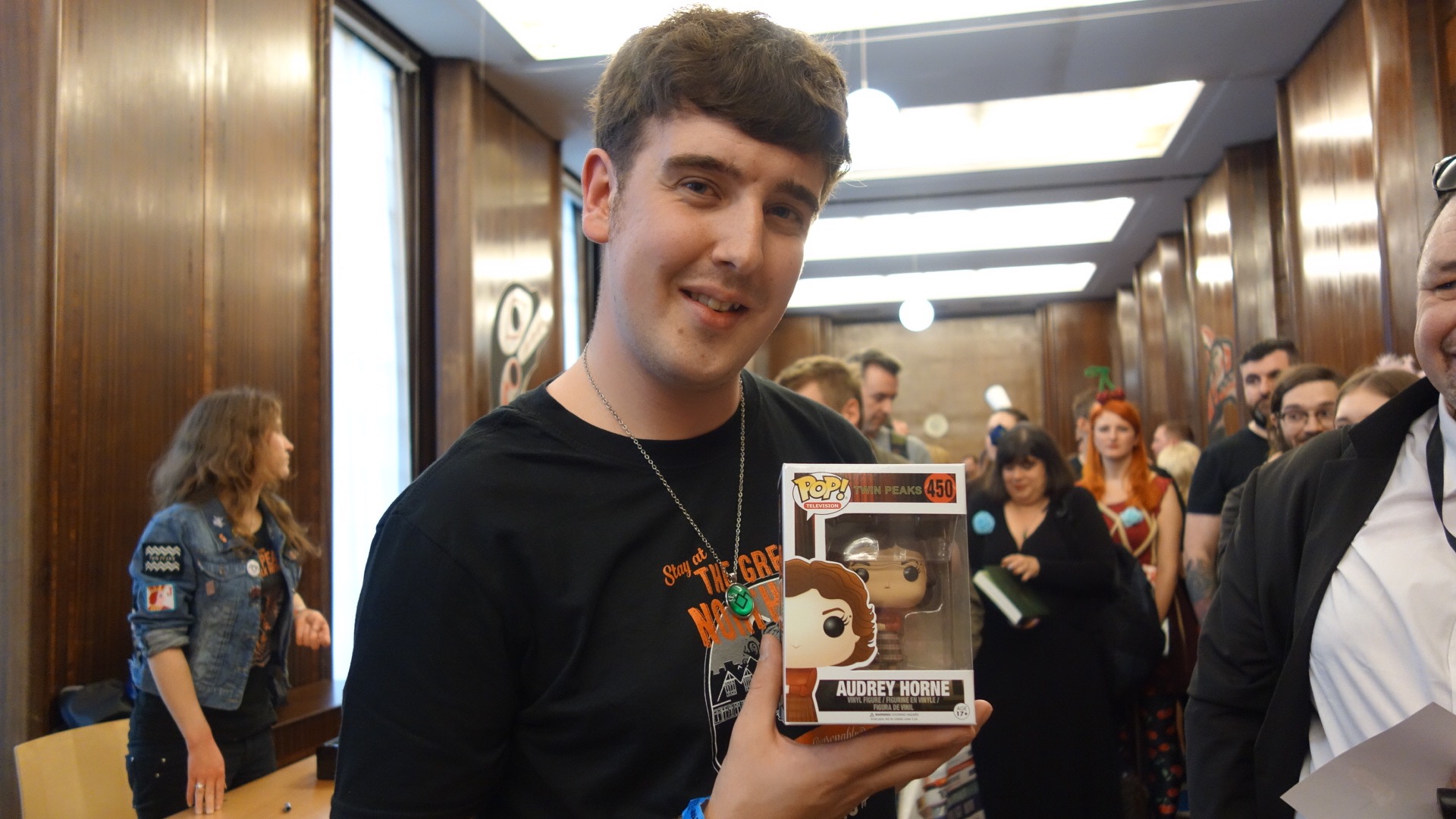 VICE: What brought you here today?
Ben: [Looks at the dictaphone] Diane, this is my third year coming to the event. I've made lifelong, incredible fan friends through this festival, so it's nice to catch up with them as we don't get to see each other outside this, really. Last night about 30 of us went out for a big meal, fans from all across the world were there. It's such a special fandom – you don't get any competitiveness, everyone is really respectful. A lot of people I know in real life don't watch it, so it's good to finally find like-minded people. I have friends here today from the Netherlands, one from Switzerland, one from the US.
Do you keep in touch?
Diane, we all talk on social media and especially with the new season being on we were discussing it every single week. I liked that it was so different from the first two seasons, and David did an excellent job. The sound mix was amazing and the cast were phenomenal, both new and returning.

What have you got with you there?
Diane, I've got a Pop figure and my Audrey Horne photographs from home to get signed by Sherilyn. She's always a pleasure. Last time I met her I got classic photos autographed, but this time I have season three snaps. And I've met the legend who is Michael Horse, such a kind, kind man. Hawk and Audrey are my two favourite characters, so I'm happy they're both here.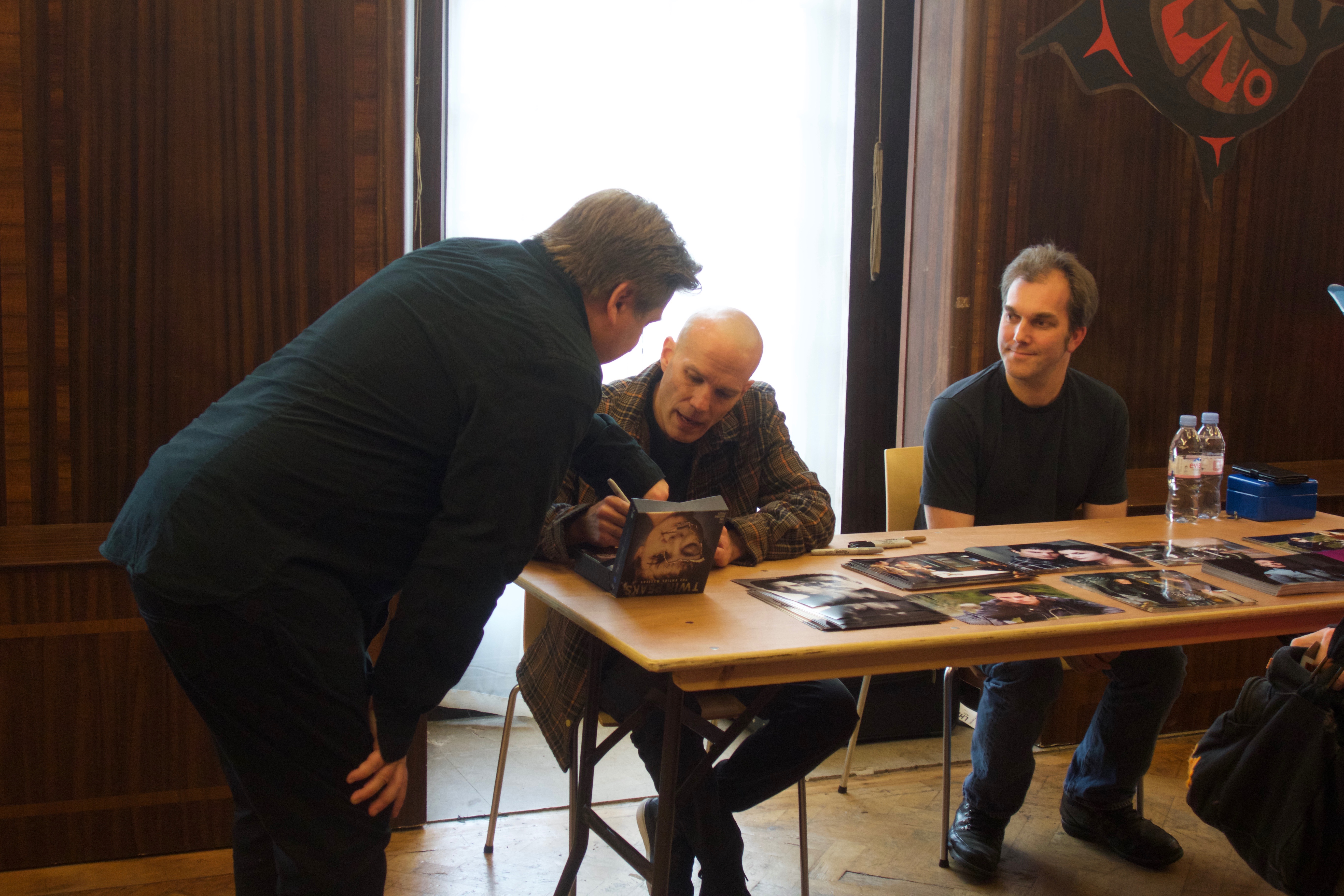 Eleanor, 24, London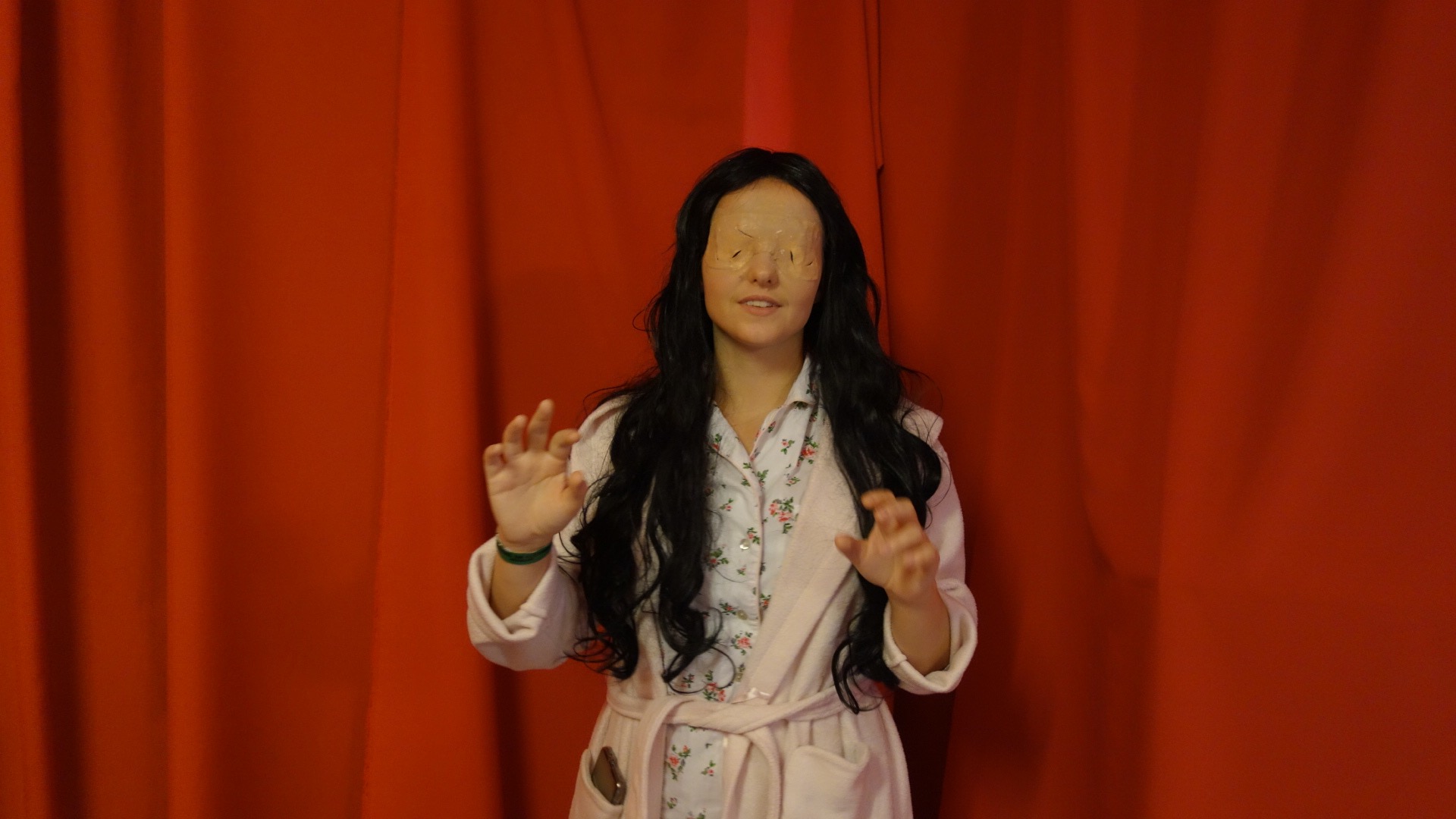 VICE: The woman with no eyes!
Eleanor: Yes, I had the eyepiece for the version where she's in the red dress, but thought I'd do her in the pajamas today because that would be more comfortable – at least as comfortable as it can be with this on your eyes. This eyepiece is made of cling film and masking tape, and then it's covered in latex and foundation. I can kind of see out of the holes. I make costumes all the time, so when I saw the new season I knew I would do it for this event. She's from the penultimate episode.
How did you feel about the new season?
At first I found it very off-putting, but the more I watched it, the more I realised that was the spirit of the show – it's always been off-putting, always weird. Ow! Ow! Ow!
Are you OK?
My eyelashes are stuck to the latex. It's unpleasant.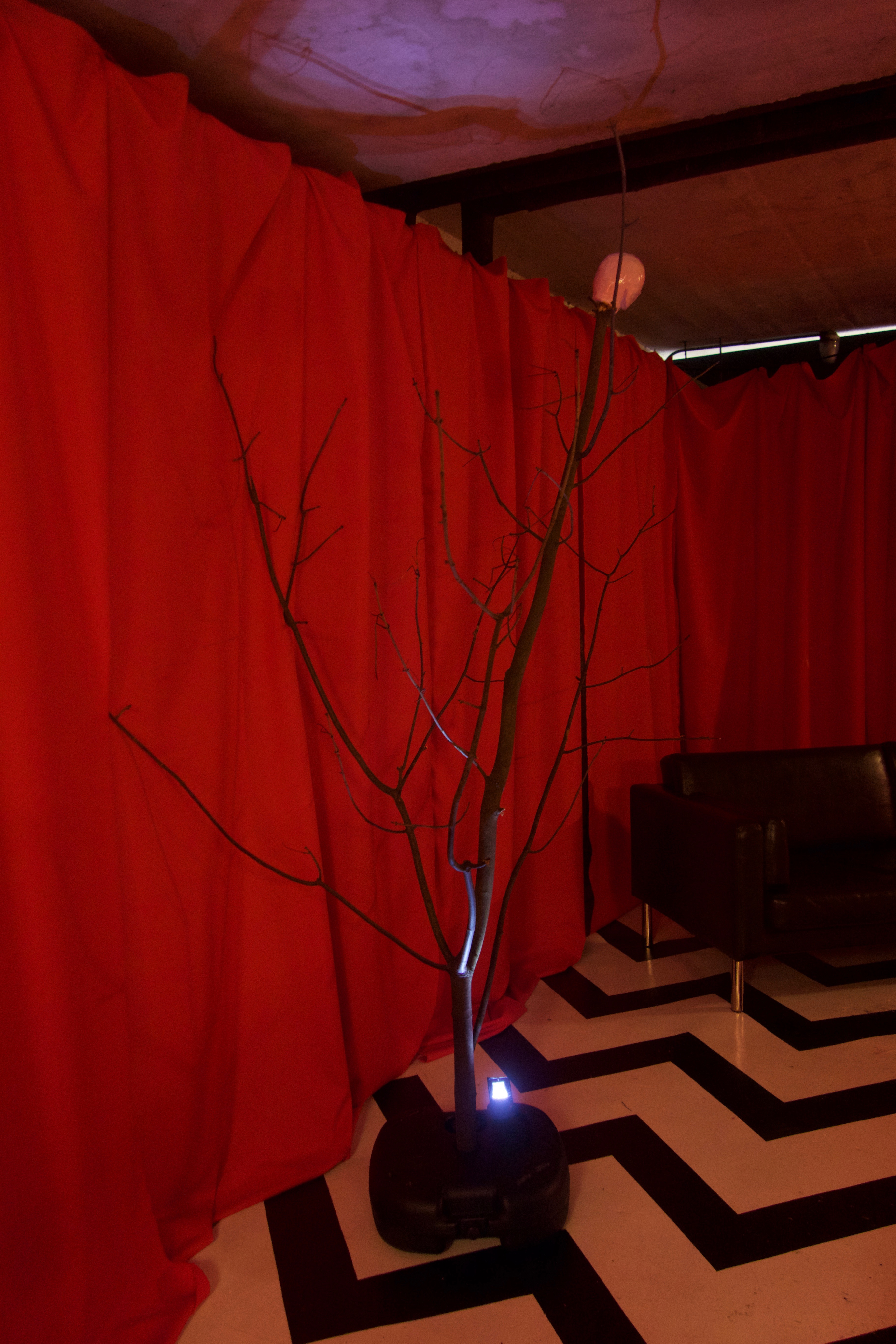 James, 32, Ireland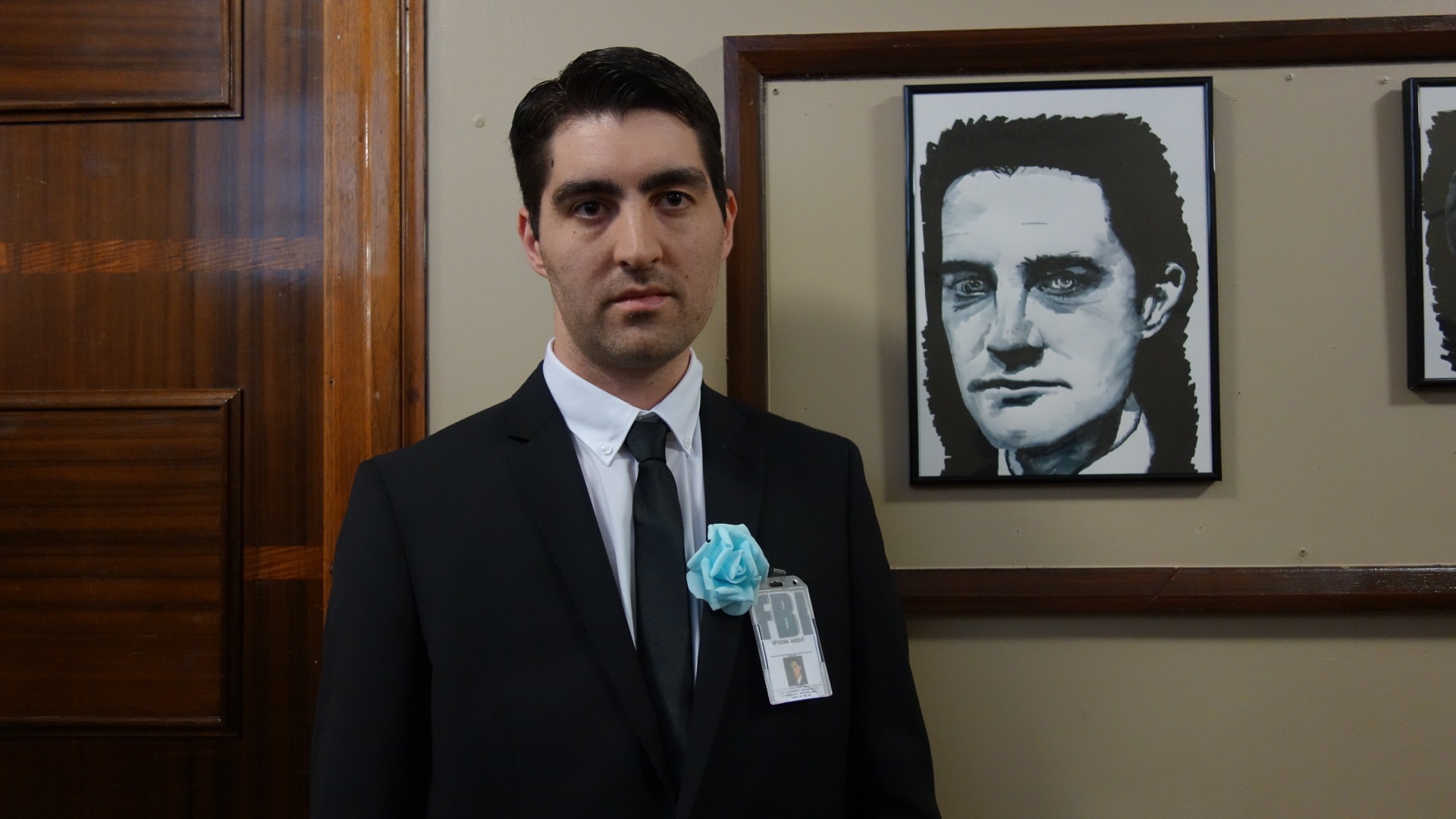 VICE: Hope you haven't been queueing long? You're right at the back.
James: No, we've been here in the queue for an hour. I'm so excited to meet Sherilyn Fenn. We're over for the whole weekend just for this. We're huge fans, but very new fans, only first watched it a year ago. I liked the fact that David Lynch never guarantees an audience anything, you have to accept it at face value. No guarantee of a happy ending – no guarantee of an ending!

Please tell me about your Coop outfit.
It's the man. It's Agent Dale Cooper. It's kind of from when he's in the Black Lodge, all black, gelled back hair. I wanted it to be simple but poignant. I thought there'd be a lot of Dale Coopers here, but [there aren't], as it turned out.

Not many of the men are dressed up, just the majority of the women.
It's a shame. I'm surprised at the low turnout for the men.

Biggest spend?
We've spent a lot on autographs this weekend, but we can't buy too much merch – we're flying Ryanair so we've got to keep it light [laughs].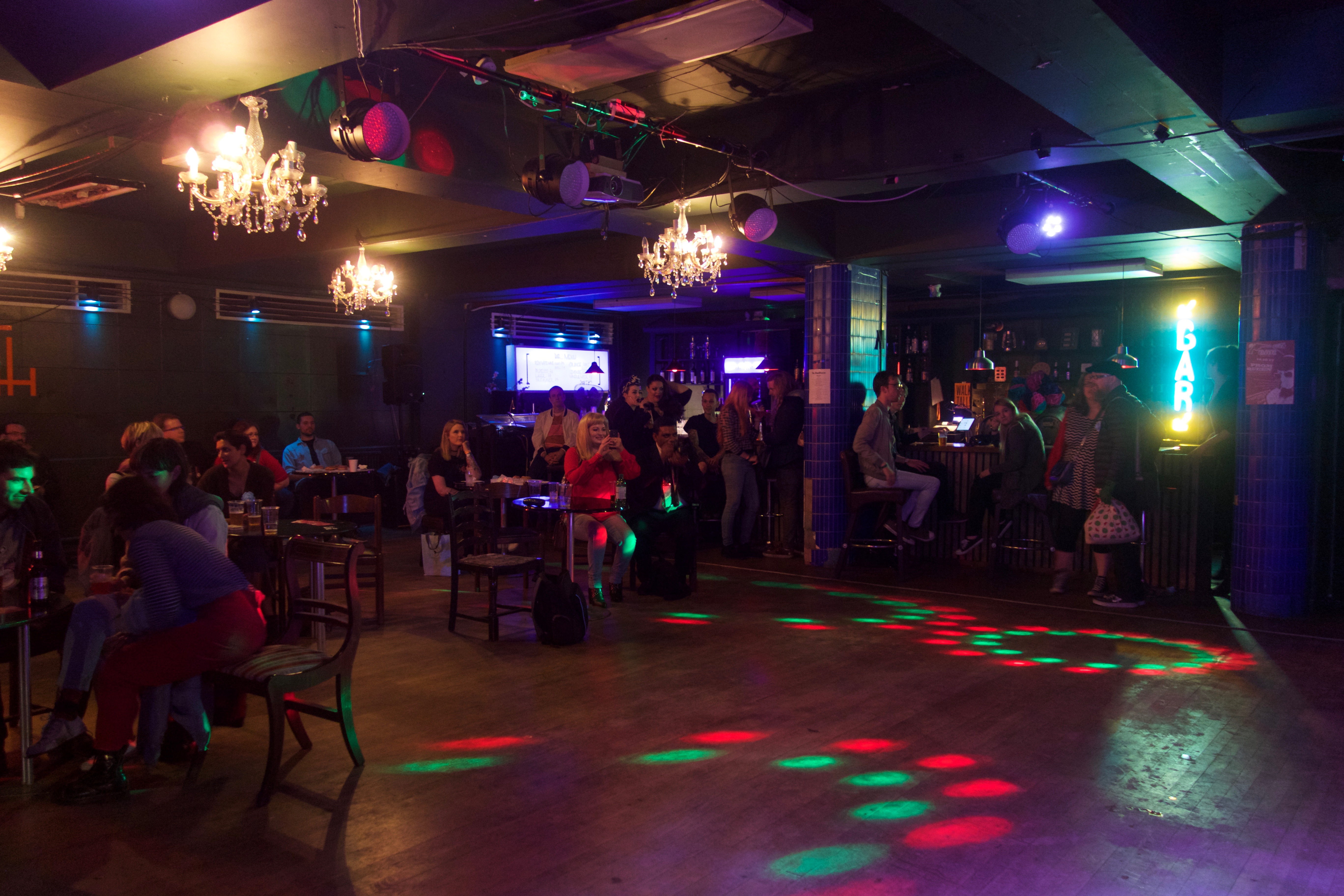 Karen, 39, Yvonne, 37, London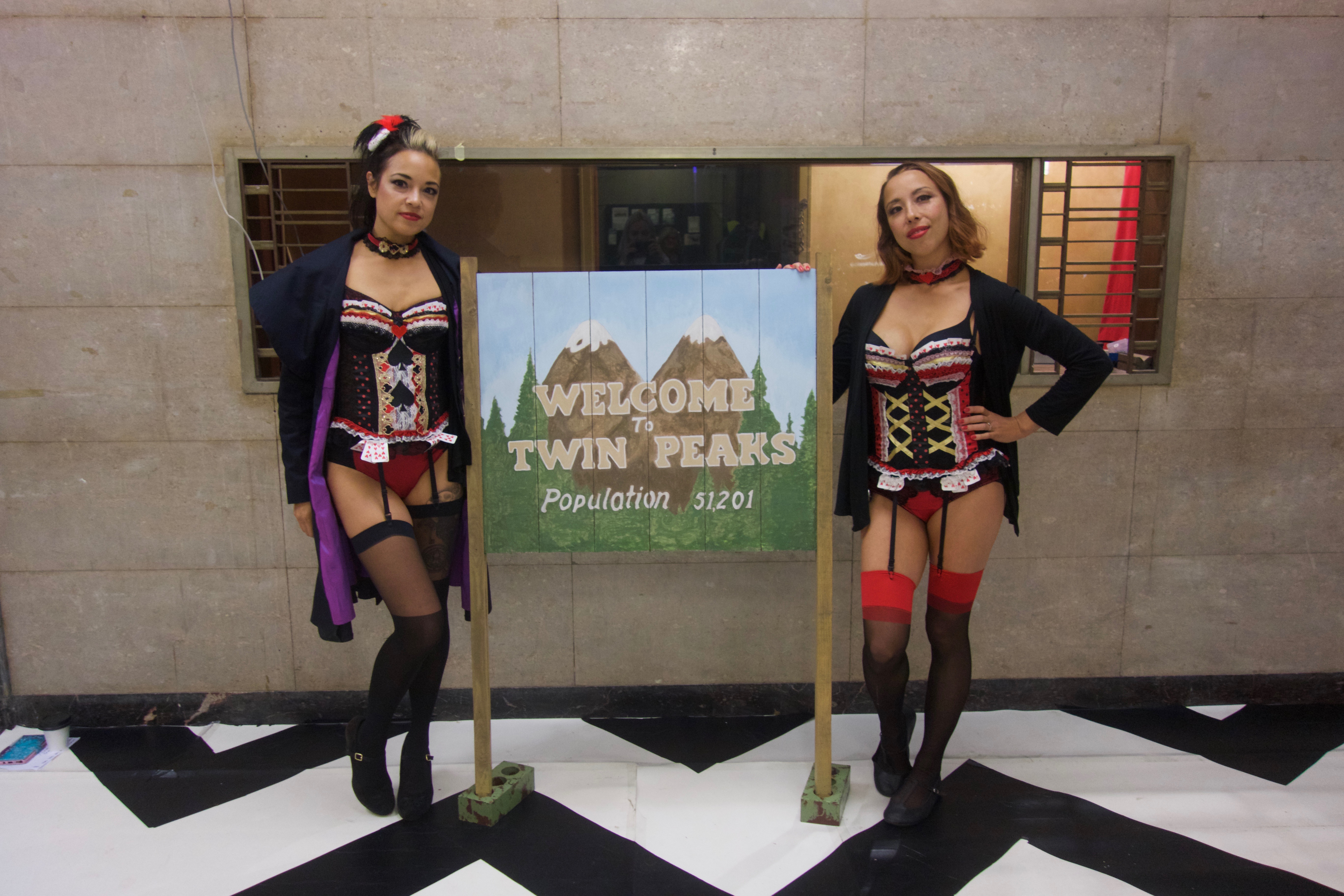 VICE: Are you staff or fans?
Karen: Both. We work for a cabaret show in London, the Double R Club, that does a Twin Peaks show. They're running the cabaret that's on over this weekend.
Yvonne: We're also helping out with the murder car, performing the murder of Laura Palmer. That's been fun.
Is it scary?
Karen: It really is. You stand outside and hear the screams.
When did your awareness of the show begin?
Yvonne: I watched it four years ago when I first got involved in the cabaret scene. I came to it late, I'm embarrassed to say.
Karen: It was even later for me because I've been in the world of babies and raising kids. When the new show came out I knew I had to watch all the original stuff before getting into that. It was only then I properly watched it.
Yvonne: There's nothing else like it. It's scary, it's interesting.
Karen: It's escapism. You look at the fans here and you'll see these are people who like the odd things in life. I'll introduce Twin Peaks to my kids, but not until they're older. My son definitely seems to be a fan of the quirkier things and loves to dress up.
Favourite moment of the weekend so far?
Both: Meeting Hawk!
Yvonne: So humble and down to earth. He came over and said he wanted a photo of us, and we were like, 'No, we want a photo with you!'